Suikoden fans have been clamoring for a successor, or at least a remastered collection of Suikoden titles for years now.  The upcoming Eiyuden Chronicles, is as close as fans of the series will get to a much-anticipated sequel.  
What started as a Kickstarter project by Rabbit and Bear Studios. Has now found a publisher, and a target release year on consoles, and PC. Rabitt and Bear Studios is composed of former Konami/Suikoden developers. The developer's intention when it asked for funds on kickstarter was to create a spiritual successor to the popular 90s JRPG franchise. 
Eiyuden Chronicles is one of Kickstarter's most resounding successes. On July 27th, 2020 Rabbit and Bear Studios set a goal of $500,000 to make the game's development a reality. Amazingly, the the goal was met within hours, and has since, pulled in over 3.5 million dollars on Kickstarter.  
Publisher 505 Games, known for publishing Bloodstained, and Death Stranding on PC has picked up the game. Consequently, with a publisher in hand the 2022 target release year feels more much tangible than it did before the announcement.  
Eiyuden Chronicles is helmed by Yoshitaka Murayama, who is known for his writing work in Suikoden 1-3. More recently, he wrote the story of Alliance Alive, which was not that good, to be honest. Hopefully, Murayama raises his writing game for this project, as it is his own creation.  
The video below shows both, 505's announcement and some gameplay clips from the much-anticipated game: 
Eiyuden
Chronicles will arrive to all platforms, but not the Nintendo Switch?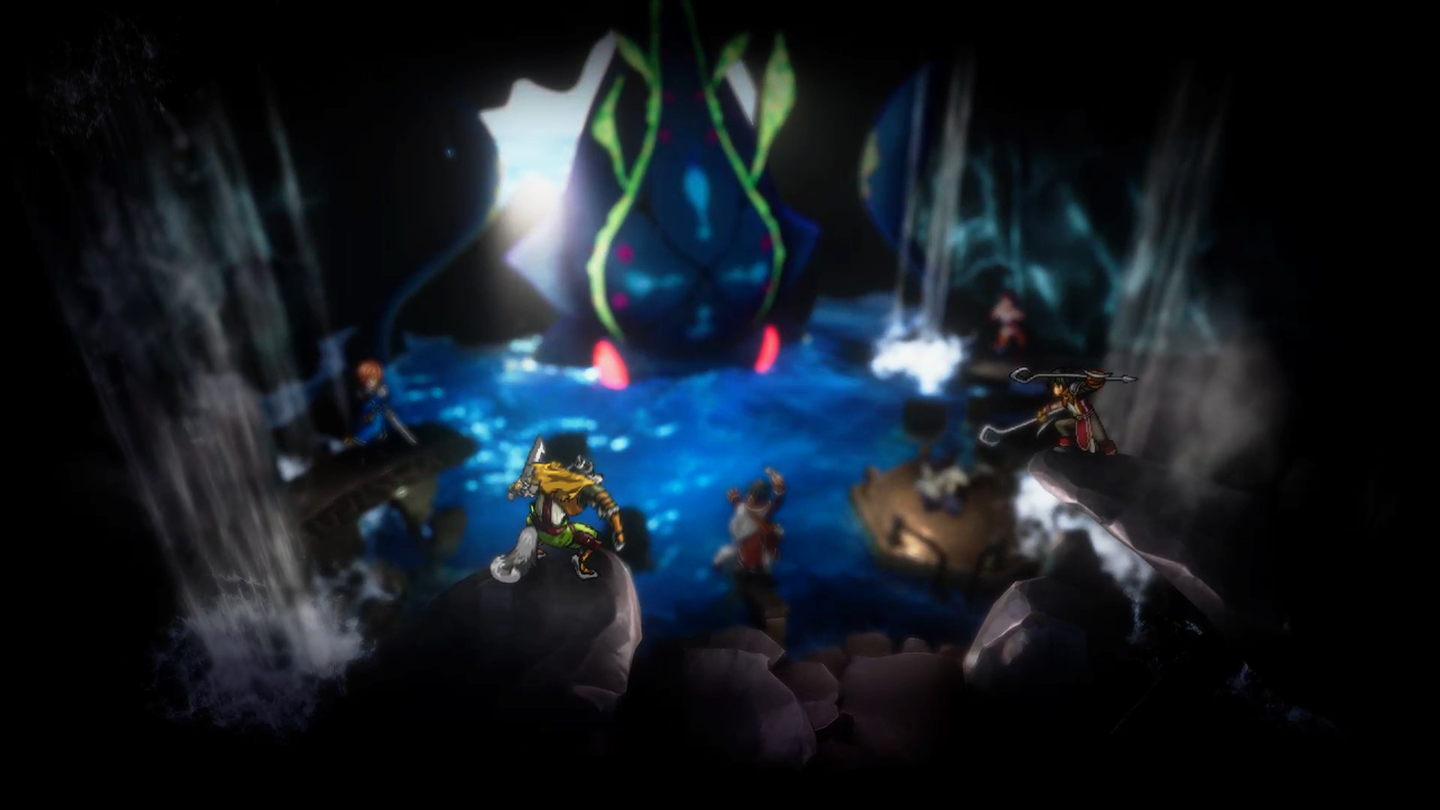 Rabbit and Bear Studios announced that the game would arrive to all platforms including the PS4, and Xbox One. However, the Switch version is missing from the announced console listing. Instead, the company lists "Nintendo's next gen console" as one of the target systems to which Eiyuden Chronicles is scheduled to arrive. 
The decision to avoid a Switch version is a bit disheartening. By 2022, the Switch is expected to have surpassed the 100 million sales mark. In fact, it is likely that Nintendo will crush that milestone this year. Eiyuden Chronicles is running on the Unity engine, and while its 3-D worlds look awesome, and the 2-D models are fluidly animated, the game doesn't not seem like an 'impossible' one to port over to Nintendo's handheld/console hybrid. 
The Nintendo Switch has turned into a JRPG haven in recent years, and it is likely that a big chunk of potential Eiyuden Chronicles customers already have, or will have the handheld at that point. 
Nintendo is expected to announce the "next Switch" this year. Yet, it is odd that the company behind Eiyuden Chronicles would turn their backs on an installed user base of over 100 million players. Hopefully, Rabbit, and Bear Studios decide to support Nintendo Switch's fertile RPG grounds at some point.  
Eiyuden Chronicles is expected to have a massive number of recruitable characters. The game will feature deep character progression systems, and turn based combat. The game will also feature a storyline filled with themes of war, and politics akin to the Suikoden series. As always, we will keep you updated as more tidbits of information on the game become available. 
Agree with the author? Couldn't disagree more and are frothing at the mouth to tell him? Leave a comment here, on Facebook or send an email and make sure to follow Never Ending Realm on Facebook, Twitter, and YouTube!