DC Universe Online (DCUO), the free-to-play action MMORPG, hit its ten year anniversary this month and will be celebrating in superhero style. Players are being gifted $50's worth of freebies and other fun events to celebrate the decade achievement. The anniversary event will run from January 11-31, 2021, so make sure to pick up your swag and play during the event before January ends.
For those unfamiliar with the DCUO, The game was initially released on January 11, 2011. It was developed by Dimensional Ink Games and co-published by Daybreak Game Company and WB Games.
Taking place in the DC Universe, DCUO allows players to create their own unique character with a selection of powers. They choose whether they're a hero mentored by Superman, Batman, or Wonder Woman, or a villain mentored by Lex Luthor, Joker, or Circe. According to Sony, one of the main inspirations for the gameplay was Marvel's open-world beat 'em up The Incredible Hulk: Ultimate Destruction. It allows player characters to interact with DC comic characters ranging from the well-known to the obscure.
Anniversary Perks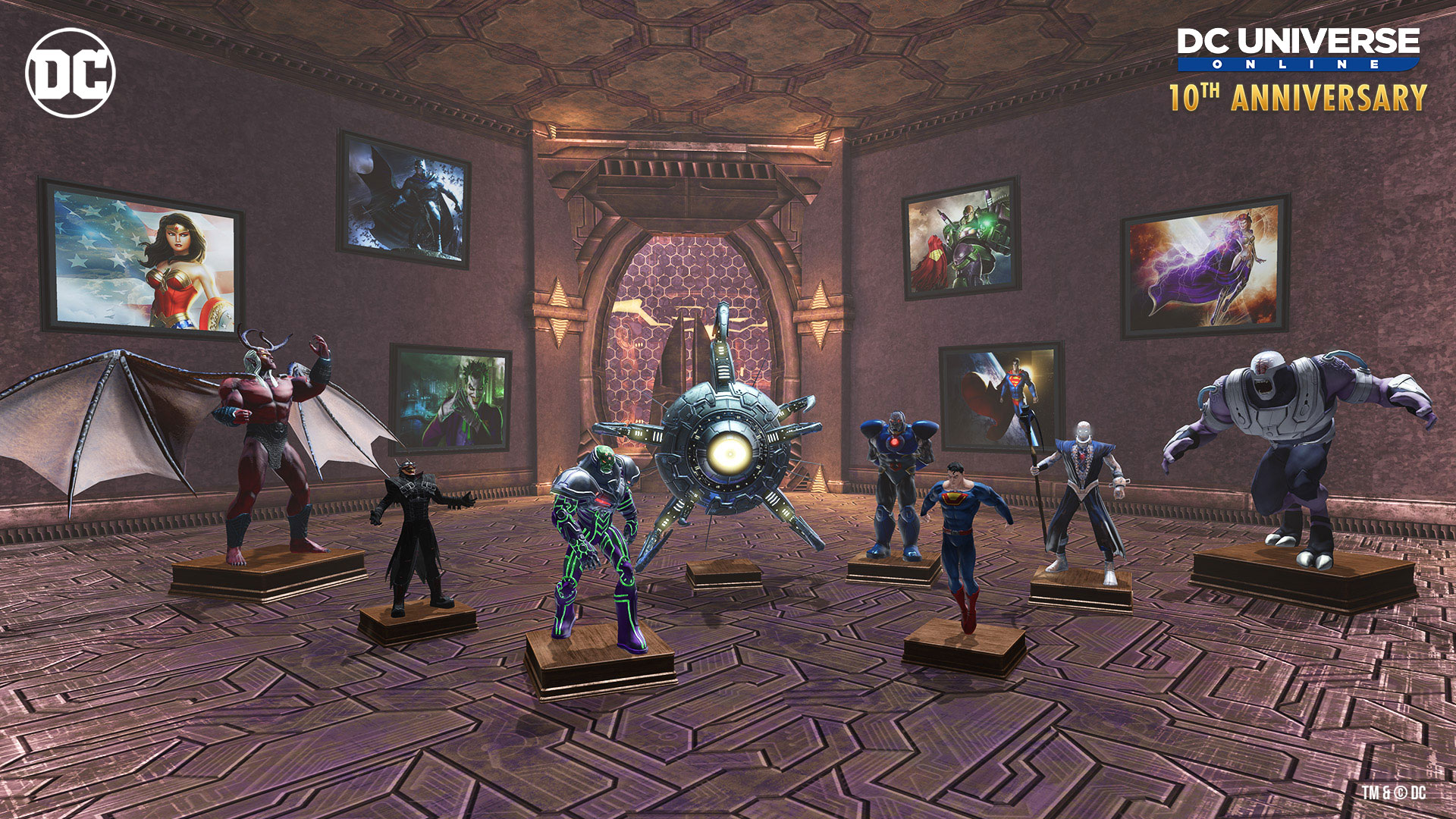 There will be a new event raid and elite raid called "Speed Force Flux" or "Speed Force Flux Elite," which features the Anti-Monitor trying to escape a paradox and create a new Flashpoint event that may be too much for even the Flash and Professor Zoom. There will also be new daily, weekly, and bounty missions at the Metropolis Anti-Matter Invasion Zone, known as "Monitoring the Situation" in the player's mission journal.
The game's official website provides a list of other new features available this month for the anniversary. Some highlights include:
Unlock new styles inspired by The Flash and Professor Zoom.
Earn Qwardian Crowns (anniversary currency) to use at the anniversary vendor.
Collect new Boss Triumph Statues (base items) from DCUO's most challenging foes from the last 10 years.
Plus, look for new base items, Henchmen, feats, and more!
Previous freebies that could be earned during past events will also be obtainable during this anniversary event. These can be accessed by the player opening their queue and accessing "Centennial Collapse."
Senior Producer's Letter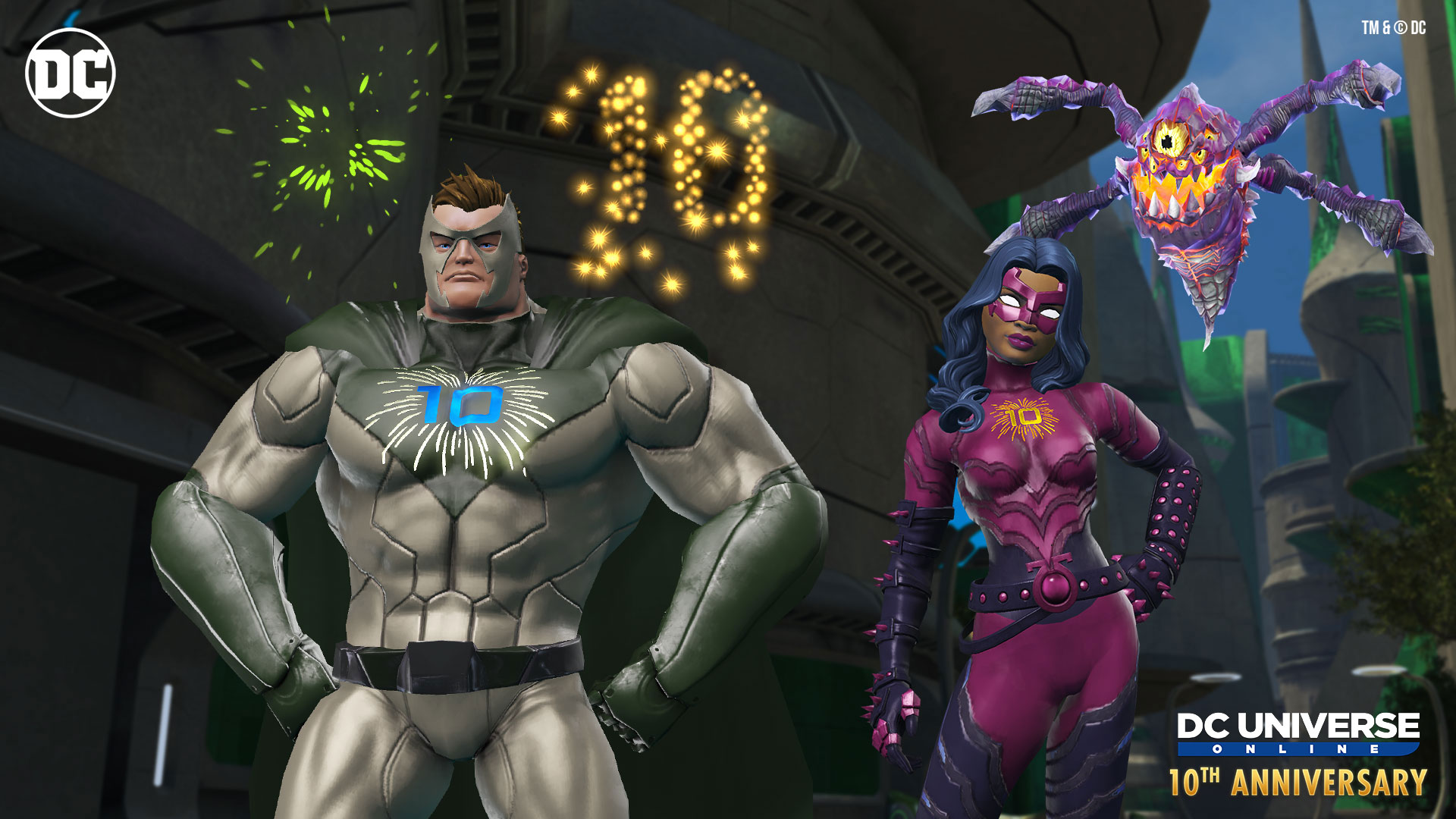 The senior producer of the game, Landon "Panderus" Falls, wrote a letter to the fans. Along with a thank you for their support, he teased some of the freebies, including a new CR290 character advance, as well as the future of the DCUO. He lists an impressive look back at their past ten years, saying, "we have launched DCUO on FIVE different platforms, released 39 episodes, over 100 game updates, and continually pushed the boundaries to improve our content, our systems, our art, our stories, and our tech in ways no one would have ever thought possible back in 2011. I want to position us so that we can continue that trend for another 10 years." He went on to talk about the rebranding of Dimensional Ink thanks to their partnership with EG7.
Falls also sets up the future of DC Universe Online, discussing the progress being made on Episode 40 of the campaign. He says the episode will "use Flashpoint as a source of inspiration, matched with a more traditional content structure after several episodes focused on the new and different…." More information will be unveiled in future months. Later this year, the company will also be launching their PlayStation 5 native client, updating the look of the game for the new generation console. The senior producer also promises further improvements to the game come mid-year as well as new features and updates thanks in part to new hires on their team.
So, enjoy the freebies in DC Universe Online before the anniversary month ends! Have you been playing the game? What has your experience been like? Let us know in the comments below. I personally haven't played the game in a while, but I do remember specifically picking to be a villain mentored by Lex Luthor just so I could hear James Marsters. It was a good time on console but got a bit repetitive. Thanks to an extended break, this event may be what drags me back into the fray.
Agree with the author? Couldn't disagree more and are frothing at the mouth to tell her? Leave a comment here, on Facebook or send an email and make sure to follow Never Ending Realm on Facebook, Twitter, and YouTube!