In a huge blow to nostalgia, Bungie's Halo website that holds a treasure trove of player-data is going down in February. On top of that, multiplayer lobbies for all Xbox 360 Halo games will be taken offline in December 2021.


Player data for old school Halo games go bye-bye

On January 14th, Bungie announced in their "This Week at Bungie" post, that the halo.bungie.net website will permanently go down on February 9th. Amongst tons of Destiny 2 news, the post clarifies what the takedown actually means.

Basically, archived player stats are going down for Halo 2, Halo 3, Halo 3: ODST, and Halo: Reach. The website hasn't tracked any new data on these games for more than 9 years now. Instead, they were being held there for posterity's sake. After February 9th, all those ancient player stats will be gone. The website also serves as an incomparable archive for some of the series' most iconic screenshots and content. Hopefully, some of these images survive the test of time elsewhere.

Fortunately, Bungie made the announcement now so that players would have time to save their old player data from halo.bungie.net. According to the post, "everyone is welcome to save their stats and files, however they can, if they'd like to save anything." If you want to print out and frame that multi-kill you got in Halo 3 in 2008, now would be the time to do it.


Halo games Xbox 360 go dark in December

While it's still a ways away, the vast majority of online services will go down for the games on Xbox 360 in December 2021. This change also applies to backward compatibility, as "the underlying software is still the original Xbox 360 content and thus still relies on legacy online services for some functionality."

The full list of titles affected includes: Halo: Reach, Halo 4, Halo 3, Halo 3: ODST, Halo: Combat Evolved Anniversary, Spartan Assault, and Halo Wars.

If you currently own the games either physically or digitally, they're still playable online. If you don't, digital sales of Xbox 360 Halo games are now completely halted.

According to the post about it on Halo Waypoint, all of the legacy UGC data for the affected games have already been sent to Halo: The Master Chief Collection. The team is "intentionally moving slowly and deliberately with a multi-phase approach to provide our players with plenty of advance notice."

This change is coming so that 343 Industries can focus on dedicating their time and server space to The Master Chief Collection. It makes sense, as The Master Chief Collection serves as a convenient way to play all the Halo games in one place. According to 343 Industries, "Every cycle spent maintaining and supporting Xbox 360 legacy services is time and energy not spent on the future of Halo."

Once December 2021 comes, online data will be down but the games' campaigns and LAN capabilities will still be functional. Here is an infographic that 343 Industries shared explaining the whole process: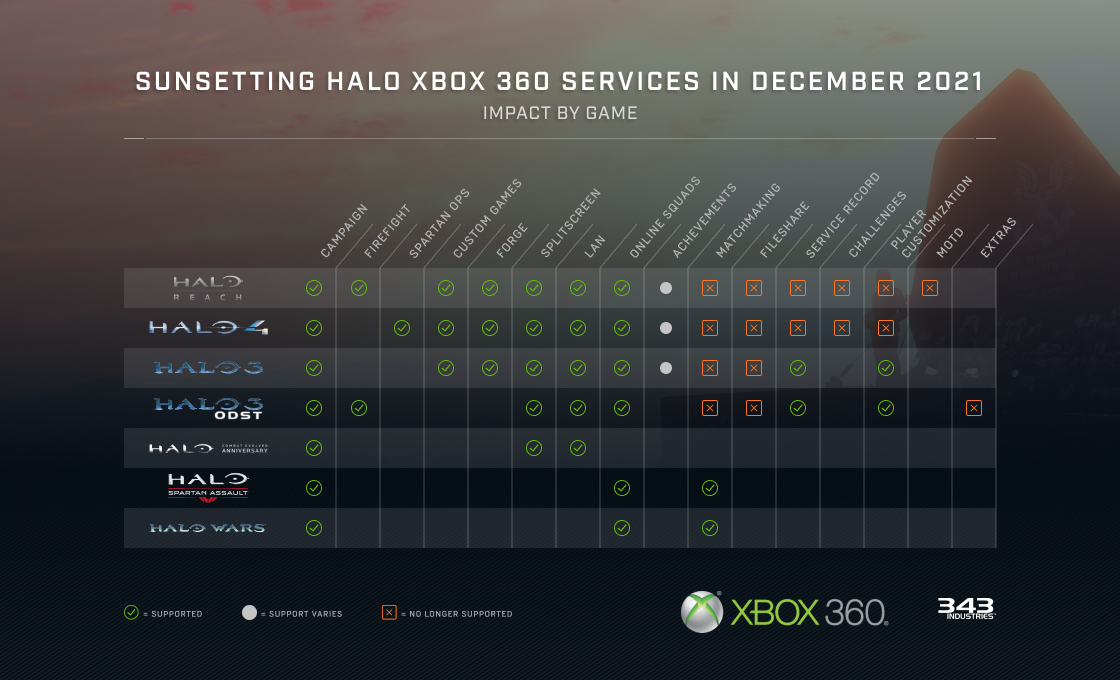 Agree with the author? Couldn't disagree more and are frothing at the mouth to tell him? Leave a comment here, on Facebook or send an email and make sure to follow Never Ending Realm on Facebook, Twitter, and YouTube!