Monster Hunter is finally returning to a mobile platform in Monster Hunter Rise. The demo for the upcoming Nintendo Switch exclusive is out as of January 7th. The full game will be released on March 26th, but it's out for preorder right now. The demo itself is actually only available for a limited time. It's up right now on the eShop but will be removed on February 1st. It includes several features of the game. Here are a few of the main things from the demo:
Gameplay and UI changes

As mentioned in our previous article about Monster Hunter Rise, there will be a few new additions from Monster Hunter World. For the demo, you can get a taste for the new Wirebug mechanic, which plays a lot like the grappling hook from World's DLC, Iceborne.

Furthermore, players get to play with both the classic Palico and the new Palamute companions. You can mount your Palamute dog-beast friend right away, which saves a lot of time. It also helps you in battle, while your Palico plays a support role.

The demo boasts 14 weapons that should be familiar to fans of Monster Hunter. Slain monsters are skinnable, but their loot doesn't carry over from mission to mission. We'll have to wait for the main game to craft new items. There's no character creation or progression, which encourages new players to try out different weapons in the demo's 30 possible attempts.

Mechanically, Rise's demo plays almost exactly like World. The biggest observable changes are the UI and HUD overhauls. It seems that, for the Switch, World's big MMO user interface just wouldn't work.

Performance-wise, the game runs really smoothly on the Switch. In my time playing, I never experienced any noticeable frame drops, even when playing online with 3 others.
Multiplayer/Solo Modes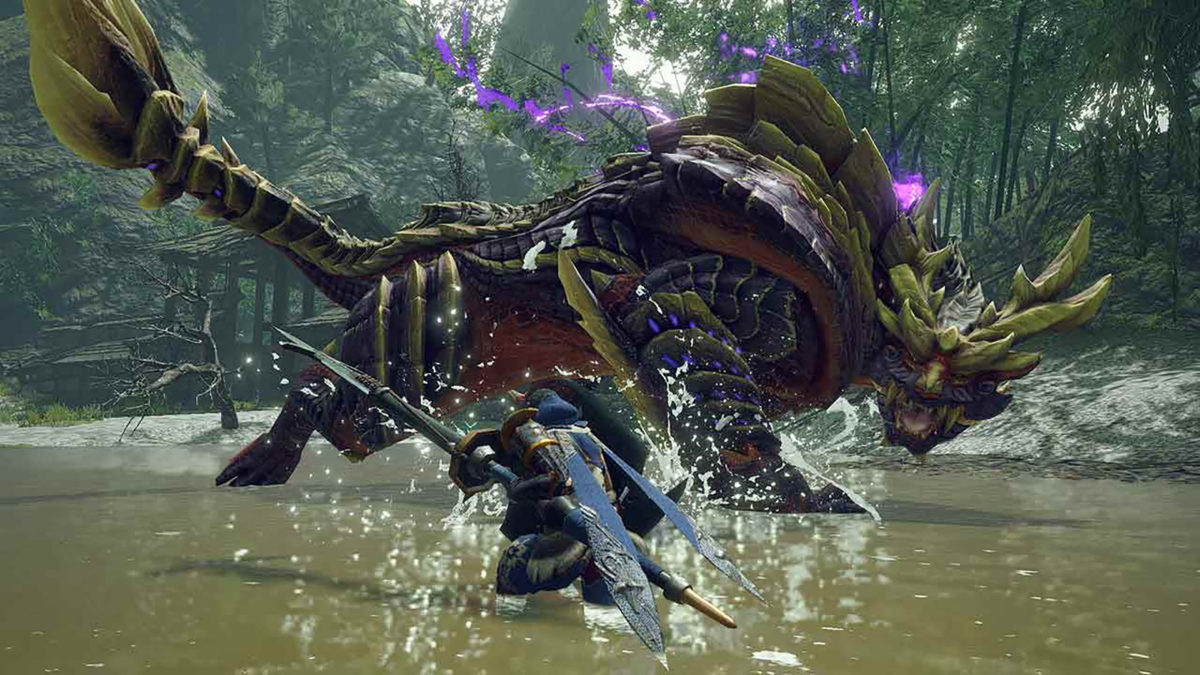 Monster Hunter Rise's demo is surprisingly detailed.
It includes both multiplayer and solo play and players have up to 30 attempts at each mission.

The demo's multiplayer mode allows players to choose between online play and local co-op. The online mode is fully online, with a complete matchmaking service. Players can choose to join a lobby or create their own.

There are two missions to choose from in multiplayer, and two new monsters to hunt. Each of the two missions has its own full, quite large map to explore. Rise's demo has no time lock, only mission attempts, so there's plenty of time to discover its huge landscapes.

There's a beginner mission in which you kill a Great Izuchi, an orange feathered monster with two miniature friends. The other monster is the Mizutsune, a large colorful purple wyvern that is quite difficult to kill. Both of these new monsters give you a feel for what you'll be looking forward to fighting in the upcoming full release.

Solo is much the same, except there are two tutorial modes. One is for people completely new to the series, and the other is to teach the finer points of wyvern taming and riding.

—

Monster Hunter Rise will be out exclusively for the Nintendo Switch on March 26, 2021.
Agree with the author? Couldn't disagree more and are frothing at the mouth to tell him? Leave a comment here, on Facebook or send an email and make sure to follow Never Ending Realm on Facebook, Twitter, and YouTube!