Sony, which had been awfully silent in the months leading up to yesterday's reveal finally unleashed both its console's final retail design and quite a few first party heavy hitters. Learning from Microsoft's mistake, many of Sony's games had some actual gameplay footage.
The Console
While its innards had been widely discussed for months before the reveal, the actual physical appearance of the console remained a mystery. The most popular theory was a "V" design, a theory that gained momentum earlier this week when some patents for its cooling system were leaked.
The final design looks nothing like the development kits, and instead shows that the console is a hefty, long, sleek and futuristic looking box. In visual terms, it seems that Sony has taken a much more extravagant approach than its rival Microsoft.
Microsoft, as we have seen, went for a more conventional approach for its console delivering a hefty square shaped black box. Microsoft's gaming system will feel right at home beside other Xbox products, the PS5 however, looks markedly different from any previous Sony console.
Sony did not release size measurements, as the company knows that its hunk of a console is actually -surprisingly – larger than the Xbox Series X.  Fans have taken up the task to illustrated the differences as pictured below: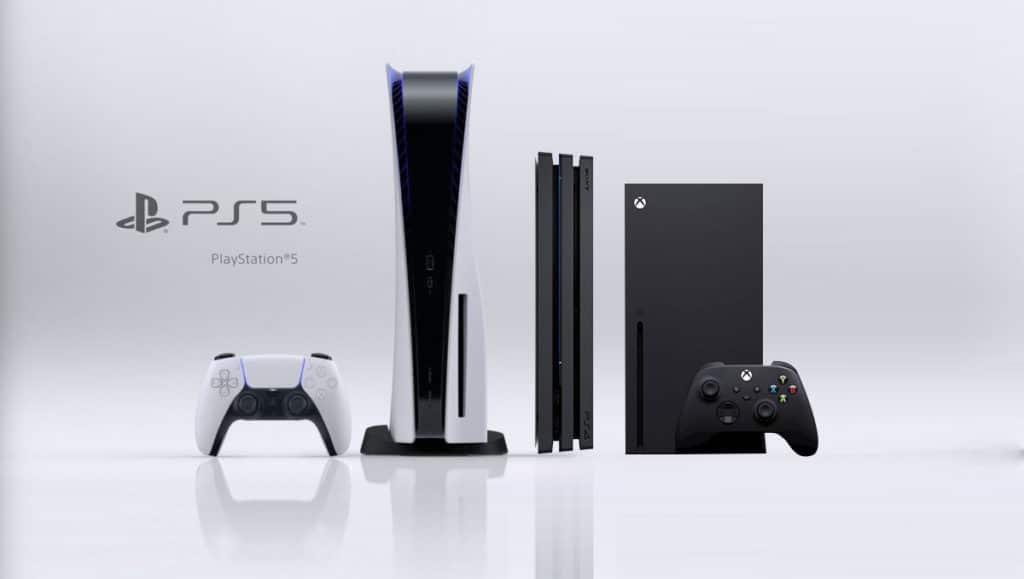 The console features a USB-C and a USB port on its front, Sony also unveiled a discless, digital only version of its console. The presentation also showcased some of the system's accessories which included the PULSE 3D™ wireless headset, which features 3D audio and dual noise cancelling microphones. A Media Remote for easy of navigation in the PS5's streaming services. An HD camera for live streaming, online gaming and creation content purposes, and a charging dock for the system's controllers.
While judging a console on outwards looks can be misleading, Sony's machine does look a high-tech premium device because of its design. It will be interesting to see how the casual market responds to its appearance in contrast to the Series X's more archaic appearance.
The Games
Once again, perhaps by virtue of going second, Sony seems to be winning the battle of the games as it showcased quite a few first party titles from established franchises. Sequels to Horizon Zero Dawn, Rachet and Clank, and Gran Turismo had showcases in the presentation.
Gran Turismo showcased actual gameplay footage and it looked breathlessly stunning (even at 1080p 30fps with was the limit set by Sony for the presentation). Rachet and Clank: Rift Apart made some waves with its visuals, and a small chunk of what seemed to be actual gameplay. The game further blurs the line between Pixar's films and videogames. Perhaps the biggest winner for Sony (and predictably so) was Horizon Forbidden West. The much-awaited sequel for Horizon Zero Dawn is perhaps the early PS5 killer app, though no release date was given for the title.
The game shows what perhaps is the most gorgeous open world ever seen on a home console, and while it is difficult to pinpoint if there were any gameplay segments, it is same to assume this is the game running on real PS5 hardware. The game expands its open world as the trailer clearly demonstrates Aloy's ability to finally swim under water (Yes!) and not just for explorational purposes as Aloy can be seen swimming towards a gigantic underwater structure which seems to be part of a main story mission.
Other big hitters were Spider Man: Miles Morales, and while this isn't a sequel to the PS4's Spider Man hit, it is a side game that will keep Spider Man fans occupied as they wait for the full blown PS5 sequel to the original game.
Blue Point's Demon Souls remake is poised to push next gen boundaries as the trailer looked stunning.
Sony's PS5 hype is at all time high levels, and it will be interesting to see how Microsoft counteracts the reveal, as the PS4/Xbox One feel of "Microsoft only has Halo" seems to be taking hold once again.
Sony showcased a long line of 3rd party titles in which Resident Evil 8 made the most noise and Microsoft couldn't remain silent on the issue:
Congrats to our friends at Sony on their show today. Xbox fans should know titles like GTA V, Resident Evil Village, Hitman 3, NBA 2K21, Pragmata, etc are going to look and play great on #XboxSeriesX the world's most powerful console. #PowerYourDreams #XGonGiveItToYa 💚🙅🏼‍♂️🔥

— Aaron Greenberg 🙅🏼‍♂️💚U (@aarongreenberg) June 11, 2020
Perhaps low key, the most impressive thing of the entire reveal is that GTAV remains a game changer nearly two console generations later.  Incredible, but true.