It has been nearly a week since Cyberpunk 2077's much awaited, and now much maligned launch. The game has provided a very good, though bug filled role-playing gaming experience for high end PC players, and a poor, broken at times, bug filled experience for users at the other end of the spectrum (2013's console owners).  But, should gamers hold CD Projekt responsible for Cyberpunk's woes?
Lying by Omission
One could say that CD Projekt flat out lied less than a month ago when CD Projekt joint-CEO Adam Kaciński made this now infamous statement:
(Cyberpunk 2077 runs) surprisingly good, I would say, for such a huge world. We had those extra three weeks and we achieved a lot by – within this final stretch. So, we believe that the game is performing great on every platform. Of course, accordingly to platform capabilities, but not every platform should be great. – Adam Kacinski
The problem is that the phrase "Surprisingly good", lends itself to a wide array of meanings. Some gamers are fine with the running at 15-30 fps on base consoles when in Night City, so for them, "Surprisingly good" is…well…surprisingly good!
For the vast majority of gamers, however, a game that drops to 15 fps is "Surprisingly bad". Thus, the calls for refunds have started.
Gamers playing on base consoles should be reimbursed by CD Projekt (more on that later), quite simply because performance is measurable by certain metrics. A game that targets 30 frames per second on base machines (The PS4, and Xbox One) should never dip to 15fps (sometimes lower) on a consistent basis, but Cyberpunk 2077 manages to do just that. Thus the experience even when solely judged on performance, is nearly unplayable, and if it is – playable – then it makes the game a much less enjoyable affair than what the developer intended the experience to be.
If Cyberpunk 2077's issues were only of the 'performance' variety, perhaps, I could find it somewhere within my heart to await patiently for the much promised patching in CD Projekt's recent – attempt to save face – PR stunt: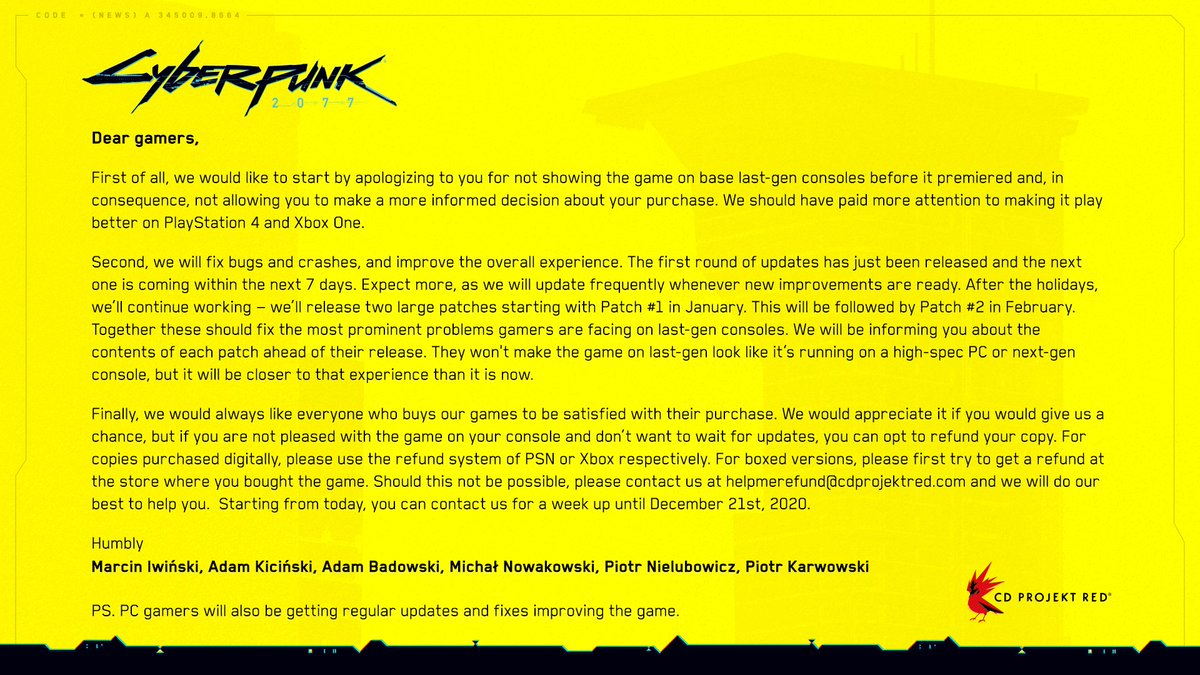 But, Cyberpunk 2077 on base consoles, and on the premium Pro, and One X hardware is a severely unfinished, and broken product. Missing textures, constant stuttering, freezing, and even full blown game crashes are of normal occurrence while playing the game.
It is simply unacceptable. The bigger problem is that as CD Projekt acknowledges in the pictured statement above, that they knew that the game did not work properly on current gen consoles, and purposely hid that fact from the gaming masses.
How CD Projekt's Sin was Consummated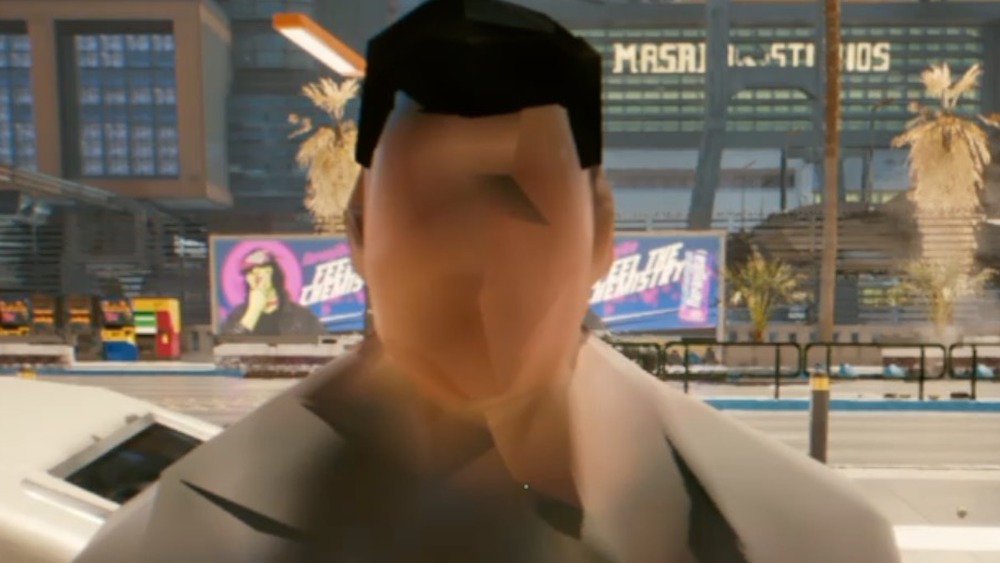 Those of us working in the media knew beforehand that the game was running poorly on home consoles, as it was one of the reasons stated for the constant delays. What we didn't know, however, was just how bad the game performed on said machines.
There are a few reasons for that.  CD Projekt bears the brunt (if not all of the blame) on all of them. First, they never revealed any real footage of the game running on base consoles, only a video of the game running on Xbox One X. A video which now I find dubious because the game suffers from big issues even on last gen's most powerful console.
Second, and perhaps most offensive of all, CD Projekt did not ship console copies to professional reviewers before the game's launch. Basically, gamers everywhere were left with the PC Metacritic score as a basis for knowing how good – or bad- the game was.
At launch the game had a 90 Metacritic rating, which is very good (bearing in mind that most reviewers have high end PC rigs). The rating was also very misleading, as the console version greatly differs from the high end PC experience which now stands at an 88 rating.
The real console Metascore for PlayStation 4 is an abysmal 49 rating, which is the score that the game currently deserves on said machine. It is also the score that CD Projekt dreaded that the game would get, as it would have impacted sales, and developer cash bonuses (which the company states that it still intends to pay).
In other words, Cyberpunk 2077 on home consoles, is a very good (not necessarily great judging by the PCs 88 rating) open world first person RPG that is greatly, and I will stress this: GREATLY hampered by its bugs, crashes, and performance issues.
CD Projekt, purposely kept the ugly truth hidden from consumers, and I find that type of deceptive practice quite unforgivable.
Like Cyberpunk 2077, the Refund System is not Working Properly
To add insult to injury, it seems that gamers are having trouble getting their justified refunds. CD Projekt on its investor call promised, among other things, that players seeking a refund for their purchase would get one.
The company is now hell bent on saving its reputation, which seems to be a concern for investors (the very same individuals that rushed the game out) after the critical fallout.
However, getting a Cyberpunk 2077 refund from Sony and Microsoft is proving to be a hit or miss venture. Once again, CD Projekt lied to gamers everywhere when the company claimed that, "If you are not pleased with the game on your console and don't want to wait for updates, you can opt to refund your copy." It seems that CD Projekt fired out that statement without an agreement or official consent from Sony, and Microsoft.
Sony, and Microsoft have their specific guidelines for refunds, and it seems that CD Projekt is going to have to deal with each one separately in order to live up to their "refund" promise.
A Lesson in Why Games Should Not be Overhyped Before Their Time
Even if Cyberpunk 2077 had minimal issues, it would have not lived up to the massive hype that CD Projekt fan boys preached all over social media years before the game even saw the light of day.
Too many fans claimed that Cyberpunk 2077 was the "greatest game of all time" even before they played a second of it. Judging by the 88 Metacritic PC score, it seems that Cyberpunk 2077 while a very good game -when working properly – fell quite short of that.
Apart from the game's conceptual and true inherent value, the actual finished product on consoles, is now, for the time being, a historical mess. Cyberpunk 2077 was in conceptual stages before the original PlayStation 4, and Xbox One were announced, and 8 years later CD Projekt failed to deliver a workable game on said platforms.
So please, let's stop crowning games based on a developer's past achievements before the critics, and gamers get their hands on the software.
Not All is Lost for CD Projekt
The Witcher 3 remains the company's crown jewel, and while Cyberpunk 2077 did not dethrone it, even on PC, the company has some good will left after this mess. With 8 million pre-orders sold, the company has made money, which, at least for now, has made its unethical strategy of omitting the state of the terrible home console versions to the media a successful one.
Let us hope that they can fix the game in the following months, and that every last gen system including the PS4 Pro, and Xbox One X get the optimized version that each one deserves.
Agree with the author? Couldn't disagree more and are frothing at the mouth to tell him? Leave a comment here, on Facebook or send an email and make sure to follow Never Ending Realm on Facebook, Twitter, and YouTube!