When I think about what defines an RPG, I'm reminded of my very first experience with the genre. I've got my Game Boy Color out and I'm enjoying Pokémon Red. That means that for me, an RPG was traditionally a turned-based game where you learned enemy weaknesses and exploited them. Naturally, there needs to be a leveling up system as well.
Now, of course, RPGs come in all shapes and sizes. Not every RPG is going to fit the mold of my first one, and that's more than okay. I love all RPGs, I just have a special place in my heart for turn-based ones.
That's where Octopath Traveler comes in. Let me just say that this is easily one of my favorite RPGs ever. It has everything that makes me smile; a deep, turn-based combat system that makes you think, a rewarding job system that presents endless possibilities, and a cast of characters all with great stories. Let's not even mention the breathtaking pixel art here. It is an absolute joy to see modern titles still pursuing this route because I adore this art style. It had Final Fantasy VI vibes and I loved it. The soundtrack is one of my favorites as well. It just all comes together to create such a unique and heartfelt experience.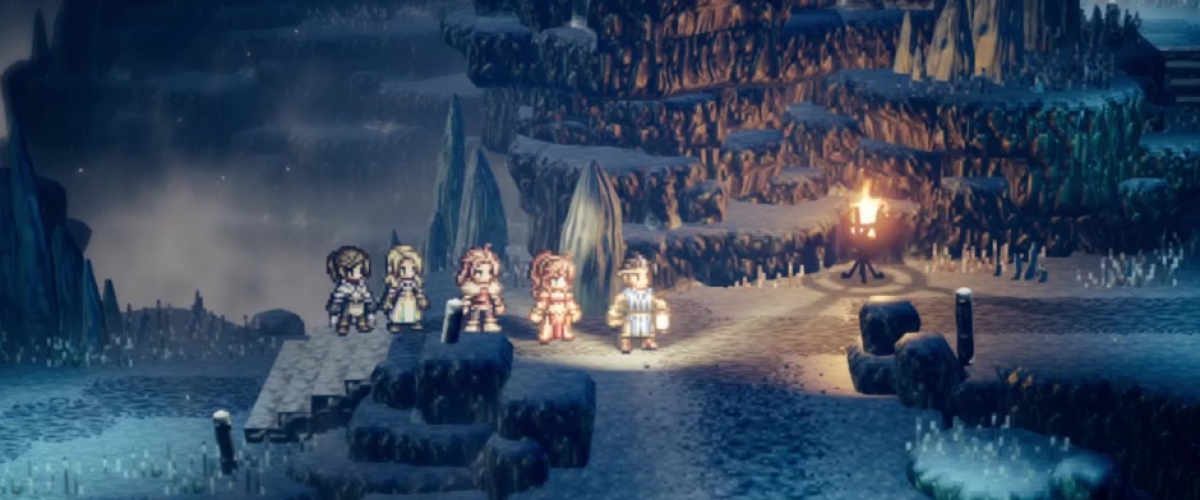 You can start with any of the eight characters at the beginning of the game. After you choose, you can go pick up the remaining characters if you want to. I chose Cyrus, the scholar, because I am always drawn to magic-based characters. As for the other characters there is Ophelia the cleric, Alfyn the apothecary, Ha'anit the huntress, Tressa the merchant, Primrose the dancer, Olberic the warrior and Therion the thief. I personally ended up loving Primrose and Alfyn the most, but they are all unique and worth the time to play through their stories.
Octopath Traveler is broken into areas, all connected to each other. Essentially it is open-world but you do have to transition between areas. Battles will commence randomly while you are traveling like most RPGs. The areas closer to the edges of the map get tougher and tougher, so be careful about where you are exploring. Every area has a recommended battle level though, so if it is higher than yours, just turn around and come back later. There are plenty of dungeons to explore and secrets to find though, so do not hesitate to see all that this game has to offer.
What really hooked me for Octopath Traveler was that you could mix and match jobs. If you found the cleric shrine you could give that job to anyone else in your party. The characters are stuck in their original jobs, but you can give them whatever second job you want. The only catch is that two characters can't have the same second job. However, this offers an insane amount of possibilities without just letting you have all healers. I had a wonderful time sinking hours into combinations and trying things out. Do you want Cyrus to also be able to heal? Then give him the cleric job! Do you want Primrose to take on the warrior role? She can!
As far as the combat, every enemy has a weakness and a number with a shield over it. Hit those weaknesses a certain amount of times and you'll break the enemy and then they'll be weak to everything. I quickly learned that those openings were where you wanted to use your powerful attacks. Each turn, your character will earn a BP charge which can be used to enhance any of your abilities. You can stack this three times which allows for staggering damage dealing potential. Break the enemies and then use your BP to hit them hard.
It's worth pointing out that the party is only composed of four characters and the four that aren't in your party will not gain EXP. In that respect, I divided this game into my first party of four and my second. The first being Cyrus, Olberic, Alfyn, and Therion. Yes, I realized about an hour in that I separated them by gender but I also made sure that all eight classes were represented. I did that same thing for my second party which were all females. Honestly, my second party was much more refined from all that I learned and I had much more fun with it.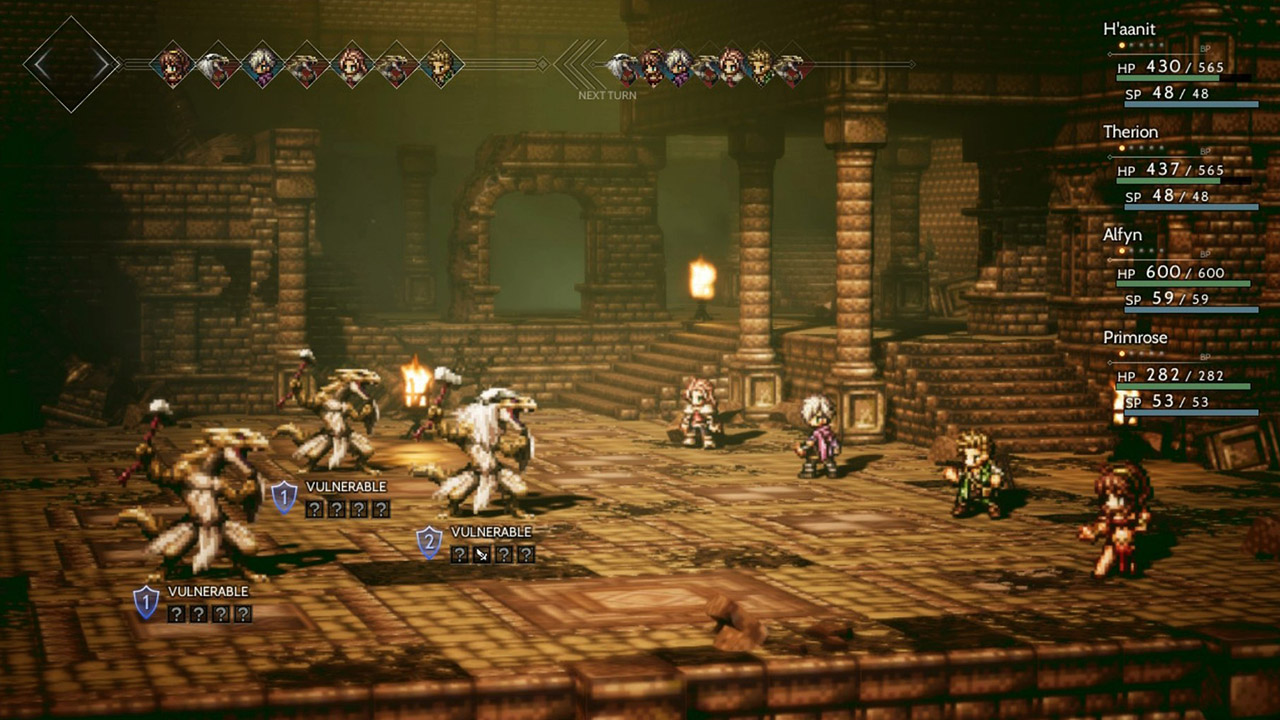 I easily played 80 hours of Octopath Traveler and although I finished all of their stories, there is still plenty to pick at and I love that. For those of you who don't want to spend 80 hours though, you can choose to just finish your first character's story. That is when the credits will roll. You also cannot switch out your first character until their story is complete. It was that aspect that led me to split the game into two parties instead of trying to level up everyone evenly. It was easier for me that way, but the great thing about this game is the freedom that such as system presents. You can approach every aspect of this game how you see fit.
Octopath Traveler became one of my favorite RPGs and I will always cherish the time I spent with this game. I cannot recommend it enough if you are an RPG fan or interested in the genre. I promise it will not disappoint you and you'll find yourself immersed in a world of fantasy and endless fun.
Agree with the author? Couldn't disagree more and are frothing at the mouth to tell him? Leave a comment here, on Facebook or send an email and make sure to follow Never Ending Realm on Facebook, Twitter, and YouTube!