The 1990s were awesome. Music was great, the Power Rangers were cooking, and video games had entered a new dimension. Magical times, indeed.
Because the video game industry was in its infancy stages, genres that today are either extinct, or have gone into a niche segment of the gaming population, ruled the day during the 32-64 bit era. From extreme sports, to JRPGs, to Racing Games, the 90s highest sellers (and highest scoring titles) belonged to some genres that today do not fare as well as they did back then.
Thus, I have decided that today is as good a time as any, for me to look back at the "fighting" genre, and its top games for the PlayStation One. Sony's console was not only home to the best RPGs, but also, to the most popular fighting game of the time (despite the fact that Sega had Virtua Fighter).
The scores are based on Metacritics' ratings, and some (high scoring) games might not be on the list (as Metacritics' database isn't as vast as Gamerankings.com' s was from that time period in gaming).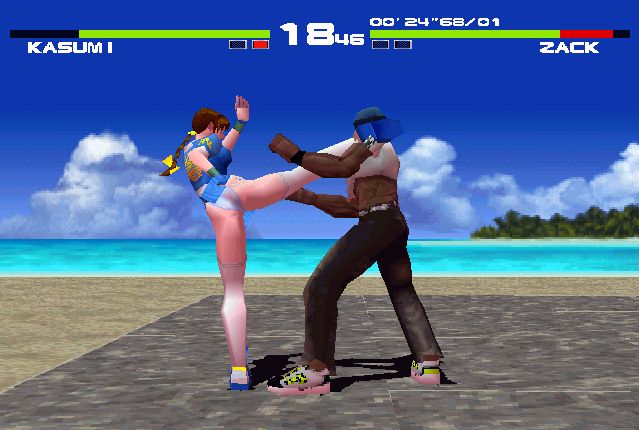 Dead or Alive was an interesting new comer for many gamers back in the day. DoA might have looked like a "Tekken" (Namco) clone on the surface, but the game had more in common with Sega's Virtua Fighter, instead.
Arcades were huge during the 90s decade, and it had a trickle down effect that influenced  console gaming. The best Arcade ports from the best Arcade games usually earned rave reviews and high sales.
Back in the 1990s, the term "Arcade Perfect" signified the ultimate compliment to any console game that had been ported to the hardware from an arcade machine. Dead or Alive, while not arcade perfect, was one of the best conversions that one could find.
Tomonobu Itagaki's creation saved Tecmo from bankruptcy by being a successful arcade game in Japan. As with most arcade hits of the era, Dead or Alive received an early port to the Sega Saturn (Japan Only), as it ran on Sega Model 2's hardware, and later in 1998 to the PlayStaiton console.
Consequently, Dead or Alive would be the first port from Sega's hardware to Sony's gaming machine, and it met with moderate commercial success (280,000 units sold), but the numbers were rather low in comparison to Tekken.
Still, Dead or Alive over took Tekken as my favorite fighting series with its third iteration on the Xbox. The first game on the PlayStation remains an important game within the genre's early days, even if it wasn't as good as Tekken 3.
Dead or Alive was a mix of Virtua Fighters' brilliant timing (and countering) system with Tekken's flash and story driven single player mode. It wasn't as hard to get into for new comers as Sega's VF series, but it was certainly much harder to master than Tekken's more mainstream (gameplay) approach to the fighting proceedings.
Dead or Alive had some of the best graphics seen on a PS1 (or Sega Saturn)  game, with fast combat, 'jaggy less' (at the time) character models, and bouncy babes. Yep, I don't feel that this series got it all together until its 3rd iteration, but the original game was awesome, nonetheless.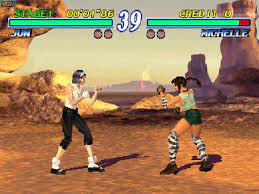 I will always remember Tekken 2 fondly. I was only ten years of age when I first experienced it on a local arcade machine. It was my first experience with the series (as I got to play it first in 1995, before I played the first Tekken on my PS).
Apart from its mind-blowing visuals, the one are where Tekken 2 stood out from the pack to me was in its diverse cast of fighters. Each fighter had a style based on a real martial art, and being a fan of martial arts movies myself, I could easily appreciate both Marshall Law ( Bruce Lee clone), and Jackie Ch-Lei Wulong (the character was actually voiced by Jackie Chan's Japanese Dub voice actor) .
While I didn't enjoy much of Tekken 2's plot during my Arcade sessions, I would later enjoy its tale (each character had its own ending) on my PS1 in 1996. Tekken 2 was one of the reasons to feel good about owning a PS1 despite the fact that the Nintendo 64 had the game to end all games in Super Mario 64, at the time.
Tekken's brand of 'easy' fighting (anyone could pull off awesome moves), in combination with its stunning visuals, and wonderful CG ending scenes for each character made it a favorite amongst PlayStation owners.
With more than 3 million copies sold world wide, it was certainly a huge title for Namco in an era where it seemed that the publisher/developer couldn't miss with its arcade ports.
3. WWF Smack Down! 2: Know Your Role (2000) – Metascore: 90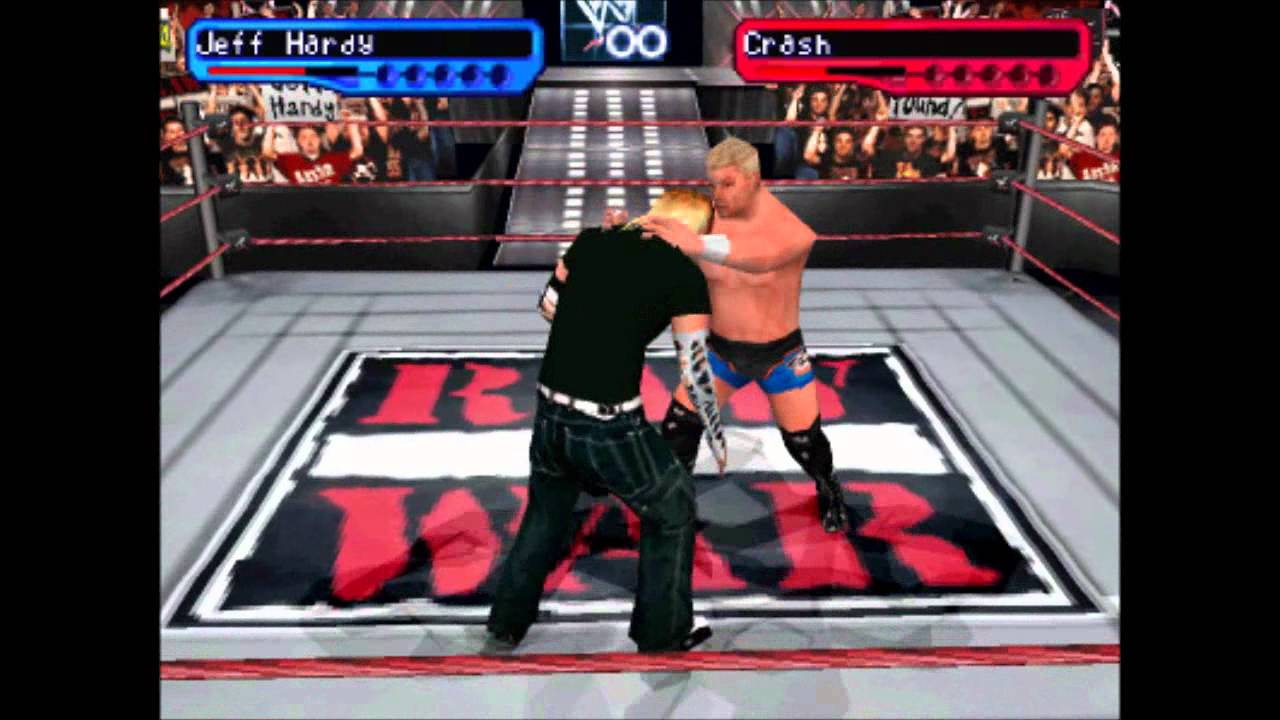 Kids these days will never understand how big Pro-Wrestling was in the 1990s (or in this case early 00s). It was big enough that video games based on the scripted sport sold millions of units, and received high critical praise.
While gameplay wise, Yuke's Smackdown 2 does not hold a candle to AKI's Nintendo 64 wrestling titles, Smackdown 2 was certainly leagues better than Iguana's WWF efforts on the PlayStation, and the critics correctly showered it with love.
The game did capture the glamorous presentation of the WWF, and its super stars. Having The Rock as one of its cover athletes didn't hurt either. What made Smackdown 2 stand out from the Nintendo 64 wrestling games, despite its inferior gameplay (when actual wrestling matches were taking place) was its career/season mode.
No other game captured the feel of being in the shoes of an actual WWF super star ( at the time for many middle school and high school kids this would have been a dream come true) better than Smackdown.
While the actual storylines that took place within the game's season mode were nothing to write home about, the fact that an effort was made to capture "scripted" feel of the biggest brand in the 'world of sports entertainment', made Smackdown 2 a worthy addition to my gaming collection.
Smackdown! 2: Know Your Role ended up selling over 3 million copies.  A testament to how popular wrestling games, and pro-wrestling were 2 decades ago.
Ah! The great long gone days of smelling The Rock's cooking!
2. Street Fighter Alpha 3 (1999) – Metascore: 93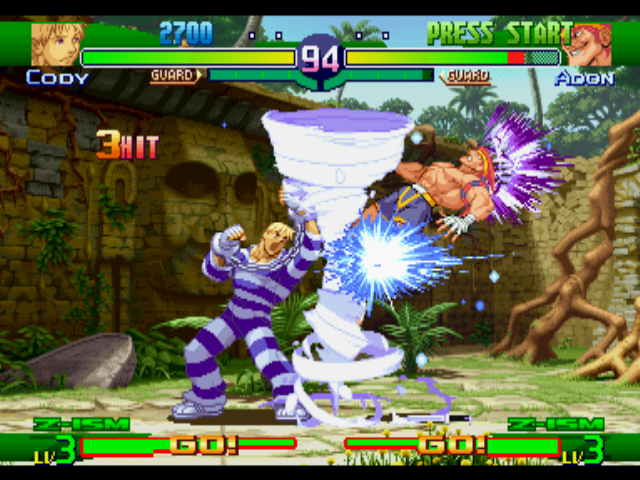 As a 2-D game, Street Fighter Alpha 3 had to be damn good in order for it get universal critical praise during an era where 3-D graphics had taken over gaming. Some awful games would, at times, receive better than deserved scores thanks to their 3-D visuals, and the converse would also be true, as some 2-D games were under appreciated in those days.
That said, I was one of the culprits of this (underrating 2-D games) practice. I didn't get into SFA3 as much as I did into other fighting games, even some that were, admittedly, rather average (Battle Arena Toshiden) because, for the most part, I had lost interest in 2-D fighting games at that point.
That, and also, SFA3 took actual skill in order to succeed in it, and given that I was mostly a casual fighting game fan (I mostly played Mortal Kombat, and Tekken for their storylines, if you can believe that), I just didn't have the patience to play more than a few hours of it.
However, for connoisseurs, SFA3 was probably one of, if not, the best fighting game of all. With critics even stating that despite Tekken 3 looking better, SFA3 would outlast it (in the long run) on the strength of its flawless gameplay.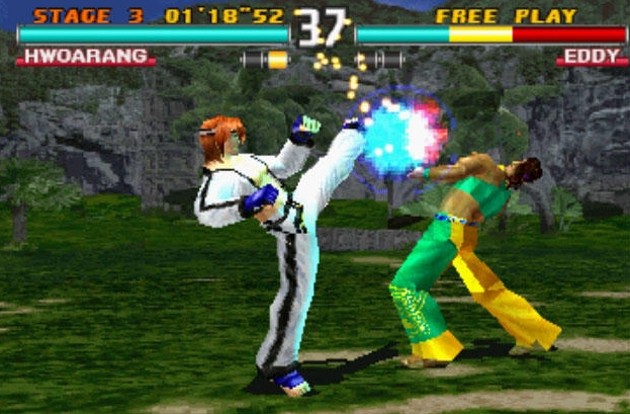 While the series (along with the fighting genre) has lost much of its relevance over the last two decades, the Tekken franchise never soared higher than it did in 1998 with its legendary 3rd iteration.
The series sold about 2 million units of its most recent game (Tekken 7), but given that the game is sold on multiple platforms, its numbers pale in comparison to the 7 plus million units that Tekken 3 sold on a single console 2 decades ago.
The critics were not wrong here, Tekken 3 was as a good as an arcade port could be on the PS1 hardware. Not many of us thought that the series could look much better than Tekken 2 did, but Tekken 3 arrived, and surprised even the skeptics.
The port was based on Namco's System 12 hardware, and it showed. Tekken 3 earned rave reviews everywhere and had it not been for 1998 being, quite possibly, the greatest gaming year ever (Ocarina of Time, Metal Gear Solid, Panzer Dragoon Saga), it would have likely won Game of the Year honors in most publications.
While I loved the game, and performing easy, but devastating combos with Eddy Gordo was my favorite thing to do, as a by product, critics found the game to be flawed because of that (ease of play).
You could, in theory (and practice), pick Eddy Gordo, and mash button your way to a victory over a more experienced opponent. Given how incredibly tough to master its nearest competitor, Virtual Fighter 3, was and how Sega meticulously kept refining that game's fomula, some of the harshest critics found Tekken 3 to be too easy for casual fans to succeed in.
To be fair, I faced some good Jin Kazama users who could beat me, more often than not, if I dumbly mashed buttons during our fights. The game did favor skilled players over beginners, but not as heavily as other titles did.
Despite some of the criticism, ease of play had always been Tekken's strength. Its accessibility towards the mainstream gamer that didn't want to spend hours on end mastering the controls and button inputs of a fighting game made it the commercial success that it was.
In that sense, there was no better playing fighting game than Tekken 3 on the PS1.
Agree with the author? Couldn't disagree more and are frothing at the mouth to tell him? Leave a comment here, on Facebook or send an email and make sure to follow Never Ending Realm on Facebook, Twitter, and YouTube!