Before anyone complains about Dark Souls not being 'Throwback" material, know that it has been more than 10 years since Dark Souls was first unleashed upon the gaming world, and that it was released two console generations ago on the Xbox 360 and PlayStation 3. 
What made me consider the game for today's weekly section is Elden Ring's upcoming (Feb. 24) release, and how Dark Souls was such a significant game in turning FromSoftware from a jack of all trades company, with some truly pedestrian games, to a premier developer. 
FromSoftware is Infallible These Days but That Was Not Always the Case With its Games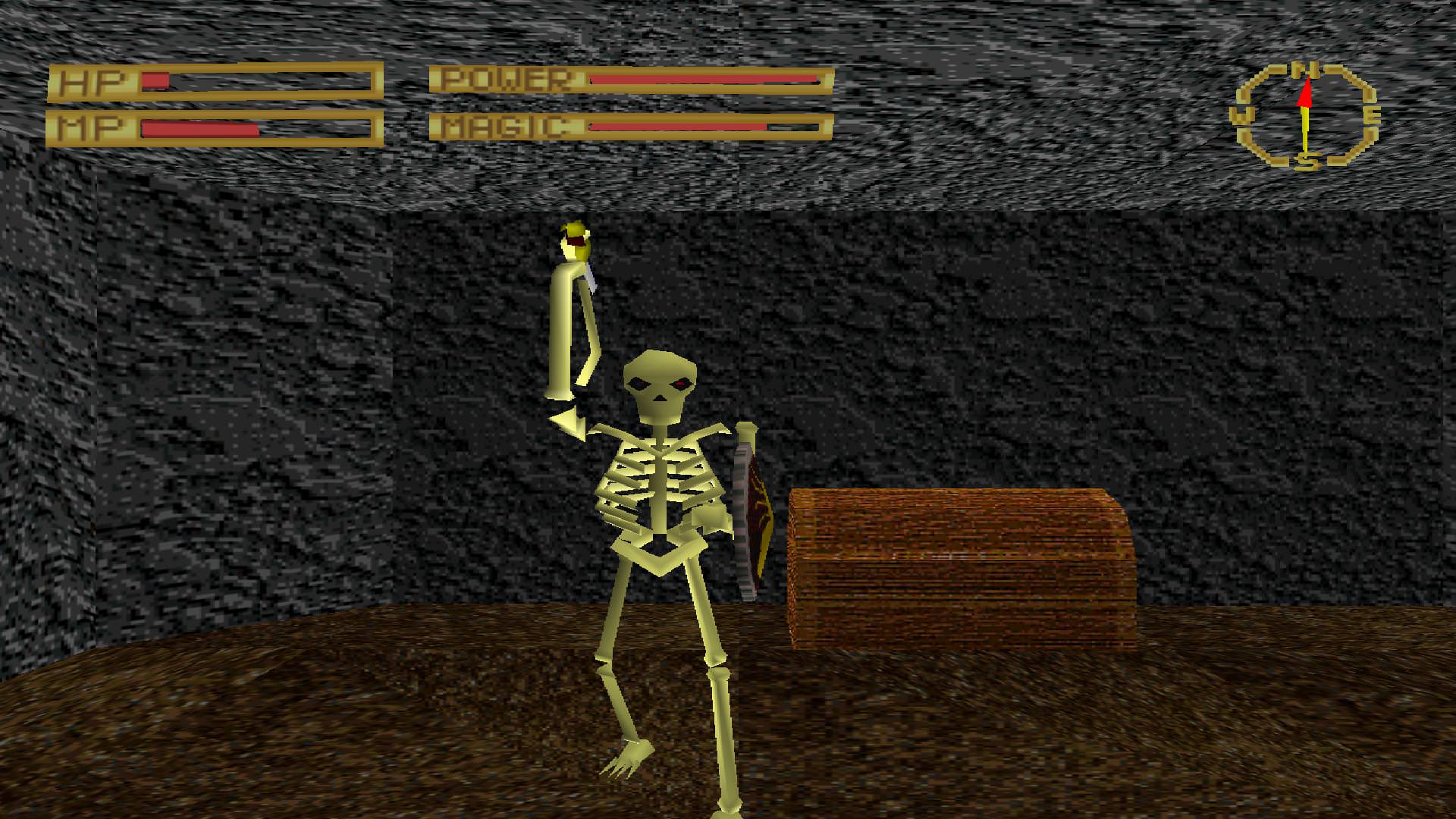 I used to avoid FromSoftware games. That statement might sound like heresy to younger games, but some of their earlier games were average fare. FromSoftware was always an ingenious company, but until 2009's Demon's Soul it, at least to me, appeared to have identity issues. Until that point, they had created dozens of titles for different platforms in a wide gamut of genres, most of which were pedestrian.  
I have vague memories of King's Field II, one of the very earliest examples of a first-person Action-RPGs (think Elder Scrolls) on a console. However, I remember the game being a slow, methodical, and ugly mess.  
The methodical part was a part of the game's design, and truth be told, Dark Souls is just as methodical in its approach to progression. However, the 'slow' and 'ugly' components of the game are what made it an unbearable experience for 10-year-old me.  
Truthfully, I can blame these issues on FormSoftware having little time with the PS1 hardware, which was underpowered for 3-D games anyway. On a positive note, the game's world was massive and it had no load times, quite an achievement. It almost felt like King's Field II just had the misfortune of running on underpowered hardware. 
The King's Field series would be hit or miss, even though it held Gamerankings ratings in the 80s range. Some people hated the games, while others appreciated the thoughtful non-linear design and difficulty of them.  
The Armored Core series might have been a more popular franchise for the company. Though in terms of critical appeal, the first Armored Core game fared worse than King's Field II. Then we have games in between this title like Shadow Tower, which holds an awful 49% Meta-rating
Clearly, FromSoftware was far from infallible in the PS1 days, but they were busy. The company released ten titles for the PlayStation 1 alone.  
FromSoftware resurfaced, at least for me, during the early PlayStation 2 days as the developer true to its busy culture, having a few titles available during the PlayStation 2's launch period. 
True to form, FromSoftware's PS2 launch games were not very good. Eternal Ring probably appealed to many fans of the King's Field series, as it felt in terms of gameplay and perspective like King's Field. The title had plenty of flaws, including visuals that would not make anyone put down their Dreamcast in favor of a PS2.  
The title felt rushed to meet the PS2's early launch period and it wasn't nearly as good as King's Field II or III. Then we had Evergrace, a game I remember well. Evergrace was FromSoftware's attempt at a 3rd person Action-RPG, but it was a poor attempt that wasn't even competitive with N64 games like Ocarina of Time, despite being made for much more powerful hardware.  
To make a long story short, if it weren't for the Armored Core series, I do not even know if most of their game's resume would be worth its salt in terms of critical reception.  
FromSoftware even tried its hand at a Final Fantasy like Turn-Based game in the awful Enchanted Arms, which had an Xbox 360/PS3 release. While it had decent visuals, everything else (including its storyline) screamed of average fare.  
Enter the Souls Series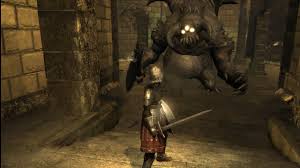 In my opinion, a big part of the troubles for the studio in terms of quality stemmed from the fact that they were very productive and busy. Thus, the studio churned out dozens of games in different genres with short development cycles. This ensured quantity but came at the expense of pedestrian quality. The company had not found a niche in which it could succeed in. FromSoftware even made titles for franchises such as Tenchu and Gundam, many of which games were Japanese only releases. 
Things would change for the developer when the company released Demon's Souls in 2009. This would be an award-winning title that, despite being a game made for the hardcore RPG crowd 'only', would go on to achieve decent commercial success.  
In many ways, Demon's Souls was a culmination of many of FromSoftware's different projects. It was an extremely difficult Action-RPG like King's Field, it was very dark and gothic like Shadow Tower, and it played from a 3rd person perspective like Evergrace.  
The difference was that the formula for Demon's Souls made these elements gel together with near perfection, and suddenly, FromSoftware finally developed a game that could be worthy of 'Masterpiece' status.  
Dark Souls is Perfection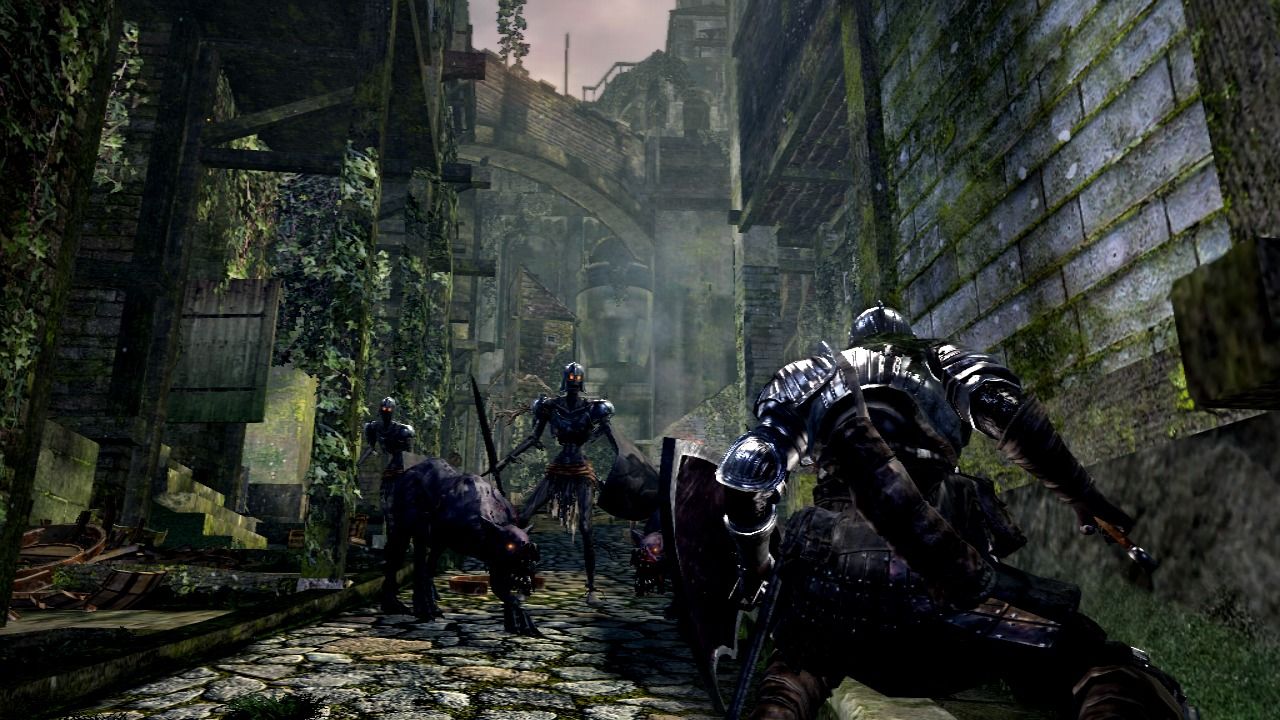 Dark Souls is Demon's Souls perfected. It was also a multiplatform release (Demon's was confined to the PS3) which greatly expanded the Souls series' reach. It is hard to fathom, given the brilliance of Dark Soul's RPG elements and its world design, that the same team was responsible for awful titles like Shadow Tower and Evergrace.  
Dark Souls can stand up to Zelda in nearly every level, as the interconnection of its world design is flawless and feels like something that Shigeru Miyamoto would have been proud of. A high praise from me.  
It is a game designed around dying (in game of course) and repeated replays, until you get skilled and strong (level wise) through repetition and combat.  
Few games have been as daunting as Dark Souls was in the first few hours of play in Lordran (after the game's tutorial section). FromSoftware gave me absolute freedom in how to tackle the game, and which strategies to employ while fighting enemies and farming souls (experience points) in what would turn out to be an 80+ hours quest (expansion content included).  
I can see why many gamers and hardcore gamers have quit the game not even two hours in. Dark Souls targets a specific niche of gamers, at least at first. Action-RPG fans who thrived on Zelda like combat, as the game's fighting is not as fast or as hectic as say Ninja Gaiden and bosses do have specific attack patterns and weaknesses than can be exploited. These gamers also have to be patient enough to expect and, in some cases, enjoy hours of grinding to topple a boss.  
The description above describes me as a gamer. I am a Zelda lover above all and someone who does not mind grinding if I am enjoying the combat and earning the proper rewards for the time that I put into the game.  
Dark Souls was maddening early, but incredibly addictive after I managed to topple my first boss. If you can get through the first 10 hours, I do not see how you cannot keep coming back to it. The game stuck to my mind. I kept replaying boss patterns in my head while I was not playing, mentally preparing to take them down.  
Taking a boss down in Dark Souls is always rewarding, it always leads to an item, or a pathway to a new part of the game's world. At times these pathways connected me to a previously explored sections that I thought was miles away from where I was.  
It was in these instances that I found the game's level design to be just as brilliant as Miyamoto's best work on the The Legend of Zelda series, in terms of world design. Even though the game is 'open-world' in letting you decide what to do, the developers are always guiding you with an invisible hand through brilliant game design. I have mentioned game and level 'design' a lot, but I feel that too many people focus on the game's brilliant combat and forget to praise the equally stunning level design.  
Visually speaking, Dark Souls captured a dark, gothic, and sometimes horrifying art style. It was a beautiful game, even if it ran poorly on the Xbox 360 and PlayStation 3 in terms of frame-rate. Gamers reading this would be better served by playing the game on Nintendo Switch, PC, Xbox One/Series, or PS4/PS5. 
Dark Souls Turned FromSoftware into True AAA Powerhouse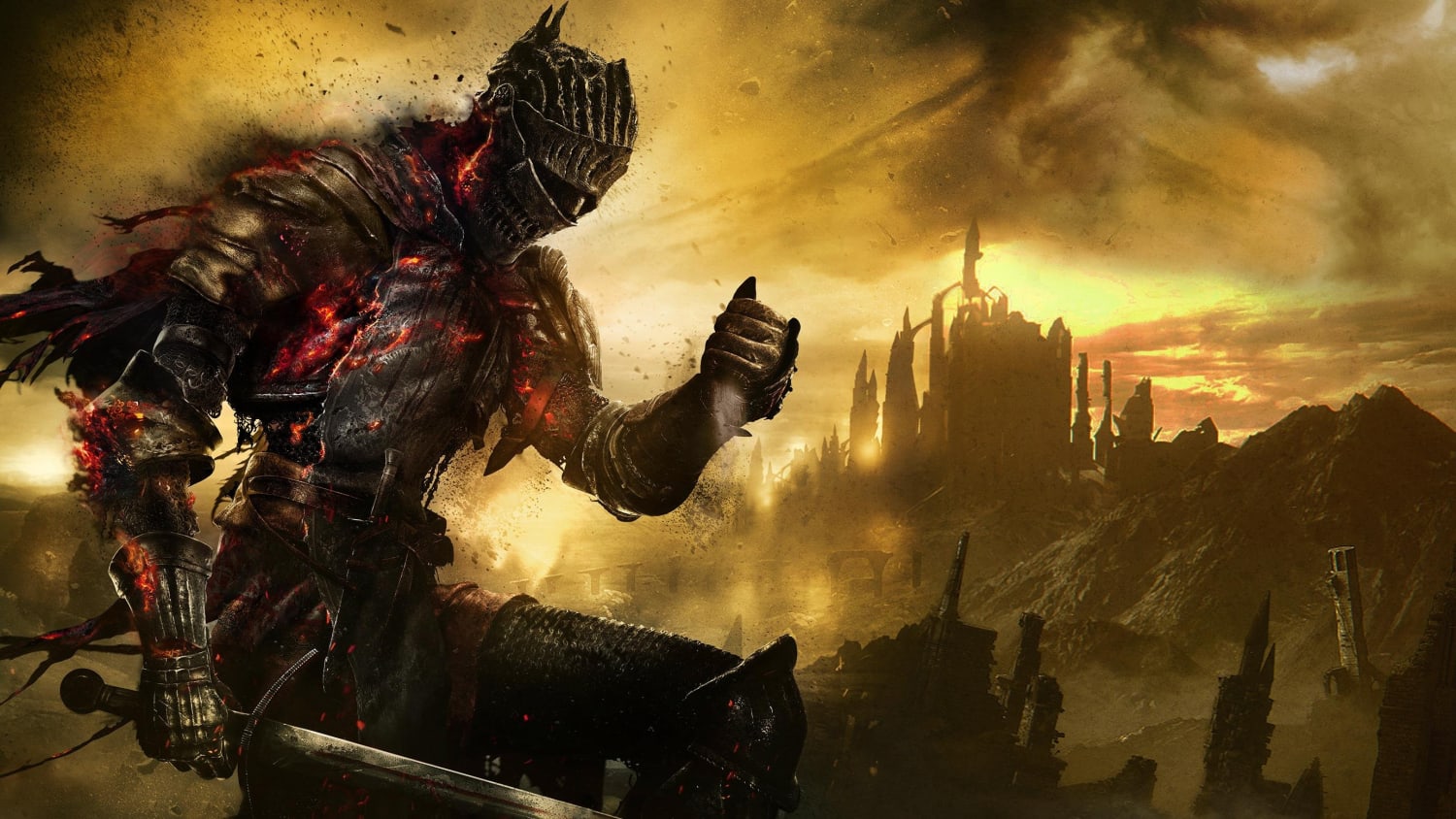 Dark Souls has sold over 10 million copies worldwide, and the series has gone on to sell 27 million units. These are outstanding numbers for any game series, but Dark Souls was a game geared at hardcore gamers of a particular style of gaming (action-RPGs) and not the mainstream. Yet, Dark Souls still managed mainstream sales.
Even though Dark Souls only holds ratings within the 80% percent bracket in the Metacritic world, this is one of those games where I can see a segment of 'not so hardcore Action-RPG' critics handing lower scores to the game than what it deserved.
The game was not made for them, it was made for gamers like me. Those who could see, and even enjoy, the brilliance of the game's design and how fantastic it is that dying is not the end, merely a means to an end in conquering the game.  
If you have not played a Dark Souls game yet, I cannot recommend the original enough in its remastered form. If you enjoy action-RPGs, give Dark Souls a chance.
Agree with the author? Couldn't disagree more and are frothing at the mouth to tell him? Leave a comment here, on Facebook or send an email and make sure to follow Never Ending Realm on Facebook, Twitter, and YouTube!