14 years after Grandia III (PS2), and we never got Grandia IV. We might have to blame the aforementioned 3rd iteration of the franchise (I refuse to acknowledge Grandia Xtreme's existence) for the death of the series.
True, the JRPG genre in general, peaked in the late 90's and early 00's, then gradually declined back into somewhat more of a niche genre (save for a few franchises like Final Fantasy and Dragon Quest).
That fact might explain why we never received another entry in the series, coupled with the pedestrian critical reception for the 3rd entry (77 Metacritic, and our own review back in 06 scored the game a 7.0/10), and the lackluster sales (hovering around 500,000 copies against 150 million PS2s), the Grandia series seemed destined for doom.
Still, other less famous franchises have survived the decline in popularity of the genre. We are still getting a Star Ocean entry now and then, and Namco's Tales series has survived through the generations. Game Arts Grandia sadly didn't share the same fate. Other than the release of the Grandia HD collection (Grandia 1 and 2), there is really not much to talk about post Grandia 3.
So, why is Grandia 3 such a forgotten RPG? Even though it sold badly compared to other PS2 RPGs, it actually sold more copies than any other Grandia stand alone version. Only if you combine the sales of the original Grandia in both its PS1 and Saturn iterations can you get a higher sales number. And yet, it is the forgotten game in the series when fans discuss 'Grandia' on social media.
Perhaps, the answer lies in its forgettable cast of party members. Yuki and Alfina, do not hold a candle to Justin and Feena, and Ryudo, Elena and Millenia. Game Arts in Grandia 3 developed a title devoid of interesting characters, save for one: Miranda.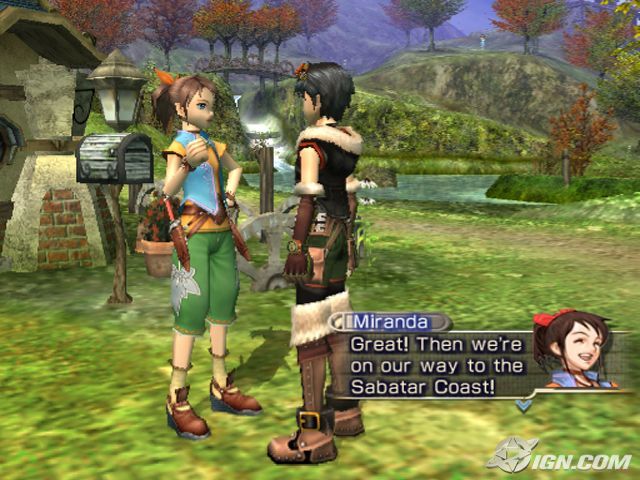 Miranda ( pictured above), is one of the strangest characters to have ever graced a game. She is the mother of our protagonist, but looks and acts the same age of the protagonist. Her dynamic relationship with the cast created some memorable early moments in the game.
Unfortunately, she leaves the party not five hours into the story, and we are left with a cliched, if uninspiring cast, surrounded by an even more cliched and uninspiring plot line.
In a genre populated by cliched plots that have been -more often than not – saved by  likable casts of protagonists, Grandia 3 has no redeeming main crew.
Story and character development is what makes or breaks a JRPG. Other areas such as music and artwork are extremely important, but it doesn't matter how good a game looks, and sounds, if the story and characters aren't up to par.
Coming from what I thought was a simple, but incredibly joyous ride in Grandia 2, I was let down by Grandia 3's character development, and overall story arc.
Not all is bad with the game, as the combat system; which remains in my opinion the greatest in terms of turn based combat, returns in stellar fashion.
The visuals on a technical level are as good as they could be on the PS2 (it was a 2006 release after all), unless you played Xbox games such as Jade Empire before it, Grandia 3 was a visual fest at that point in time.
Finally, series composer, Noriyuki Iwadare (Lunar, Grandia, Radiata Stories, Growlanser, among others), makes a solid return.
Production values weren't the problem. It was, in my opinion, the lack of soul, and perhaps more damning, the fact that many of the themes in the previous two titles were completely bypassed here.
That said, all in all, Grandia 3 isn't a disaster. The game is just an average entry in a series that had been known for its excellence, and perhaps, the poor effort by Game Arts here deprived us of a Grandia 4 title.
There are some JRPGs that have been underrated (and overrated) over the years , but that's not the case with Grandia III. The 3rd iteration of the beloved franchise, in the opinion of yours truly, deserves its 'forgotten' entry status.
Agree with the author? Couldn't disagree more and are frothing at the mouth to tell him? Leave a comment here, on Facebook or send an email and make sure to follow Never Ending Realm on Facebook, Twitter, and YouTube!