Once upon a time, the industry (home console makers) were all associated with certain mascots. Nintendo had Mario, Sega had Sonic, and for a time Sony had Crash Bandicoot (though to its credit the PlayStation Brand managed to break away from a single 'face of the console' franchise).
Microsoft entered the home console battle with (by far) the most powerful home console ever created back in 2001. By the time that the Xbox  launched, Sony's PlayStation 2 had an unsurmountable sales lead.
However, the company had set a goal of establishing the Xbox as a strong brand, and there was Nintendo to deal with (no one wants to finish in 3rd place…out three competing consoles).
Enter Halo: Combat Evolved
While console launches these days are filled with cross-gen titles, and ho-hum "next-gen" material, this wasn't the case in the 1990's (or early 00's). Back then, there were expectations that a new system should have a proverbial "Killer App" (or game) that showed the capabilities of the new system in ways that it sold the console to prospective buyers.
The original Super Mario Bros. sold the NES, Sonic the Hedgehog sold the Genesis/Megadrive, Super Mario World the SNES, Super Mario 64 the N64, etc. Ironically, PlayStation consoles have had typically weak launches in terms of software, but that fact hasn't negatively really affected the brand (which might be the reason why over the last decade "The Launch Killer App" has all but disappeared).
Still, a new player such as Microsoft, needed a true system seller to establish a brand, and Bungie's Halo: Combat Evolved more than fitted the bill. In fact, it is not a stretch to say that Halo is one of  the greatest launch titles of the last 30 years, perhaps only second to Nintendo's Super Mario 64.
Nintendo could bank on Mario to sell its consoles, but Microsoft would strike gold with Master Chief.
From Monkey Nuts to Bonafide Star
I will try to summarize what is a long and fascinating story (Halo's development) in a few paragraphs for time's sake.
Halo (in the mid to late 90s) was originally intended to be Real-Time Strategy game, at least in the early stages of the development. At some point the game was even called Monkey Nuts (while in its 'project' stage).
Bungie would eventually settle on the "Halo" name for the game, and as a third person shooter (from an over the top perspective RTS) . Bungie would hit some financial hardships between 1999-2000, and the company ended selling a share and publishing rights to Take-Two Interactive.
Eventually, another deal was worked out with Microsoft in which the software giant acquired both Bungie and the rights to Halo (Take Two kept the rights to other Bungie properties such as Oni, and Myth).
It would take Bungie just a year to craft a First Person Shooting masterpiece (from the ideas they had built for the game), and to translate the controls of a game that initially had been in development for Windows, and MacOS capable machines to the Xbox Game Pad.
Halo: Combat Evolved From My Perspective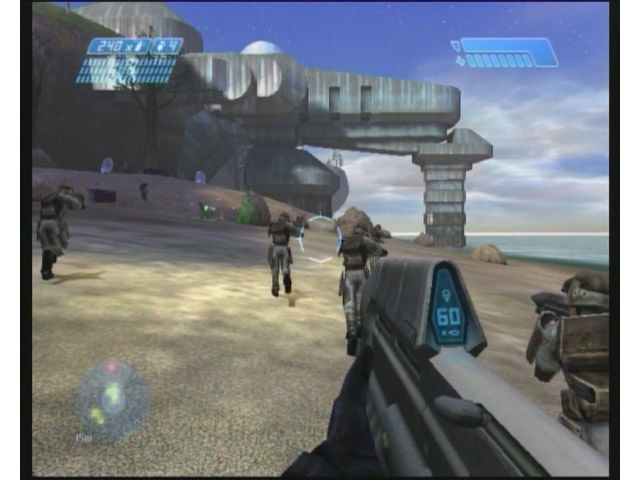 As a PlayStation 2,  and Dreamcast owner…it was difficult for my – then – 17 year-old self to justify another console purchase. At the time, I wanted a GameCube solely based on my undying love for Ocarina of Time…but the Xbox would quickly change my mind.
Visually, Xbox games at launch were above and beyond anything that had been possible on the PlayStation 2. Dead or Alive 3 was a stunner "skin looked like skin", world geometry and textures were just way ahead of anything available on the PS2, and it was difficult to look away from Halo: Combat Evolved.
Halo was received by critics (97/100 Metacritic) in a similar way that Ocarina of Time had been received 3 years prior. I was subscribed at the time to Game Informer, Game Pro, and Electronic Gaming Monthly. I recall the game receiving perfect 10s, and being hailed as the greatest First Person Shooter ever. Yes, even better than Golden Eye.
Thus, I was forced to acquire an Xbox, and a copy of Halo (with the mandatory 3 extra controllers). Apart from nabbing an Nintendo 64 and with Mario 64, my Xbox purchase with Halo was one of the greatest decisions that I have ever made as an electronics consumer.
I was mesmerized from the get go by the game's visual quality, its epic soundtrack, incredible universe (I started buying Halo expanded universe novels eventually), and fast smooth gameplay.
I remember spending the few moments of tranquility provided by Halo, looking at bodies of running water, amazing looking grass textures, and the game's gorgeous sky box in wide eyed amazement.
At that point, nothing that I had played on the PlayStation 2 felt like a step above what I had experienced on the Dreamcast. Halo, however, shattered all of my expectations. It was the true "generational leap" that I expected from a new machine.
It was the first, First-Person Shooter that I felt have merited play-throughs, and even reverence, on the strength of its story alone (sorry, I hadn't played Half-Life yet). If we add its tight, fast, and grandiose gameplay (something that was missing in Halo 5), then indeed, Halo: Combat Evolved was the best shooter of all time, and a must play experience that justified the Xbox's purchase…ten times over.
Multiplayer Greatness
After experiencing Halo:Combat Evolved in 4 way split screen mode…there was no going back (save for nostalgic purposes) to Golden Eye, or Perfect Dark for that matter. Steady frame rates, gigantic maps that incorporated all of the goodies (vehicle driving, strategic positioning, etc.) and some of the best balance in terms of gameplay that could have been found in any multiplayer game made Halo the new king of college dorm rooms.
I am huge fan of the series' single player campaigns. With that in mind, I was never as good as my Co-Editor (Mont Cessna) at the actual Multiplayer component of Halo. That didn't stop me from enjoying countless of hours with friends and family in multiplayer fun. Even when I was the one getting cooked, and on the losing end of matches, I was a having a great time.
Yes, even losing in Halo: Combat Evolved's multiplayer matches was fun.
Halo Sold Me…on Xbox for Life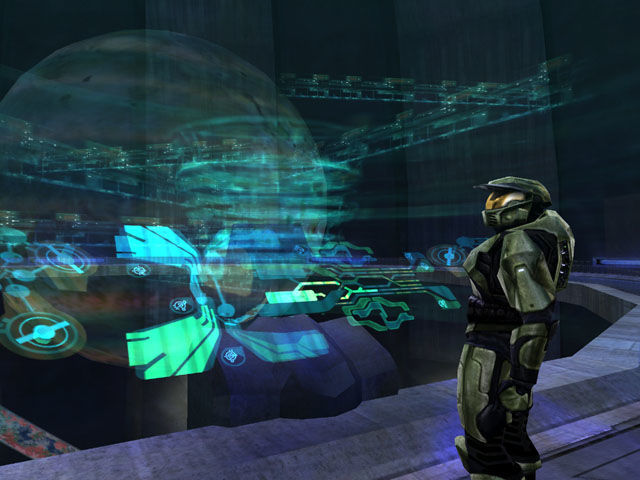 I ranked the original Xbox as the best console of all time (though my personal favorite remains the N64), and have purchased every Xbox system since the brand's inception, even though I have also remained loyal to Sony, and Nintendo.
Halo opened my eyes as to what a monster of a machine the Xbox was, and it was one of my most memorable experiences with any game in my 36 years of life.
A riveting, and unrivaled experience in its debut, and perhaps the single most important FPS on consoles. Halo was the title that ushered the era of home console First Person Shooters that would go on to dominate the market for more than a decade.
Halo, and Master Chief became the face and franchise that identified the Xbox Brand with mainstream consumers, and hardcore gamers alike. The game (5.5 million units sold) and its sequel helped Microsoft push the Xbox past Nintendo's Game Cube sales, firmly establishing Microsoft as a strong player within the home console market.
As with Zelda, and Mario, there will always be a special place for the Master Chief, and the Xbox on my TV shelf, always.
Agree with the author? Couldn't disagree more and are frothing at the mouth to tell him? Leave a comment here, on Facebook or send an email and make sure to follow Never Ending Realm on Facebook, Twitter, and YouTube!