The 1990s were a good time for everything related to martial arts. Jackie Chan, Bruce Lee, and Van Damme movies were all the rage. Kids shows like the Power Rangers and movies like The Teenage Mutant Ninja Turtles drove younglings all over America into Martial Arts schools.  
Before the wired special effects shenanigans turned A list actors into "Martial Artists", Hollywood had a healthy space for the genre. Naturally, fighting games thrived during this time period.  
If you owned a Super Nintendo (or Genesis) back in the early to mid 1990s, no fighting games were more popular than Mortal Kombat and Street Fighter.  
Street Fighter II was the Entry Point into Fighting Games for Many 80s and 90s Kids
Street Fighter II had plenty of versions, but for the sake of nostalgia I will stick to the SNES version, as it was the one that I played the most. 
The game saw the light of day on Arcade machines in 1991 but would arrive on the SNES in America in the summer of 1992. Capcom sold about 6.3 million units of Street Fighter II on SNES making it the company's best-selling piece of software for over two decades on a single platform. 
Street Fighter II was huge. There is no question, and it was also quite influential not only as a fighting game, but as a video game as well.  
Street Fighter Was the Hardcore Gamer's Fighting Game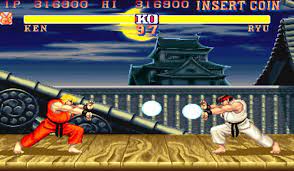 Mortal Kombat was the flashier game due its digitized graphics. Street Fighter II, however, was faster and perhaps much more complex to master with its eight directional and six attack buttons. The game allowed for the selection of different fighters with different fighting style and unblock-able (if timed right) flowing combos. 
The game was addictive, especially with a second controller and rival player to compete against. The hero of the game according to its storyline is Ryu, but I found myself using Guile more than other characters.  
I liked his military garb and style of fighting. Talking about its characters, Street Fighter actually had a decent "storyline" as far as fighting games went. Mortal Kombat did a better job at this, in my opinion, but Street Fighter II had its own charm in that department.  
Each character had a distinctive background and motivation to enter the tournament. The characters also had a distinctive look, save for Ken and Ryu, and skills that went according to their physical build.  
Street Fighter II was a Masterpiece of its Time
By today standards, the game has been surpassed, mostly by future entries within the same series. However, in terms of appeal and revolutionary influence, it is hard to say that many, if any, fighting game can top Street Fighter II.  
Electronic Gaming Monthly, which had four reviewers scoring every single game at the time, gave the game score of 10,9,10, and 9. These scores were excellent, and Street Fighter II was one of the earliest titles to receive such an excellent collection of scores. The game was praised for its "near perfect" (though downgrades were made) translation from arcade machines to the SNES hardware.  
Nintendo Power would even rate Street Fighter II as the best game of 1992, even surpassing the mighty The Legend of Zelda: A Link to the Past. The game and the subsequent "Turbo" version would win many "Game of the Year" awards in 1992 and 1993. 
Perhaps, more importantly, Street Fighter II holds several Guinness records which showcase how influential the game was to the fighting genre. The game holds the record for the "first fighting game to use combos", "most cloned fighting game", and "biggest selling coin-operated fighting game."  
While I will always cherish my time with Tekken more than I cherish my time with Street Fighter, there was something magical about being 9 years old and playing Street Fighter II: Turbo with a few childhood friends on SNES.  
Street Fighter II is not my favorite fighting game of all time, but it was my first, and as such, it will forever hold a place in my gaming memories. 
Agree with the author? Couldn't disagree more and are frothing at the mouth to tell him? Leave a comment here, on Facebook or send an email and make sure to follow Never Ending Realm on Facebook, Twitter, and YouTube!