I first played Transistor this time last year and it was quite the experience. I went through a bit of an indie phase last year that I honestly haven't quite left yet and I don't think I ever will. Each indie game I have played is so creative and unique and Transistor is no exception.
Transistor is a sci-fi action RPG that puts you in the shoes of Red, a famous singer from the game's city Cloudbank. The game opens with Red next to an unknown man's body, and her voice has been taken from her. The man on the ground next to her has been killed by the Transistor, a giant sword-like weapon, and his consciousness is now inside of the weapon. She takes the weapon with her and uses it to fight back the Process, the robot force responsible for her lost voice and the man's death.
Without her voice, you only hear the Transistor communicating with Red throughout the game. It creates an almost peaceful but ominous environment. He is guiding her throughout her fight, and as the story unfolds you can tell that they care for each other. She can't talk but it is clear that she's going to do everything she can to avenge his death and get her voice back.
The gameplay is a mixture between real-time combat and a mode that allows for planning. The planning mode is wonderful for big groups of enemies, but it's also nice to be able to handle things in real time if you need to. It gives the player a range of options and ways of tackling each scenario.
You have complete freedom with abilities you learn here, and how they combine with each other. Abilities are called functions and each function can be used as either an active ability, an upgrade ability or a passive ability. Active abilities will be the actions you perform on the battlefield. If you choose to use a function as an upgrade, it will combine with an action ability and change its properties in some way.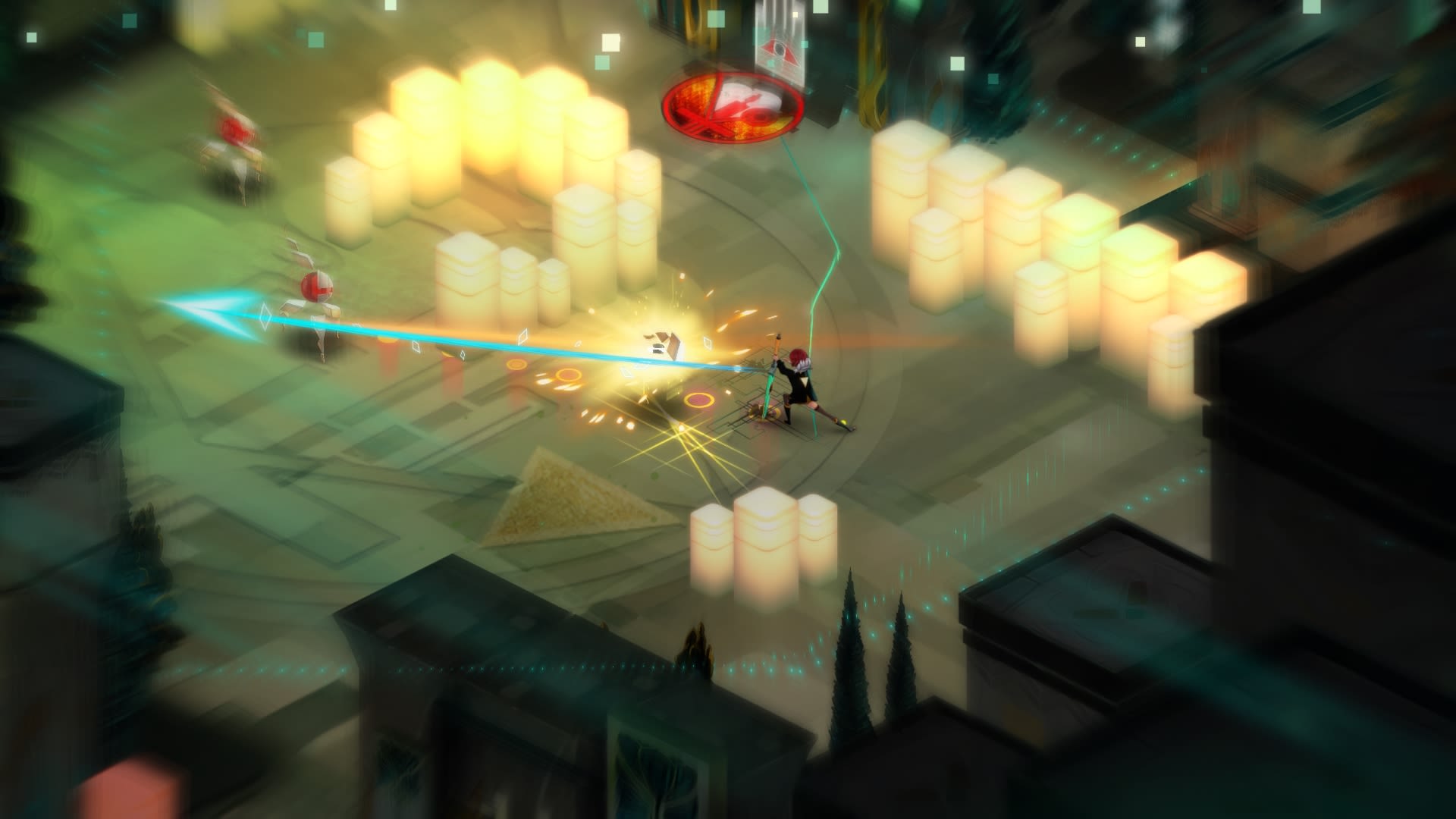 This gives the player so much freedom in combinations and how abilities work in general. Not to mention the fact that every function can be used in either fashion. The game will describe how the function will work within each role, and you can move things around whenever you want to, so feel free to experiment.
If you have ever played any of Supergiant Games' other games, like Hades or Bastion, then you can expect the same beautiful animation and artwork here. The environment of Cloudbank has a very sci-fi and almost cyberpunk feel to it. The world is bright and vibrant though, and the art direction is just perfection.
The soundtrack brings Cloudbank to life and honestly breathes life into the entire game. Supergiant Games' Darren Korb does a wonderful job capturing the games atmosphere and vibe. It's hard to explain the soundtrack, but it fits this game like a glove. Trust me, if you play this game you'll know what I mean.
I am always amazed when a game can tell a story, and a heartfelt one at that, with almost no dialogue. The game's story is mostly told through either the Transistor's voice, or the environment and artwork itself. It speaks volumes to Supergiant's ability to captivate their players and craft a beautiful story.
Like always, I don't want to spoil the story but it had me at the edge of my seat the majority of the game and I really began to care for Red and the poor man trapped inside of the Transistor. Their relationship was beautifully executed.
The game is relatively short, but there is a ton of replay value here with new game plus mode. New game plus mode will allow you to level up Red further, giving her access to more functions and more room for those functions. The game isn't long enough on its own to fully flesh out this function system, so the new game plus mode really allows you to reach Red's full potential.
For me, Transistor is a game that got everything right. It all works perfectly to create an immersive experience. I have so much love and respect for Supergiant Games and their dedication to game development. Everything they have created has been unique and a one of a kind experience. If you haven't tried Transistor yet, I highly recommend it.
Agree with the author? Couldn't disagree more and are frothing at the mouth to tell him? Leave a comment here, on Facebook or send an email and make sure to follow Never Ending Realm on Facebook, Twitter, and YouTube!