So, I had to travel to the US mainland last week. I don't like plane rides much, I find them nerve wracking, and at times, eternal. Thus, my Nintendo Switch presents the perfect escape for such occasions. Because I have a launch Switch, I only get 3- 3 1/2  good hours of gaming (depending on how demanding the game is) before the battery runs dead. 
Battery life shouldn't be an issue, but I will complain about it here because The Elder Scrolls V: Skyrim continues to prove itself as the ultimate time (adventure) waster, and that (the paltry battery life) left me with about two hours of Skyrim-less air travel.
Thus, as you may image, I was pretty angry when my Switch notified me that I only had 15% of battery left, while I still had the two aforementioned hours of flight left. Skyrim continues to be the gift that keeps on giving, and it is interesting that I chose it over The Witcher 3 (which I also have on Switch). 
This got me thinking, in doing a mini "grudge" match article between the two games. Has Skyrim aged better? Or, is The Witcher 3 a more compelling option at this point? 
Five Reasons Why I Chose Skyrim Over the Witcher 3 On Switch During a Commercial Flight:
Graphics –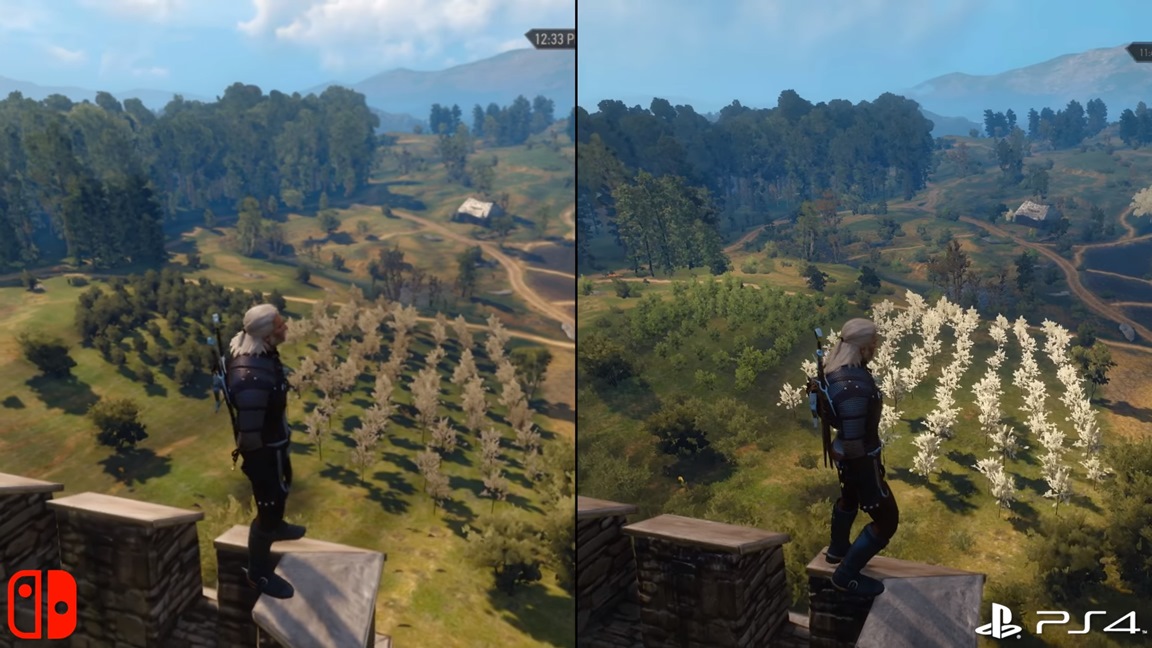 The Witcher 3 is the better looking game. It was on PlayStation 4 (and Xbox One), and it remains so, with its new 'next gen' upgrade on Xbox Series X, and PlayStation 5. 
However, on Switch, the converse is true. You see, Skyrim was designed to run on the 2005-2006 Xbox 360/PS3 hardware (and PCs of the time). The Switch hardware is slightly more powerful than those aforementioned systems, and thus, Skyrim runs well, and at a decent resolution, on Nintendo's little machine. 
While I don't like its Joy-cons as much as I like a standard controller pad for this game. The Switch version is superior to the Xbox 360/PS3 versions of the day. 
Skyrim looks just like I remember it on 2011, and close enough to my Xbox Series X/PS5 updated version. Skyrim on Switch not only runs well, and but has a relatively decent draw in distance on the little screen.
The Witcher 3, however, is a different matter.
The game is decent on Switch, if you can deal with ultra low resolutions, and very paired back visual effects. The Witcher 3 loses a lot of its charm on Nintendo's machine, and it is just not attractive enough for me to look at on the platform. This is especially true given the awesome next gen update that I have been playing on my PS5. 
I am not saying that The Witcher 3 is unplayable on the Switch, it can be played, but against Skyrim's better than PS3/360 conversion, The Witcher 3 can't win on Switch.
Winner: Skyrim
Gameplay –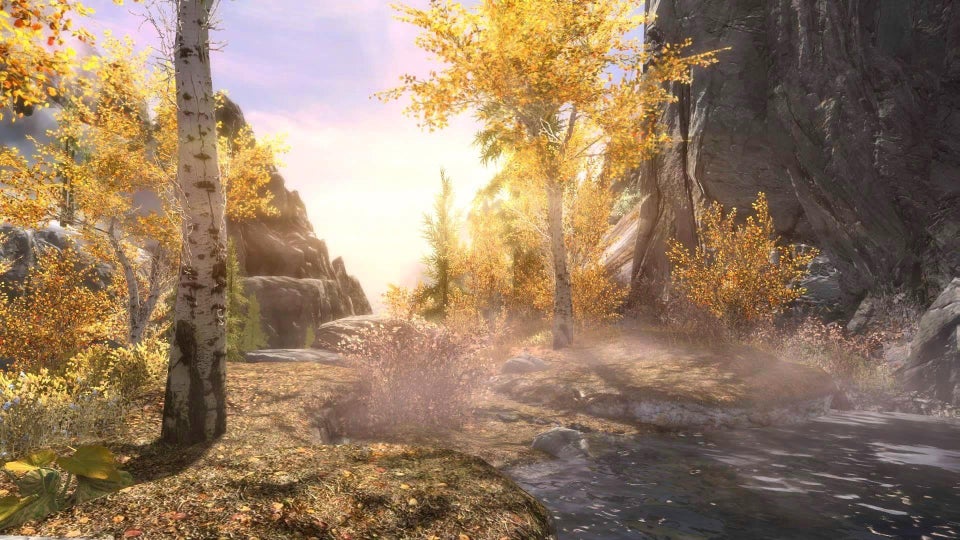 Skyrim's free roaming, go anywhere, discover tons of caves, and hidden underground ruins design is perfect for long travels. You are not forced to follow an elaborate storyline, so running out of battery isn't as disappointing, as perhaps it would be, had its storyline been a more engrossing one. 
Skyrim is the perfect game to pick up and play, and just as quickly put into rest mode without affecting the experience much. Clearing a cave can take 30-40 minutes, and before you notice, you are either out of battery and close to your flight destination, or at your flight destination.  
The Witcher 3, could certainly provide similar possibilities, but that game is more about its storylines, and less about exploring. As always, Skyrim's combat is hit or miss, you will either live with it, or dislike it all together, however, no one ever said, "Elder Scrolls has great combat!"
Skyrim fares better than previous Elder Scroll games, as its combat is tighter, but I would say that The Witcher 3 (which is not a stalwart  in combat either) fares better on this category. In the realm of 3rd person fantasy games, The Witcher 3 trails behind the Souls/Borne series, and even Ubisoft's Assassin's Creed Action RPG entries of late, in terms of responsive and just plain fun combat. Still, if combat was my thing, I would pick The Witcher 3 over Skyrim, for pure thrills.
However, after 1000s of hours of playing Skyrim, I still find it to have an enticing world to explore, given all of its random happenings with NPCs, and seemly endless quests. After about 150 hours of The Witcher 3…I can safely say that if I never play another hour of it again, I will be good. I feel that I saw all that I needed to see in that game in those hours.
Winner: Skyrim
Storyline –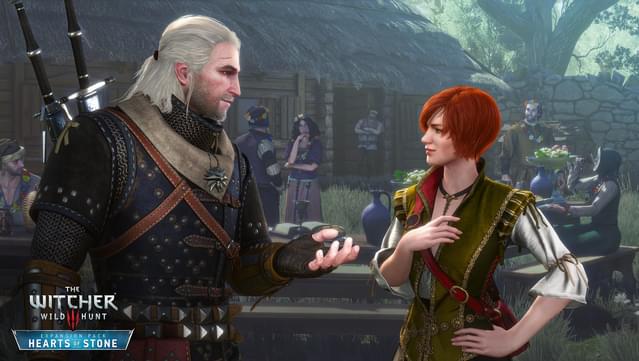 The Witcher 3 wins this category hands down. Therefore, first time players might find the game to be a more worthwhile proposition than Skyrim would be. Still, Skyrim has a lot of random NPC quests and happenings, and a host of other situations that make it more unpredictable during world traversal and exploration.
All that said, despite my undying love for Skyrim, only a fool would would claim that Skyrim has better storytelling than The Witcher 3. The Elder Scrolls' lore is deep, but in terms of actual storytelling, and characterization. This is a no contest win for The Witcher 3.
As far as the plane ride goes, well, if you have never played The Witcher 3 before, on the strength of its story, and entertaining sidequests alone, you might be able to survive the low res, and overall slower Switch version of the title. If you value a great storyline over endless exploration, The Witcher 3 is your game!
Winner: The Witcher 3
The Bottom Line-
As you already know by the heading, I picked Skyrim for my trip. It wasn't a difficult decision. I just love the game. Have loved it since it first appeared on magazine pages in the late 2000s. The reality is that once I finished The Witcher 3's incredible storyline, I haven't found much reason to keep replaying it.
The substantial PS5 update has grabbed my attention back to the game, but obviously, the Nintendo Switch version of the title is at the bottom of the totem pole in terms of visuals. Therefore, Skyrim on Switch offers a near perfect (and more polished) conversion of the game's Xbox 360/PS3 experience, which to me is a plus. The fact that I can carelessly wander around its world without having to worry about following storylines, and objectives continues to make this game a relaxing, and enjoyable time waster.
All that said, I had already put over 100 hours of The Witcher 3 in superior hardware. If this is your first time playing either of these games, The Witcher 3 might keep you hooked on its storyline during your plane ride (and beyond) better than Skyrim would, at first. You can't go wrong with either game, I just preferred Skyrim seemly endless world and its random events.
Agree with the author? Couldn't disagree more and are frothing at the mouth to tell him? Leave a comment here, on Facebook or send an email and make sure to follow Never Ending Realm on Facebook, Twitter, and YouTube!