While we don't have a review of Horizon Zero Dawn on the site, those of you who have read my work throughout the years, know that I loved the game's visuals, storyline, and its main character.
Given the above, I was thrilled when the Horizon Forbidden West was announced for PS4 and PS5. The first game ended in a bit of a "cliffhanger", and thus, from a storyline perspective a sequel was needed. So, here we are five years later I was able to play through the PS5 version of Forbidden West. Is it better than its predecessor?
The Series is Destined to Lose the Metacritic Battle to Japanese Action RPGs…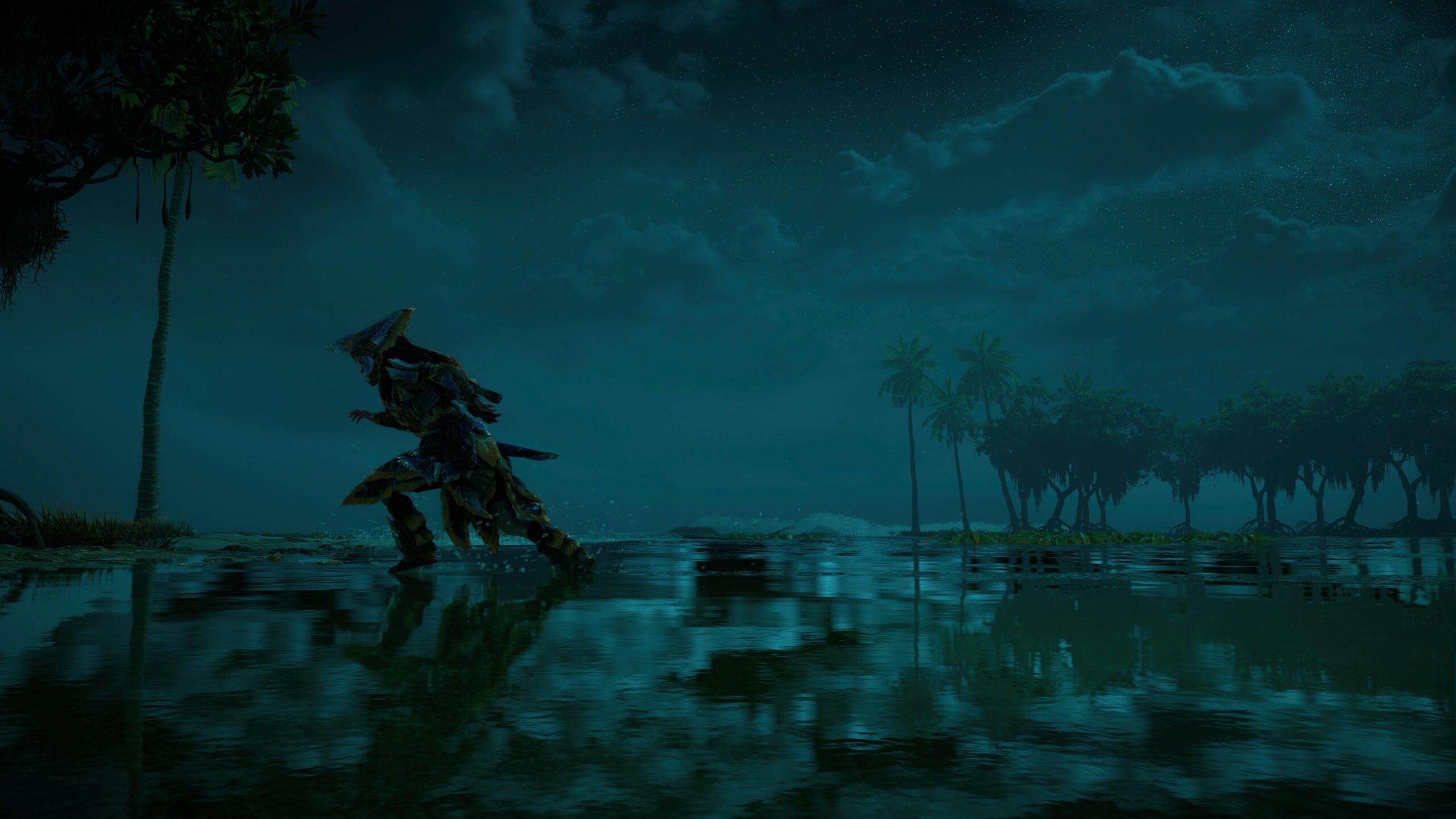 The Horizon Series has been cursed with released dates that put each entry within a week of two Japanese Action RPGs that have scored incredibly well on Metacritic. These games were The Legend of Zelda: Breath of the Wild (97 Metacritic), and Elden Ring (96 Metacritic).
Horizon Zero Dawn, despite its visual masterclass, and storytelling prowess, was inferior to BotW as a game. I could see why critics went nuts over that Zelda entry. However, I can't say the same thing for Elden Ring, which, in my opinion, is an inferior overall experience  to Horizon Forbidden West.
Critics loved Elden Ring despite its primitive visuals, technical hiccups, and lack of an interesting plot line. I guess the game's Dark Souls (combat) formula taken into an open world scenario was enough to carry the day for it.
That said, I wasn't a big fan of ED. If I had to review FromSoftware's most successful game, I would probably score it an 8/10.
Forbidden West, on the other hand, is every bit as good as any open world game that I have played over the last 5 years, and it might have the best story of them all.
Despite losing to Elden Ring (in most of the critical world's eyes), I consider Horizon Forbidden West to be a swan song for the PS4, and an outstanding showcase of the PS5's capabilities.
The Greatest Looking Open World Game Yet?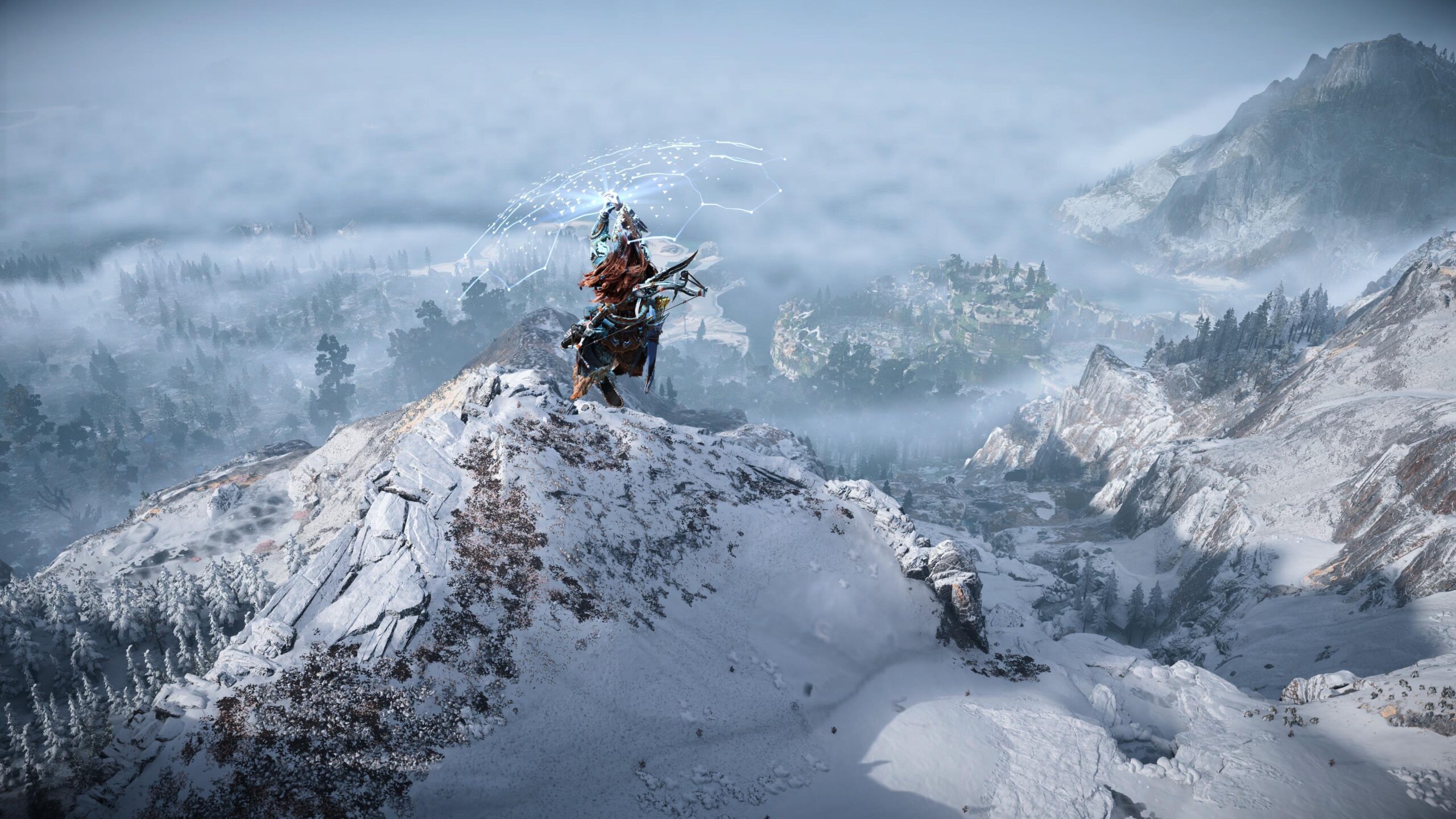 I still can't decide between Forbidden West and Red Dead Redemption 2, as to which game looks truly better. That statement showcases just how amazing Rockstar's masterpiece was back in 2018. Forbidden West is a cross generation game that does take advantage of the PS5's GPU in ways that last generation's RDR2 hasn't on newer hardware.
So, in all honestly, there is a certain painstaking attention to detail within RDR2's world that has yet to be quite matched, but in the technical aspects of texture detail, world materials, volumetric effects and lighting. Horizon Forbidden West has, in my eyes, surpassed the last generation king of open world visuals. At least, this is true on its fabulous PS5 version.
To start, the game offers two modes: A performance mode targeting 60 FPS at 1800p. And, a quality mode, offering a true 2160p (4K) experience at 30fps. These modes are impactful on how the game looks and moves.
The 4K mode is where the game shines in terms of texture detail, volumetric effects, and "next generation" visuals, but the 60fps mode is "next generation" in itself, because there is no way that the PS4/PS4 Pro could run such a huge and detailed world at 60fps.
However, the extra frames come at a cost. It is a price that I couldn't afford to pay for much of my 40 hour play through.  The game loses some clarity, and detail, when played in performance mode, but the visual downgrade goes a bit further than just resolution.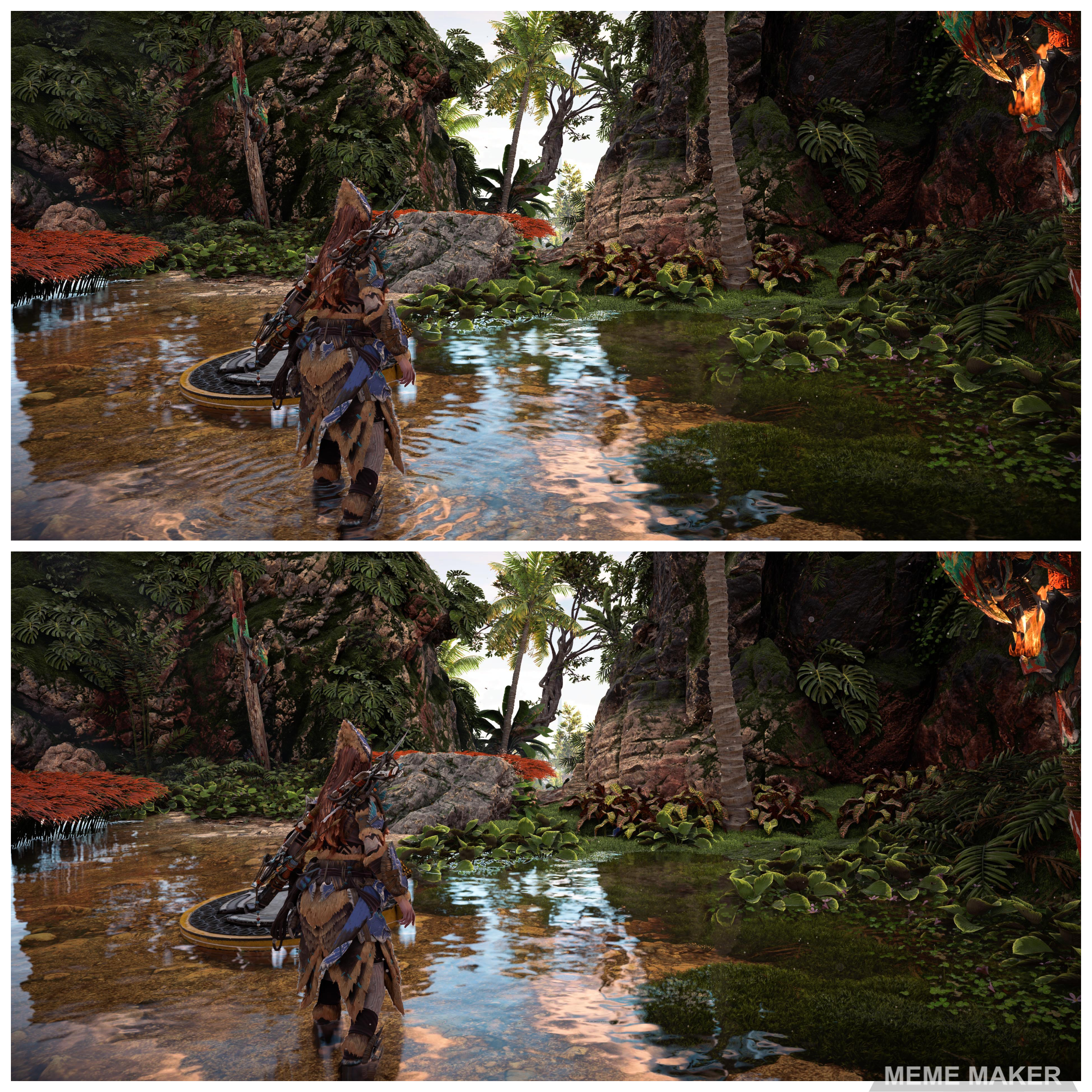 Forbidden West, while in performance  mode, loses out on a lot of the volumetric density of its clouds and fog. Fire and water reflections appear to have weird (and distracting) artifacts in them. This is very noticeable, if you sit up close on a 50+ inch 4K TV (which is the way that I play). While combat is a huge part of Forbidden West, I just couldn't trade visual fidelity for a smoother frame-rate.
The 60fps mode works well. Playing for a few hours and immediately switching back to "quality" mode at 30fps, is quite jarring to the eyes because of the loss to fluidity. Eventually, I just played the game on the resolution (quality) mode for the remainder of my play through.
The improvements over the PS4 base, and Pro, versions are immediately noticeable on Aloy's skin quality (you can even see peach fuzz hairs on her skin) on the PS5 version of the game. Not only that, but the quality, and the resolution of materials everywhere is quite higher, and it does look like a proper "next-Gen" open world game.
The lighting is fantastic, and while it is not quite "Ray Traced" fantastic, it is certainly more impressive than any other last generation open world game that I have played.
I went back to Ghost of Tsushima on PS5 (PS4 Pro version, but running at 60fps), and the Samurai inspired open world game looks years behind Forbidden West in terms of texture detail, character models, lighting, and world rendering. Tsushima, was one of the most impressive PS4 offerings of the last generation, but Forbidden West clearly outclasses it.
Even in its 60 FPS performance mode, Forbidden West manages to look sharper and much more advanced than any previous open world game on PS4 Pro. Only Naughty Dog's, The Last of Us Part II (which is not an open world game), manages to pull off a superior level of visual fidelity mostly seen in its nearly flawless character animation and rendering, and in some of the more granular detail, such as snow deformation. But the difference in granular detail between the two titles is almost null, which is incredibly impressive for a huge open world game with completely different biomes, seamlessly working together through day and night cycles and weather changes, which also affect lighting and other environmental conditions during the play through.
Elden Ring and Forbidden West are contemporary open world titles, but in terms of visuals, and technology, Guerrilla's action RPG is two generations ahead of FromSoftware's commercial hit. It is not close.
Forbidden West, so far, is the best reason to own a PS5.
A Larger Fully Explorable World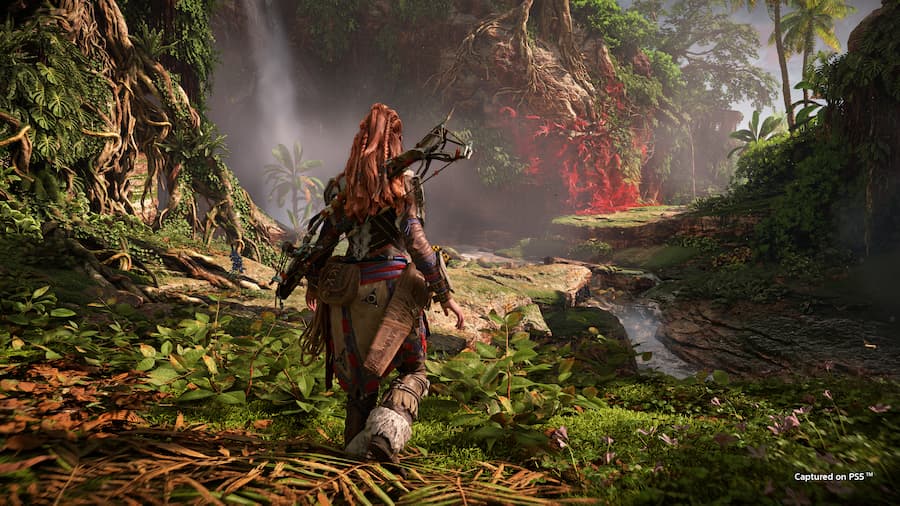 The first game, felt a bit restricted, as far as open world exploration went. Surface climbing was fairly limited to specific areas, and underwater exploration was non-existent.
These were complaints levied against the game in the face of Breath of the Wild's "climb anything, anywhere" feature, and other contemporary open world game's underwater scenarios.
To that effect, Guerrilla took these complaints to heart, and has delivered in every conceivable way, and then some.
Forbidden West features the most stunning underwater scenery that I have ever seen in an open world (or other wise) game. Underwater areas are large, and thanks to a breathing device, fully explorable.
Lack of underwater exploration was one of my few complaints against BotW as well. However, Forbidden West sets a standard in this department. One that I hope other open world games try to match in the future.
The game's underwater sequences are crucial to the storyline's development, and these areas are well designed and thought out.
The game's climbing mechanic now approaches the level of immersion found in the AC series and BotW. You can't climb everywhere, but most surfaces are now climbable. The system present here is much more robust than the one featured in its predecessor.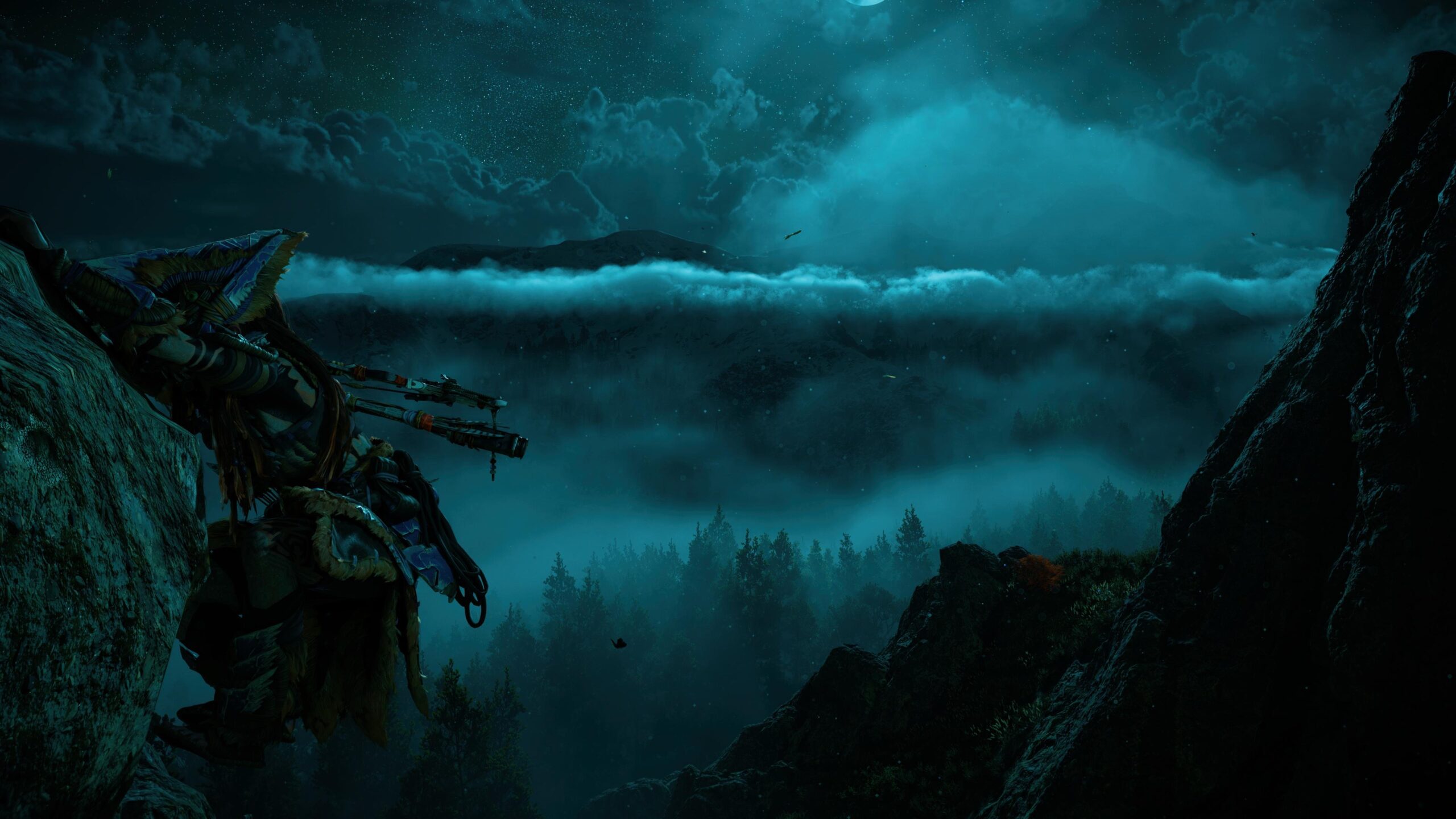 However, the entire game world, which now includes Vegas, and California, is at Aloy's fingertips thanks to two new important additions. The game now features a glide mechanic. It is blatantly ripped off Breath of the Wild, but given Forbidden West's penchant for towering mountain ranges, the gliding mechanic is needed for fast travel between high and lower areas.
That said, Forbidden West goes a step further, beyond anything Nintendo tried with BotW, by offering the players the ability to fly over the entire world by way of (hacking) a Thunder Bird.
This mechanic was one that developers had wanted to include in the original game, but were not able to implement. Conventional wisdom, at the time, pinned the omission of the feature on the lack of horse power of the base PS4. However, given that this feature is present on all systems, Guerilla's time with its Decima engine seems to have paid off here.
In short, Forbidden West does not only features the most beautiful open world that I ever seen, but it also gives players every imaginable tool to explore its intricacies in nearly every way imaginable.
Combat Has Been Perfected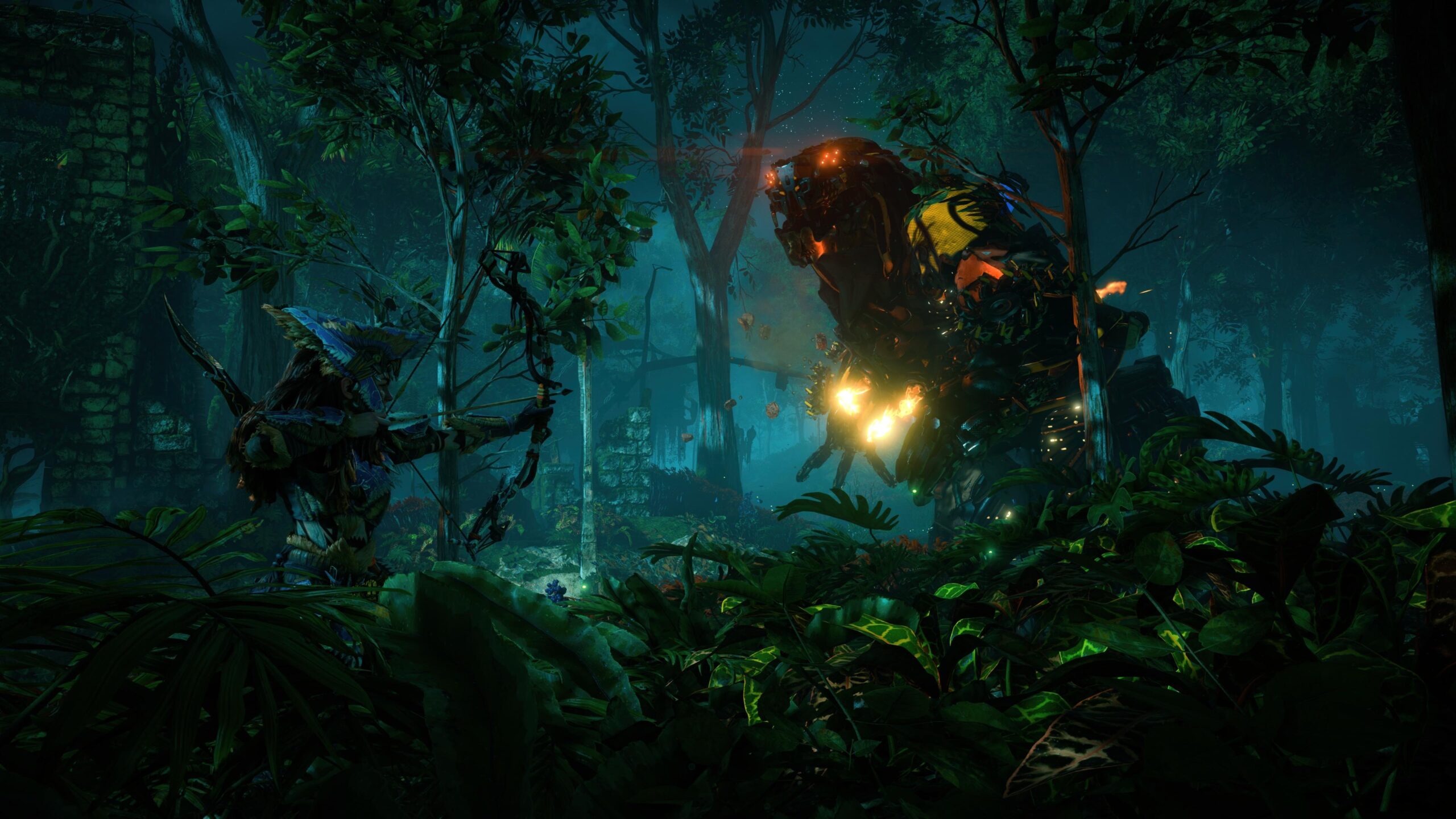 The meat of the Horizon series, despite its beautiful visuals, has been its combat. Fighting animal shaped robots of all sizes was a novelty back in 2017. I am glad to say that it remains just as fun today.
I feel that Forbidden West is largely more balanced, in terms of its normal difficulty, than its predecessor. The arrival of new boss fights, and robotic enemies makes for combat intensive gameplay.
I admired Ghost of Tsushima's timing based action combat system, largely because it was incredibly refined. HFW's combat is much more frantic, and less realistic (given its sci-fi premise), but it has been tightened, nonetheless.
Aloy is given plenty of opportunities to develop as she gains levels, and there several combinations of weapons and armor that can be crafted in order to get an upper hand against some of the game's most challenging enemies.
While Forbidden West, is not early as punishing as Elden Ring, its story driven design provides enough challenge (including a hellish last boss battle) to entice hardcore action RPG combat veterans into mastering the game's combat system.
The game doesn't miss a heart beat, frame-rate wise, even when faced with gigantic mechanical creatures. I would, often, change to 60 FPS mode during boss battles in order to enjoy the fluidity of the game's epic combat.
My only complaint here, is that while the combat is refined from the previous entry, Aloy has too many tools at her disposal; and it was hard to keep track of all of the bows, upgrades, traps, etc. I admired Tsushima's greater simplicity, and perhaps, I was a bit spoiled by that.
Certainly, as far as 3rd person bow and arrow combat goes, I feel that Forbidden West is at the top of the food chain within the open world genre.
The Best Storyline of Any Open World RPG Around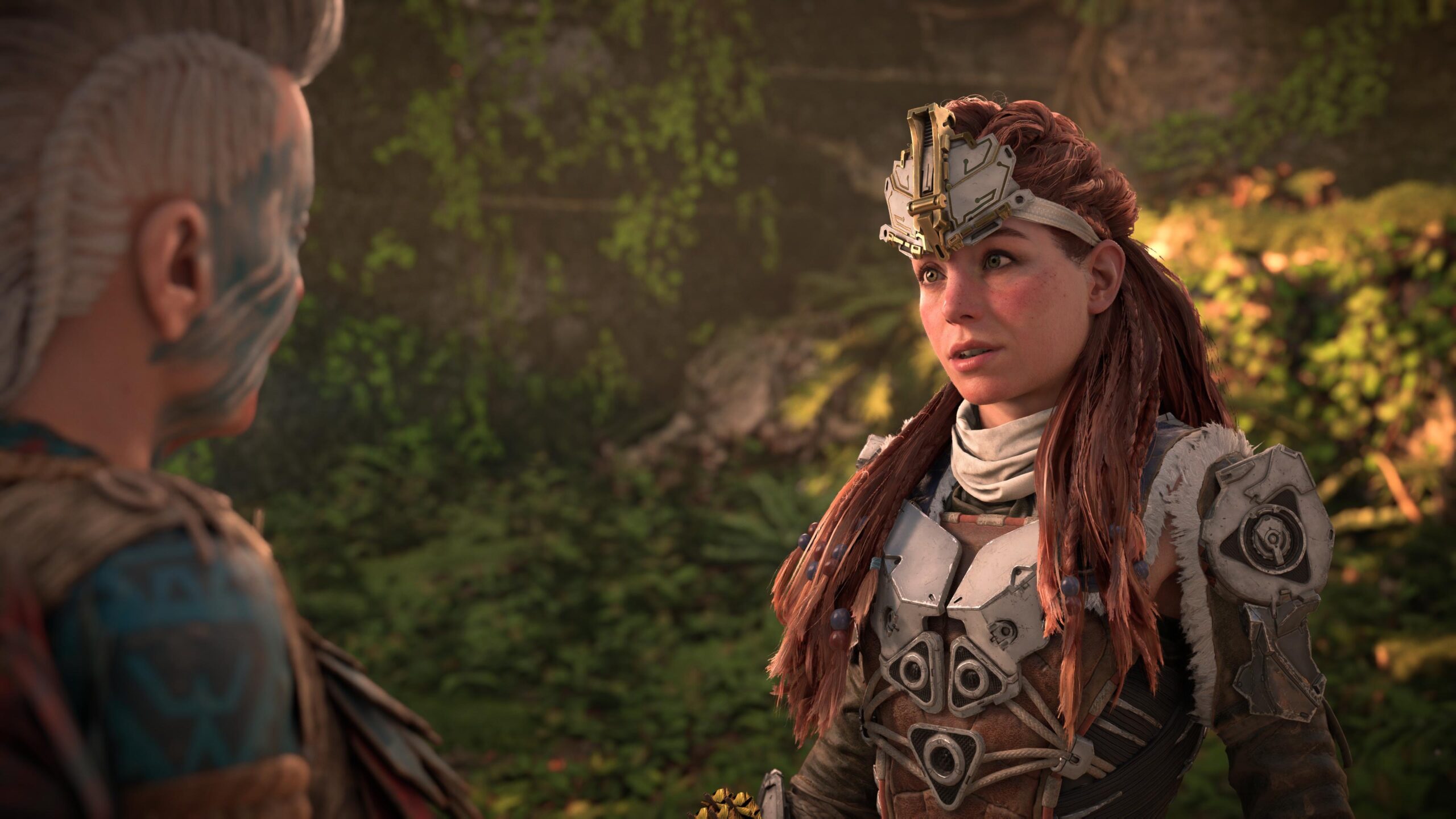 The first Horizon, even more so than the Witcher 3, brought a top notch cinematic presence that was missing from open world RPGs.
Forbidden West continues that tradition delivering what amounts to a larger, and more ambitious  storyline in terms of complexity and scope. Horizon Forbidden West takes Aloy's story to places that we previously couldn't have imagined.
The game brings many familiar faces back, and introduces new characters that are easy to like, and even relate to.
The game also manages to introduce quite a few interesting villains, and many unexpected revelations that are incredibly impactful on the storyline timeline before the events of the first game, and that will continue to shape this saga into its inevitable third entry.
I am a sucker for sci-fi and open world games. Forbidden West satisfies both cravings fully, delivering drama, and enough "edge of your seat" moments, that for me, places Guerrilla's series only second to Naughty Dog's The Last of Us in terms of writing and cinematic jaw dropping moments.
Well, I guess God of War is the aforementioned class too. Don't get me wrong, I enjoyed Ghost of Tsushima's tale, but it was never as fascinating as Aloy's own storyline.
The one area where most open world games falter is in memorable side quests. The Witcher 3 remains a standard bearer, with some truly elaborate side distractions. Assassin's Creed: Valhalla also made strides in offering tons of content and a few epic quests in between.
Horizon Forbidden West, then, has to be placed alongside the former two, because I can't recall many times that I embarked on a side mission were I didn't end going into a rabbit hole exploring massive underground caverns, and large areas accompanied by solid writing and some memorable scenes.
Forbidden West makes games like Final Fantasy VII: Remake seem like a cheap afterthought. FFVIIR's side quests were embarrassingly lame, and, for all intents and purposes, filler to artificially extend the game's playtime.
No such thing happens here, as nearly every single quest (side or other wise) was crafted with care, has a substantial reward, and storytelling meaning to Aloy's quest line.
Rush through the game, and Horizon Forbidden West is a 35 hour adventure, but take your time,  and you are easily looking at 60+ hours of great open world fun.
Does Horizon Forbidden West Have Flaws?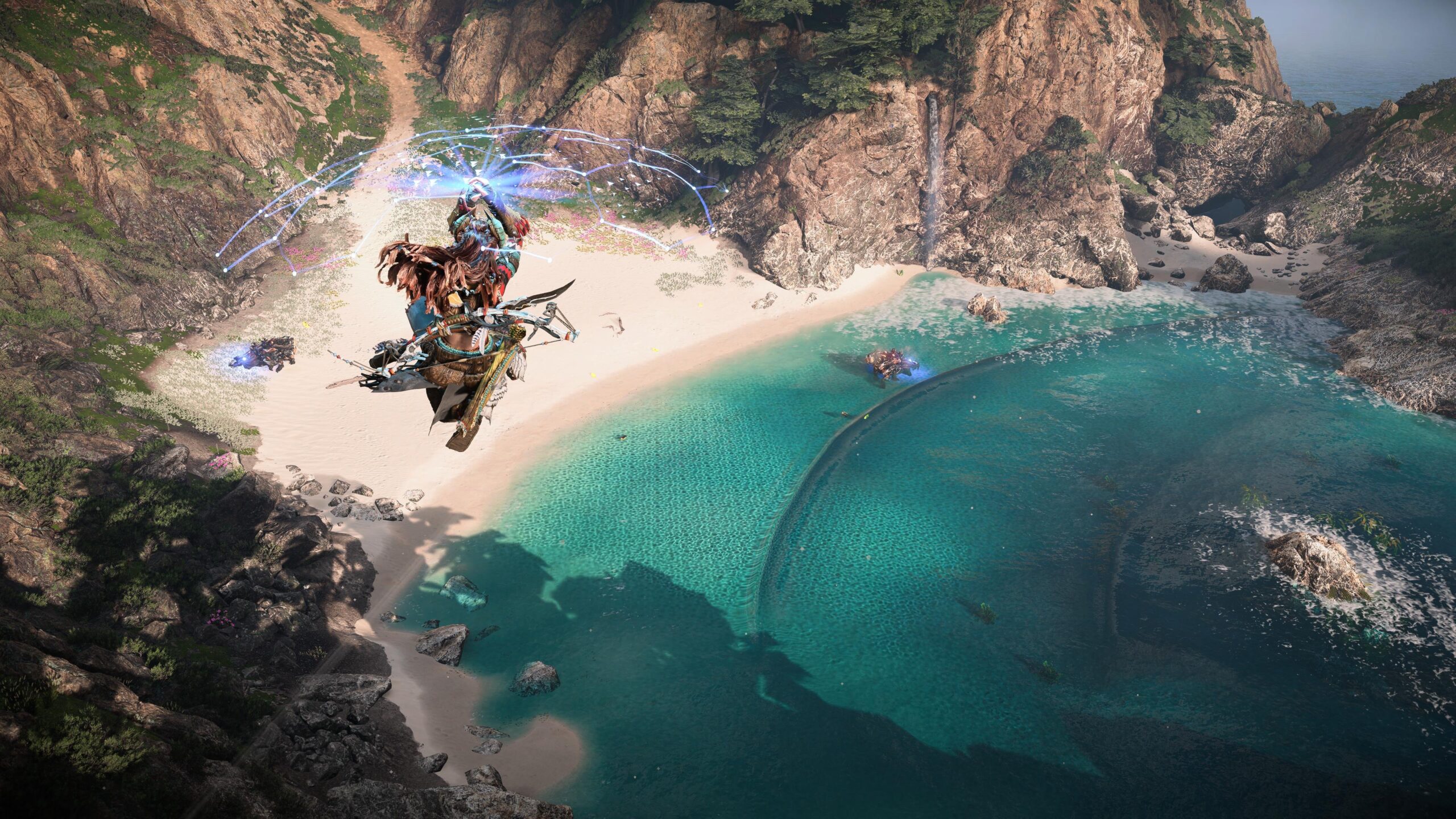 Given (as it is the case with nearly every other Sony Studios game) that the game's audio and voice acting is stellar. There is not much to complaint about Forbidden West. As stated, only The Last of Us: Part II (might) look better, but Naughty Dog's masterpiece was a linear game. As an open world game with weather and day cycle changes, HFW is in a class of its own.
However, there are few remnants of last generation technology and limitations. The vaunted super fast Sony SSD, which many speculated would solve the "pop-up" issues with asset and texture streaming in open world games, does not solve the issues here.
There is, especially noticeable at 4K, pop-up in Forbidden West. It is not as bad as it is in other PS4 open world titles, but it remains a bit of an issue, despite the game's use of the PS5 hardware.
Pop up distance is the same, regardless of 60fps performance mode, or 4K quality mode use.
The game's music is fantastic, and so is Aloy's acting. The audio visual package is nearly flawless (aside from the pop up issues).
The other area were I found some issues with the game was in its expanded climbing mechanic. Sometimes, Aloy would hang on to, or jump into a ledge that I didn't intend to. This issue could partially be blamed on me, the player, but it happened far too often for me to wonder if the mechanic was not as tight as it could have been.
Is Forbidden West the Best Reason to Own a PS5 Yet?
Yes, at least for an open world game fan like me. Without a doubt,  Forbidden West has been the most enjoyable "cross-gen" experience so far.
The game is a visual story driven spectacle that impresses at every turn. A must own for PlayStation 5 (and PS4) owners.
Gameplay: 9.0 – Despite some issues with the game's climbing mechanic. Combat has been polished, and it is finely tuned. The world is fully explorable and much larger than before. Flying, swimming and running around this fictional take of a futuristic western United States is always a jaw dropping experience.
Graphics: 9.5 – Forbidden West is, without a doubt,  the most beautiful open world game that I played since Red Dead Redemption 2. The game's design continues to play by the rules of last generation hardware, as it is a cross generation title, and thus, things like pop-up (which might be an issue that we can't fix on the PS5 anyways), and some residual texture work from the PS4 version are present here.
Despite all of the above, Forbidden West's has a hefty use of gorgeous screen space reflections, and some of the best volumetric effects ever seen on an open world title. A feast for the eyes.
Music: 10 – Horizon Zero Dawn had a masterful score, and the same quality of compositions continue here. The voice acting is top notch as well.
Story: 10 – Horizon Forbidden West continues the Aloy's science fiction tale, and it takes it to unexpected heights. This remains, in my opinion, the best story line in open world RPGs. The ending suggests that there will be a 3rd entry, and I cannot wait to dive back into Aloy's tale again.
Replay-ability – Easily, a 35 hour adventure if you only follow its main storyline quests. For completists, a 60+ hour adventure awaits.
Overall: 9.5 – Forbidden West is bigger, prettier, and just plain better than the already excellent Zero Dawn. Guerrilla and Sony have a winner of a franchise here.
Agree with the author? Couldn't disagree more and are frothing at the mouth to tell him? Leave a comment here, on Facebook or send an email and make sure to follow Never Ending Realm on Facebook, Twitter, and YouTube!