The original Rogue Legacy was the second roguelike I ever played; the first was the legendary The Binding of Isaac. I recall Rogue Legacy being a fun side-scroller roguelike and playing it for hours on end. However, I whole heartedly believe its successor, Rogue Legacy 2, is a vast improvement and easily deserves a spot on top 10 roguelike lists everywhere.
Besides improving the visuals, Cellar Door Games has developed a sequel that is both smoother and faster paced than the original. The title also features considerably more content and replayability than the first game.
Rogue Legacy 2's Gameplay is Addictive
Rogue Legacy 2's gameplay loop is quite simple but extremely addictive. You start the game by entering a castle that has randomly placed, pre-generated rooms. You fight enemies and open chests as you search for the area's boss. By vanquishing foes and opening chests, you acquire gold, iron, and aether, not to forget rune and equipment blueprints. But your first run through the castle is short lived because your character is essentially a rookie who has no equipment, little health, and low damage; however, fear not, death is only the beginning.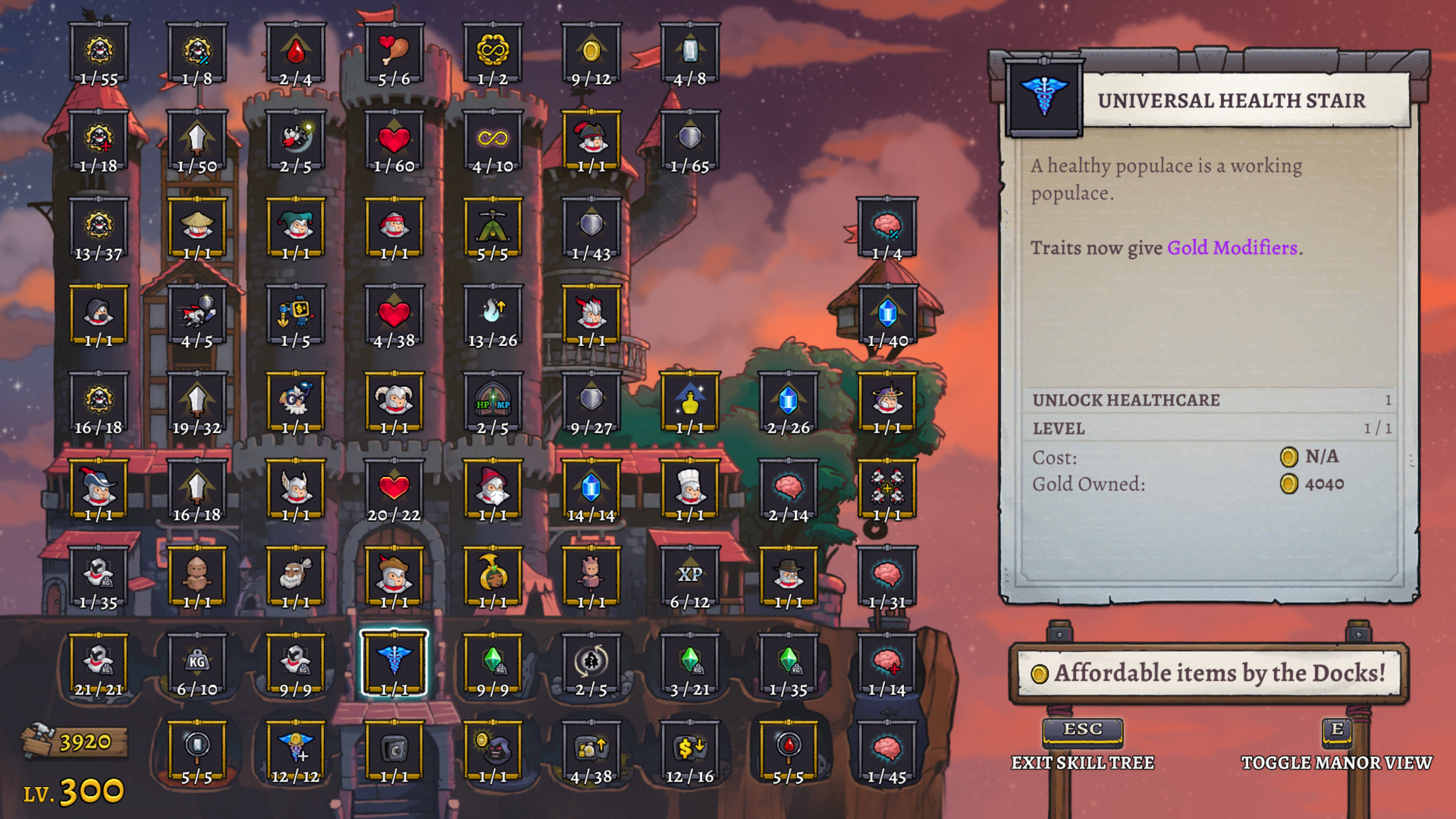 With the gold you previously acquired, you can purchase permanent upgrades to your manor. These upgrades include new classes, more health or damage, the creation of specialty shops, and much, much more. Two of the main shops include the enchantress and the blacksmith, both providing important upgrades such as runes and equipment. Items from these stores can drastically change gameplay and are vital to unlock early.
All these upgrades help you become significantly more powerful, allowing you to go farther in the castle on your next run and eventually defeat the game's bosses, or at least obtain more resources. The bosses are well crafted. They have set attack patterns that are not too difficult to learn or impossible to read, so it does not feel cheap when dying to them.
Another aspect of death is choosing your next heir. This heir will be the next character you enter the castle as. These heirs have different classes as well as variety of different traits that can be bonuses and/or negatives, impacting your next run through the castle. Many of the negative traits also come with a gold multiplier, allowing you to accumulate more gold before dying, making it very important to weigh heirs' traits.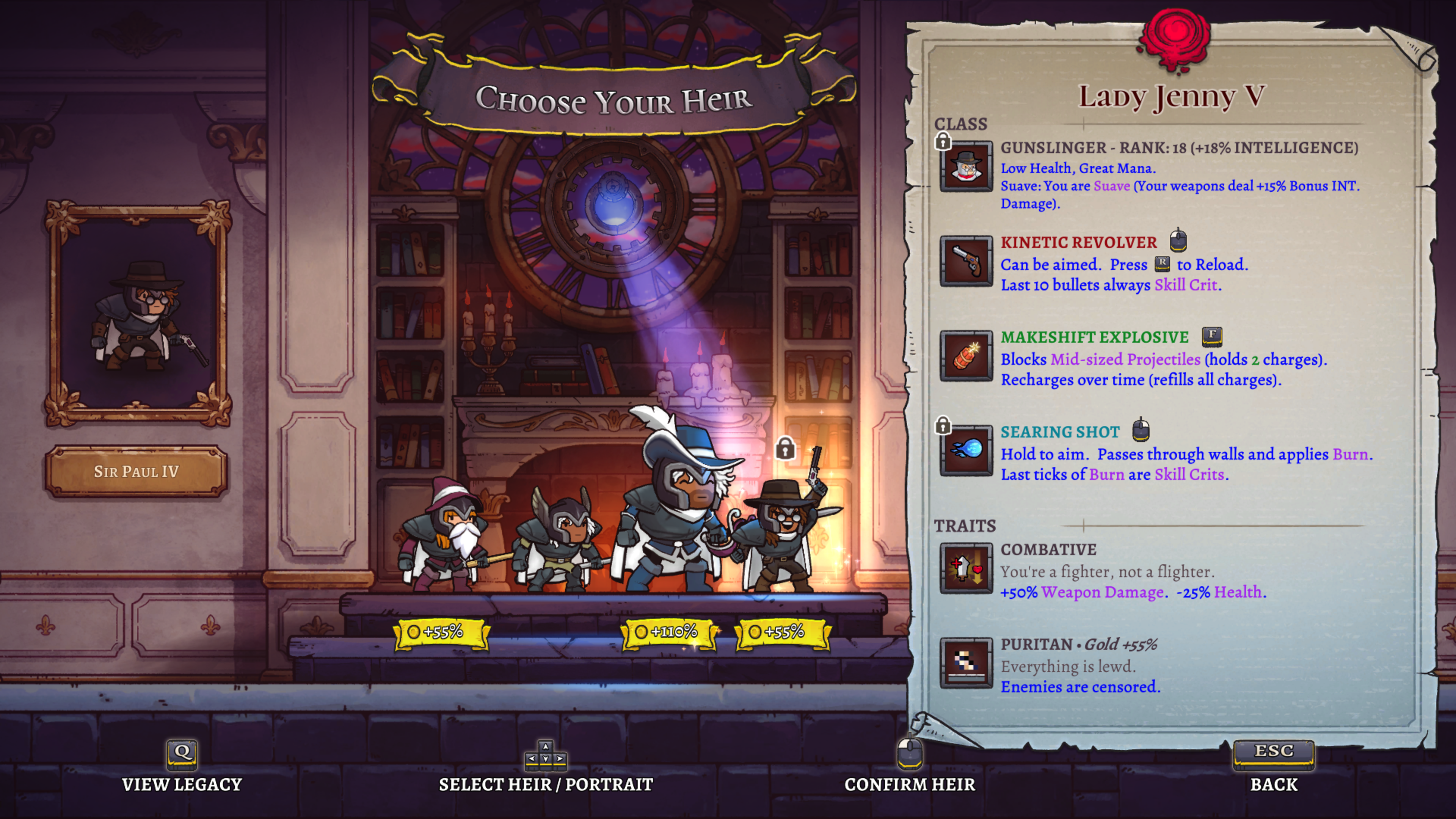 Some of the negative traits that modify the game's visuals are quite annoying. Certain ones make determining enemy attacks and seeing projectiles almost impossible, besides also detracting from the games great, clean visuals.
This gameplay loop of exploring, fighting, acquiring gold/blueprints, and upgrading your lineage for later adventures is executed extremely well. In terms of roguelikes, I find the cross-playthrough progression in Rogue Legacy 2 to be one of the best. You can acquire a decent amount of gold to upgrade something even if you died early on in your run, something that doesn't always happen with roguelikes.
Movement is Diverse and Fast
Rogue Legacy 2's movement mechanics are exceptional. At the beginning of the game there are few movement options, mainly the dash and spin kick (a move that allows you to bounce off enemies and certain objects); however, as the game progresses, movement options expand significantly, and some are even upgraded. These make the gameplay faster and involve a large amount of verticality. They are also used to expand where you can adventure within the castle, Metroidvania style.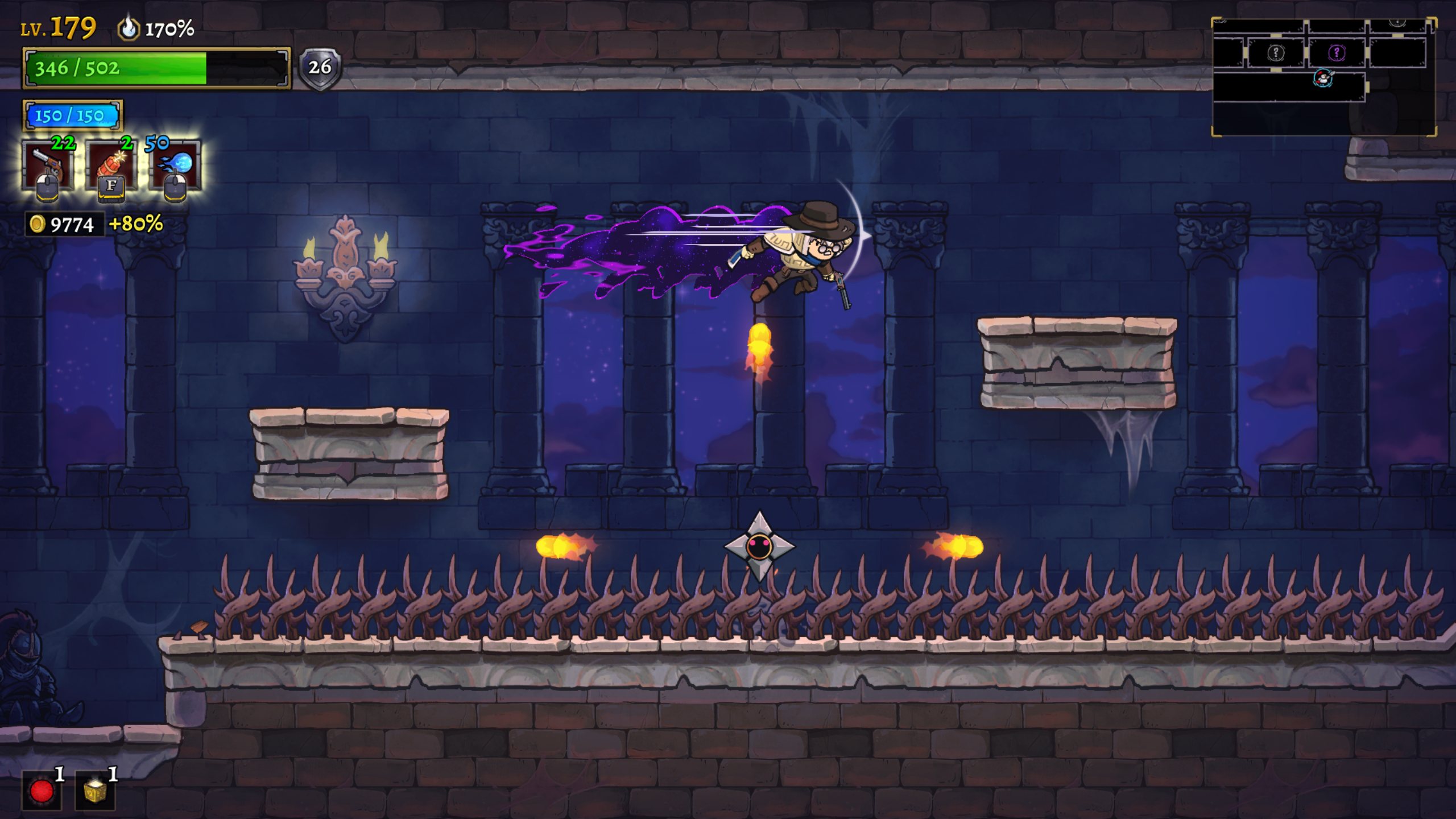 One of the most important aspects of this movement is how it is used in combat. Against regular enemies, spin kicking can do decent damage, while against bosses it can help you evade powerful attacks. I enjoy that movement is crucial in boss fights. It creates more intense battles as you dart around the screen dodging all kinds of projectiles and attacks. The boss fights force you to learn movement mechanics, and makes defeating said bosses a much more rewarding experience.
If I had to start from the beginning of the game without all the movement options, I would feel slightly lost. When you have all the movement upgrades, running around the castle is incredibly fluid and quick. I am pleasantly surprised it is such a huge feature in this game.
Balance on Classes and Relics Could be Better
I do think Rogue Legacy 2 falls slightly short with its balance in a few areas. To start off, the classes do not all feel useful. I found great success in utilizing both the gunslinger and the duelist. Their combinations of class specific talents, stats, and weapons made them feel fast, damaging, and relatively safe, unlike quite a few of the other playable classes.
I was very excited to unlocked the ronin class but was soon disappointed. The ronin has a decent attack range and damage; however, attacks are too slow and critical hits are distant dependent. This combination made the ronin feel weaker than my mains and ultimately ended in several short-lived runs through the castle.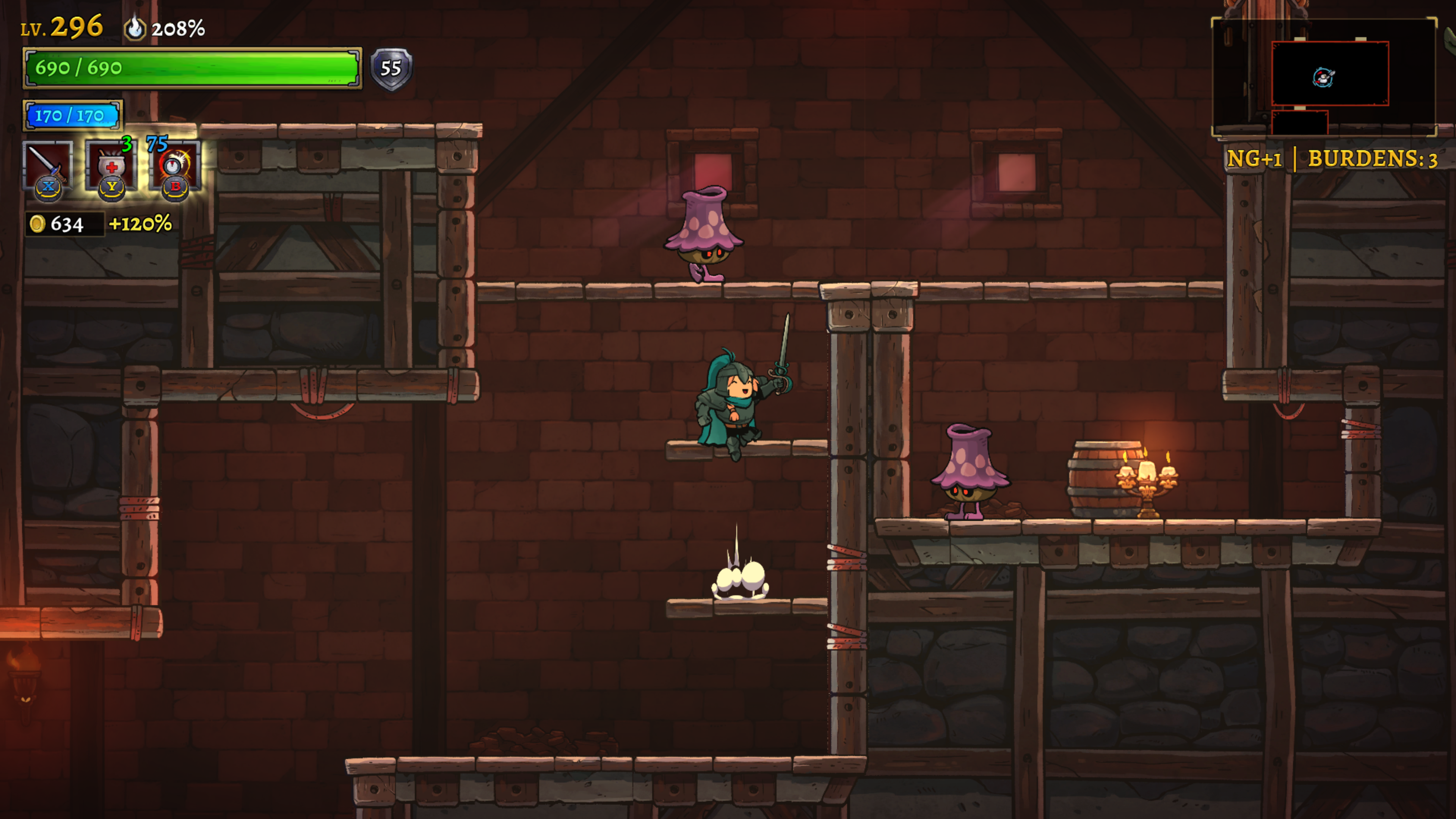 This occurred with a few of the other classes as well. It may just be my playstyle, skill with the classes, or possibly I am missing an equipment/rune/relic combination, but I do think not all classes are equally balanced or useful, at least in most circumstances.
Another aspect of the game I believe is slightly poorly balanced is its relics. Relics are in-level pickups that cost resolve and are not kept upon death (resolve is dependent on equipment load and if you have too little you lose a portion of max health). They commonly spawn with two options, but sometimes do spawn alone. Some of the relics are game changers, while others seem weak.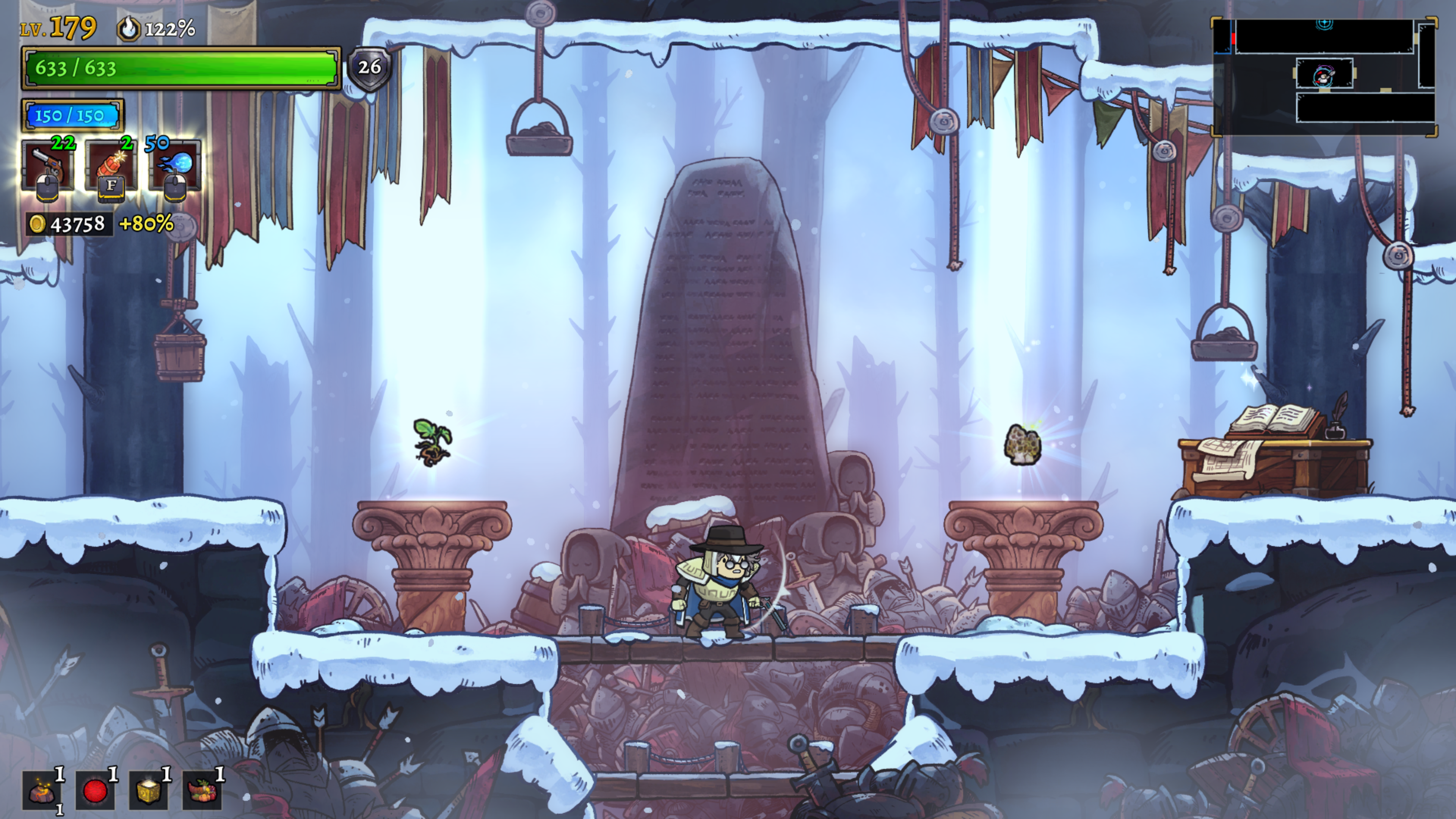 I think the greatest relics are the damage overtime ones. They do cost a decent amount of resolve but seem to deal considerably more damage than anything else in the game. Furthermore, they are activated on basic attacks, something the player will be heavily relying on no matter which class they choose.
On the other hand, you also have relics like Heron's Ring. This relic provides 1% bonus magic damage for each point of resolve below 100%. In theory this sounds great, grab a bunch of relics and do more magic damage. However, reducing resolve below 100% severely lowers player health. At 50% resolve, a player will have 50% more bonus magic damage, but only half their max health. This trade off makes the item extremely dangerous to pick up, especially when there are options that simply increase damage, although less, without negative side effects.
There are several items like Heron's Ring that just don't make any sense to pick up. An item like this is even less tantalizing when there is the possibility of better relic options farther in the castle. I should note that it is possible to re-roll relics if you purchase it at the manor, but this upgrade is expensive and only so many items can be re-rolled. There is also no guarantee the new options won't be even worse than the previous relics.
I understand not all relics must be powerful, but I still think more tweaks are needed to at least make all viable, along with the classes. I am hopeful though because Cellar Door Games has been releasing updates to game balance and am positive that the future of Rogue Legacy 2 will be a bright one.
Conclusion
Even with these faults, I still believe the game is great. Its core mechanics are there; and they are executed to near perfection. These are small gripes in comparison to the excellently executed and large amount of content that is already in the game. I do think it will take some trial and error to make sure each class is viable and every relic is at least somewhat usable, but these changes are definitely achievable. I rate Rogue Legacy 2 a 9/10. It is some of the most fun I have had in a roguelike in quite a while.
Agree with the author? Couldn't disagree more and are frothing at the mouth to tell him? Leave a comment here, on Facebook or send an email and make sure to follow Never Ending Realm on Facebook, Twitter, and YouTube!