Taking advantage of the current trend of PS1 JRPG revivals, Shadow Madness will finally receive a PC port, via Steam. On February 15th Shadow Madness will receive a second chance at life on PC, and it is quite the unexpected occurrence. 
Shadow Madness Had a Decent Storyline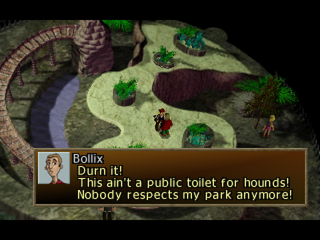 This is Shadow Madness' premise according to its steam page: 
"On a gentle spring evening, without warning or apparent source, chaos
descends upon the once thriving world of Arkose. A coastal town is silently
crushed, leaving piles of dust where people once stood. A pestilence infects
the land. It cares not whom it reduces to a blubbering, raving lunatic. The
infected spend their final days trying to escape from the cluthes of their
own shadows. There is no apparent cure.

The once prominent Gadgeteer race seems to disappear. Hysteria reigns
supreme. Doors are shut tight and towns turn hostile to strangers. Barriers
of all kinds, some quite lethal, spring-up as towns fight off deranged
strangers and the growing horde of bizarre creatures that are some how
connected with the disease. It's as if some immense, demonic nightclub just
shut its doors at 2 AM, spewing its inebriated, bloodthirsty, vicious patrons
out into the world all at once.

A small band of orphans stumbles along seeking help and answers. They are
assisted by numerous characters and confront hordes of vicious and conniving
adversaries. They wander and explore sweeping landscapes, ranging from
fantastic flying cities to haunted villages and mysterious ruins. They must
solve challenging puzzles, complete difficult mini-quests and meet a slew of
quirky beings as they try to solve the mystery of Shadow Madness." 
Unless you were living under a rock back in 1999, it was difficult to miss Shadow Madness' many magazine ads. Shadow Madness was famously packaged with a Jade Cocoon demo disc which made the financial risk of buying yet another 'Final Fantasy VII" clone a little more bearable. 
Shadow Madness was a JRPG made by American JRPG Fans
What made Shadow Madness unique is that it was one of the earliest games (that I can recall) that followed Final Fantasy VII's blueprint to near perfection, but it came from an American development studio (Craveyard) as opposed to a Japanese one.  
Shadow Madness, at least on the surface, was not a hapless contender. The game's development team included Paul Reed of Secret of Evermore fame. Reed would later move on to work on Metroid Prime. Given the pedigree of some of its developers, which included script writer Ted Woolsey who had worked on the translation of Squaresoft published SNES RPGs (Breath of Fire, FFVI, Chrono Trigger), Shadow Madness was somewhat of a promising product.  
Critics of the Time Panned Shadow Madness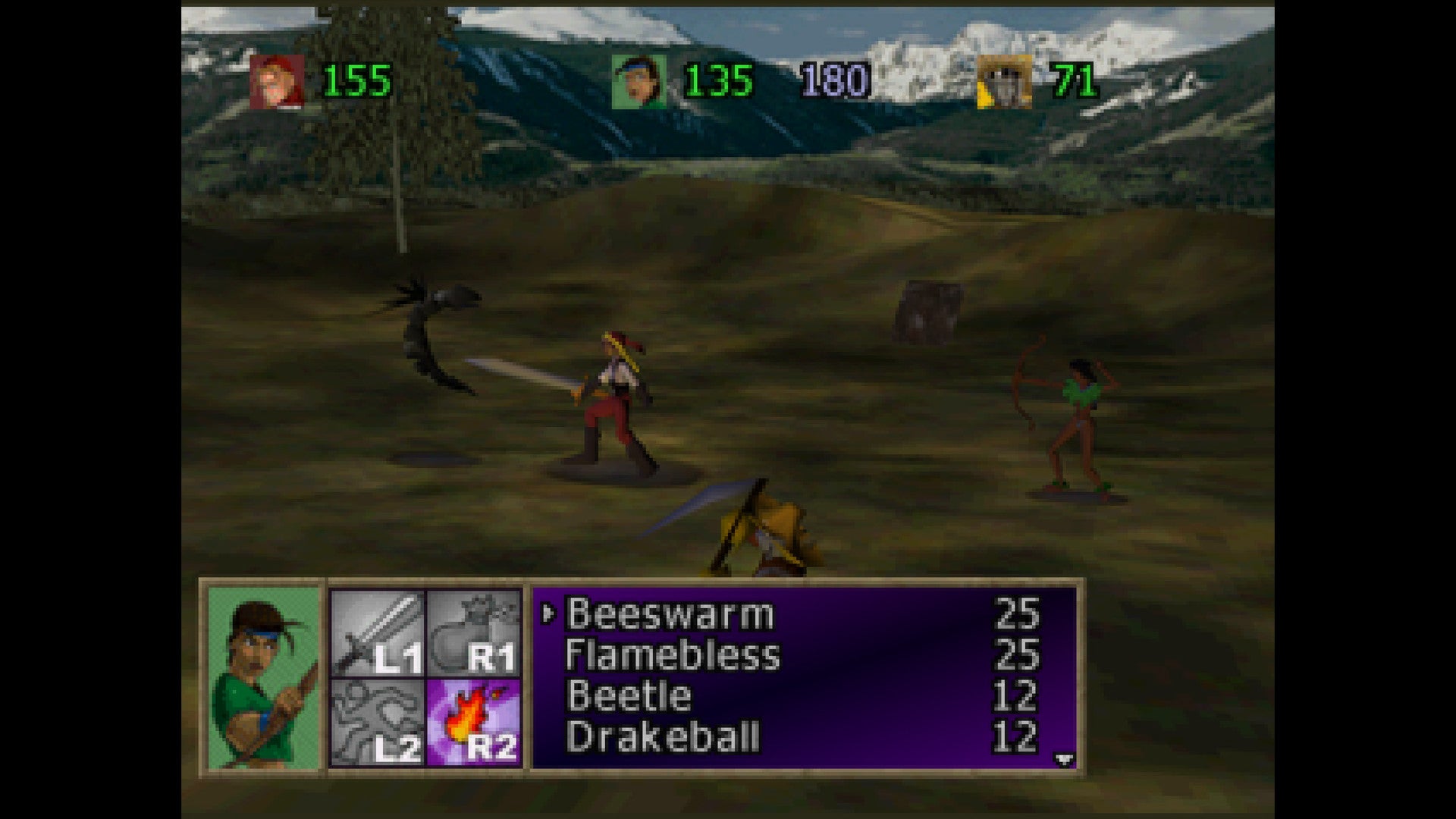 Critically, Shadow Madness would meet the same fate as another contemporary Final Fantasy VII clone, The Legend of Dragoon. Holding an unimpressive 65% Game Rankings score, Shadow Madness was panned for its lack of originality and subpar visuals. The game became the butt-joke of many publications at the time winning many "Worst of" awards.  
While Shadow Madness had an interesting story for such an average game, critics were right to pan the game based on some dumb design decisions by its development team. Even though Craveyard tried hard to copy Final Fantasy VII right down to the game's battle system, and the offering of an assortment of mini games, the team missed simple essential stuff such as listing weapon attributes when looking to purchase said weapons at a shop.  
While the game emulated Final Fantasy VII, the combat and gameplay felt like a slow crawl by comparison. This was especially true because the game's cast of characters were uninspiring. When you don't care about a game's characters and their predicament, grinding sessions become a true drag.  
The best thing about Shadow Madness was the fact that it came bundled with a Jade Cocoon demo disc.  
Should You Get Shadow Madness When It Arrives in Two Weeks?
This game is not on the level of Saga Frontier or Chrono Cross, but if you are nostalgic about 32-bit era JRPGs, you might want to give it a try. Shadow Madness is a "Great Value" Final Fantasy VII clone that received mediocre critical scores at launch. 
In that way, the game is very similar to The Legend of Dragoon. However, unlike Japan Studio's cult classic, Shadow Madness only sold about 180,000 copies (LoD sold over 1 million) which kept the game from achieving a similar cult of fans, as it was doomed to eternal anonymity until now.  
The positive thing about all of this is that other games like Vagrant Story and The Legend of Dragoon might not be far behind in terms of receiving remastered ports. I mean, who would have thought? Shadow Madness in 2022? Madness! I tell you! 
Agree with the author? Couldn't disagree more and are frothing at the mouth to tell him? Leave a comment here, on Facebook or send an email and make sure to follow Never Ending Realm on Facebook, Twitter, and YouTube!