Given that rumors abound of an "in the works" Final Fantasy IX Remake, and Final Fantasy VII's resurrection as Sequel/Remake of sorts, gamers have turned their attention to the other popular – and most revered – game in the franchise: Final Fantasy VI.
While Final Fantasy VI did not set the sales world on fire during its original 1994 SNES stint, the game would garner a bit more popularity in later years with a version of it released for the PS1 (Final Fantasy Anthology), and a GBA port. 
Make a poll asking which Final Fantasy game is best, and there will be a close war between FFVII and FFVI fans, proving that the SNES classic is – potentially – a commercially viable title for a resurgence on modern systems. 
Yoshinori Kitase Shuts The Possibility Down…For Now
When asked about the possibility of a remake in a roundtable discussion (celebrating the series' 35th anniversary) amongst Square Enix employees, Kitase explained why the 6th title in the series had not been remade,
"I think FF6 Remake would be difficult. FF7 Remake is not yet finished, so I am not able to think about it (a FFVI Remake). But for FF6, there are many FF6 fans inside the company, and they often ask me, 'When are we making 6?'" – Kitase on Final Fantasy VI.
But why would the project be so difficult to make?
Final Fantasy VI is Sacred to a Huge Chunk of Fans…Square Enix Would Have to Approach it Differently Than They Did FFVII
Kitase on when they will make Final Fantasy VI Remake:

"I think FF6 Remake would be difficult. FF7 Remake is not yet finished so I am not able to think about it… But for FF6 there are many FF6 fans inside the company and they often ask me 'when are we making 6?'" pic.twitter.com/kC0EFLqiTn

— Genki✨ (@Genki_JPN) June 20, 2023
This is speculation on my part, but Square Enix might be wary of damaging Final Fantasy VI's 'brand' while reimagining it for new machines. Obviously, it would be a multimillion dollar undertaking that may, or may not, pay off – and this,  the economics side of the equation, might be the most resounding reason for SE to look the other way. 
But, in terms of the actual product, Final Fantasy VI has not been 'whored' out to the extent that Final Fantasy VII has. Square Enix has been able to carve out a successful franchise out of the Final Fantasy VII 'Remake' project (6 million copies sold), despite the fact that the game is not a remake, but sequel of the original title.  
While some die hards have complained about this fact, the vast majority of fans moved on, and even liked the fact that we were getting a new story where, perhaps, unexpected scenarios will happen; making the 'Remake' project a worthwhile endeavor for long time fans. 
Given that Final Fantasy VII's canon had already been 'tinkered' with back in the mid 2000s in the "Compilation of FFVII", no one really cares at this point if Square Enix -namely Tetsuya Nomura – ruins the saga. 
I don't think Final Fantasy VI's fans would be as forgiving of such a mishandling of their beloved product. The game's story hasn't been changed, or put through Nomura's irrational storytelling paces for nearly 30 years (2024 is its 30th anniversary). 
Remaking Final Fantasy on Newer Hardware Would Be a AAA  Task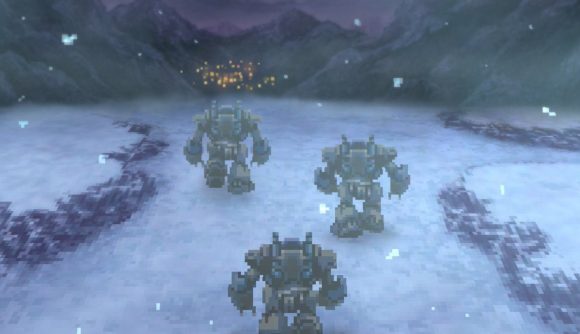 Final Fantasy VI, apart from its storyline, is also revered for its unique Steam Punk setting, and at the time, ground breaking themes for a mainstream video game.
Given the game's legendary reputation, nothing short of fateful recreation of its extraordinary setting would suffice. As a Final Fantasy VII fan, who also has some appreciation for what FFVI accomplished in 1994, I would rather not see a remake if it is not done properly, while remaining true to the original source material.
Why break into a legacy that has remained untarnished to this day? We do not need any more 'alternate timeline' stupidity, and the proverbial 'milking' of its 'remake' project by creating a multi episode saga.
Final Fantasy VI was a complete game in 1994, and as such, it should be delivered as a complete game, if, and whenever, a remake is made. That said, I do think a proper remake of FFVI has incredible potential, so I do hope that if Square Enix is considering it, proper reverence for the game is the driving force behind the project, as opposed to just making money off its good name.
Agree with the author? Couldn't disagree more and are frothing at the mouth to tell him? Leave a comment here, on Facebook or send an email and make sure to follow Never Ending Realm on Facebook, Twitter, and YouTube!