Square Enix announced, via new trailer, that Final Fantasy VII: The First Soldier arrives on November for iOS, and Android platforms with expected "In-App Purchases" (aren't these purchases the sole reason for the existence of mobile games these days?).
What is Final Fantasy VII: The First Soldier? Square Enix's attempt at a Fortnite clone?
Basically, yes. It is a battle royale game that features RPG elements while in combat. Up to 75 players can join the fray and engage in battle while the game's map progressively shrinks as players battle each other to the last man/gal (or team) standing.
Several classes, such as Warrior, Monk, Sorcerer, Ninja and Ranger are available. Characters, and skills (such as spells) can be leveled up by defeating monsters on the map. Magic Materia and Summon Materia can be equipped, making this game an interesting one if you dislike Fortnite, but are a Role-Playing game fan, nonetheless.
How Relevant is the Game to the FFVII 'Expanded Universe' or 'Compilation'?
The First Soldier takes place 30 years before the events of Final Fantasy VII, the story covers the origins of Shinra Electric Power Company's elite super human SOLDIER 'unit'. Players take on the role of a SOLDIER candidate. Because the game is really a Battle Royale game (as opposed to a story driven RPG), we shouldn't expect major storyline developments. Which might be for the best.
Square Enix's goal with the game, according to Tetsuya Nomura, is to draw new (non RPG playing) fan bases to the Final Fantasy VII's universe in order to expand the sales of its Final Fantasy VII themed projects, and maybe Final Fantasy itself.
"Fanbases of long-standing IPs (not just Final Fantasy VII) become static to a degree. So our challenge is to appeal to other fanbases." – Tetsuya Nomura, Siliconera via Famitsu.
Given that Final Fantasy VII Remake will continue to get episodes over this decade (and perhaps beyond), Square Enix wants to augment the game's fan base by bombarding mainstream and casual gamers with the property on mobile devices.
Only on Android and iOS?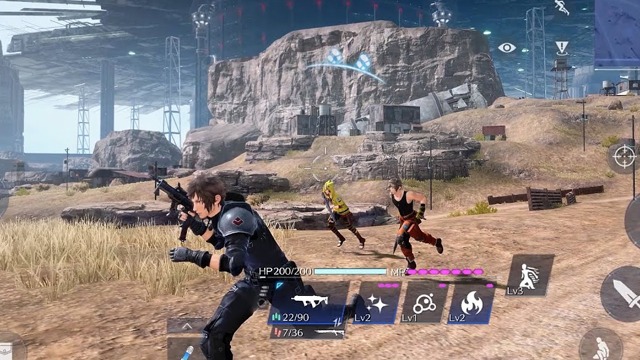 At least for now, it seems that Final Fantasy VII: The First Soldier will only be making an appearance on Mobile platforms. I suspect console versions of the game will eventually launch if the title is successful on mobile platforms, but that's just a guess.
Pre-Registration for the title will be made available later this month.
Final Fantasy VII is the Future of Final Fantasy?
Coupled with the soon to be released Final Fantasy VII: Ever Crisis, and the upcoming (eventually) Final Fantasy VII Remake: Episode 2, The First Soldier is the latest game in the Final Fantasy VII compilation.
It seems that Square is banking on the immense popularity of the VII franchise to bolster the popularity of the Final Fantasy franchise as a whole. Meanwhile, the next official numbered entry in the series "Final Fantasy XVI" did not receive a new trailer (or release date) in this year's Tokyo Game Show, but its director, Naoki Yoshida, said that its main campaign (storyline) was finished, and that only a few "quality of life" improvements remained to be finalized in the game's development.
Agree with the author? Couldn't disagree more and are frothing at the mouth to tell him? Leave a comment here, on Facebook or send an email and make sure to follow Never Ending Realm on Facebook, Twitter, and YouTube!