Final Fantasy XVI's new trailer, aptly titled, "ambition", is out. I had to watch it a few times to digest certain aspects of the much awaited entry; an entry which further distances itself from the older traditional style of turn-based party combat.
The new entry, helmed by Naoki Yoshida, seems, at least in my view, to be an important title in a series that has reached the proverbial "crossroads".  Final Fantasy is no longer what it once was in the 1990s; a true system seller of the highest quality.
Over the last 20 years, or so, the series has lost much of its luster, with titles that deviated from the original Hironobu Sakaguchi formula, as the series tried to carve out an identity of its own without its original creator at the controls.
It can be said, that since Final Fantasy X (Sakaguchi's last title), the series hasn't really found a winning formula that pleased both, long term and newer fans alike. Thus, by Yoshida's own admittance, Final Fantasy XVI is an attempt at making Final Fantasy "great" once again.
The Trailer's Visuals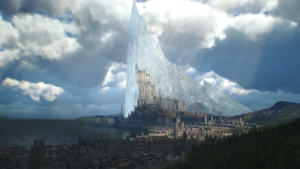 Judging from the trailer's visuals FFXVI is a good looking game, but not necessarily a jaw dropping one. Horizon Forbidden West will still offer the premier looking open world experience on PS5, even when FFXVI finally hits store shelves next summer.
Still, visually, the game is a step above from what we saw on FFXV. The game's artwork is fantastic, and in general, the "Final Fantasy" aesthetic has been preserved here.
The character designs are likable. These designs remain some what anime inspired (though in a realistic way), and in that sense, the game looks quite different from western open world games populated by more life like character renderings.
Still, this is, at least judging by the trailer, the most visually impressive Final Fantasy game that I have seen since the unveiling of Final Fantasy X, back when I was still a teenager.
It Has it Where it Counts
Final Fantasy XVI, judging by the trailer, will have a major focus on storytelling. This (storyline) has been a major contention point for 20 years. Quite simply, Final Fantasy hasn't been known for great story telling since Sakaguchi left Square Enix. This is a bad thing, when the series pretty much built its stellar reputation on great stories with unforgettable characters since its 16-bit days.
The "Ambition" trailer sets up the game nicely, by introducing us to the warring factions in the game. The story also focuses on the crystals, and the "icons" or summons. I feel that this was done in order to appeal to older fans who might gravitate towards this one fueled by the nostalgic memories that have resurfaced thanks to Yoshida's direction of the game.
The story seems to be politically charged, and quite dramatic, if not, Game of Throne's like. Judging by the trailer, there will be death, and it will be graphic (which will is a departure from previous FF titles).
Final Fantasy has grown up. I don't expect Witcher like sex scenes, or anything of that caliber, but clearly, this will be a violent "M" rated epic storyline. Given Yoshida and team's work on Final Fantasy XIV, I expect a well written, globe trotting epic.
The Verdict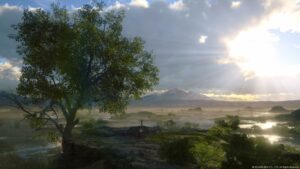 I don't know if Final Fantasy XVI will return the series to its "top of the JRPG food chain" status, or even to an above 90% Metacritic rating; but it seems like this is the series most ambitious attempt at making some thing truly great since Final Fantasy X. For that reason alone, I am cautiously optimistic, and excited about this 2023 release.
Bethesda's Starfield continues to be my most anticipated 2023 release, but Final Fantasy XVI might have etched out a solid place as my #2 most anticipated game for next year.
Unless you are angry about the ditching of the turn based (and party) system for combat, I think most of what has been shown regarding the game has been extremely positive. Fingers crossed!
Agree with the author? Couldn't disagree more and are frothing at the mouth to tell him? Leave a comment here, on Facebook or send an email and make sure to follow Never Ending Realm on Facebook, Twitter, and YouTube!