So, it hasn't been uncommon on this section of "expensive" retro games, to see Working Designs published titles making the rounds. These games were fairly pricey during their heyday (given their premium packaging), and today – in part due to said packaging – these games can run for a few hundred dollars.
Lunar: Silver Star Story Complete for PS1, is not the exception. The game is, along with Lunar 2: Eternal Blue Complete, Working Designs' most beloved title.
The Challenge is Finding a "Perfect" Copy No Matter The Price Point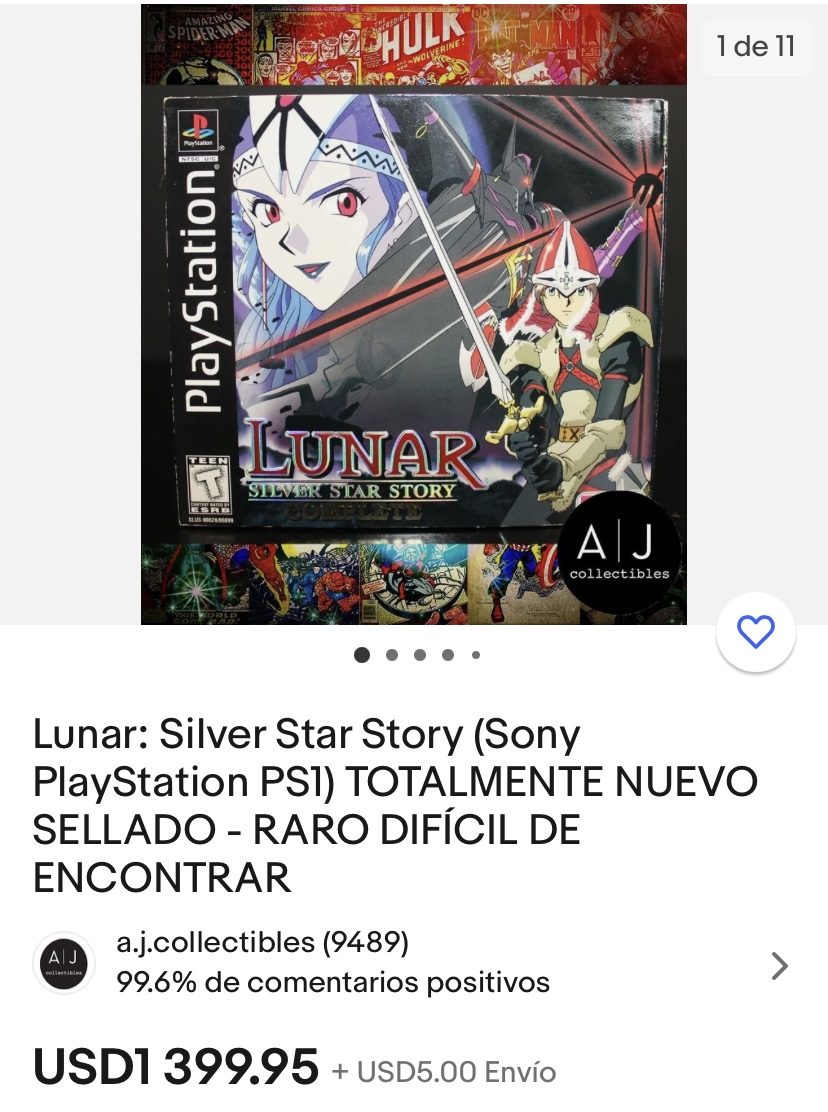 A quick search on Amazon, will yield a copy of the PS1 version for $229. Expensive? Yes! But not quite unreachable for most gamers. The problem with this copy arises when one reads the fine print on the seller's description for the condition of the game. It is missing two discs, the hard case manual, and the game discs themselves have scratches.
Upon reading that, suddenly, the price point becomes quite unbearable. Part of the charm of these titles were their excellent packaging, which added to their collector's value. A $400 dollar copy of the rarer Sega CD version of the game is also available. That one seems to have all of the original materials, and as such, for collector purposes, it is a better purchase.
Ebay, once again, appears to have more options. The game, in reported working condition (2 discs) sells for $100 or s0. I found a used copy of the complete edition, which apparently included all of its a materials for $209, which to me seems the best deal so far. Another copy, in which its pictures show a complete version of the game and its collectible extras costs $292.
However, if you are a true collector, or just want the title in true mint condition, Ebay does appear to have one copy ("sealed") of the game running for true kidney money at $1,400. So, thankfully, the game – in perfect condition –  remains within reach for those who really want to spend that type of money in a retro JRPG classic.
A mark of caution, the photo of this "sealed" copy, doesn't look like it is "sealed", as the cardboard box housing the game and its materials seems to have taken a bit of a beating around the edges.
Why Is The Game So Expensive?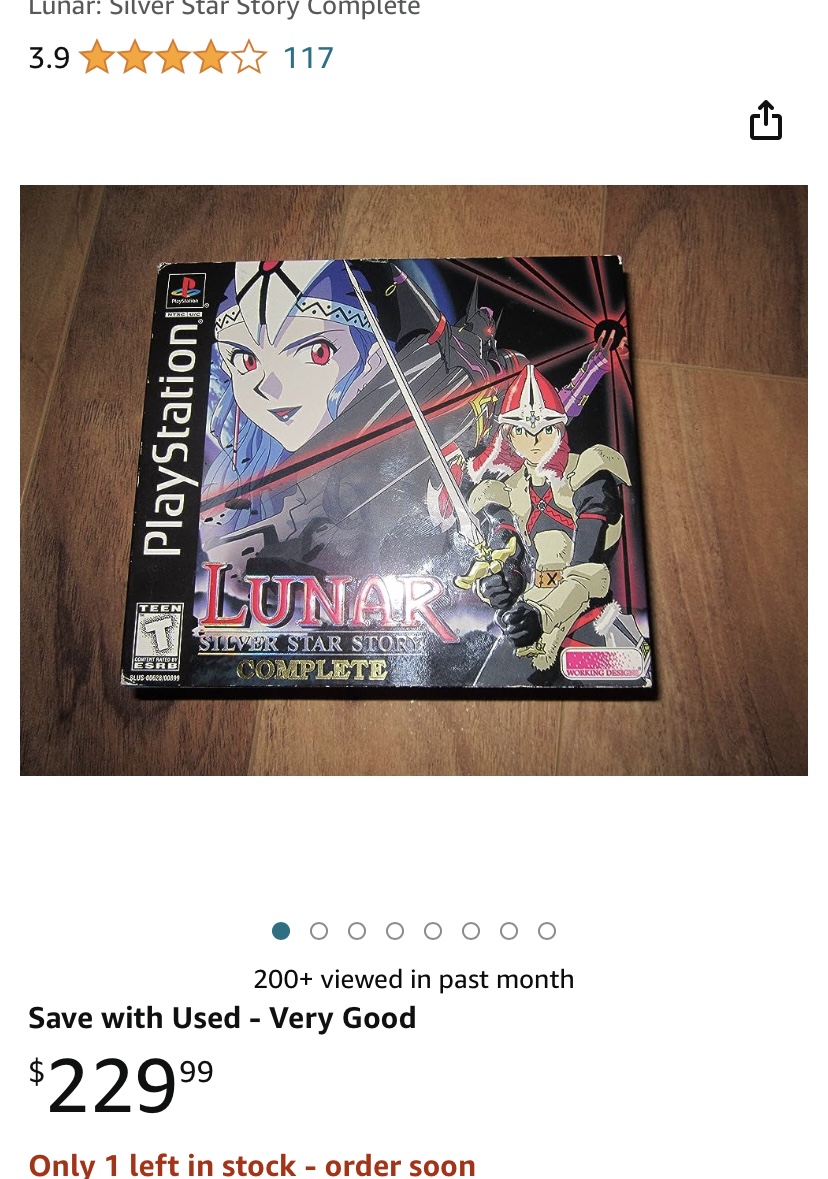 Well, as always, it is a JRPG from the 32-bit era (or rather a remake/remaster of the 16-bit Sega CD classic), and those games tend to age like fine wine, in monetary value. Also, Working Designs tanked, and therefore, they will never be another re-release of the title in the way that Working Designs worked it.
Finding a copy with all of the materials in pristine shape is a risky proposition, as the copy selling for $1,400 doesn't seem to be 'graded'. This is a title that has gained value over the years because Working Designs' packaging was specifically crafted for that very purpose. The defunct company's games are collectible items to an equal degree that they are (in many cases) great video games.
Quite simply, with only 550,000 copies sold (that isn't such a bad number in comparison to other titles), it will be hard to find working copies with all of the original materials in pristine condition today – 24 years after its PS1 release.
Is Lunar: The Silver Star Story Complete Relevant Today?
I would argue that it is – quite relevant – actually! The older you are, the truer that Lunar's (under WD's translation) relevancy in modern times becomes. Working Designs' translation had plenty of 90s pop culture references (and humor). Consequently, game seems to get funnier the older I get. It is definitely a game would recommend anyone to play, but especially gamers in their 30s and 40s.
Lunar is linear…but so is the newest Final Fantasy game (FFXVI). However, linearity is a good thing when the game in questions tells a good story, and Lunar continues to deliver in that regard. Being that it was an early 2-D game, its art and charm continue to impress. We live in an era where kids like artless Roblox graphics, so perhaps, even a younger audience could find something to enjoy here from a visual perspective.
The game's score and voice acting remains as great as it ever was.
The only thing that Lunar: SSSC could be accused of, is of being a simple turn based JRPG. There is beauty in simplicity though, and its simplicity certainly helps the pace of the story to move along briskly, and when it needs to.
If you can find a complete edition of the game (all materials included) for less than $300, consider yourself lucky. Under those conditions, it should be a good purchase for game collectors. On the other hand, if you just want to experience this classic in the way WD intended it to be experienced, disc only options exist for around $100.
Again, Lunar: SSSC is a worthy purchase for any JRPG fan.
Agree with the author? Couldn't disagree more and are frothing at the mouth to tell him? Leave a comment here, on Facebook or send an email and make sure to follow Never Ending Realm on Facebook, Twitter, and YouTube!