Yoshida, and Creative Business Unit III, crafted an experience in Final Fantasy XVI, that in my opinion, delivers a storyline, and audio/visual presentation on par with some of Sakaguchi's best work.
Yes, in my opinion, Final Fantasy XVI is a worthy successor to Final Fantasy X (XI, and XIV were online entries, FFXII was great, but not really a Final Fantasy game, and XIII, and XV were pedestrian by most accounts).
Final Fantasy at its Peak (FFVI-FFX)
 

Never Won a Game of the Year Award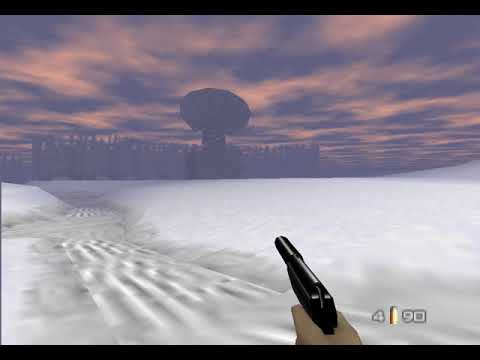 For starters, Final Fantasy XVI's failure to challenge Nintendo's The Legend of Zelda: Tears of the Kingdom in critical scoring, and therefore, GotY contender status, has been used by many critics on various forum boards to dismiss FFXVI as a 'failure'. Despite the fact that I predicted on previous articles that FFXVI had an uphill, if impossible, battle to unseat Tears of the Kingdom as the GotY, I myself fell into the trap of thinking that it maybe had a chance.
The aforementioned critics of the game – in their dissapointment – fail to take into account a very important fact that has haunted Final Fantasy since its inception. While this franchise has won "RPG of the Year" Awards with past  entries, the series was never able to earn the consensus global "game of the year" award, within any one year.
In that sense, Final Fantasy XVI doesn't break with the series' tradition. Final Fantasy VII, continues to be the series' most popular game, and back in 1997, it was the franchise's most earth shattering release. It remains the series' most important release to date, but even in 1997, the game would – in a majority of publications – lose gaming's most prestigious award to Nintendo's (and Rare's) Golden Eye.
Even when Final Fantasy was great, it was never quite the best game around for any given year. Take for example: Final Fantasy IX. The 9th entry, continues to be the best rated Metacritic entry in the franchise, and it did not win the Game of the Year award in 2000, despite holding a (series high) 94 Metacritic score.
Final Fantasy always hovered around the top games of any given year, but rarely, if ever, the one game to rule them all.
Final Fantasy XVI's failure to match Tear of the Kingdom's 96 rating (FFXVI holds an 88 rating), does not necessarily mean that the game is not great, or not worthy of its Final Fantasy lineage, it only means that Zelda is the better game, which most would not argue with.
However, Final Fantasy XVI does something better than Zelda, and that's Storytelling and Cinematic presentation. These two areas carry the day for Final Fantasy XVI, as they have carried the success of the series since the PS1 days.
Final Fantasy always told a better tale than Zelda, and Final Fantasy XVI delivers on that area.
Final Fantasy Delivered Ground Breaking Gameplay Moments with ATB, FFV's Job System, and FFVIII's Junction System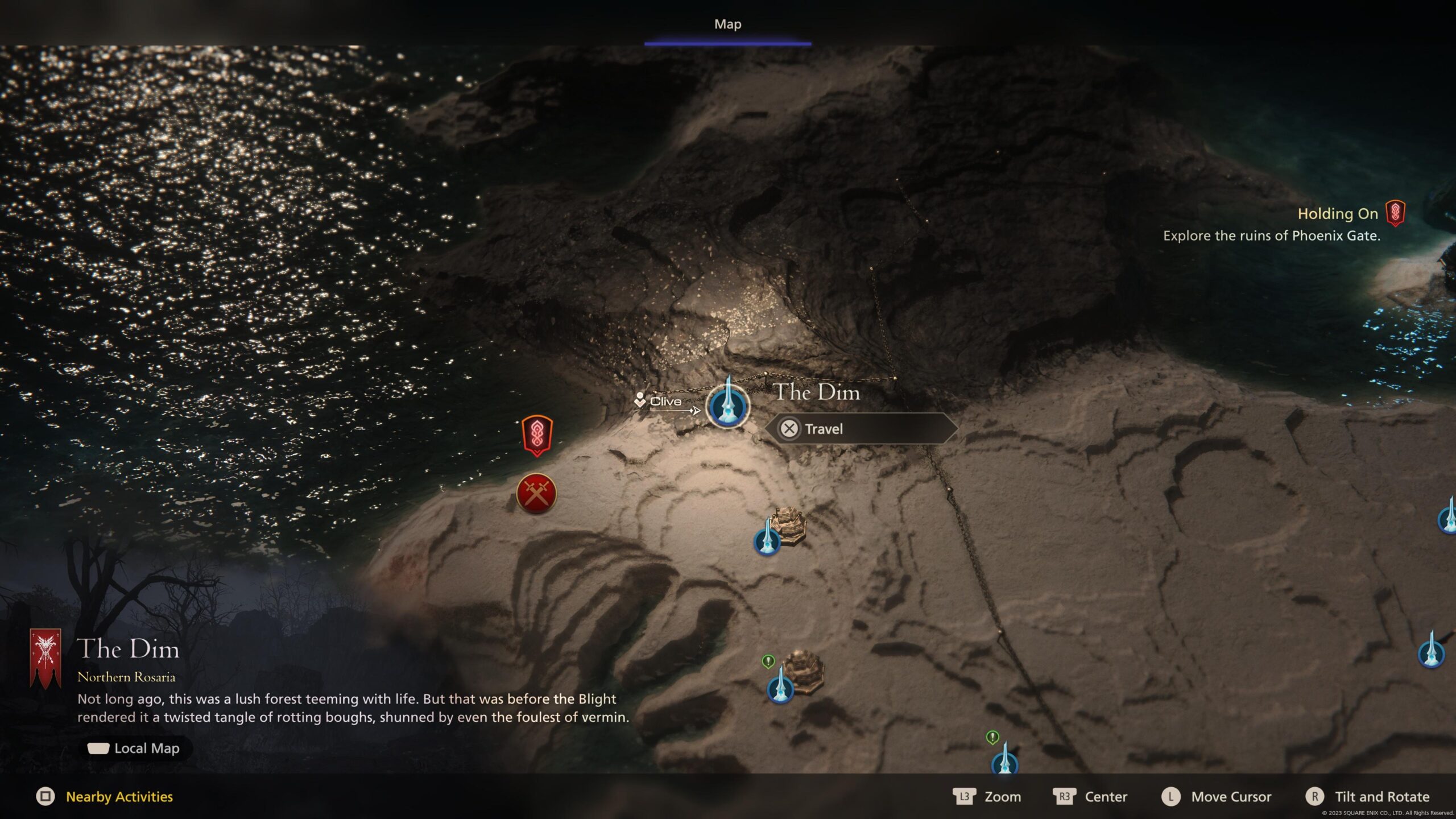 The other complaint about FFXVI deals with its linearity. Easy action oriented battles, and general lack of 'depth' in terms of Gameplay. Well, when was the last time that Final Fantasy delivered something 'ground breaking', or revolutionary in terms of gameplay? When? When was the last time that it wasn't a linear adventure? 
Off the top of my head, I can think of three instances in which the series offered something new within the realm of turn-based RPGs. The Job System in Final Fantasy V, might be an exception, maybe Dragon Quest did it before, but at least within the series it was a pretty big step.
You would have to go back to its introduction of the Active Time Battle system in 1992 (Final Fantasy IV). Perhaps, the aforementioned Job system in Final Fantasy V, and if you want to make a more recent case; its overly complex FFVIII Junction system. FFVIII's convoluted system continues to be one of the reasons why the game isn't as beloved as the other two PS1 entires.
Beyond this, Final Fantasy was always a more accessible RPG that built upon Dragon Quest's foundations. Unlike Zelda, to use a known example, Final Fantasy has never pushed the envelope forward in terms of gameplay, and game design innovation.
What the series did, was push forward the envelope in storytelling and its presentation with CG video, and CG pre-rendered backgrounds with Final Fantasy VII.  Other than that, that game's Materia system offered incredible customization options with in the parameters of a turn-based combat system.
It continues to be one of my favorite old JRPG systems, but it wasn't necessarily ground breaking, as the series had already dabbed into a complex Job System with FFV, and a more accessible Esper system in Final Fantasy VI.
Why do I bring all of this to the forefront? Because Final Fantasy XVI delivers absolutely zero innovation to gaming as far as game design goes, but it could be argued that it pushes the envelope a bit in terms of storytelling, at least further than other modern JRPGs have.
Final Fantasy XVI is a cinematic, heavy on story telling, tour de force of an adventure. And, is this not the primary reason why we played Final Fantasy games in the first place?
Final Fantasy XVI rights the FF ship on that most important – storytelling – regard. It was never going to offer the challenge and depth of Souls/Borne combat, or even some the tougher bosses of the newest Zelda's, because Final Fantasy has, since its late SNES period, focused on Mainstream gamers, and on telling a grand storyline, above all else.
Yes, FFXVI's combat is easy, but the game wants its players to enjoy its story, not break their controllers trying to figure out a way to beat every boss they encounter. Is this something that could improve in future entries? Yes, but Yoshida was working with a blank slate here.
Elden Ring built its gameplay on top of  a decade of Soulsborne games, in order to refine its combat while taking the franchise into an open world. The Legend of Zelda has been building upon 35 years of consistent great gameplay and design philosophies – perhaps only Super Mario can claim such an extensive period of consistency – to the point where Tears of the Kingdom is a much larger and different, yet familiar experience to say…Ocarina of Time, despite the many ground breaking design innovations integrated to the traditional Zelda formula.
On that regard, Final Fantasy abandoned its roots after Sakaguchi left the franchise (after producing its first 10 entries), and it has never found a formula, or much of an identity since. Yoshida, or Yoshi-P, was tasked with rebooting this franchise on a template that the series can build itself on, and I believe Final Fantasy XVI has done that.
It brings the storyline (the franchise's most important element) to the forefront, and it does deliver an easy to pick up game, and a solid combat system that modernizes the series.
The days of turn based combat within a AAA game are over, at least for the foreseeable future. Final Fantasy is a AAA franchise, and it has abandoned turn based combat for good. The sooner old school purists can come to grips with this fact, the better that it will be for them.
Could the game have a better battle system? Yes. Does the one – that it currently has – work for its intended, "move the story at a fast pace" purpose? Also, Yes!
If you want to nitpick, you can argue that Final Fantasy VI, VII, VIII, etc. Were some of the biggest RPGs that you could buy in their respective eras, in terms of content and depth of their combat systems. By contrast, in 2023, FFXVI is neither a large RPG, as games like Forbidden West, any Zelda, and maybe even the odd FFXV, offer more content, or a deep game in terms of its combat system.
You can 'mash' button your way to success in Final Fantasy XVI (with the occasional well timed R1 dodge), this is true, but honestly, the game's story is so good, that the possibility of getting stuck in a boss fight for a few hours would have taken away from the game's primary strength, which is its delivery of  a fast paced, and dramatic storyline.
Yoshi P understood this, and thus, Final Fantasy XVI is an easy game in a world where even the newest Zelda will kick your butt if you run into the wrong enemy without the proper preparation at hand. I don't see this as a weakness, FF – for the most part – has always been on the easy side of things.
Apart From Mario and Zelda…How Many 3 Decade Franchises Have Thrived This Long, or Even Survived?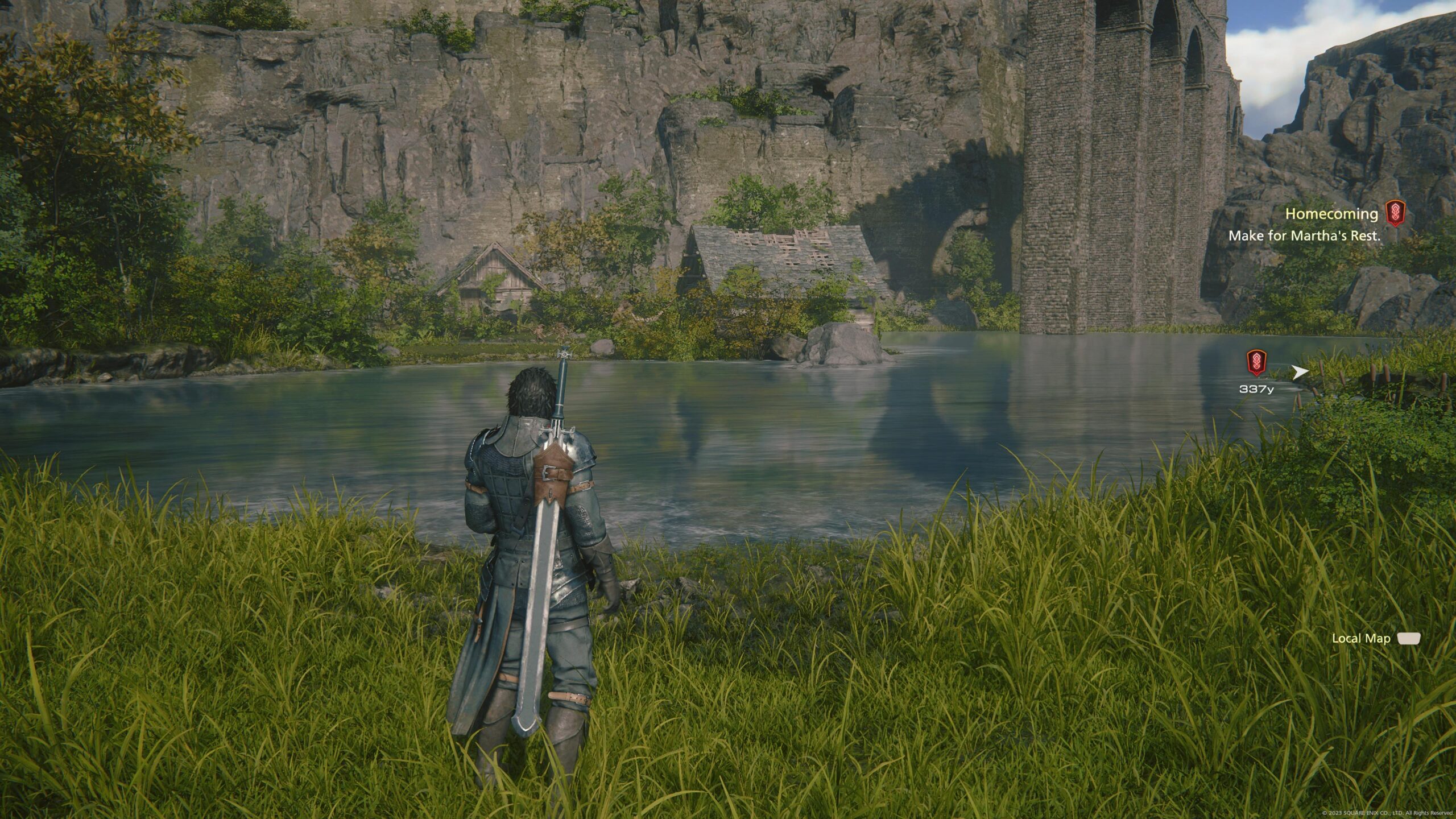 We all (especially the old heads) have unrealistic expectations for mainline single player Final Fantasies. I have been guilty of this myself. But in the grand scheme of things, Only Nintendo's Mario, and Zelda mainline games have sustained their excellence throughout the decades.
When was the last time Konami Delivered a AAA Castlevania game that was universally great? Even its once excellent Metal Gear Solid franchise took a dive after 5 entries. Heck, even Nintendo isn't infallible. Its Wii U Star Fox game was pedestrian, and we haven't heard form that series since. With developing teams consistently changing, and some key personnel leaving, retiring, or even dying. It is hard to keep a franchise afloat for 30 plus years.
In a way, it is impressive that Final Fantasy has survived this long, and that we have received a full blown AAA entry of the franchise in 2023. We should be thankful for that, and we should be more thankful that Yoshida and his team focused on delivering a strong storyline within the confines of Final Fantasy's tradition.
Think about the following: Most of the JRPG franchises that once competed for a piece of the RPG pie with Final Fantasy during its golden era, are dead.  Grandia, Suikoden, Chrono, and Breath of Fire are gone. Tales and Star Ocean have survived, but it could be argued that they are no longer "AAA", or cutting edge in terms of tech.
I am not saying Final Fantasy XVI is cutting edge, as the game looks like a cross gen title, and God of War: Ragnarok, and Forbidden West look much better in most technical aspects. But, even then,  FFXVI remains a top tier game in terms of look, and art direction. You can tell a lot of money was poured into the development of this latest entry.
Visually Impressive and Equally Pedestrian at Once
More than any other game in recent memory, when it comes to visuals, Final Fantasy XVI had me confused at many stages of my journal writing ( I do keep a journal when playing games in order to review them). At times, I was impressed by certain things, such as the game's fantastic artwork. Very European in certain areas, but with a certain flair, and otherworldly quality, that could only originate from a Japanese artist's mind.
The game's artwork was always impressive. In fact, in certain ways, the towering crystals surrounding unique cities, makes the game look better than it technically does. The carefully directed cut scenes, both within the in game engine, and pre-rendered CG, are stunning, and again, elevate the game beyond how it actually looks during normal play.
The skin textures in some of these scenes are some of the best that you will see, and is the quality of the main character's clothing. Fabrics and leathers look like they should. Overall, Final Fantasy XVI is a good looking game, and even a great looking one in certain spots.
That said, despite the game's status as a PS5 exclusive, I question whether, or not, this game could have been possible on the PS4/PS4 Pro as well with some resolution and texture compromises. The reason I say that is because some low res texture work has made its way here (hinting at the game initially being planned as cross-gen title, and the game is overly linear, not just in its design, but in actual world/stage design.
If all you play are JRPGs, then yes, you will be very impressed by Final Fantasy XVI, but if you mostly play western developed games, then Final Fantasy XVI can feel underwhelming. Forbidden West continues to be the game by which all PS5 game's should be judged when it comes to graphics. Forbidden West's world being fully open, gigantic, and having dynamic weather, cloud, and day/night systems is much more taxing on the hardware that Final Fantasy XVI's largely stagnant levels should be.
Given FFXVI's linearity, and small areas which lack a daytime cycle and other dynamic elements, the game should look worlds better than it does. Perhaps, on the level that A Plague Tale: Requiem does, minimum. The truth is that The Last of Us Part I (remake), and Part II (A PS4) game look better, and believe or not, Part II had certain areas that were larger than some of Final Fantasy XVI's larger areas.
It continues to mystify me how Japanese companies, even one such as Square Enix, which once upon a time (1994-2006) pushed the graphics envelope forward, has now fallen so far behind Sony's first party studios.
If Final Fantasy XVI ran at 4k, and 60 frames per second, I would have less to complain about, but unfortunately, despite its linearity, its "Peformance" mode looks bad (720p resolutions), and it is not super stable. Its quality mode is polished, but over uses motion blur, which has been a problem for some people, and never hits 4K resolutions (stays at 1440p…sometimes shrinking to 1080p).
While I don't have any particular issues with these – technical shortcomings – in quality mode, after Playing Ghost of Tsushima, Forbidden West, God of War: Ragnarok, and the Last of Us: Part II; I was left wanting more from Square Enix's flagship title.
So what's good then? Well, the main character models are great, but Square Enix always did well here, it could be argued that the models in FFXV still look good. While water looks decidedly "last generation", some of the foliage and textures are "PS5 era" through and through. Battles are always a spectacle. More Impressively, the Eikon battles which reminded me of the old God of War games in certain fights, and cinematic cut scenes are grand in scale, and should please everyone who plays the game.
Going back to the characters, these are some of the most realistic looking characters that Square has made, but the females still have an anime look to their facial design that can feel a bit 'jarring' in contrast to some of the more realistic character faces (Cid's). For a game that tries to live on the gritty side, I expected more Witcher 3, than Final Fantasy XV, but alas, it is this artwork that gives Final Fantasy XVI its JRPG vibes despite being heavily influenced by Game of Thrones, and other western titles.
A Mature Final Fantasy, That Never Goes Fully Mature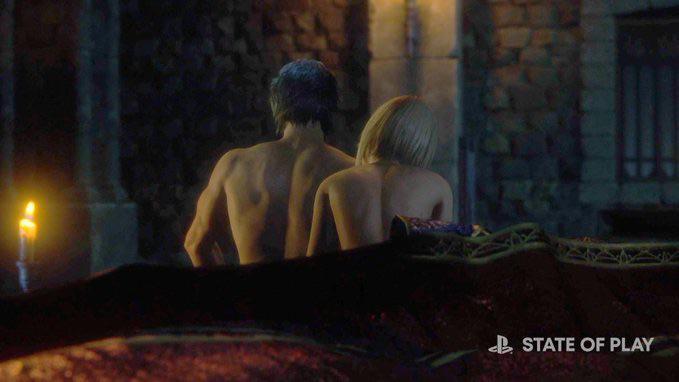 Despite Square Enix's  proclamations of Sex, Nudity, and Gore, Final Fantasy XVI only touches the former themes, without ever fully embracing them. The game has a lot of blood, but you rarely (if ever?) see guts, and truly gruesome images. There is no real nudity (sorry Witcher fans), or graphic sex scenes (though plenty of references including some 'moans'). For a game that was inspired by the Game of Thrones TV series, it never dares to go to the places that series went.
Now, going full nude, or full gore, wouldn't necessarily make FFXVI a better game, but The Witcher 3, continues to be the most 'GoT' like video game that you will find on Home Consoles and PC. Final Fantasy XVI is bloody, but it doesn't go much further beyond what the series has done before thematically. In other words, save for some foul language, and again, 'references' to gruesome deaths and sex. Final Fantasy XVI never fully commits to its M rating.
Basically, apart from the colorful language, and greater graphic representation of blood (everywhere), the game doesn't do much that Final Fantasy VI, or VII, did not already suggested. Those of us who played the Aforementioned The Witcher 3, Assassin's Creed, or The Last of Us, will not find anything here that goes over the proverbial 'edge'.
A Simpler Final Fantasy For an Action Driven Generation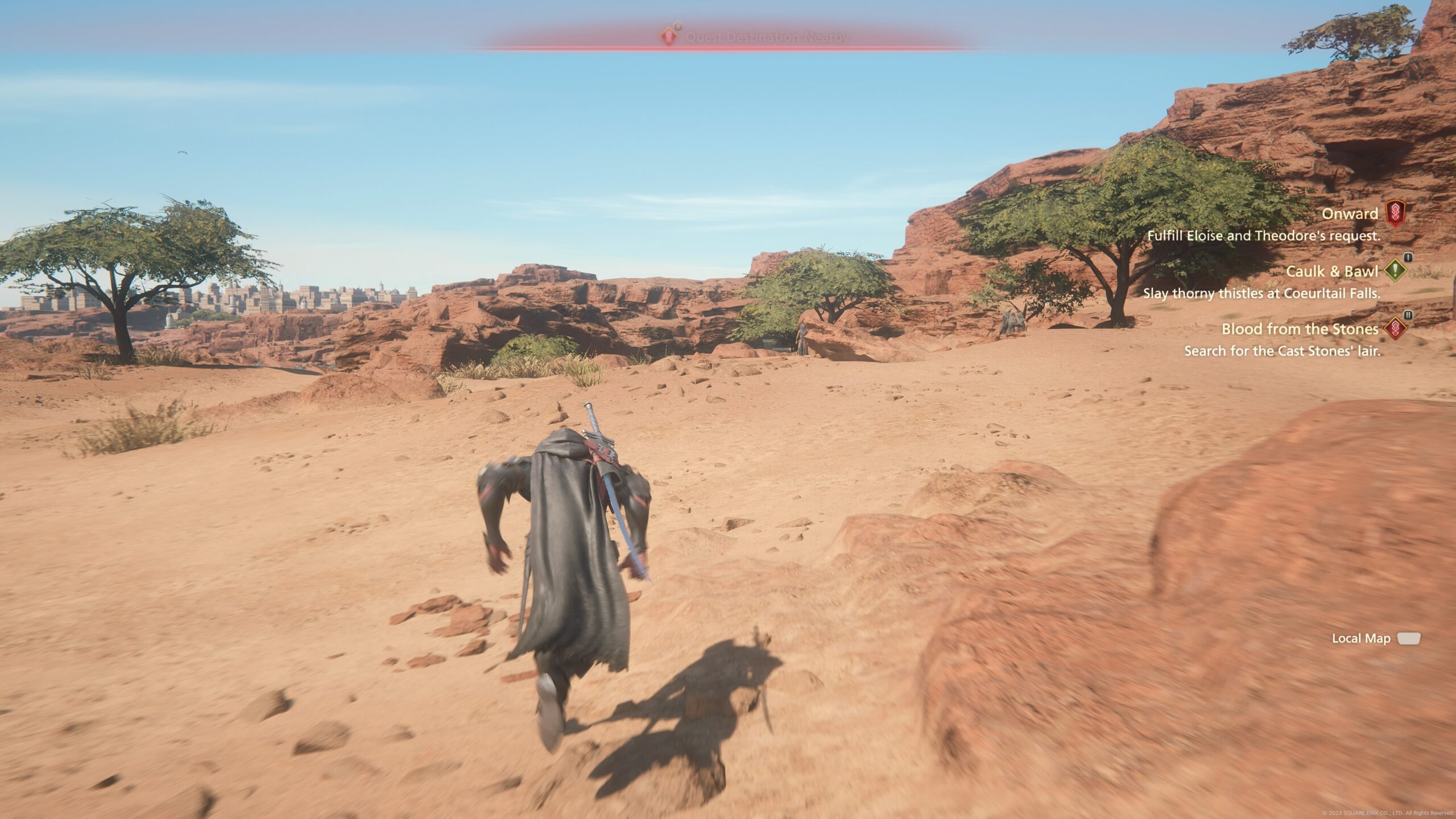 Final Fantasy XVI does nothing…absolutely nothing, to advance the Action-RPG/Action-Adventure Genre's forward, in terms of Gameplay. Clive is a powerhouse of moves powered by different Eikon abilities that he collects along the way. It is poetry in motion to watch him fight, and the clever timing of the R1 shoulder button (sometimes with on screen help) will allow him to dodge enemy attacks in order to deliver his counter attacks.
The game is on the easy side of things, but you would have to go back – nearly a quarter century ago – to Final Fantasy VIII's  junction system, and enemy (matching levels with your party) mechanic to find a challenging Final Fantasy. As far as difficulty goes, Final Fantasy XVI is up there with most modern Final Fantasies. It is a game that was made with mainstream – not action – players in mind, and it succeeds in being very accessible.
Grinding requirements are minimal, as are side quests completions. If you do choose to undertake on extracurricular work outside of the main story missions, it will likely be for crafting components needed in order to have some of the most powerful swords available for Clive. But even then, I managed to beat the game with 'standard' upgrades found at the smithy (using spoils found in normal play), as I progressed through the storyline.
Final Fantasy XVI is a story driven game, and thus, I didn't mind the fast paced, and often spectacularly good looking action combat. It it fast, and easy, and consequently, it allowed me to quickly get from plot point to plot point, which is truly (apart from its majestic musical score) Final Fantasy XVI's greatest strength.
I enjoyed Final Fantasy XVI's combat for what it is. This system isn't meant to offer Elden Ring's challenge, or Tears of the Kingdom's infinite flexibility. Instead, it is a system meant to entertain the eyes, by giving players the ability to effortlessly switch between Eikon abilities while stringing combos, and timing 'easy' dodges in between the offensive bursts.
In the end, anyone – regardless of skill level – can pick up Final Fantasy XVI and succeed fairly quickly. That's exactly what Square Enix intended with this entry on its flagship franchise.
Now onto the Eikon battles!
Epic Battles That Can Fry Your PS5?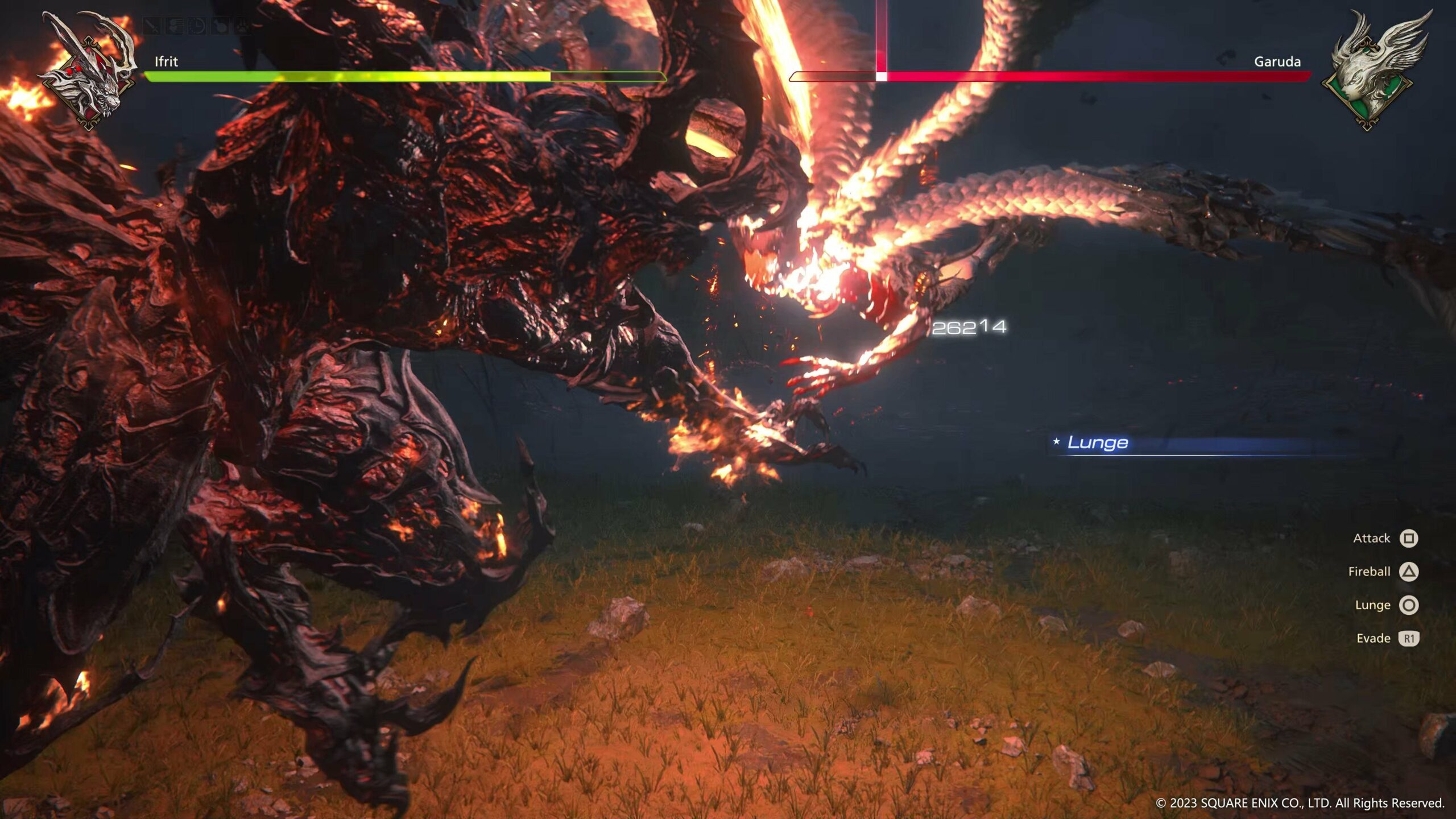 The Eikon Battles might feature Final Fantasy XVI's most spectacular visual sections. They are fast paced with particle effects that dazzle and pop out of the screen, constantly. It is here where the PS5 has to work over time, as Square Enix (judging by how the game looks last generation during world traversal) doesn't have a grasp on proper optimization of the PS5 hardware.
While my relatively new (a year old) PS5 never shut itself off, stories of overheating PS5 consoles shutting off have populated the internet. I believe these stories, because my PS5 has never – running any other game – gotten as hot, as quickly, as it did on some of these Eikon battles. To add insult to injury some of these fights  seem to go on forever for the sake of just going on forever, which is not only a potential console killer, but also, a great annoyance at times.
Some of the later bosses can take millions (of health points) in damage, and the whole particle spectacle – some incredible cloud rendering comes to mind in one of the most memorable Eikon fights – will heat your PS5 to high temperatures. So, make sure you have your AC on, or a fan of some sort, as the possibility of damage to the hardware exists in poorly ventilated areas.
The issue seems to worsen if your PS5 is dusty (as it clogs the system's radiator). Sony's cooling solution for the machine was always quite inferior to the Xbox Series X's, and it seems like long time owners of the system are finally paying the price of the hardware design.
Beyond the possibility of hardware damage, the Eikon battles are a cinematic spectacle, which at times, can become annoying due to the extraordinary length of these fights.
The Most Linear Modern RPG that I Have Played
In a world where Open World RPGs like Zelda, Elden Ring, and The Witcher rule, Final Fantasy XVI is either a breath of fresh air, or a tad  behind the times, because it is incredibly linear. It is as linear as FFX, and dare I say,  FFXIII (except that we do have towns and cities now). For a Linear game with small areas, Final Fantasy XVI doesn't look as good as it should on a consistent basis.  Exploration isn't one of the game's strengths, as all travel is done on a flat map with icons as placeholders for where you want to go next.
You can backtrack to previously visited areas at will, and what not, but all areas are linear in design, and again, showcase a game crafted solely on the premise of moving its very well written storyline with swiftness, rather than on exploration, and side questing. For those us who came into the game expecting The Witcher 3 world building, and often incredibly enthralling side questing material, Final Fantasy XVI will disappoint. Some side quests are worth your time if you are really into the game's world, but most of the stuff is boring 'run of the mill' fetch quest material.
In that sense, Final Fantasy XVI doesn't evolve the series much beyond the 'filler' content seen in Final Fantasy VIIR. The only issue I have with the game is that some of these 'filler' quests do make it to the main storyline (chasing pick pockets anyone?), and when this happens, the game turns into a tedious affair, as you have to labor through these quests in order to reach the long awaited 'big' plot point.
Other than that, again, Final Fantasy XVI doesn't break any new ground in the Action-RPG genre. In fact, for the most part, it is quite generic. It is while traversing the game's linear world, when one sees why the game holds an 87 Metacritic rating as opposed to say…a 90 rating, and why it will not challenge Tears of the Kingdom (and possibly Starfield) for a global game of the year award.
Even smaller Action-RPGs like God of War, and its sequel, Ragnarok, offer much more ground area to explore, and a more 'cohesive' living and breathing world.
The Greatest Story That Final Fantasy Ever Told?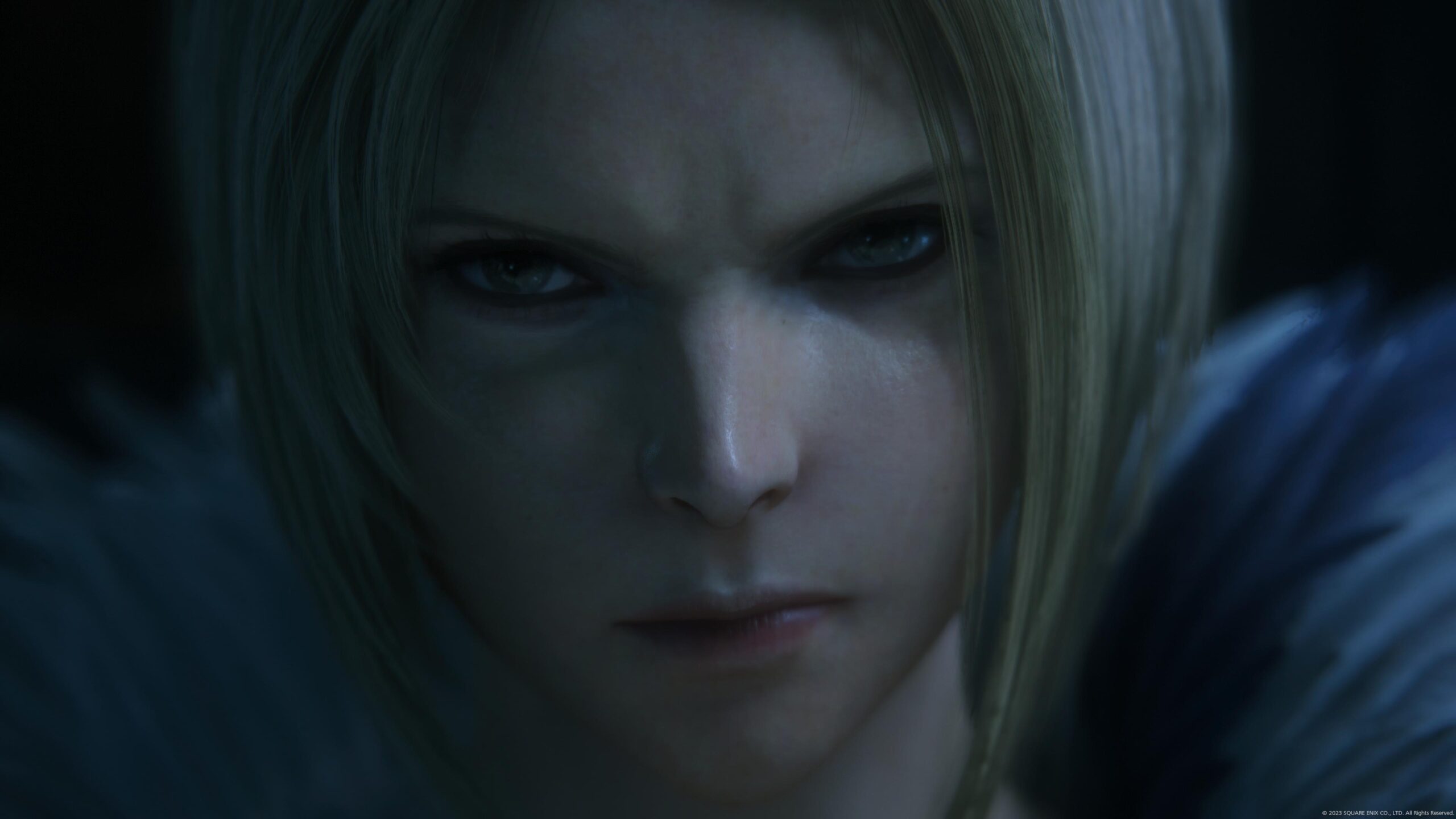 I wouldn't go that far. Final Fantasy VI, and VII still hold that title for me. That said, FFXVI has some of the best writing in the series, and some of its most dramatic moments, even if they don't reach the iconic threshold of some of the timeless scenes on the aforementioned 1990's Final Fantasy entries.
You can see Game of Thrones' influence in nearly every Final Fantasy XVI character arc. An over protective noble mother looking to further climb in nobility rank by arranging things for her favorite son? Check. A brooding underdog – Jon Snow – type of warrior? Check. Heck, there is even a 'Hodor' innocent giant character here. It makes for a compelling storyline, and even some 'deja vu' moments for those us who watched, and loved, HBO's mega successful series.
This is without a doubt, the best storyline the series has seen since Final Fantasy X, and it does a good job in keeping the series relevant, even if the story doesn't quite match the highs of the God of War Reboot, or the consistently good character development of The Last of Us' saga. Final Fantasy XVI does manage to compete within that space, and I dare say, that no one will walk away disappointed from what they experienced in terms of 'storyline' here.
Finally, without spoiling too much, Final Fantasy XVI might have a win over every other game in the series in one aspect. In my opinion, by far, Final Fantasy XVI has the best incarnation of 'Cid'. In fact, Cid might be the best character in the whole game, Clive included. Cid's voice actor, and his 'on screen character' design completely take over the storyline when the character gets screen time.
In the end, whatever score the game gets from me, most of it, will be due in great part to its storyline. Impressively, Final Fantasy XVI succeeds in delivering a modern Final Fantasy caliber storyline in 2023.
Uematsu's Era Has Been Over for Quite a While, Long Live Masayoshi Soken!
Let's be honest. Once Uematsu left (with Sakaguchi), Final Fantasy had to find another composer to keep the series' long standing reputation for stellar music alive. It took Square Enix more than two decades to find one, but needless to say, Soken's work for Final Fantasy XVI is beyond stellar, and should net him the job for years to come, because if there is one area where Final Fantasy XVI can go blow for blow with Sony's best first party titles, it is on the music department.
Final Fantasy XVI will not win any main game of the year award, but it should be a favorite in the 'story of the year' category, and it should be the unquestionable winner of the 'best soundtrack/score' of the year award as well. Soken's score elevates every cinematic scene to Hollywood levels of quality, and combined with the decent voice cast, it makes Final Fantasy XVI one of the greatest aural experiences of the modern gaming era.
Final Fantasy XVI Delivers a Template That Can Carry The Series into a Bright Future
I don't know about you, but I have always played Final Fantasy games for their storyline, and compelling characters. Final Fantasy XVI delivers in spades on those categories.
Final Fantasy XVI's world might not be as compelling as those in the 1990s FFs due to its fragmented nature (and lack of a traversable world map), but it does the job in moving the aforementioned storyline, and it is not – that different – from what Sakaguchi himself delivered on Final Fantasy X.
The series has ditched its turn-based combat system, but mention another AAA RPG that continues to rely on that system today; nothing comes to mind. Needless to say, I like the move to action combat, and that this system feels like a slightly more polished take on that system than Final Fantasy XV was.
There is room to grow before I can say that Final Fantasy is back at the top of the RPG genre, but Final Fantasy XVI is a step in the right direction after two decades of divisive Final Fantasy games. This is a must play for anyone looking for an engaging adventure.
Gameplay: 7.0
Final Fantasy XVI does nothing wrong in terms of gameplay. It fairly straightforward, even linear to a fault, and easy on its fast brand of action combat. It is…surprisingly generic. For an action-RPG, the game is short (if void) of puzzles, and significant exploration…this isn't a game that most will spend hundreds (or even dozens) of hours partaking in extracurricular stuff.
And yet, Square Enix delivers on its promise of telling an epic, and accessible storyline. This is game marketed for the mainstream gamer, and the mainstream gamer will find plenty to like here. Yoshida wanted things to happen with the press of a button (usually the Square button), and our Clive does go into a spectacular looking dance combat routine every time you press that button (along with others).
Some will complain that the turn based Final Fantasies offer a greater wealth of strategy, and those gamers should go to Dragon Quest…or Bravely Default. Others will complain that the game is not challenging enough, and those gamers will be well served playing Elden Ring, Tears of the Kingdom, or Wo Long: Fallen Dynasty.
For those who just want to enjoy a cinematic story ride, Final Fantasy XVI has you covered.
Storyline: 9.5
It has been nearly a quarter century since Final Fantasy had a story worthy of remembrance. Final Fantasy XVI delivers one of the better stories available on modern consoles, and it does so in dramatic – Game of Thrones – fashion. True, it lacks the graphic brutality, and sexuality of games like The Witcher 3, and The Last of Us, but it does what it can in the effort to reman pretty PG-13 (despite its M rating tag) while telling a brutal story filled with betrayal and murder.
Despite the shift into a bloodier game, Final Fantasy XVI, never loses its 'Final Fantasy' identity. The crystals, Eikons (Summons), and larger than life characters are all here. The game also features some of the best written/spoken dialog that Final Fantasy has ever seen.
True, the sense of a globe trotting adventure that Final Fantasy IV-IX delivered during the series' golden days is gone, and it has been replaced by a direct approach to storytelling within a smaller area, but perhaps, given the modern size (and cost) of modern game development, that element of a 'planet spanning' quest was always meant to go extinct.
Graphics: 8.5
Final Fantasy XVI doesn't – overall – look better than any of Sony's cross generation efforts. At times, the game's character models, and materials shine, but at others, FFXVI looks like it had PS4 roots. The Eikon battles are a visual spectacle, and some textures are definitely current generation stuff.
However, for a linear game, exclusively made for the PS5, Final Fantasy XVI is lacking.  For what is worth, The Last of Us: Part II (A PS4 game) looks better.
Don't get me wrong, Final Fantasy XVI looks good, and can impress at times, but similar (PS5/Series X/S only) games like A Plague Tale: Requiem, look better.
Finally, the game never goes the full gory route. There have been much more graphically violent games holding an M rating. For a game trying to match Game of Throne's shock value on its more dramatic scenes, Yoshida and his team were quite restrained in keeping most of the gore to large amounts of red blood.
Music: 10
Soken needs to helm the series' musical score forever…or at least until he retires. He is the true Nobuo Uematsu successor, and in terms musical quality the series is in great hands.
Replay Value: 6.0
The Legend of Zelda: Tears of the Kingdom – or The Witcher 3 – Final Fantasy XVI is not. I have no desire to play the game again (unless it is to replay the awesome storyline). FFXVI doesn't have the captivating world, and gameplay mechanics that will keep it running on PS5 consoles for hundreds of hours.
Like a good TV series, when it ends, it ends. That is unless you are into re-runs, and FFXVI's storyline might be worth a re-run or two, indeed.
Overall: 9.0
As a pure Action-RPG, Final Fantasy XVI is lacking. As a purely story driven game, Final Fantasy XVI is fantastic. If you value storyline, and cinematic audio/visual presentation over other gaming elements, then you will find that Final Fantasy XVI is one of the better games that you can play in the current home console era.
It is an unforgettable ride, and a much needed reboot for the series. While I do hope that the eventual Final Fantasy XVII offers a much larger explorable world, and NPC side quests worth their salt, I would not complain if Yoshida stays at the helm, and delivers another fast paced exhilarating  ride like this one.
Final Fantasy lives on!
Agree with the author? Couldn't disagree more and are frothing at the mouth to tell him? Leave a comment here, on Facebook or send an email and make sure to follow Never Ending Realm on Facebook, Twitter, and YouTube!