Given that it has been over two decades since the last great Final Fantasy  (2001's FFX), saying that FFXVI is the greatest Final Fantasy in two decades, is not necessarily a grand statement. 
However, after playing Final Fantasy XVI's demo, which chronicles the early stages of the game, I have no choice but to feel excited about the upcoming full game, and the future of the series.
Final Fantasy Was Always About Story
Since Final Fantasy VI – though some would say since Final Fantasy IV – the series has had a penchant for telling great stories driven by engaging characters. Final Fantasy VII, in 1997, was the pinnacle of video game storytelling, and I would argue that Final Fantasy IX duplicated a similar achievement in 2000, despite strong competition from Xenogears, and Grandia. 
Final Fantasy XVI, in my honest, opinion has the best storyline since FFIX, and by far, the series' best writing to date. To say that I was angry when the demo ended, is an understatement. 
Naoki Yoshida, and his team, focused on the Game of Throne's approach to storytelling, and while the writing doesn't quite match HBO's hit series' quality, it is, perhaps, closer to GoT than I thought would be possible from a Japanese team with no Hollywood script writers on their payroll. 
Yoshida has mastered the art of cinematic storytelling in a way that Final Fantasy no longer seems behind the times, and I dare say, the series is finally a match for Sony's AAA western developed games. 
In that sense, even within the confines of short demo, I can already tell that Square Enix has succeeded in finally bringing Final Fantasy up to date with the best games of the modern era, at least as far as storytelling goes.
Great stories, and engaging characters were the reason that I fell in love with JRPGs during the 32-bit era. It seems that in the 2000s the genre fell off the map and behind game franchises like Uncharted, God of War, and eventually The Last of Us. Heck, even Halo's universe was more engrossing than whatever Final Fantasy XIII was. 
Thus, I am more than pleasantly surprised, that after more than two decades, Final Fantasy XVI got the series storytelling mojo back. This is Final Fantasy, but it has the mature, and careful writing of Game of Thrones. It is impressive how Yoshida's team made me care about Clive's characters minutes into the game. 
Final Fantasy XVI succeeded at keeping me glued to the TV, like a good TV series (and story driven game) should. When the demo ended I was left feeling empty (and perhaps a bit sad), as I anxiously await for the next dose of this engaging story.  
In that sense, Square Enix was very smart in releasing this demo. The game has issues that will keep it from contending with The Legend of Zelda: Tears of the Kingdom for the Game of the Year Awards. However, I cannot fathom how someone who played the demo to its conclusion, could resist the urge to buy the game on day one. 
Yes, the story is that good.
That said, be warned, those who have complained that first party Sony titles are nothing more than "interactive movies" will find that this game follows that same formula. It tells a very strong story, but compromises to exploration (this is not an open world), and over all gameplay, had to be made. Again, I always played FF games for their story lines, and Yoshida has doubled down on this crucial aspect to the series.
There is gore, and mature themes are present here. However, the game is not as crude or as gory as  The Witcher 3, and the fashionable hairstyles, that no self respecting warrior would sport on medieval times, will consistently remind you, that indeed this is a Final Fantasy game. That's not a bad thing, the game is much more reliant on top notch cinematography than The Witcher 3 ever was, but the world is much smaller and linear (at least on its the early parts we will have to wait for the full release to further explore its world).
Under the Stunning Cinematography, PS4 Visuals Show Their Ugly Head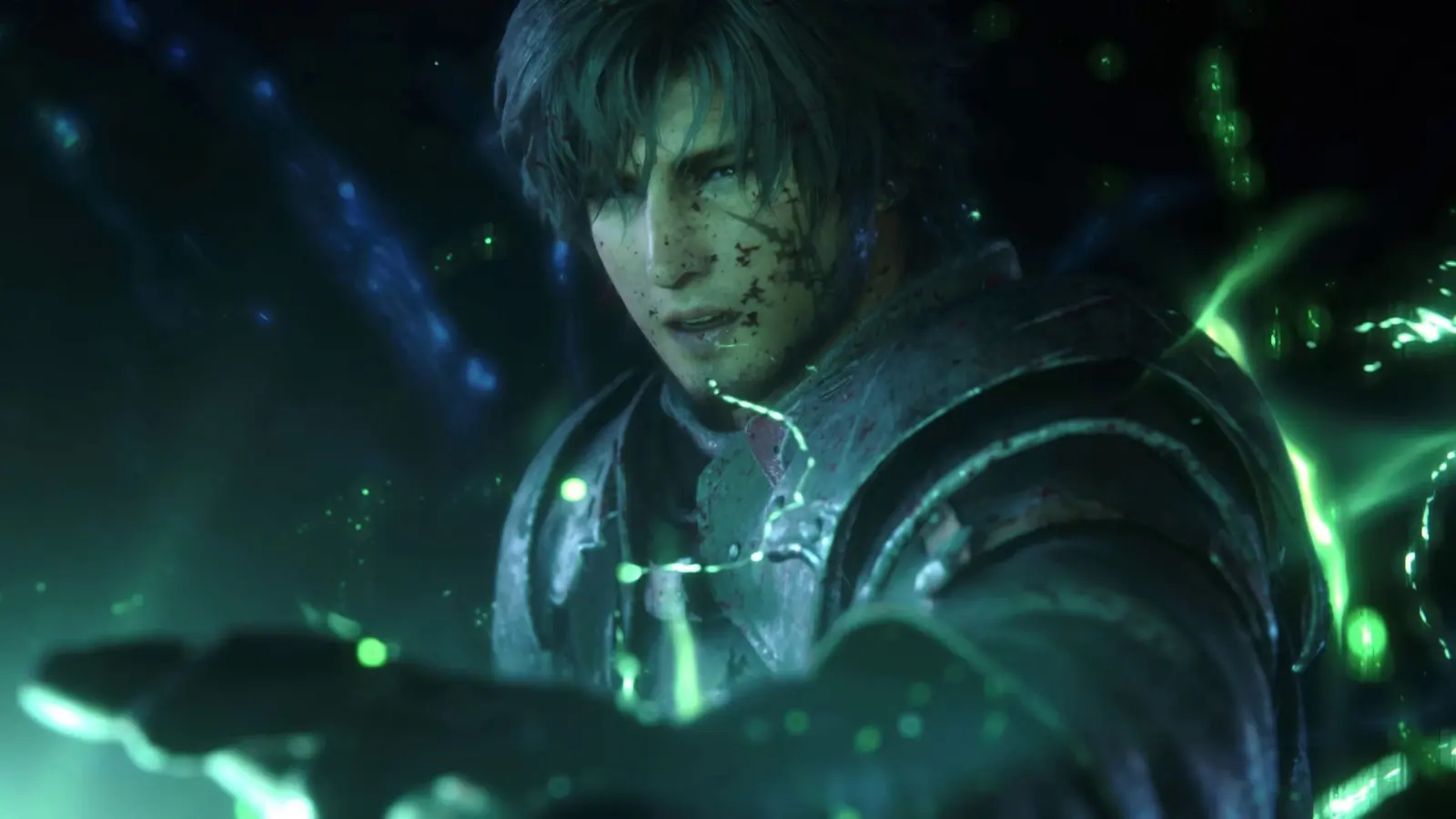 I suspect that despite its PS5 exclusivity,  FFXVI got its start as a cross generation project, because while characters look decent (not quite up to par with Horizon Forbidden West, or The Last of Us 2's models), the environments can look bland at times, and some of the texture work belongs in the PS4 era, as opposed to the PS5/Series X hardware. 
There are some very impressive cinematic scenes here, and Square Enix has always been top tier at that, but now that these sequences are combined with sensical storytelling, it is all the more impressive. Given that the game is more The Last of Us, than Witcher 3 – as some have complained that the title feels like an 'interactive movie' at times -I expected a higher level of graphical fidelity from a PS5 exclusive game. 
Surprisingly, pop up is an issue here, with foliage popping up right in front of Clive in certain areas. For what its worth, A Plague Tale: Requiem looks better. 
That said, the artwork here is stellar, and it will carry the day for the game. The character models are realistically proportioned, for the most part, but the faces certainly showcase the series  traditional anime designs. FFXVI, despite being clearly influenced by Western fantasy, and perhaps even games like The Witcher 3, looks like a modern Final Fantasy should. 
Thus, despite great concerns by old time fans that the series had lost its identity over the last two decades, Final Fantasy XVI has a story worthy of the Sakaguchi Saga's pedigree, and visuals on par with what we have come to expect from the series in modern times. 
Lastly, the game's score is outstanding, even blending some of the more iconic Uematsu melodies into its amazing sounding soundtrack. This is Final Fantasy, through and through.
Action Combat is Where is At
Perhaps, the most controversial aspect coming into the game, is the focus on a single character, and on action combat. The thing is – and many old timers will disagree with me – that action combat is just superior to turn-based, in terms of interactivity, and just plain fun. 
Turn-based combat, when done properly does offer a strategic element that is perhaps missing from realtime action combat systems, but the 'fun' element is most important, and with improvements in hardware technology, the industry has moved further and further away from turn based AAA games. 
After playing Final Fantasy XVI (Demo), I say 'good riddance' to turn based combat on this series! No, it – FFXVI's brand of action combat – is not revolutionary, and I would venture that Soulsborne's combat is way deeper, but at the end of the day fighting in FFXVI is fun. Dodging, Parrying, combining the attack button with Phoenix abilities are essential for success.
Again, nothing revolutionary here, but the system is less hectic and much more polished than FFXV's brand of action combat.
That's all I ever wanted from the newer titles on this franchise, to be fun when in battles; and for the story to move at a brisk and engaging pace. Fortunately,  Final Fantasy XVI thrives in both of my desires for this series. 
Can Final Fantasy XVI Compete with Tears of the Kingdom?
Based on the demo? No. It will score well, perhaps even settle in a 90-92 Metacritic range. Which will mean that Final Fantasy is back amongst the big boys. But, in order to hit that range of scores, Final Fantasy XVI will have to maintain its storytelling excellence for the duration of its campaign.
However, the game,  does very little – apart from Cinematics, Storyline, and Visuals – better than Zelda. Tears of the Kingdom will win the GotY, barring some miraculous performance by Starfield. Quite simply, Tears of the Kingdom's world and physics system continues to be more revolutionary, and more engrossing than anything that Final Fantasy XVI performs in terms of gameplay.
Still, based on the demo alone, I dare to say that this is the best Final Fantasy that I have played in 22 years. Well done Yoshida! I can't wait of the game's full release. That is saying something for a series that I haven't been excited about in more than a decade.
Agree with the author? Couldn't disagree more and are frothing at the mouth to tell him? Leave a comment here, on Facebook or send an email and make sure to follow Never Ending Realm on Facebook, Twitter, and YouTube!