The Legend of Zelda: Tears of the Kingdom is a continuation of Breath of the Wild's gigantic world, and powerful engine. Given its six year development cycle, TotK is larger, and more enthralling than its predecessor. It is marvelous feat of game design on a machine that really belongs in 2013, in terms of technology.
Nintendo chose a year in which Final Fantasy XVI, and Bethesda's Starfield are set to take their own turns at the stage to release its newest mainline The Legend of Zelda iteration. Given Tears of the Kingdom's current 96 Metacritic rating, Nintendo chose wisely, as the other two games would have to be extraordinary (if not historically great) pieces of software, and entertainment in order to match what Nintendo accomplished here. 
Being that Zelda (as a series) continues to be within a class of its own in terms of quality, the question that we must ask is the following: Is TotK better than Breath of the Wild? And if it is, is this the game to finally unseat Ocarina of Time from its high perch? 
If you would have asked me, back in 1999, which video game series was my favorite to play, I would have said Final Fantasy, despite the fact that The Legend of Zelda: Ocarina of Time was, far and away, the greatest game that I have ever played. 
Over the last two decades, however, things have changed. Final Fantasy lost its creator Hironobu Sakaguchi, and the series suffered from it, losing its identity. Fast forward to 2023, and the upcoming Final Fantasy XVI is seen as a reboot of sorts for a series that has grown stale, and is in need of a jump start in quality. 
The Legend of Zelda, for the past two decades, has been incontestably my favorite game series. Quite simply, on home console (and on Switch) there are no bad or even good Zelda games. They have all been great, or better. 
Shigeru Miyamoto Successfully Passed the Reins of the Series to Eiji Aonuma
Miyamoto still works at Nintendo, and I am sure that he still takes a peek at the development cycle of Zelda from time to time, but his apprentice Aonuma has successfully taken the reins from him, and has maintained the level of excellence that series has been known for. While the series has continued to innovate and evolve, it has never lost its identity, and that's something that Square Enix has not managed to accomplish with its own flagship franchise.
1991's A Link to the Past set a template, in terms of game design that the series would follow for over two decades. 1998's Ocarina of Time marked the series biggest shift in gameplay taking the franchise (and the action-RPG/Adventure genre) into the 3rd dimension, but A Link to the Past's core design of themed dungeons, and assortment of strategically placed items (often found in these dungeons) necessary for world progression, remained firmly in place. 
For its part, Ocarina crafted a massive world that offered the illusion (as the player was restrained by item related obstacles) of a true open world. After hours of play, and adventuring, the  game would move beyond that illusion into a free-form (for the era) open world after the completion of all dungeons. 
A weather system, which the player could control at will (Song of Storms), and a realtime day and night cycle (which the player could also manipulate through the use of the ocarina) helped Ocarina of Time in providing the first truly stunning "living breathing" world in three dimensions in gaming. The game was a revelation. 
Ocarina's blueprint was followed thereafter, and to great critical success, in entries like Wind Waker, Majora's Mask, and Twilight Princess. But all good things must come to an end…
Skyward Sword Ran into Wall in an Era Marked by GTA and Skyrim's Brand of Open World Adventuring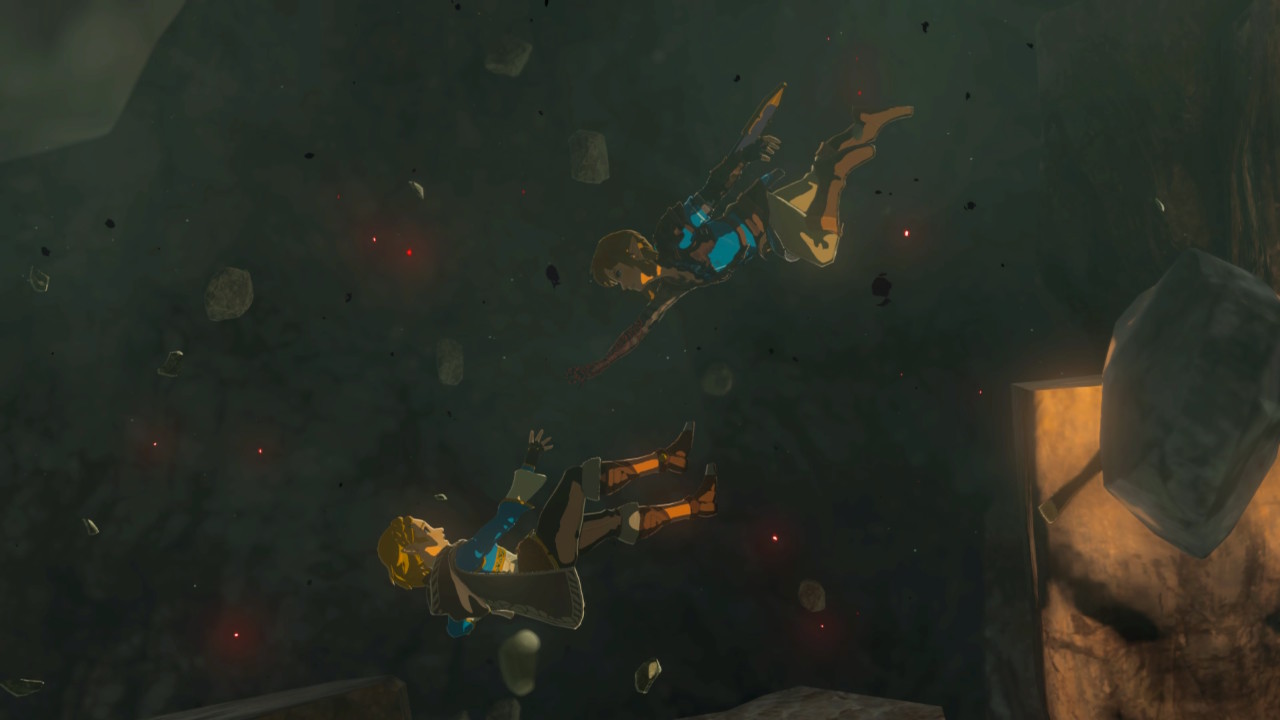 Skyward Sword (which introduced certain design aspects that ironically survive and thrive in Tears of the Kingdom) was a very good game, but I am not quite sure it was "great". 
The Wii's original Zelda entry (Twilight Princess was a GameCube/Wii cross-gen title) was inferior to its predecessor. As such, it was the first time that I was disappointment by a Zelda title. Critically speaking the game did very well, but not quite as well as previous entries had. The Elder Scrolls V: Skyrim took most of the critical honors that year (2011). Nintendo knew it had to go back to the drawing board if The Legend of Zelda was to keep its Action-RPG Action-Adventure crown in the face of such strong open-world adversity. 
Ocarina of Time's formula had run its course, and Skyward Sword's use of motion controls was divisive to fans of the series who were accustomed to precise and responsive controls from this franchise. 
Thus, by its own admission, Nintendo took a hard look at games like Skyrim, and (I speculate) Dark Souls, and  Assassin's Creed when designing Breath of the Wild. 
Most of all, Nintendo even looked back at its own history, namely the original The Legend of Zelda when crafting an experience that encouraged free-from exploration, and out of the box thinking from players.
Like the original Zelda, Breath of the Wild offered little in the way of direction and hand holding to prospective adventurers. Breath of the Wild featured the vast, and epic visual experience that Skyrim had nailed on its debut, the difficult and sometimes unforgiving 'make your own path' nature of Dark Souls, a tower system reminiscent of Ubisoft's popular action-adventure (now RPG) franchises, and the carefully crafted world design that its own predecessors had perfected on a smaller scale during their respective eras.
It was fitting, that Zelda, which inspired the modern open world action-RPG, and adventures of today with its earlier entries, would in-turn take something from the way that the games that had followed it. Nintendo quite simply added another wrinkle in the evolution of the genre to craft an experience that felt entirely fresh in 2017. 
Breath of the Wild arrived in that year to historic Metacritic scores (97), while earning the most important game of the year honors of its release year. Thus, the bar set for Tears of the Kingdom is quite high.
Tears of the Kingdom Pushes the Switch to its Limits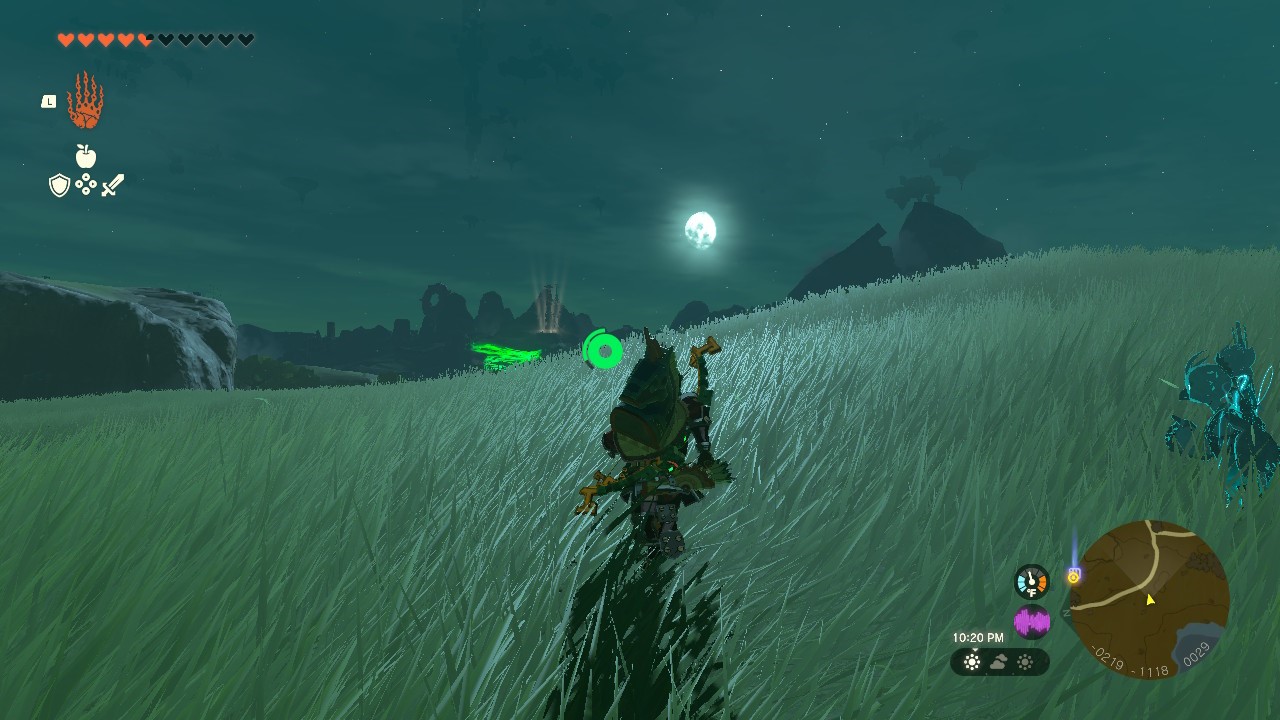 Visually, Tears of the Kingdom, deserves perfect scores on the Switch. Given the limitations of the hardware, the game goes above and beyond the call. The amount of physics driven gameplay and environmental elements is substantial. Everything reacts to Link, grass, fog, branches, water.
Hyrule is alive. The world looks and feels like a breathing living world,  and that is something that other games, that are much more impressive looking on a technical level, have struggled to achieve on substantially more powerful hardware. 
I guess the only bad thing that I can say about Tears of the Kingdom's visuals is that it boggles the mind what Nintendo EAD could achieve on something like the Xbox Series X, or the PlayStation 5, if given the opportunity. 
The Legend of Zelda has not been a graphically leading franchise since Ocarina of Time stunned the gaming world nearly a quarter century ago. At the time, Ocarina had been developed for the most powerful home console hardware available. 
In turn, Tears of the Kingdom, enters a market place where the Nintendo Switch is outgunned, and technically, two generations of technology behind the two current generation consoles. Still, Nintendo EAD, somehow, manages to make Tears of the Kingdom a decent, if not relatively good looking game, that sometimes impresses thanks to Nintendo's attention to detail. 
Of course, the state of mind, in which you approach this game with, is essential for understanding what Nintendo pulled off here. Horizon Forbidden West this game is not. Tears of the Kingdom looks awful on a giant 4K screen. Jagged edges and low texture resolutions are present and visibly noticeable everywhere. The game runs on a subpar 900p resolution on docked mode, and Nintendo uses a strange solution to sharpen the image which is the culprit of most of the jagged edges. 
In reality, it is impressive that the Switch can pull of this type of imagery while accounting for all of the complex physic simulations that move Tears of the Kingdom's gigantic world. Not many development teams could pull something like this off on Switch, and even on a giant 4K display, where all of the game's visual shortcomings are magnified, Tears of the Kingdom impresses, if you know what you are looking at. 
The lighting is fantastic, and it casts shadows on important things. Though much of the foliage doesn't cast shadows, and this is something that would breathe  new life on the game on more powerful hardware. 
Pop-in is persistent when traversing the land, but Nintendo does well in picking and choosing which things it renders out first. A procedural cloud system exists in this game, and again, showcases certain technical feats that more modern open world games running on much more powerful hardware do not even attempt. 
Everything in the world reacts to Link, and his actions. You can burn down entire forests, and the wind simulation affects foliage in real time. Tears of the Kingdom is not the most realistic looking game around, and this is something that Nintendo knew it couldn't change (given the Switch's lack of power), so instead Nintendo EAD focused on creating the most 'alive' world around, and in my opinion, they succeeded. 
Like Breath of the Wild, Tears of the Kingdom, relies on the interactivity of its world to offer a magical and engrossing experience of the likes we haven't seen since its predecessor arrived on the Switch's debut. 
A Game Made for Switch's Portable Mode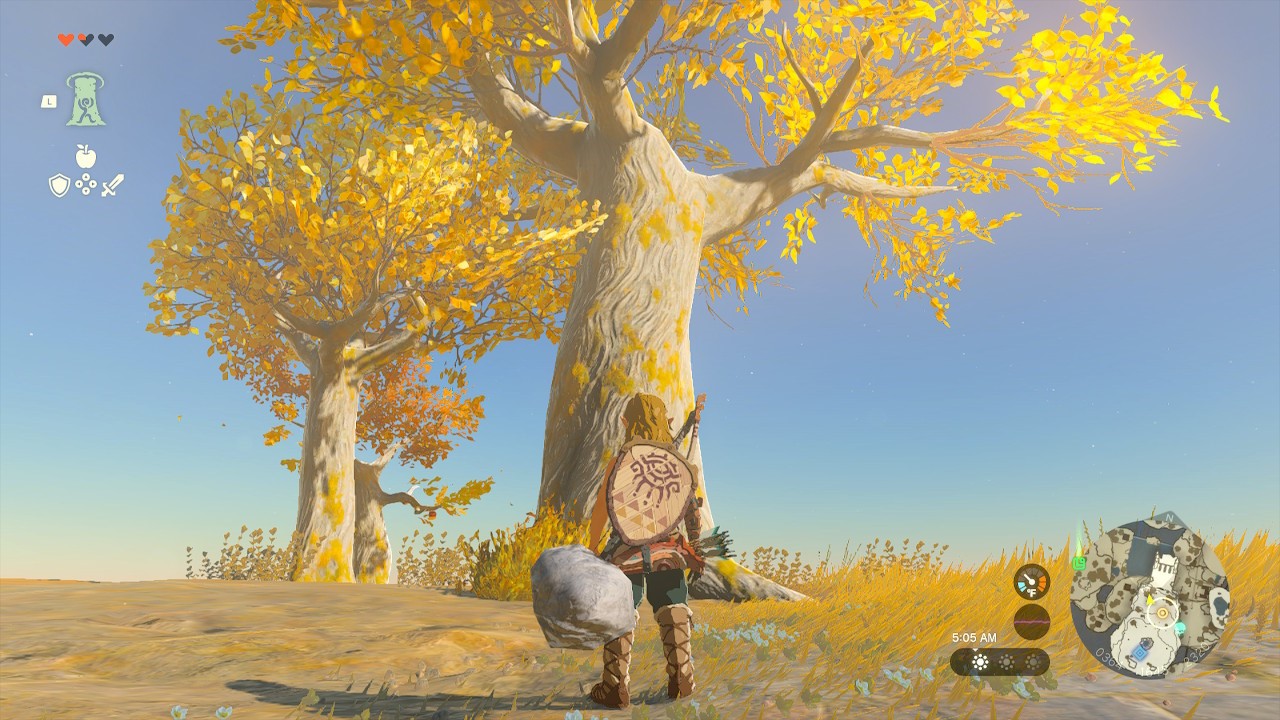 Most of the game's glaring visual issues disappear, or are greatly reduced, when played on Nintendo Switch's intended operational mode (portable). The Nintendo Switch's ability to transfer its image into a giant TV screen is a welcomed one, but clearly, Nintendo always intended for the machine to be portable first, and "home console" second. 
Tears of the Kingdom masks a lot of its resolution and jaggy  problems in portable mode. The small screen conceals most of the game's technical flaws, and delivers a pristine looking experience in which players can just appreciate the game's masterful design and exquisite artwork. 
Even the pop up issue, which is something that plagues even the most modern open world games on newer hardware, but seems to be more prevalent on Switch, is largely 'fixed' on a smaller screen. The pop up still there, but it isn't as visible, thus, it isn't as jarring to the overall experience. 
On a glance, and perhaps, on a screenshot, it is easy to dismiss Tears of the Kingdom as Breath of the Wild part 2, at least in terms of visuals. The game looks like it could have run on the Wii U (though I suspect that system would have struggled mightily with the CPU heavy simulations). 
However, Tears of the Kingdom's world is bigger, not only in real state, but vertically. Before TotK, Skyrim was the most vertical AAA action-RPG that I had played, but TotK goes beyond that title as well with a fully realized world composed of islands in Hyrule's skies, and an underworld as well. What's impressive here is that the game seamless transitions between these areas with no load times.
A game world (with gigantic enemies) like this would not have been possible on the PlayStation 3, and Xbox 360 era. Yet, the Switch, hardware wise, is competitive with those two mid 2000s systems. David Jaffe, God of War's creator, has pushed back against critics for handing this game 10/10 scores, but Jaffe, deep down, knows he is trolling. What Nintendo EAD accomplished on the Switch hardware, is far more impressive than his own team's incredible achievements on PS hardware with the God of War series.
A game like this can only be fairly judged on the limits imposed by the hardware that it was developed for, and yet, the former statement sounds demeaning towards TotK. The game doesn't feel, or even look (as long as you are playing on portable mode) like its handicapped, I dare say that it goes beyond what many of us thought was possible on a AAA Action-RPG/Adventure like this.
The massive scope of TotK's world is impressive, and an achievement on its own, but what Link (the player) can do in that world goes beyond amazing. It is impossible to discuss Nintendo's technical brilliance in terms of the design of the world, without diving deeply into the physics system, and gameplay design philosophies that make the game tick.
The World is Alive, and the Limits YOUR Imagination is the Only Thing that Can Hold You Back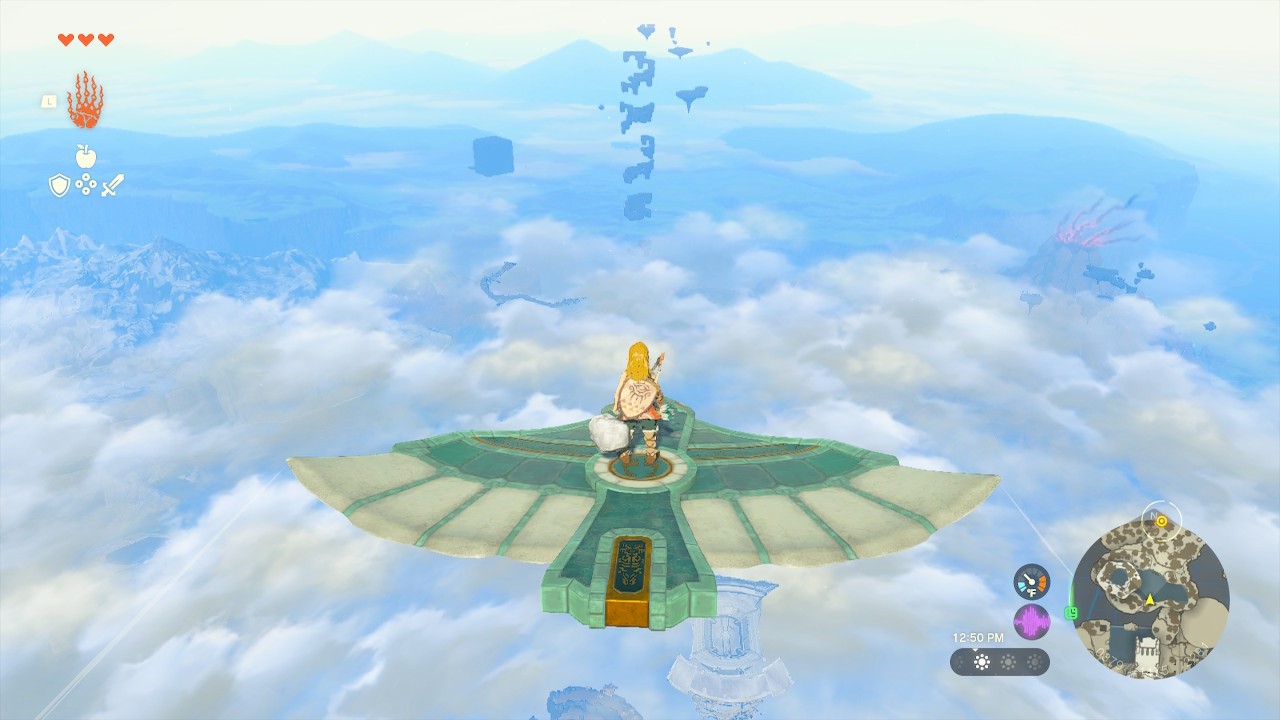 So, it is difficult to appreciate Tears of the Kingdom's visuals without diving deep into the game's core mechanics, and overall gameplay. TotK does things, within an open world, that other games in (much) more powerful hardware do not even attempt to try. The Legend of Zelda has (nearly always) brought something new to the table within the real of Action-RPGs, and Action Adventures. The original Zelda on the NES is credited with being the forerunner for the modern action-RPG, and 11 odd years later, Ocarina of Time, on the Nintendo 64, pretty much showcased how to translate the genre into the 3rd Dimension. Thus, setting the foundations in which every other open world action adventure and acton-RPG game would be built upon.
Breath of the Wild, further evolved Nintendo's formula for the series into a near 'limitless' open world, but the proverbial 'wheel' had already been invented by Ocarina of Time. The formula has been reworked over and over by successful franchises and games such as the GTA, Soulsborne, and the Elder Scrolls series. Because of this, Breath of the Wild tried something new:  A world governed by CPU driven physics.
I won't dive deep into the Breath of the Wild's systems, as I already explained the aforementioned in my original BotW review. However, it is important to note that Nintendo crafted a world that felt alive, and it wasn't necessarily driven by the game's artistically appealing, but largely primitive (on a technical level) visuals.
What made BotW's world feel alive, was it incredible sense of scale and the fact that almost everything in its world reached to Link (our avatar) and his actions. The entire world was a puzzle waiting to be solved, and it was immensely satisfying.
Nintendo got rid of the series' customary themed dungeons – a decision which caused some controversy amongst a segment of longtime fans – and by doing that the company removed the necessity of key items in order to progress through the game's world.
Instead, after a brief tutorial area, Nintendo EAD gave players all of the tools needed to solve every puzzle in the game.  The rune system which allowed Link to control certain items in the game was groundbreaking at the time, but Nintendo has improved the system with its new "Ultra-Hand" skill, and other abilities that grant Link the power to control time for movable objects, and the power to physically go through pretty much every ceiling in the game.
Tears of the Kingdom expands BotW's physics driven gameplay systems by offering much more control over item movement and placement, in a way that allows the players to be infinitely more creative in the way that Link can tackle puzzles, and obstacles throughout the game.
Tears of the Kingdom not only gives Link the ability to move around objects at will, but also to 'attach' them together in order to create a limitless number of contraptions, and well, "creations" that effectively turn Tears of the Kingdom into a modern twitch/tiktok content generator with infinite replay value.
I don't know that Tears of the Kingdom will ever turn into a Minecraft type of content builder, but Nintendo has certainly succeeded in crafting a system that is both flexible, and near limitless in the options given to unleash each gamer's creative juices. That Nintendo was able to seamlessly integrate this component into The Legend of Zelda, speaks volumes of Nintendo EAD's continuous brilliance.
The use of this, dare I say, revolutionary physics based system is mandatory for puzzle solving, effective world traversal, and boss fighting.  I can see different players conjuring entirely different devices, and ways in which to accomplish the former actions. Tears of the Kingdom is, in more ways than one, an expanded and improved  Breath of the Wild experience.
The world is now larger, with sky sections, and underground terrain to complement the surface world. There are no load times when traveling between these areas, which is a win for the Switch hardware and Nintendo EAD's wizards, and part of the reason why I feel that TotK is visually impressive despite the fact that Xbox Series X, and PS5 open world games looks much more impressive in terms of visual fidelity.
The discovery, and traversal of these areas is now  essential to earn progress through the game. For example, making your way up to the Wind Temple, is quite the monumental and epic task. One which requires a fairly proficient understanding of the Wind mechanics, and Link's trusty glider. All of this provided that you are wearing the proper cold resistant armor, or at the very least, you have cooked a proper cold resistant meal.
In that sense, Tears of the Kingdom is always a challenging experience, but because Nintendo took the training wheels off the physics system, now Link can tackle every scenario in several different, if not, unlimited ways. What Nintendo EAD pulls off here, is nothing short of brilliant, if not downright  genius.
Nintendo EAD, and Shigeru Miyamoto created, and perfected, entire genres during their NES-N64 run. Miyamoto, specifically, to me at least, has always been more of a toy designer, than a video games one. All of his games  always felt like the ultimate toys for young kids, and adults alike. In that line of thinking, and game design philosophy, Tears of the Kingdom, is Nintendo's most impressive interactive toy to date.
Games like Minecraft, Fortnite, and Roblox, have evolved into juggernauts throughout the years, by offering crafting, multiplayer, and creation components. Nintendo EAD showcases in Tears of the Kingdom that in the realm of creativity, at least within a single player experience – one that does not deviate itself much from what The Legend of Zelda stands for – it remains the king of game design and gameplay, and that no one else is quite close to its studio when it comes to tinkering, and in certain ways, reinventing the wheel of open world design.
One could argue that Nintendo took something from the Soulsborne saga in the way that you can tackle some of the more powerful over-world enemies. These are battles were preparation, skill, and timing are essential, and one would be right. But again, Nintendo implements these battles in such a way, that even the physics, and creation system (you can build some nifty combat vehicles if you put your mind to it) when applied creatively, can make some of these encounters easier than they should be.
But your imagination, as a gamer, remains at the forefront. In other words, Link will go as far in Tears of the Kingdom, as your imagination and creativity can take him.
That statement above, I feel, is Nintendo's most impressive triumph with this game.
Breath of the Wild, for all of its greatness, now feels like basic first step into a much larger, and unexplored world when stacked up against Tears of the Kingdom. Nintendo out did itself, and I have no doubt, that I will not see the gameplay, and mechanics featured on this title surpassed any time soon, by any other developer.
Shrines vs Themed Dungeons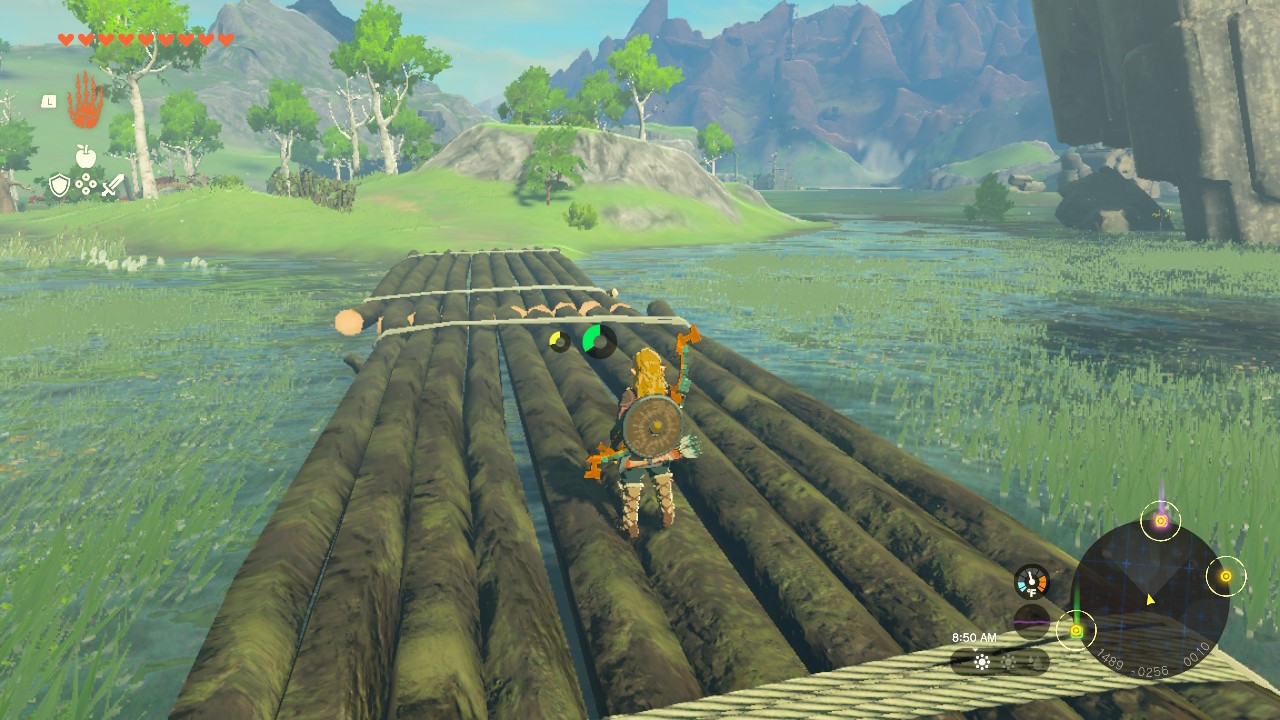 As for the Shrine system, I am happy report that it remains in place, and it is more enjoyable than before, thanks to Link's improved and expanded abilities. The Shrine system, as a whole, is superior to the older themed dungeon system. Perhaps, not in terms of storytelling and world building, but in terms of challenge.
You see, despite certain challenging side quests, Zelda games have always been marketed to mainstream consumers. Because themed dungeons were "mandatory" in those Zelda games, certain challenges (puzzles) were difficult, but not difficult to the point of head scratching frustration. The shrine system made so that some of the shrines (since these are optional) had truly challenging, if 'adult' difficult puzzles, and it made the game better for it.
I did agree, with the crowd of old school complainers,  that themed dungeons were also needed, and it seems that Nintendo took into account those complaints. Tears of the Kingdom also has Themed dungeons, though they do not follow much of the formula established by pre-BotW Zeldas. These "dungeons" are large and challenging enough to merit an older player's attention, but they are simple enough that most players will be able to solve their puzzles.
Nintendo hasn't really brought back the traditional dungeons of the Zelda series, but they have met players with a 'halfway' approach, as these dungeons continue TotK's heavy emphasis of creative use of its physics driven system.
The Shrine system, however, shines! I found myself constantly looking for them, and not just because they provided the orbs that raise Link's HP, and Stamina levels, but because they are  fun puzzles boxes waiting to be solved.
I hope that in a future entry Nintendo continues to create elaborated 'Themed' dungeons, but also that the shrine system stays in place. In a huge massive world like the one TotK features, the system is quite needed.
Weapons Continue to Break
TotK continues BotW's tradition of disposable weapons. It is part of the game's design to have your weapons break from time to time, as it forces you to explore and look (fight certain monsters) around for these weapons. I do wish the Master Sword came in full powered form from the get go, but I understand Nintendo's decision to force players to upgrade it.
This – the weapons breaking – is the one area where I feel that I am a bit lukewarm to Nintendo EAD's design choice. Perhaps, if the weapons were a bit more durable, I would be more receptive towards it, but it does feel, especially early in the game, that every weapon breaks after just a few swings. I can definitely understand how some players would find this system tedious.
A Better Story Than BotW's, but is Zelda Finally Competitive With the Big Boys?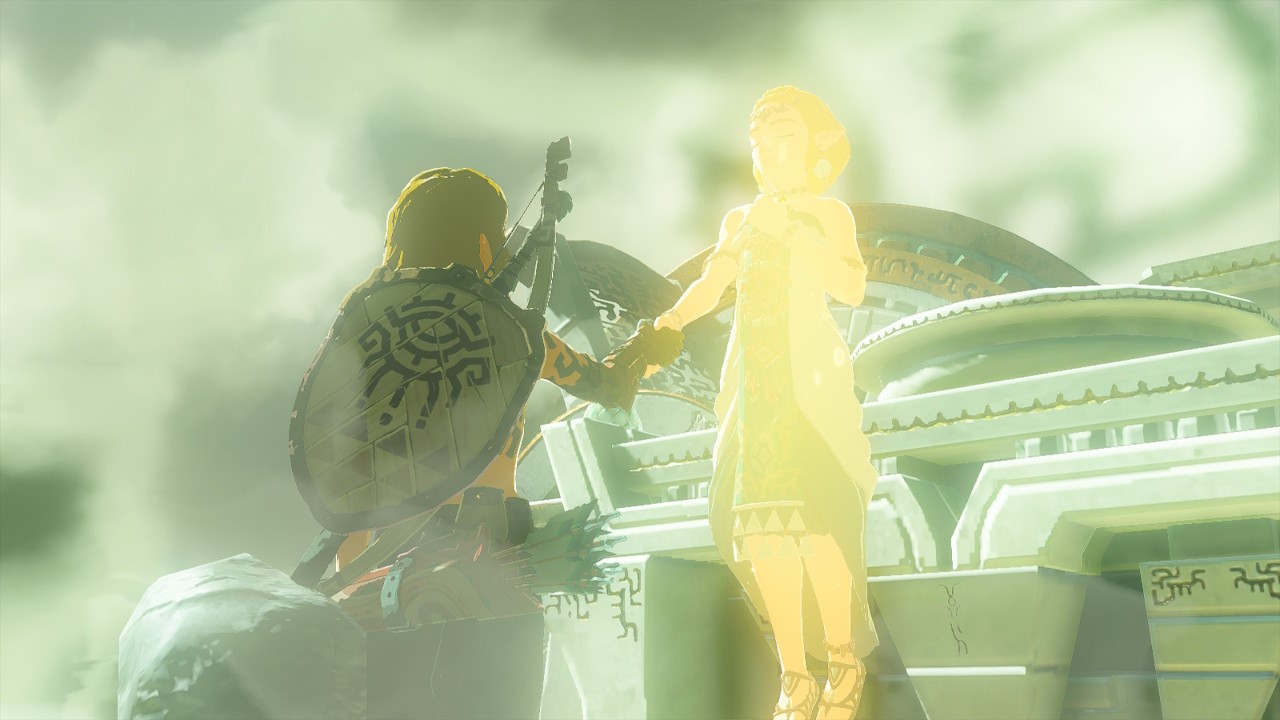 Perhaps, I need to word the above heading better. I still think the Ocarina of Time, Majora's Mask, and Twilight Princess story arc is the pinnacle of The Legend of Zelda's Storytelling. That arc is extremely tragic in more ways than one, and dark to lengths that it is hard to explain without delving into a deep essay detailing certain aspects of those games that many gamers might not have noticed on a single playthrough.
Still, even in those titles, Link was a silent protagonist, and Nintendo was more about 'Hint, but don't tell', than about featuring a strong dramatic narrative. Simply put, a lot of Zelda's depth, in terms of storyline, has to be implied (and in some cases imagined) by players which makes for good Fan Fiction content, and endless social media debates.
Tears of the Kingdom does little to solve this issue in the grand scope of the series, but it has a more cohesive, and elaborated self contained tale than BotW did.  In other words, TotK is such an incredible experience (not just in terms of story) that I find it disrespectful to call it a direct sequel. In fact, I think calling BotW a prequel to TotK's massive storyline, might be the more fitting statement.
The more I played TotK, the more I felt that it was it was what BotW was supposed to be in terms of storyline. That said, the story here will confuse the heck out of those who have spent time and effort trying to decipher The Legend of Zelda's proper time line. As certain important (if iconic) events, that are illustrated here, have been referenced (and happened) in previous Zelda titles, but it seems that TotK's account of these events occurs within a different timeline.
Based on the lore, largely established by 36 years of Zelda games, Link, Zelda, and Ganondorf are iconic characters that can drive any storyline, good or bad, to a satisfying conclusion while pleasing fans of the series. While I don't find BotW/TotK's story arc to be anywhere near as fascinating as Ocarina/Majora's Mask/Twilight Princess's masterful arc;  the voice acted scenes here have been well realized, even if I dislike some of the voices, and as I said before, it tells a superior tale than the one we had in BotW.
Long time Zelda fans will not be disappointed by the story here. TotK might have the best intro sequence of any Zelda game to date.
Compared to contemporary rivals, Nintendo continues to lag behind Sony's Horizon series, while at the same time presenting a more compelling storyline than Elden Ring.
The Great, The Good, and The Bad
In terms of sound, the music is stunning, and the ambient sounds perfectly complement the subtle overworld score. We finally get a good voice acted Ganondorf, but some of the issues from BotW's voice acting are carried over.
Zelda, an important character in the story, given Link's eternal muteness, continues to be acted by Patricia Summersett. Given her acting resume, and live theatre experience, I expected more. There are certain dramatic moments that the character just doesn't hit right. It could be that the coaching isn't the best. Still, I wish Zelda was played by an actress with more 'pep' in her voice.
Other minor, but essential characters such as Yunobu, sound too cartoonish for my liking as well. Why does a huge, over 1000 lbs, rock eating ogre sound like an insecure, and awkward teen? I understand that he is young, and insecure (in the storyline), but he still weighs over 1000 pounds, eats rocks, and is an ogre character. Yonubo shouldn't sound like a weak kid.
Truly, in an otherwise perfect game, the iffy voice acting here stuck like sore thumb.
Is This The Greatest Zelda -Thefore the Greatest Game – of All Time?
The answer to that question will always be more in the opinion side of the fence, than in the factual side of it, since liking, or disliking, a product is always a subjective matter. But being that I rank The Legend of Zelda: Ocarina of Time as the greatest game ever made, and thus, the greatest Zelda as well, I have to find a place in which to rank TotK for our longtime readers.
If we go by my approach to ranking all time games, then no, TotK is not greater than Ocarina. Ocarina in 1998, was much more impressive than TotK is today in 2023. It is an unfair comparison, as the Nintendo 64 in 1998 (at least outside of Japan) was the hardware that ruled the roost in terms of horsepower, and the Switch in 2023 is two generations behind its main competitors.
1998 marked the first time that we saw a breathing living world in 3-D, as well. First impressions are important.
But the fact remains, that Ocarina crafted – or at the very least translated – an entire genre in 3-D, while TotK in simply builds on BotW's foundations. These foundations were built on open world games like Skyrim, and GTA, which (in turn) were built on the foundations set by Ocarina itself. With that in mind, it is hard to beat Ocarina.
That said, if the questions is: Is TotK the greatest Zelda game…TODAY? My answer to that is a resounding, YES. If God put me in a solitary island, and said to me "You can only play one game from this day forward until your death! What game will you choose?" Despite my undying love for Ocarina, that game is minuscule in content, and replay value when stacked against TotK's massive world which consists of  sizable sky, massive surface world, and underground sections.
Without Google, TotK is a game that could take 100s of hours to complete, especially if you must hunt down every shrine, korok seed, side quest, etc.
Tears of the Kingdom is the best The Legend of Zelda game available today, and perhaps, the series' best entry since Twilight Princess. It is superior in every way to BotW. So much in fact, that BotW now feels like a side story to TotK's impressive world.
In The Legend of  Zelda: Tears of the Kingdom, Nintendo has crafted its most impressive masterpiece yet.
Graphics: 8.0
If I take the Switch's underwhelming hardware into account, the game certainly deserves a 10/10 score in visuals. What Nintendo has pulled off here is nothing short of a technical marvel – on Xbox 360/PS3/Wii U hardware specs. A game like this shouldn't be possible on Switch hardware, and yet Nintendo made it happen.
That said, the game looks quite bad on a 4k display, and in turn,  it is suited for portable play. Nintendo has done a good job keeping a steady frame rate (at 30fps) but if there was a ever game that would tremendously benefit from a boost to 60 (on next gen switch hardware) it would be Tears of the Kingdom.
Still, I can't help but marvel at the fact that I can transition Link between the Sky, Surface, and Depth areas with no visible load times. It is impressive. The draw in distance is carefully managed so that you can see important landmarks (such as the Shrines) from a great distance while traversing the land.
In terms of artwork, TotK is stellar, and Nintendo's cel shaded visual direction for the series has help to keep the primitive looking game from looking as dated as it should. Lighting, wind, and particle effects (all which are affected someway or another by the physics system) are impressive as well.
I have over used the word "impressive", but that's the word that comes to mind when I play this absolutely epic, living  breathing world in such an underpowered little system.
Gameplay: 10
If the scale went to 11, this game would get an 11! I can't quite put into words how great this game is as a fully functional open world that is also a gigantic (and challenging) puzzle box. Tears of the Kingdom is the ultimate 'toy'. Minecraft, and Roblox have been influential products in the last decade or so, and Nintendo understood this when it conceived its "ultra hand" system.
The system allows an amount of unprecedented freedom when tackling puzzles and world obstacles. No two players will solve a puzzle in the same manner. Clearly, your imagination, and its limits is the only thing that can hold you back from failing or succeeding at Tears of the Kingdom.
Enemy fights themselves can be fought in different, and creative ways. You can become a master of the timing, parrying and blocking system (like in Elden Ring), or you can conjure up some contraption to aid you in your battle with said foe. Save for a few key fights, there are no limits to how you can tackle some of the toughest enemies (many who are optional) in the game.
World traversal now has many added options in order to ease some of the more tedious instances that plagued BotW's world. Upgrading weapons, armor, health and stamina are still key components to the gameplay, but the game no longer feels as restrictive as it used to in terms of character and game progression.
TotK is a Tik Tok, and Streaming era gold mine. Given the amount of crazy contraptions that can be crafted in the game in a reasonable amount of time, I can see an infinite amount of videos being published by gamers over the remainder of the decade. The game has that much replay value.
Because Nintendo's amazing physics system plays a part in how these contraptions behave, the videos are entertaining to watch, as the outcomes (of these creations and their functionality) will differ from player to player depending on large number of variables. TotK is truly a marvel of game design, and one that will likely not be surpassed until the "next" Zelda arrives.
Any gameplay complaint that I might have had (save for weapons breaking) on BotW, has been addressed by Nintendo here. This is the most free form, and most brilliantly designed Zelda ever.
Sound: 9.0
Everything is on point, but the overall voice acting quality leaves something to be desired. Given that Link is now addressed as "Link", it might be time for our favorite Elven boy to get some dialog lines and voice acting himself. But given the odd choices for some characters, it might be best for Link to stay mute…eternally.
Story: 9.0
Again, Link's inability to talk, hinders character development, and any relationship he might have with Zelda, as most of these potential interactions have to be implied by the players. That said, this is the most realized Zelda story of the last 12 years. I still feel that the narrative arc between Ocarina and Twilight is the series best, but the storyline that follows the events of BotW and TotK might be a close second.
A large part of the enjoyment of the storyline here is optional. You have to seek out memories (which are easier to find this time) in order to follow and appreciate TotK's time shattering, and in someways, sad story. Spending time performing side quests will add a richness to TotK's universe that you will otherwise miss if you just want to complete the main storyline.
Ganondorf is as menacing as ever here, and his appearance certainly adds value to this entry for long time fans. While I would suggest players to finish BotW before playing TotK, in order to familiarize themselves with this incarnation of Link and Zelda, TotK is written, and presented in such a way, that playing BotW isn't a prequisite, and in fact, I would recommend playing this one first as it is the better game.
Tears of the Kingdom remains a Zelda product that doesn't quite exploit the series' massive potential for dramatic storylines, but Nintendo has conditioned us to that type of storytelling style within this series, so I am no longer as bothered by it as I used to be.
Replay Value: 10
This is the largest, and most content packed, Zelda game ever. If you stay away from google and you tube (which I highly recommend), the game offers over 80 hours of play, even if you stick to the main quest alone. Seek out shrines, depths, memories, and other secrets, and we are looking at a game that might outlive the lifespan of your Nintendo Switch.
The addition of the Ultra Hand skill, and the ability to move and attach an assortment of smartly design objects adds infinite replay value to what already is a larger than life experience.
Overall: 10
Nintendo spent 6 years crafting and perfectly the game that would eventually become Tears of the Kingdom over the excellent foundations laid out by BotW. It shows. The attention to detail here is stunning. TotK is every that BotW was, and then much more. TotK is not only the latest evolution of the Zelda formula, but also its best.
The Legend of Zelda games (the ones that have been made by Nintendo EAD) have always been great, and quite a few of them, all time great. Currently, TotK is the best game of the series, only surpassed, in my opinion, by Ocarina of Time (if we judge eras), and as such, it has earned its spot as the second greatest video game that I have played in 35 years of playing video games on this earth.
And that, my friends, is the highest praise that I can give.
Agree with the author? Couldn't disagree more and are frothing at the mouth to tell him? Leave a comment here, on Facebook or send an email and make sure to follow Never Ending Realm on Facebook, Twitter, and YouTube!