2018's God of War is one of the best game of all time, and certainly, one of the best games on the PlayStation 4's stellar catalogue of exclusive games. Its sequel does nothing to take the series somewhere new. It is a continuation of the first game's storyline, and its gameplay mechanics. 
Raganarok is slightly prettier, and a bigger, PlayStation 4 game than its predecessor was. This is probably (along with The Last of Us: Part II, and Horizon Forbidden West) the best looking game on the last generation machine, and it is a testament to Sony's studios incredible in house engines; and talented staff. 
God of War: Ragnarok is a PlayStation 4 Game With PS5 Enhancements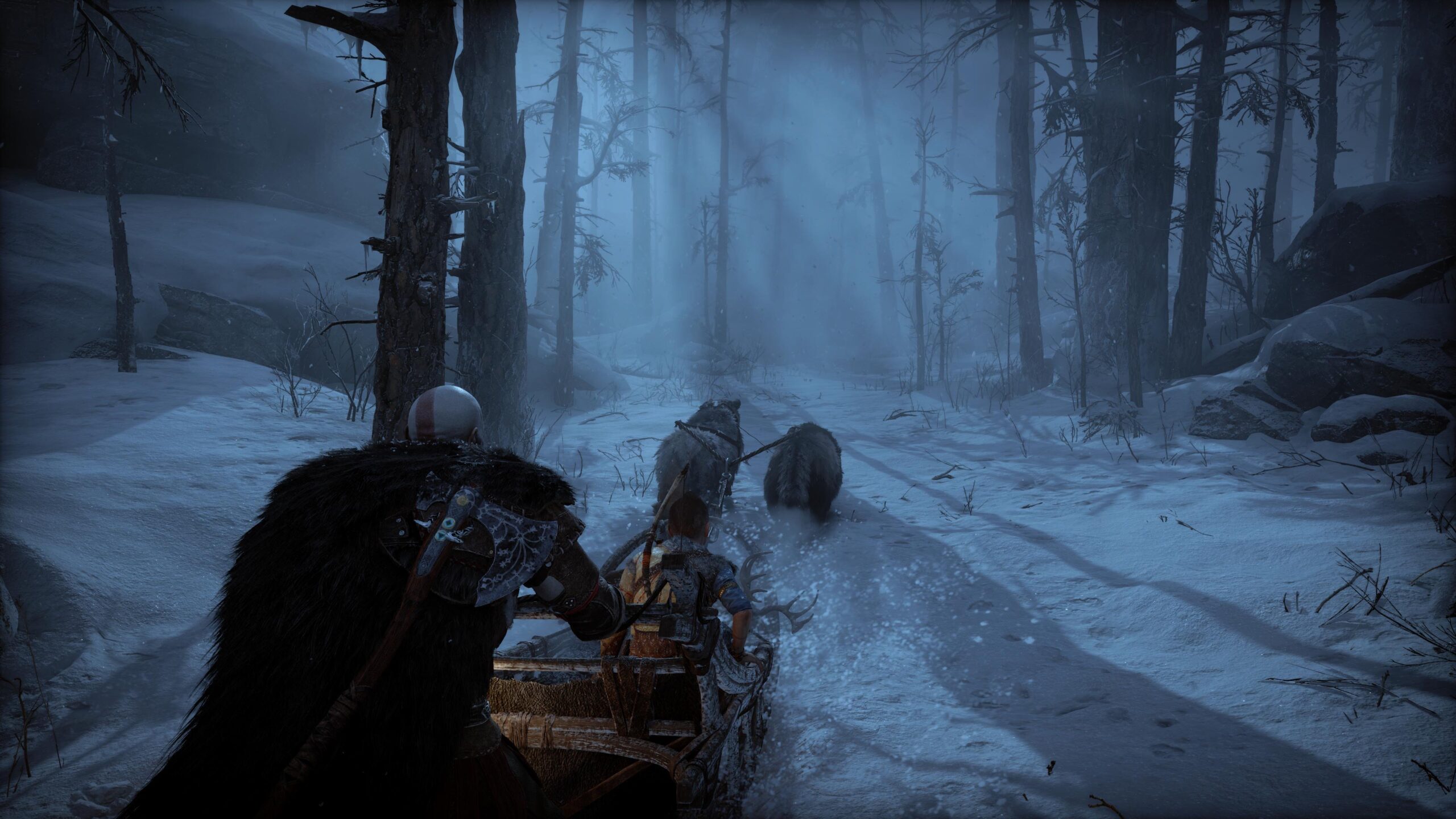 Ragnarok on PS5, isn't as impressive a visual display of the machine's capabilities, as Horizon Forbidden West continues to be. Quite frankly, apart from the 60 fps mode, and some nifty visual effects (such as higher res-reflections, higher quality materials, and a higher resolution) on the 'Quality' mode, you won't miss much by playing this title on the PS4. 
That said, the game remains an impressive showcase of Santa Monica's mastery of the PS4 hardware, and its proprietary engine. The game's artwork, and attention to detail is top notch.
Ragnarok offers a diverse variety of locales with different climates, vegetation, and architecture. Even though, it can be said that God of War: Ragnarok is just a polished up God of War (2018), on PS5 at least, it does feel like noticeable step up in visual quality. 
The new characters that the game introduces are all unique, and stunningly rendered. Sony's in house studios continue to offer some of the best motion, and facial animation capture in video games. 
While God of War: Ragnarok might not be the best looking cross-gen PS5 game around, it certainly looks great, and it sets up a high level of expectation for Santa Monica's next PS5 only God of War entry. 
If the studio can do this on a game designed for 10 year old hardware, I cannot fathom what they will achieve on a title designed for the PS5 exclusively from the ground up. 
God of War: Ragnarok Did Not Win the Game of the Year, but it Won The Best Narrative, and Action-Adventure Categories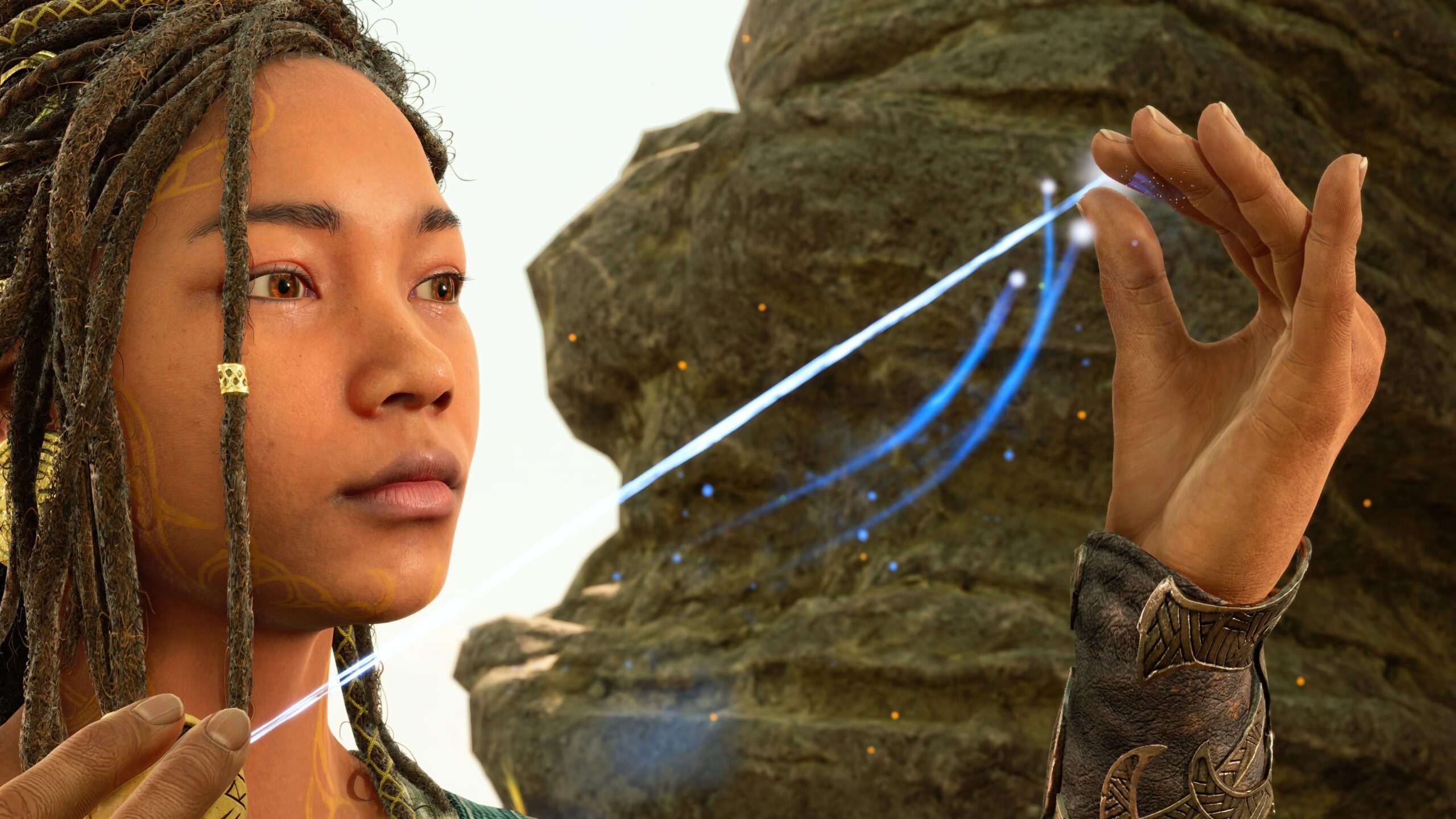 While the 2018 prequel to this game would win the most prestigious award for gaming (TGA), despite facing what some would consider stiffer competition (Red Dead Redemption2) than what Raganarok faced in Elden Ring, God of War was revolutionary for the series 4 years ago, while Ragnarok is simply more of the same. 
Critics gave the game the same 94 Metacritic score, as its predecessor, but the 'wow' factor is no longer there. In my opinion, however, given that I am a story driven gamer, and also, what some would call a proud "graphics whore", I feel that either God of War: Ragnarok or Horizon Forbidden West deserved the award. 
Elden Ring, visually, underachieved even on new generation consoles, with poor performance, and a last generation look to it. While it faithfully translated most of the Dark Souls' formula into an open world. Some of the polish of its carefully designed (Zelda like) world was lost in translation. 
By contrast, God of War: Ragnarok is the example a carefully designed work of art. Polished to perfection. Again, I rather have a story driven title,  than an open world Souls experience. So, that's just my opinion on the matter.
In terms of storytelling, perhaps, God of War: Ragnarok is only second (if not an equal, God knows how entertaining Mimir's rants are) to the Last of Us: Part II. 
I find it interesting how Santa Monica has managed to add so much depth to a character that was once a blood thirsty god killer in Kratos. Yes, Kratos was perfectly justified in bringing down Mount Olympus to its knees, but we never got as deep an insight into his psyche, and nature as we get in these newer Nord themed entries.
Kratos remains a violent character, but one that loves his son above all things. Kratos is a God of War that no longer wants war, because he doesn't want his son (also a god and giant), Atreus, to stain his hands with blood, or worse, end up dead because of it.
His genuine care for his son resonates with me as a father, and despite the larger than life storylines about Odin, Thor, Freya, and Ragnarok, the game continues to be the journey of a father and son who love each other, but sometimes (at critical times) seem to misunderstand one another, as well. 
Kratos himself, despite his new found humanity, is a larger than life character as well, and I found myself constantly rooting for him to bring down the Aesir, though this time around we get a look at how the other side lives, as not all of the Aesir are evil.
Of course, Ragnarok, parting from where the last game ended on, with Kratos and Atreus trapped by prophecy after killing Baldur; and set on a collision course with the Aesir, features plenty of dramatic twists and turns, and enough violence to remind us that Kratos remains the indisputable "God of War". 
This time, the story also allows us to play as Atreus for a substantial period of time. At first, I wasn't a huge fan of this, but within a few hours, Kratos' son grew up on me, and I began to look forward to playing as him, as the narrative around him was just as enthralling as the one that surrounded Kratos. 
As much as I loved Forbidden West, and its own storyline, I must say that the critics got it right here when they awarded the 'Best Narrative' award to God of War: Ragnarok, few games have captivated as much on the strength of the storyline and its characters alone, as this one did. 
Again, Aloy's tale is compelling, but she is mostly a solo act, by contrast the relationship between Kratos, and Atreus, and other characters, is an integral part of Ragnarok's plot. Horizon (Zero Dawn/Forbidden West) is a grander tale in scope, but God of War's tale is much more personal when it comes to character interactions.
Despite the game's excellent action driven combat, it is the game's storyline that kept me going and wanting to come back to the it more so than any other gameplay, or audio/visual aspect of the game. 
Ragnarok seems to conclude the Aesir saga for Kratos, and the game's ending completes most loose ends. However, the door is left open for at least one more title on this particular saga.
God of War: Ragnarok, at its core, is really a story about a relationship between a protective father and his curious son, and said father's inner struggles with letting his son go (or grow) in order to forge his own path. 
God of War: Ragnarok is an Action-RPG/Adventure Classic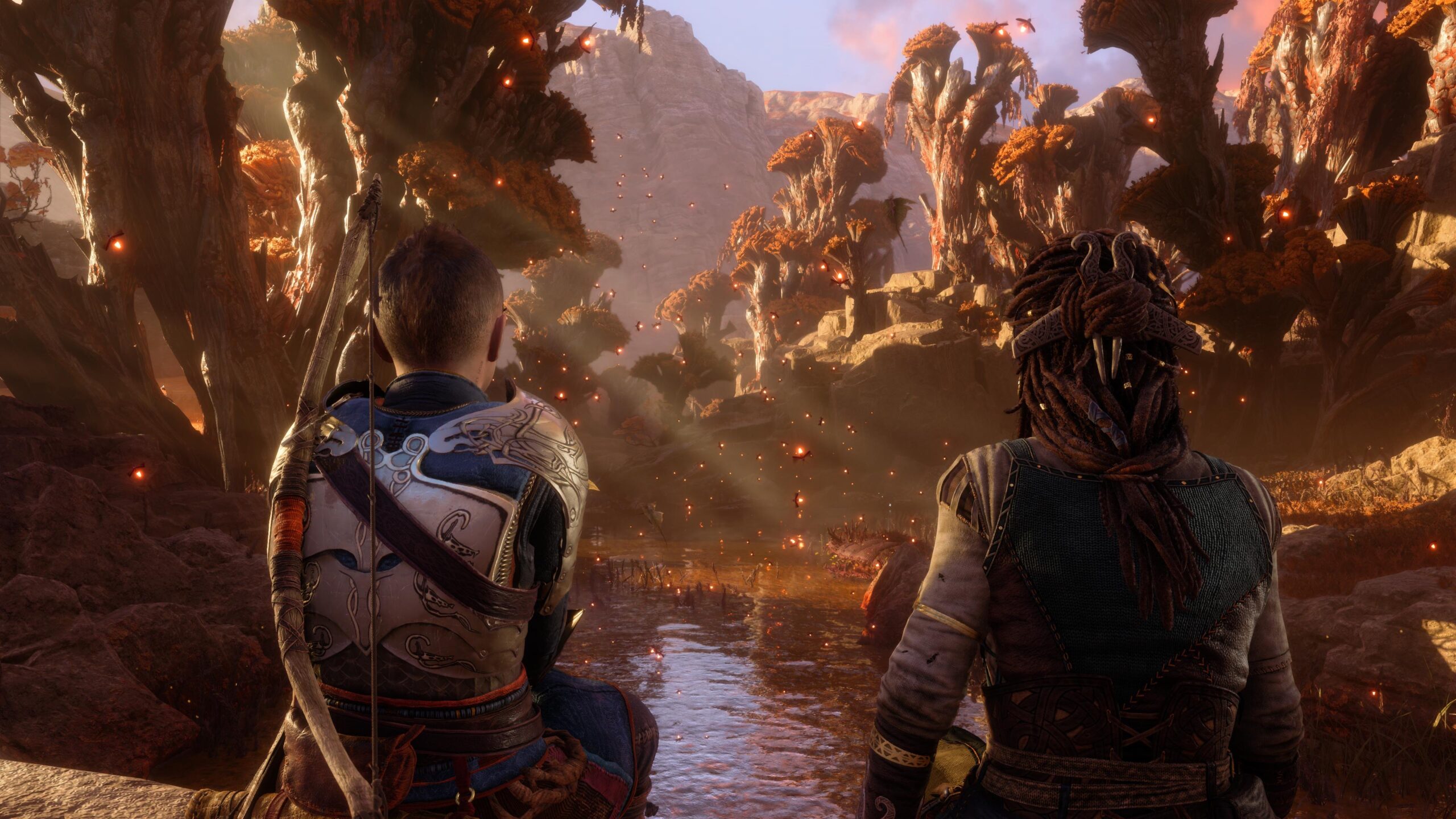 Ragnarok is bigger than its predecessor, but its EXP and loot driven gameplay stays largely the same with a few additions such as the use of a spear.
There is complex combat here, with larger than life boss fights, but the game is much more forgiving than say, Elden Ring. Certain bosses have checkpoints that will allow you to continue the fight with a fresh life bar after said boss has defeated you. Thus, Ragnarok is rarely a frustrating experience. 
Kratos, Atreus, and other companions can level up their skills, and equipment, so completists will like find the game to be on the easy side if they take their time to max out Kratos' gear. 
There are some puzzles here and there, mostly of the environmental variety. Players have to solve these riddles by combining Kratos' weapons, with the special skills of companion characters. God of War is action heavy, but it still plays like a violent, battle charged, and story driven take on the tried and true Legend of Zelda/Dark Souls formula. 
A System Selling Masterpiece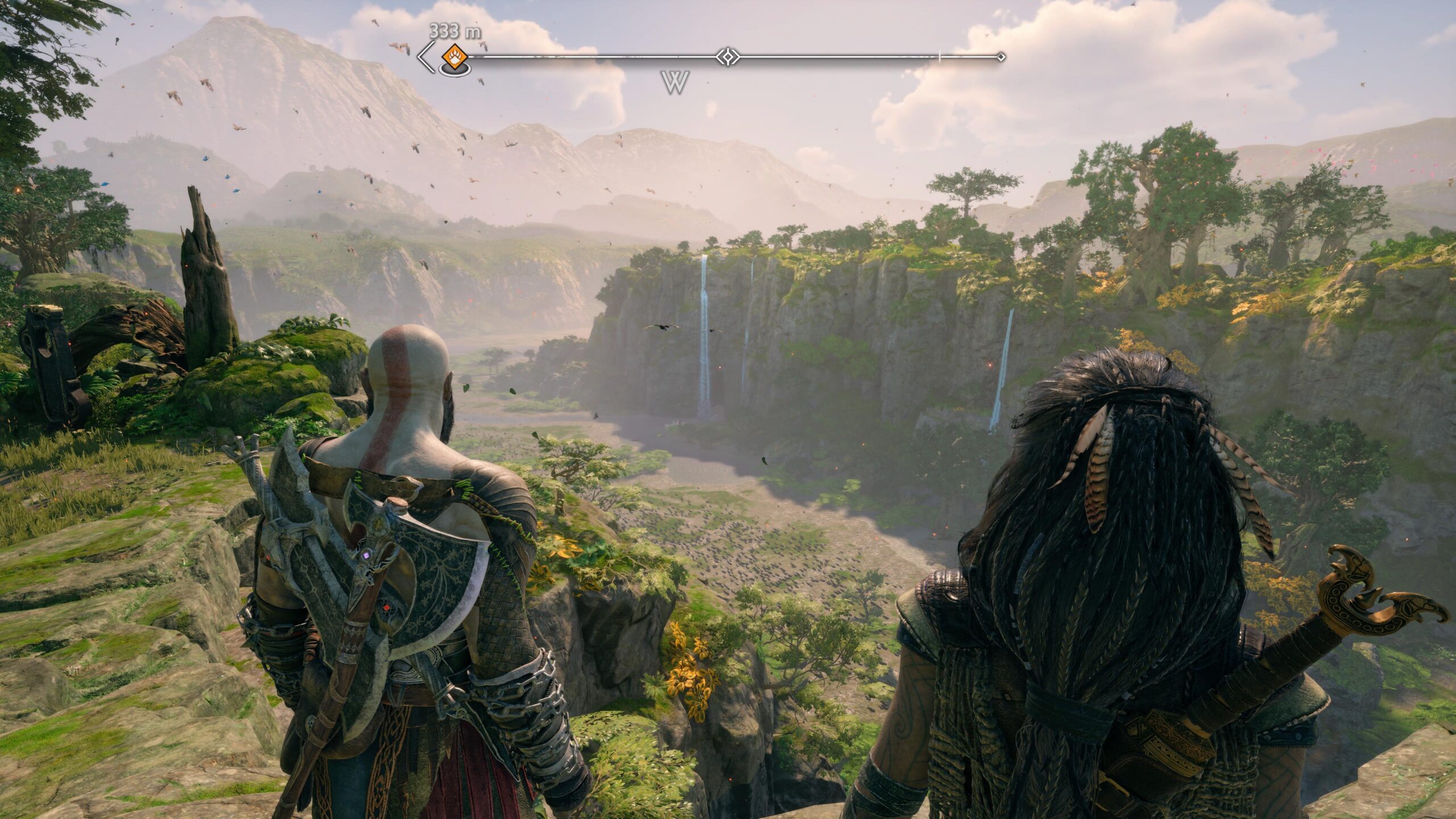 Like The Last of Us, God of War is a system selling franchise. The need to play this game could very well justify the purchase of a PlayStation 5. Ragnarok is a cinematic, audio/visual tour de force experience that you can't get anywhere else, and as such, it continues to push the bar in excellent writing, acting and general storytelling. 
Few single player experiences are as satisfying. Square Enix already dropped the ball with Forspoken, a game that failed to live up to the quality of Sony's in-house first party studios. 
I can only hope that the upcoming Final Fantasy XVI's narrative is half as good as God of War: Ragnarok's  is. I suspect its Metacritic success will be predicated on how it stacks up to this one, and Forbidden West. God of War (both titles) is an easy recommendation for players looking to get into the PlayStation eco system.
All told, right now, for story driven players, it seems that the PlayStation platform is the best place to game at. 
Gameplay: 9.0
God of War is Action Adventure/RPG. The game is linear in its storytelling focus, but offers plenty of fetch quests, and side hunts to keep gamers playing beyond the game's finale. Ragnarok does well in juggling different weapon systems for Kratos and his companion characters. The game features some nice puzzles here and there, and it is literally impossible to get stuck as companion characters always provide a tip (or two) about what 'to do next'. 
Graphics: 9.5
It is a 10 on PlayStation 4, but as a far as cross generation gaming goes, it ranks somewhere below Horizon Forbidden West's greatness. Either way, character rendering, and animation are nearly flawless. The game's 60fps mode is buttery smooth, and the overall visual package sets a very high bar (and consequently, expectations) for the next PS5 only God of War entry.
Music: 10
The music, and voice acting are all on par with some of the most expensive Hollywood filmic endeavors. In other words, in terms of sound, God of War: Ragnarok is in a class of its own. 
Story: 10
Kratos and Atreus' story will forever resonate with me. In fact, I even shed a few tears in this coming of age story for young Atreus, and Kratos' struggle with finally 'letting the boy go'. The greatest decision that Sony Santa Monica made was to grant Kratos a powerful, and relatable human side on this saga. 
Yes, Kratos is a bad man (in a good way), but he is also a very relatable character. As relatable as Joel was in the Last of Us, to say the least. Despite the serious tone of the storyline, and the impending doom (Ragnarok), the writing in the game also manages to pull of enough comedic moments (courtesy of Mimir and Brock) to lighten things up from time to time. 
All in all, God of War: Ragnarok is a perfectly written experience.
Replayability: 9.0
The game can easily take 60 hours of play time if you hunt for all of the side quests that it has to offer. Like all great linear storylines, God of War: Ragnarok is bound to lose some of its appeal after its initial playthrough. 
Overall: 10
Ragnarok couldn't be better. Well I guess it could have looked better had it been a PS5 exclusive, but as a Cross-generation game it is top notch in the visual category. The storytelling, and writing in the game is as good as any Naughty Dog production's own writing.  It is a must play experience, certainly worthy of its price tag, and even worth purchasing a PlayStation 5 in order to experience the game in its higher fidelity modes. 
Agree with the author? Couldn't disagree more and are frothing at the mouth to tell him? Leave a comment here, on Facebook or send an email and make sure to follow Never Ending Realm on Facebook, Twitter, and YouTube!