The Sega Saturn is, at least to me, the most legendary of the 32/64-bit era machines. The reason? I didn't own one, and I only know a single person who did. Furthermore, this person lost the console two decades ago. 
As a JRPG fan, it was painful that the Sega Saturn was also the home to a few classics that I never had the opportunity to play. Sega's machine is a hard-to-find console with even harder to find JRPGs that did well within the critical world. The system remains an alluring proposition to this day. 
Shining Force III….A Lost Classic

Today's game that could potentially cost you "kidney worthy" money is none other than Shining Force III. Most will remember Shining Force from its Genesis days, or rather recently from its recent "Sega Collection" appearances.  
The Shining Force games are tough, turn-based strategy games designed for JRPG fans. These games never sold well overseas, but were extremely popular with reviewers of the times. Shining Force consistently ranks amongst the best games of all time within Sega Genesis/Megadrive titles. 
Shining Force III is the series sole (numbered) entry on the Sega Saturn. The game consisted of three scenarios, but only one of these episodes was released within North America in 1998. With an average score of 86% on GameRankings, Shining Force III wasn't one of the absolute best games of a historically loaded 1998 year in gaming.  
However, given the hardcore and incomplete nature of the title, the fact that it scored very well with major publications such as Next Generation (4/5 Stars), Game Informer (8.5/10), and Electronic Gaming Monthly (9/9/8.5/9) makes the title an attractive prospect. 
The game was praised for its complex gameplay, outstanding audiovisual presentation, and its engrossing storyline.  
Why is Shining Force III Expensive?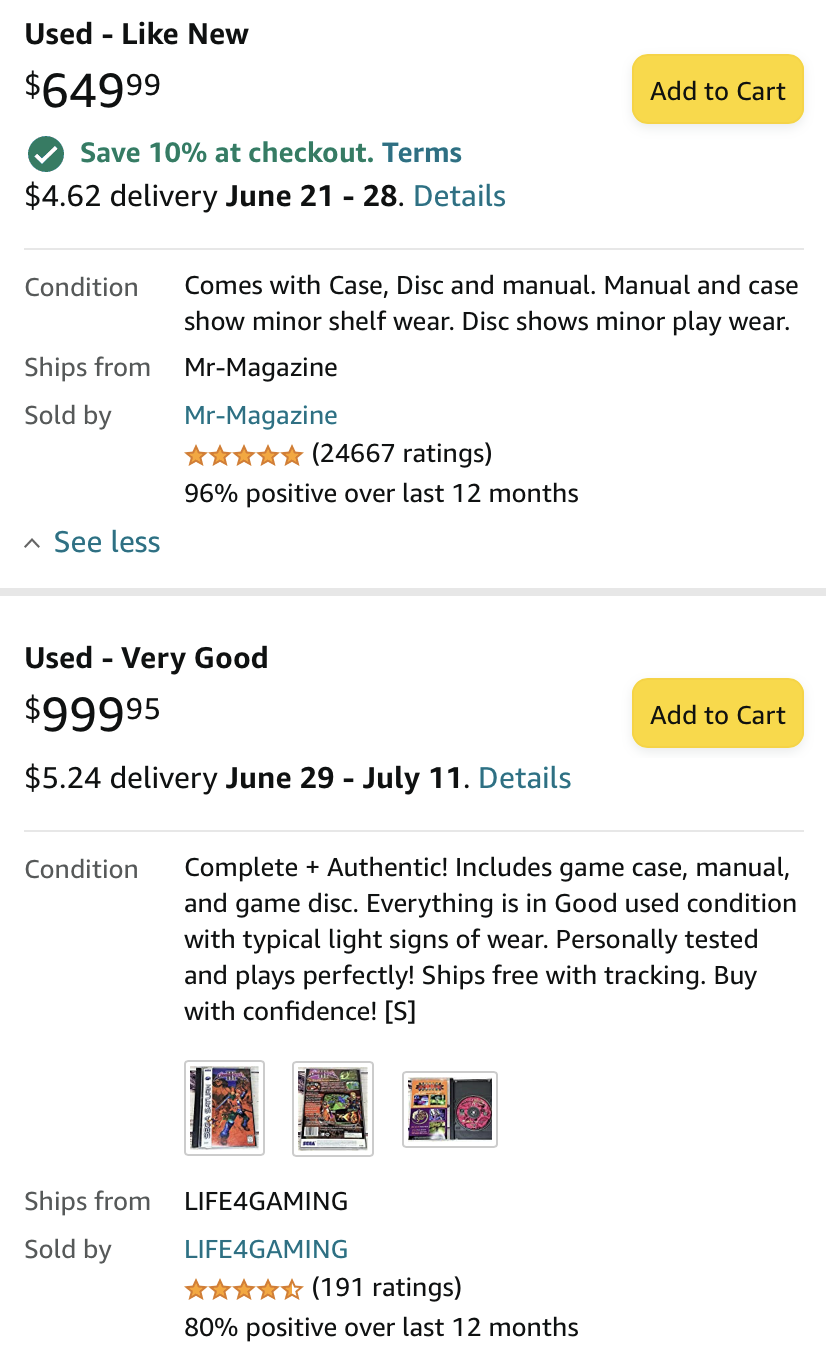 It is an obscure JRPG from the golden age of the genre that can only played (legitimately) on an even more obscure console. Simply put, one does not simply want and get to play Shining Force III on a whim. According to VGchartz the game sold 130,000 copies, but the site claims that these copies were all sold within Japan, and there are no sales numbers on the page for what I assume have to be astronomically low numbers within American territories.  
A deeper search on Google would yield the same Japanese results with a rumored 500-1000 copies sold on the UK. United States numbers remain elusive, but we can conjure some un-scientific guess work here.  
The Saturn sold an estimated 1 million consoles in Europe and 1.8 million units in North America. It could be that Sega managed to move twice the number of copies that it did on the UK in the US. That would still put the number of SFIII copies sold at the 2000-unit range which was anemically low for 1998. However, 25 years later (2022), these numbers would place Shining Force III within a special tier of extremely hard to find games.  
It is a hard to find the classic in good used condition, meaning with case and manual. The game can cost you on Amazon up to $1000 when it is all said and done. Now, true collectors might be better off on Ebay,where a new factory sealed copy of the game is available for a whopping $6000 (true kidney money).  
Honestly, I am not surprised at the price tag, but am shocked that a sealed copy of the American version remains available for purchase this late after 1998. As with all Saturn games, if you buy a used copy you will want to play it, and a working Sega Saturn console could also prove tricky and pricey to find. 
Shining Force III is the last remnant of Sega's ill-fated decision making process with the Saturn and its 'ditch the console and its fan base' and move to the Dreamcast philosophy that has left us with few, but precious copies of other late generation Saturn titles like Panzer Dragoon Saga.  
Like other titles from the Saturn era and beyond, Sega has refused to remaster or release Shining Force III within a collection or as a standalone title.
Is Shining Force III Worthy of a Play in 2022?
Of a play? Yes! Most of us who grew up in the 1980s and 1990s will probably go along and agree with the sentiment that the late 1990s was an incredible time period for Japanese Turn-Based Strategy games. Final Fantasy Tactics, Ogre Battle 64, and Dragon Force were all released close to one another. Shining Force III, despite being incomplete in its American version (the last 2 scenarios never made it stateside), belongs alongside the aforementioned titles. Some of the lucky few who played the title might even vouch for the game being greater than its peers.  
Unlike the Japanese version of the game, SFIII's ending was modified in its western release to avoid its Japanese cliffhanger ending. So, the experience of the game itself should be a fairly fulfilling one. Sadly, the game's price tag makes it hard for me to say that it is a must grab unless you are really into tactical JRPGs of the era, have plenty of money to spare on a copy of the game, and a working Sega Saturn.  
Agree with the author? Couldn't disagree more and are frothing at the mouth to tell him? Leave a comment here, on Facebook or send an email and make sure to follow Never Ending Realm on Facebook, Twitter, and YouTube!