Konami's Suikoden is a respected franchise within the Japanese role-playing game genre. The series has been dead in the west for about a decade and a half as its last title Suikoden V was release in 2006 to little fanfare.  
As it often happens with dead role-playing game series, its older titles gain monetary value over time as re-releases and ports are nearly nonexistent. While the first Suikoden (1996) game is legendary, it is its second title that is most revered by fans.  
Was Suikoden II a Good Game?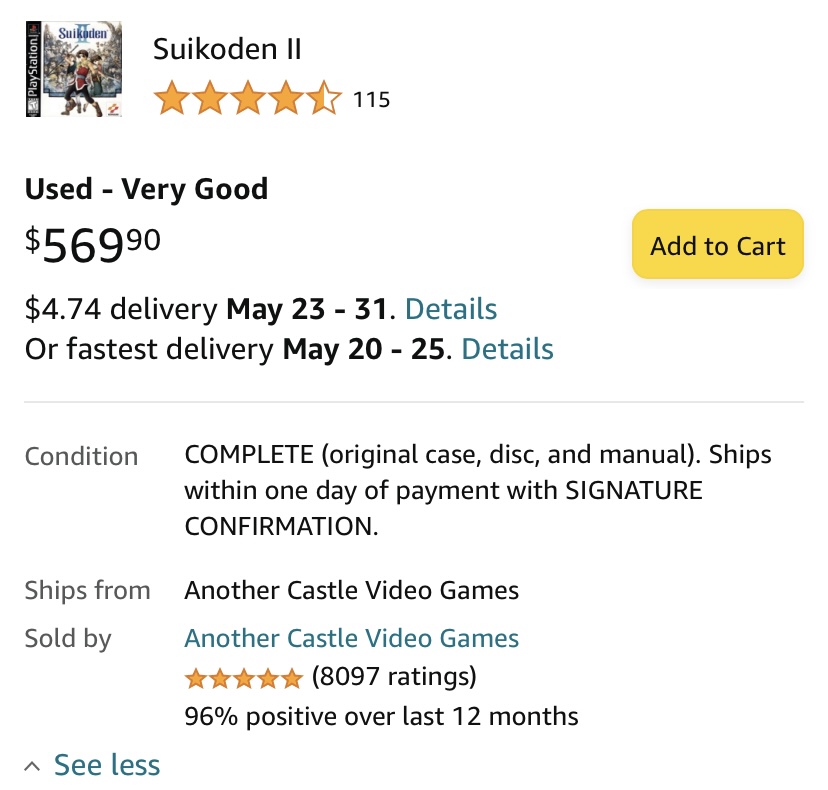 In some circles, Suikoden II is a great game, perhaps the best in the series. Personally, I found Suikoden III to be the series' pinnacle, but most hardcore fans would answer Suikoden II to that question. 
Taking place years after the events of the first game, the player takes control of a silent protagonist and is thrust into a war with many twists and turns. They are also introduced to one of the low-key 'best' villains in the entire series, if not genre, Luca Blight.  
At the time, in 1999, Suikoden II did not do spectacularly well with critics. It holds an 82 Metacritic rating, which is good, but a far cry from the Final Fantasy games of the era. The game was in fact a bit more complex and strategical than the average AAA mainstream RPG of the times.  
Suikoden II featured three types of battles, a 6-party member turn based battle system, an army based massive battle, and a fun Duel system which plays much like a rock, paper, scissors mini game. Critics at the time, were immersed in the 'cool' factor of the relatively recent explosion of 3-D gaming. The fact that Suikoden II could have passed for a 16-bit 2-D game is probably the reason why Suikoden did not rate as an excellent game with most critics.  
Scores for the game varied within different printed publications, scoring a 7/10 in Electronic Gaming Monthly, but a 9/10 in Game Informer.  
The truth is that Suikoden II was one of the better JRPGs of the time, if you could get past its 2-D graphics and simplistic presentation.  
Why is Suikoden II so Expensive?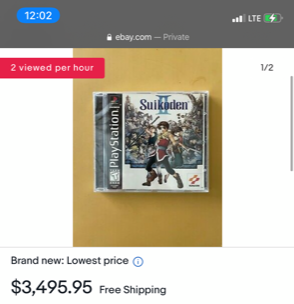 The game sold about 680,000 copies. That is a decent number for a game without much of the fanfare, budget, and marketing of Squaresoft games of the era. However, the vast majority of those units were sold in Japan.  
Only 150,000 units were sold in North America. In that context, working copies of the 23-year-old game are scarce and getting scarcer by the passing the year. The game is hard to find and nearly impossible to find in pristine condition.  
Suikoden II, however, has something going for it, in terms of being readily available for play at a low price. The game was released on February 4, 2015 on the PlayStation Store for non-collector JRPG fans who wanted to know what the fuss about Suikoden I and II was all about. That said, PlayStation 4 owners were left in the cold since the game was only available on PlayStation 3, Vita, and the PSP. 
Here is hoping that the Suikoden games make it to the PS Plus service as part of Sony's back catalogue. If Suikoden II becomes available on PlayStation 4, I have to assume the pricings on Ebay and Amazon will drop down from their high asking fees.
Even if the game makes it to the PS Plus service, I would wager that Suikoden II will remain quite expensive due the fact that it is a JRPG from the genre's golden era and that less than 150,000 copies ever made it stateside.
Suikoden II will continue to be a sought after collectible title for JRPG enthusiasts given its legendary reputation and its dark horse appeal amongst fans of the genre when stacked against the top JRPGs of its era.
Is Suikoden II Worth it Today?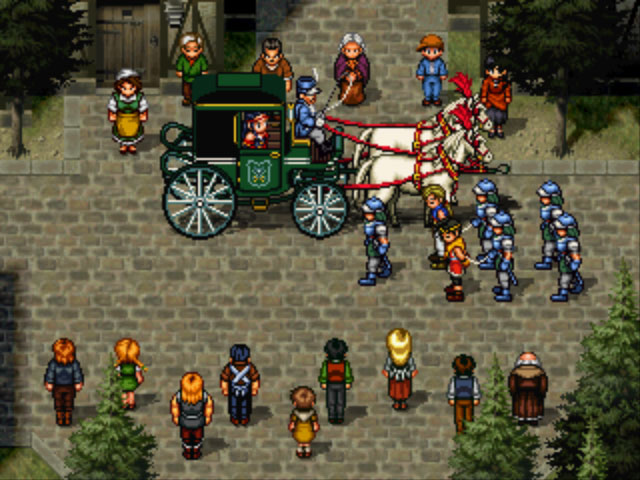 Is it worth playing? Absolutely. It is worth a $500+ hit to your wallet? Eh…it depends on how deep your pockets are and whether or not you are into collecting pricey video games. Clearly (as pictured above), a brand new sealed copy of the game is rare and extremely valuable; however, it is possible a sealed copy of the game may turn out to have been a good investment 20 years from now.
Agree with the author? Couldn't disagree more and are frothing at the mouth to tell him? Leave a comment here, on Facebook or send an email and make sure to follow Never Ending Realm on Facebook, Twitter, and YouTube!