Xbox Head, Phil Spencer, has been known for being a 'lovable' guy, a gamer first, and the man who wants games to be available on all platforms for all of the world to enjoy!
Yet, in my experience, people do not get into powerful positions within mega corporations by just being 'good' and 'passing the joy' around.  The recent court fight between the FTC (and in a way Sony) and Microsoft over the latter's acquisition of Activision (Call of Duty), has shed light on the darker business shena- ahem- Practices! That take place behind close doors between executives. 
According to a leaked email from a bigger Xbox leak, Phil Spencer, who has often praised Sony's first party studios, and has always showcased a high level of respect (and even reverence) towards Nintendo's game making prowess, would like nothing more than for the big 'N' to come under Microsoft's protective corporate arms. 
Could Phil Spencer Want Nintendo to Fail So That He Can Have His 'Career Moment' and Help in its Acquisition?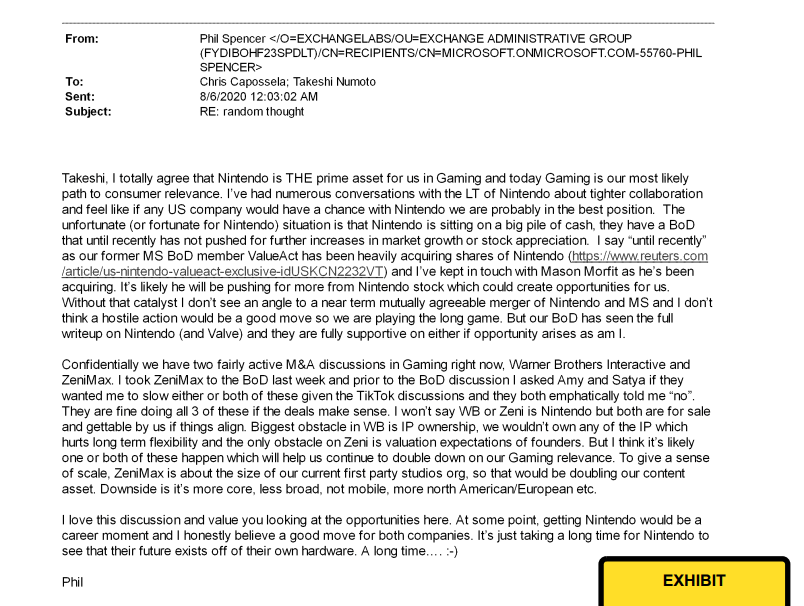 According to a 2020 email he wrote to Microsoft executive vice president and chief commercial officer, Takeshi Numoto, Spencer saw Nintendo sitting on a "big pile of cash" as an obstacle for Microsoft acquiring the company. Obviously, in 2020, the Nintendo Switch was already a massive hit, and Nintendo's first party titles were selling in the 10s of millions of units. Given the fact that the Japanese  Video Game Hardware and Software maker was experiencing such a monumental financial growth the chances of Nintendo merging with Microsoft to 'save itself' were slim in 2020.
In 2023, Nintendo has 140 plus million Switch handhelds sold, The Legend of Zelda: Tears of the Kingdom's historic success, and Super Mario's animated film's billion dollar earnings. A merger with Microsoft now, seems like far fetched Phil Spencer dream, than a real possibility….even 10 years down the line the chances are slim to none (plus I don't think Nintendo Executives will be too happy when they read Spencer's email).
Nintendo is on top of the video gaming world as we speak with the Nintendo Switch outselling the PS4, and Xbox One, and continuing to sell well into its sixth year of existence. Nintendo is more worried about its next generation Switch than it is about any sort of merger, or collaboration with Microsoft.
The Sony vs Microsoft Activision Court Mess Has Made Spencer Seem a Bit…Eh…Hypocritical?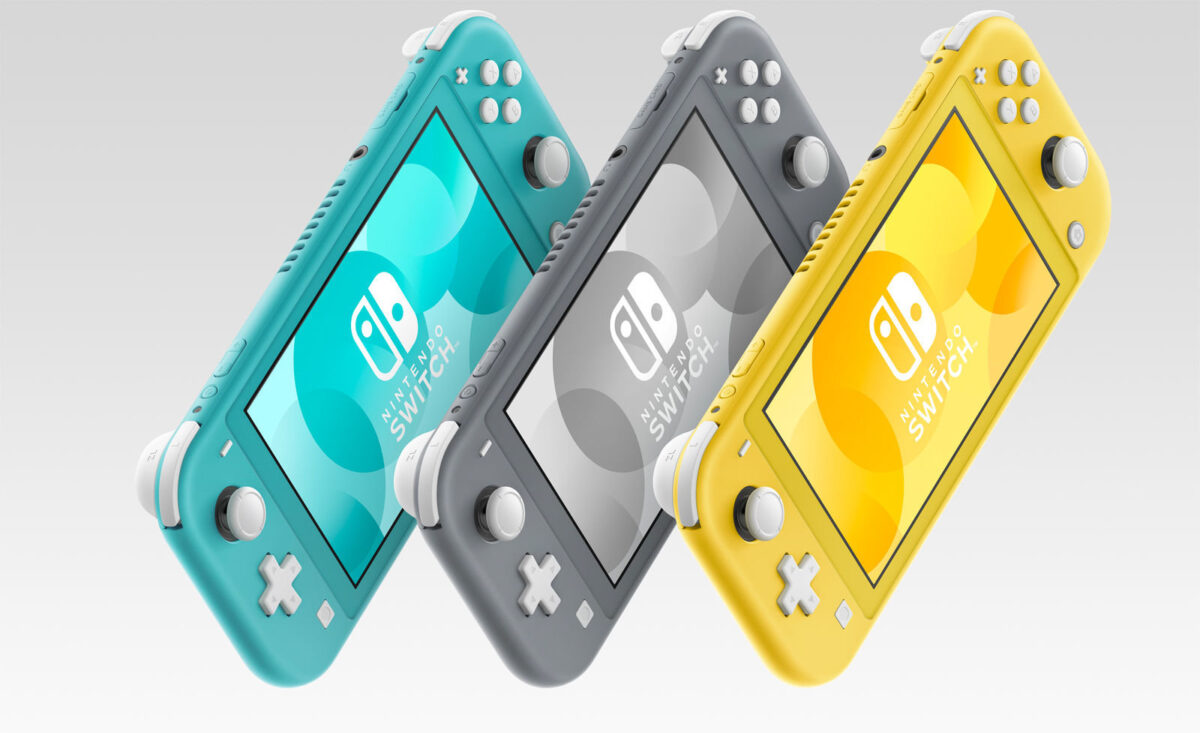 Despite Spencer's claims that he did not see Nintendo (or Sony) as competitors, Sony's fright at Microsoft's Activision acquisition, and Microsoft's posture that the Xbox brand needed Activision in order to remain competitive with Sony, showed the contrary. The console wars are alive and, and Microsoft would like nothing more than to see Sony  and Nintendo fail, and to absorb either, or both of them, as the ultimate consequence.
The leak, a direct result of the FTC – Microsoft battle for Activision acquisition, has been a bit costly in terms of public image for Microsoft, as the "own everything", and "monopolize the industry" stereotypes that have plagued the company for decades were – in a way – confirmed by Phil's conversations.  Reading his message (pictured above), Phil Spencer wants a few things:
(Xbox) Relevance amongst consumers
Nintendo (as the ultimate acquisition that would help in gaining said relevance).
For Nintendo to stop making hardware and join the dark side because only then – according to Phil – would both Xbox and Nintendo live up to their unlimited potential within the gaming market.
This "acquire and merge" mentality did not bother me much when the company acquired Bethesda and Activision (God knows they need exclusive IPs), we live in a capitalistic society, and this is how big corporations work. That said, Nintendo's suggested disappearance as a hardware maker is something that I would fear as a consumer. Competition is good, not for Microsoft (Xbox), but for us as consumers.
Nintendo…in my opinion would lose a great deal of its identity and charm if it went the way of Sega. By the way, I did suffer Sega's hardware demise. Less choice in the market is never a good thing. May Nintendo thrive forever!
Despite All of This; Phil Spencer is Not Evil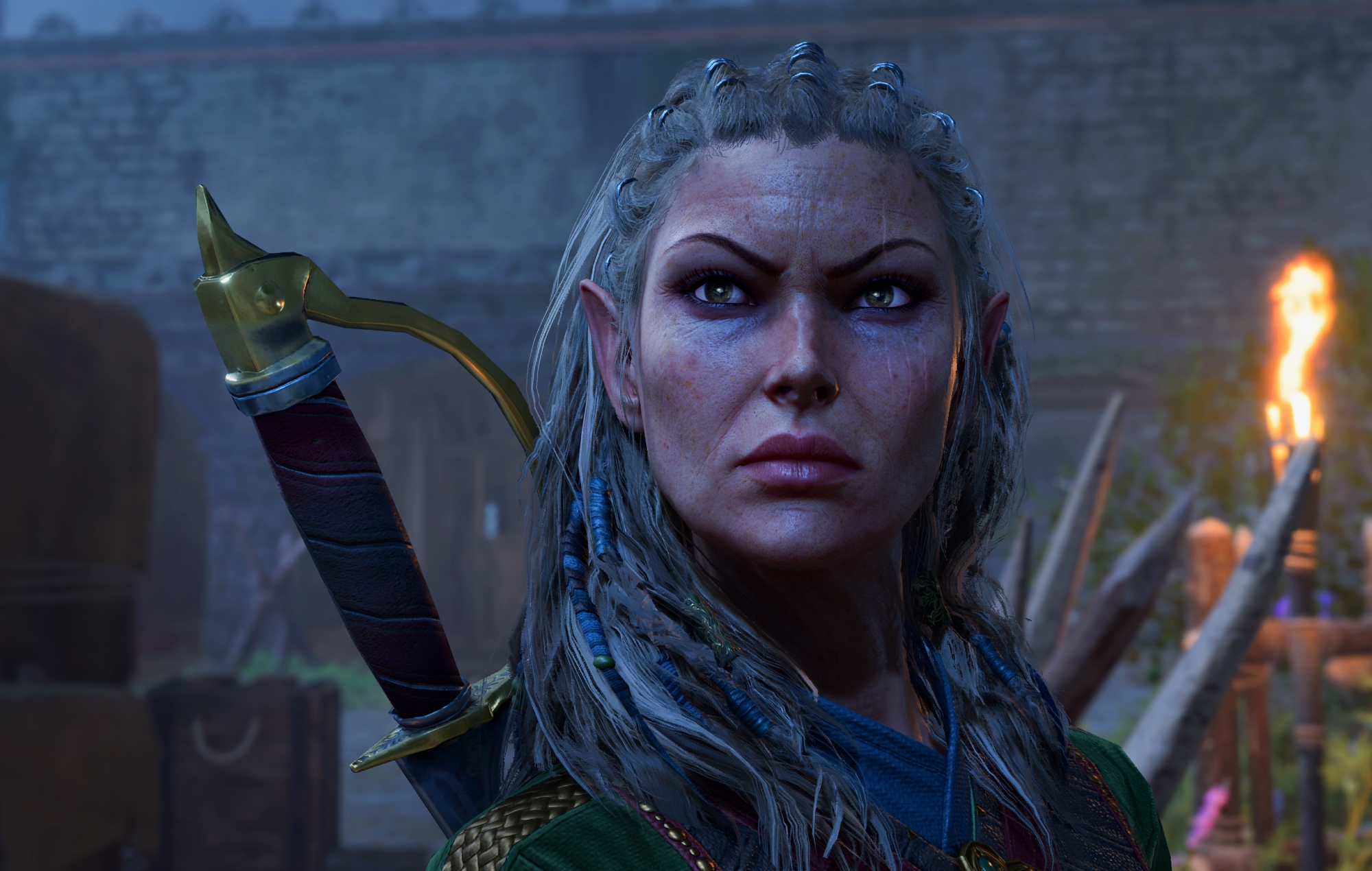 Again, he is just doing – and planning things – in the way that it is expected for Microsoft's CEO of gaming to act. It is Spencer's job to determine what can help Microsoft and its Xbox brand to gain more gaming market share from Sony and Nintendo. Microsoft is currently losing the hardware battle, and in order to change that, it needs the software to compete with both Japanese gaming giants.
Spencer would try to save some image later by replying to the leak with this memo:
Team,

Today, several documents submitted in the court proceedings related to our proposed acquisition of Activision Blizzard were unintentionally disclosed. I know this is disappointing, even if many of the documents are well over a year old and our plans have evolved.

I also know we all take the confidentiality of our plans and our partners' information very seriously. This leak obviously is not us living up to that expectation. We will learn from what happened and be better going forward. We all put incredible amounts of passion and energy into our work, and this is never how we want that hard work to be shared with the community. That said, there's so much more to be excited about, and when we're ready, we'll share the real plans with our players.

In closing, I appreciate all of the work that you pour into Team Xbox to surprise and delight our players. In the days and weeks ahead, let's stay focused on what we can control: continuing the amazing success of Starfield, the upcoming launch of the incredible and accessible Forza Motorsport, and continuing to build games, services and devices that millions of players can enjoy.

Phil
So what changed? Baldur's Gate 3 monumental success makes it more valuable  than it was then (in 2022 when Spencer felt that Star Wars: Jedi Survivor was much more valuable for GamePass), and Nintendo is having what perhaps is its biggest year yet in 2023. However, not all is bleak for Microsoft. Starfield has been huge for Xbox, and GamePass. The game will continue to sell systems as we approach the Holiday season, and Forza Motorsport also promises big things for Xbox fans, and the brand as a whole.
The leak detailing that Microsoft was willing to pay a flat fee of $5 million for BG3, and $300 million for Jedi Survivor showcased and interesting window into how GamePass works (Rockstar is getting $5 million per month for the GTA5's Game Pass stay). It also showcased how pedestrian they have been at predicting what can be a huge hit, and what is not. In retrospective, this isn't surprising, this how Sony and Nintendo have both out sold Microsoft for the better part of the last decade and half.
The Xbox division just doesn't seem to find the "right" IPs. The entire leak also gives the impression that Microsoft has accepted that it can create, or find studios of its own that can create new massive AAA IPs, so acquisition of studios that have is the company's way to go as it forges a path towards the future.
Microsoft still plans to lead the gaming market by 2030. That's 7 years from now. They have plenty of studios to buy (FromSoftware would be a big win), and perhaps an Elder Scrolls 6 to release – while finally unleashing the power of the cloud – before that 'plan' ever materializes.
Agree with the author? Couldn't disagree more and are frothing at the mouth to tell him? Leave a comment here, on Facebook or send an email and make sure to follow Never Ending Realm on Facebook, Twitter, and YouTube!