The dream is over…for Lunar fans who awaited a 3rd entry in the beloved 16-bit era series which earned worldwide renown when it was ported to the PlayStation in the late 1990s.
Sean Lowe, the man behind the efforts to revitalize the series received (reportedly) a message from Game Arts earlier this month confirming that no sequel would be made, and that Sean Lowe's animation project would not be green lighted by the company.  
Game Arts' Take on Lunar 3 and its Rights
We interviewed Sean Lowe last year, and in our in-depth analysis of the situation we figured that the chances for the game's 3rd entry becoming a reality would face an uphill battle because Game Arts and Kei Shigema (Lunar's mastermind) had suffered a less than desirable split. We even suggested that Shigema would be better off working on a spiritual successor rather than hoping for Game Arts to ease up on Lunar's rights.  
Sean Lowe started a commendable campaign last year trying to get noticed by Game Arts, part of his work included tracking down various voice actors from the original games and Kei Shigema himself. 
After a year, Game Arts did notice Lowe's efforts, and a few weeks ago he was given the following message: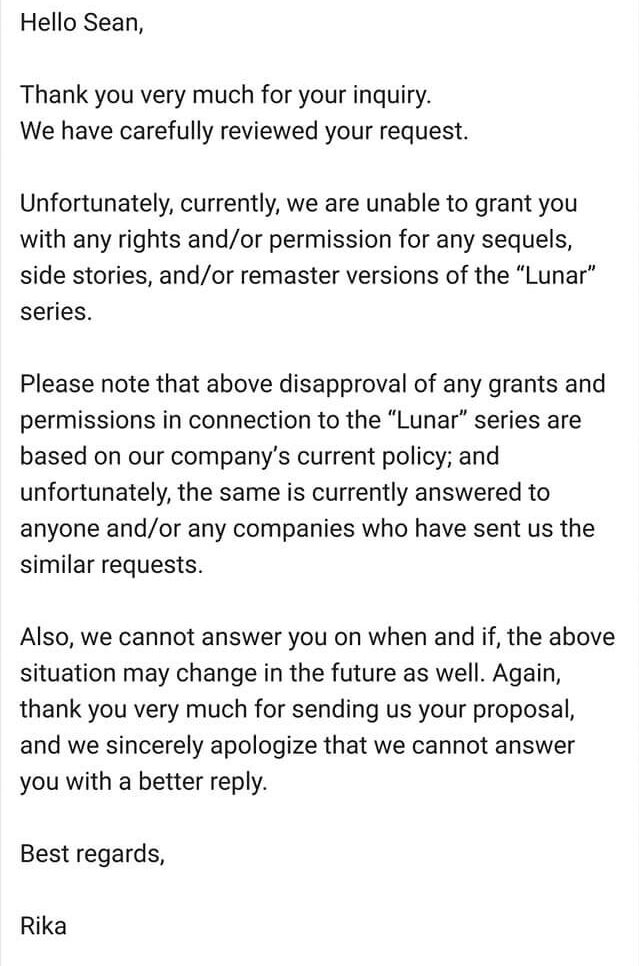 Game Arts' response shuts the door on any hope that Lowe and other Lunar fans might have had of getting Studio Alex back together for one last hurrah. Sean Lowe's own animation project "Secrets of the Blue Star" has likely met its end as well.  
As expected, the company will not sell or share the rights to the game. Then there is the issue of the defunct Working Designs. According to Victor Ireland the only way to publish Lunar 3, under the 'Lunar' name on the U.S. was through Working Designs. Ireland said that more than 20 years ago before Working Designs shut its doors down for good in 2005 
Common sense would dictate that Game Arts continues to hold exclusive rights to the franchise at this point.  
Will There Ever Be a Lunar 3?
The response that Lowe received from what we assume is a Game Arts' representative has a touch of finality in terms of Game Arts refusing to share the rights of the property with third parties. It is interesting that the message hints that other companies have asked about the rights but were met with the same response as Lowe.  
That said, Game Arts' representative did not shut the door on a sequel or future work based on the Lunar franchise. Given the current resurgence of 32-bit classics in the form of remasters and remakes, Lunar could make an unlikely comeback at some point. However, it is likely that no one from Studio Alex will be involved if a Lunar related project were to be green lighted by Game Arts or its parent company GungHo Online Entertainment in the near or distant future.  
Is Lunar Commercially Viable in 2022?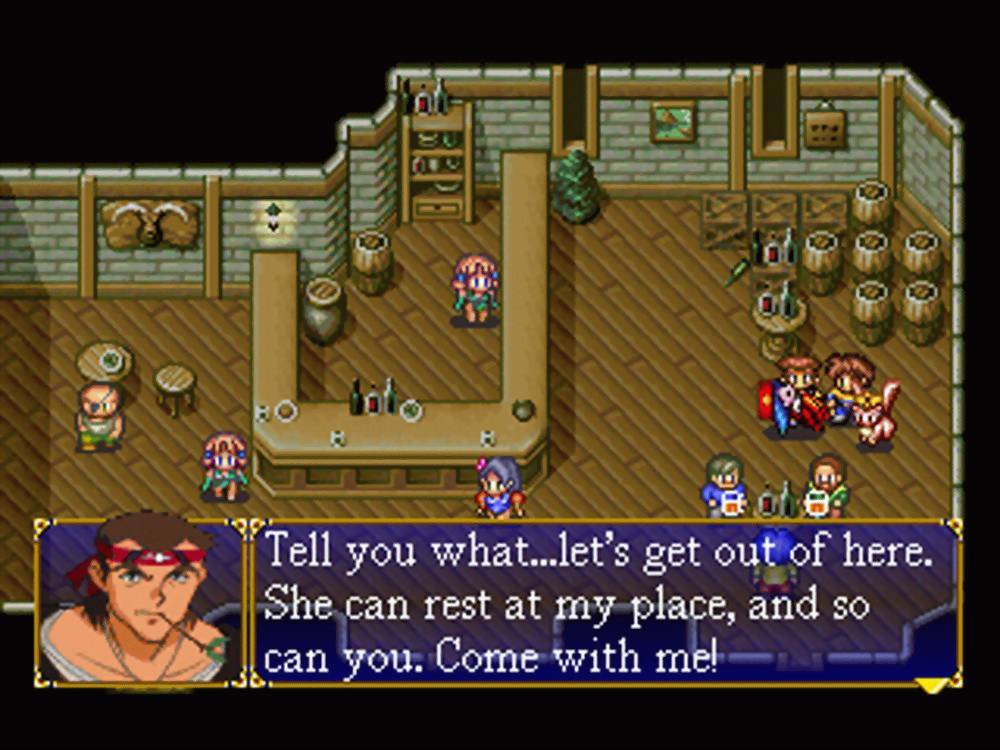 Lunar: Eternal Blue Complete sold 350,000 units on the PlayStation. That was not a respectable number in an era where million-unit JRPG sellers were not uncommon. Those numbers and Studio Alex's nasty break up with Game Arts helped to bury the rumored Lunar 3 deep into the ground. 
There is a small niche market for Lunar to succeed today if a sequel or a pixel remaster of sorts were to be released with modest commercial expectations from its publisher. The Lunar games were better than the Grandias for the most part, but Grandia was more successful in terms of commercial reception. Grandia 1 and 2 received a remastered release for the Nintendo Switch in 2019.  
Against all odds, GungHo Online Entertainment gave Grandia a second chance at life. Game Arts' parent company is not unwilling to bring back some classic titles if it feels that these titles will make a profit. Lunar has a few hardcore fans, and a similar collection could sell.  
That said, the chances for a full-blown sequel, such as a theoretical Lunar 3, are miniscule. The fact that Sean Lowe did not manage to get 10,000 signatures in a hard-fought campaign where he managed to track down voice actors while also trying to ignite some hype for Game Arts to respond to fans' desire for a Lunar sequel does not bode well for the franchise's chance at resurrection. 
As things stand, the only 'well-known' person in the gaming community, at least outside of Japan, that might shed some true light on what happened to the rumored 'Lunar 3' which appeared to be in pre-production in the late 1990s might be Working Design's Victor Ireland. 
Taking the Lunar 3 Campaign out of the Equation This is the Bottom Line
I covered most of the bases on this issue in my article chronicling our interview with Sean Lowe. Game Arts did not end up in amicable terms with either Working Designs or Studio Alex. All of this happened in the late 1990s early 2000s when Studio Alex (which developed everything concerning the Lunar games) had a disagreement over royalties with Game Arts who owned the rights to everything in the games thanks to the fact that the company had put the money forth for the projects. 
In the end, to make a long story short, Studio Alex sued Game Arts over creative control and insufficient royalties over the Sega Saturn versions of the Lunar games, which Studio Alex had developed. Game Arts countered sued Studio Alex over Lunar: Magic School Animation and its remake as Game Arts felt that it was an incomplete production and Studio Alex did not meet Game Arts' requirements for the game in contrast to their financial investment on the development of the project. 
The end result of this mess was that Game Arts' won its lawsuit and Studio Alex was forced to disband in 2003 after filing for bankruptcy. At this point, it was clear that Lunar 3 would never happen, at least not with Shigema and the original team at its helm.  
Victor Ireland, during the late 1990s, held fast to the belief that Lunar 3 had been in production, though his claim has never been confirmed. He also said Working Designs had the sole rights to publish the project in the U.S. if it was released under the Lunar name:
All I can say is that in the US we have the Lunar trademark, if we don't do it nobody can. If they try to do it they can't call it Lunar, and we are not publishing for Dreamcast. So thats the long round-a-bout, so it doesn't really matter what system it's originally published on, it will be on whatever system we are publishing on here. That is about as specific as I can get. Unless Bernie is gone Dreamcast is a serious no for us. It's very unlikely Lunar will be seen on Dreamcast from anybody(In the US), because if anybody else tried to do it they couldn't call it Lunar. And its very unlikely GameArts would license it to them anyway because that would affect their relationship with us.  – Victor Ireland (1998 Interview) 
At the end of the day, Lunar in the late 1990s was not as bankable a franchise as Grandia, and Game Arts decided that it was best to move forwards without Studio Alex and the rumored Lunar 3.   
Why is Lunar Such a Big Deal?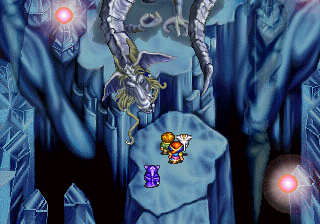 Lunar fans will take offense at the statement, but the reality of the situation is that most JRPG fans did not play these games. If they had, we would be talking about Lunar 7 or 8 at this point in time rather than speculating about what Lunar 3 could have been.  
But for those of us who played the games on Sega CD, Saturn, or PlayStation, the Lunar games were important in the context of historical relevance within the Japanese Role-Playing Game genre.  
In 1992, Lunar: The Silver Star established a standard of presentation for JRPGs on CD based systems which included a mix of fully animated videos for important scenes and voice acting years before Final Fantasy and other games caught up to The Silver Star on the PlayStation and the Sega Saturn.  
Simply put, playing Lunar felt like playing through a good anime series, and the franchise accomplished this in an era where SNES JRPGs were struggling to deliver good storylines and competent translations. So yes, kids who experienced Lunar on the Sega CD will have incredible memories of how groundbreaking the games were.  
But even those of us who played the game on the PlayStation can attest to the quality of the writing (in part, thanks to Working Designs), and how endearing the cast of characters in both Lunar: The Silver Star and Lunar: Eternal Blue were.  
To those of us that experienced these classics firsthand, Lunar 3 would have been a big deal. Lunar joins the list of ill-fated but loved JRPG franchises like Suikoden, Legend of Legaia, and Wild Arms that have not gotten a chance at a second life on modern systems.  
Agree with the author? Couldn't disagree more and are frothing at the mouth to tell him? Leave a comment here, on Facebook or send an email and make sure to follow Never Ending Realm on Facebook, Twitter, and YouTube!