The Golden Era of Japanese Role-Playing Games during the original PlayStation days produced many a great RPG on a consistent basis. It seemed then, that every month a new JRPG AAA title would arrive at store shelves for players to buy and immerse themselves for dozens of hours.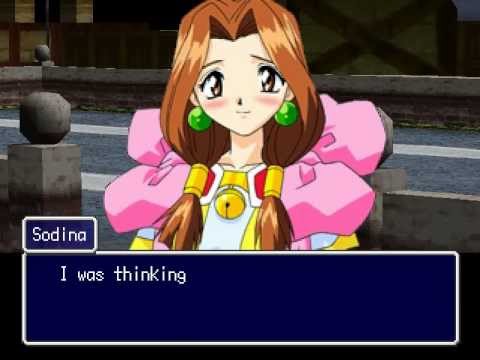 During this period, in between the Final Fantasies, Grandias, Suikodens, and Lunars, it was easy to miss some of the lesser known, perhaps more obscure titles such as 1999's Thousand Arms.
Developed by RED, and published by Atlus, Thousand Arms combined the best of two Japanese genres into a single game. TA was both a traditional RPG and a T rated Dating sim of sorts. Selling a measly 120,000 copies outside of its native Japan, TA is a rare game to find indeed. It was rare to find back in 2005 (When I first got ahold of a caseless copy at GameStop) and it is much rarer to find these days.
The game will run you $200 dollars on Amazon (used), and new, it sells for as high as $500 dollars. JRPGs from that era have aged well in terms of resale value. The price is not indicative of its quality. TA, is not a great JRPG by any means, though I can see how it has a cult classic appeal and how its humor and anime styled visuals will make it a fan favorite for some.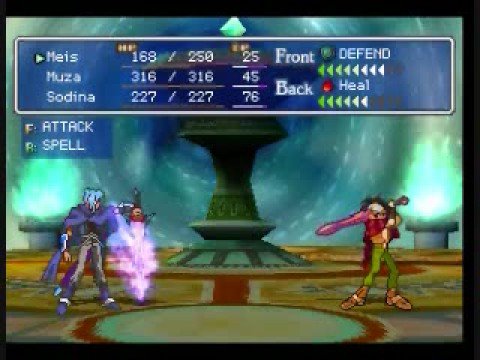 Personally, I enjoyed the game. TA follows the same visual style of Grandia and Xenogears with 2-D character sprites traversing fully polygonal worlds from a ¾ ( or nearly 45 degree angle) view point. Unlike the two aforementioned games, TA doesn't look nearly as spectacular. Pixelated simplistic backgrounds accompany squatty sprites to provide an overall average looking game. The same cannot be said for the artwork, and the sprites used within battles, as both elements are top notch.
The fantastic artwork can be enjoyed in a variety of ways. During cutscenes the anime full motion videos are excellent, and the game uses stylized large animated drawings during important dialog sections which makes the game a visually pleasing experience (even today) for large parts of it. The battles take place in full turn-based glory, but the squatty sprites used during normal gameplay are replaced by large proportional ones that make these sections look more like a Street Fighter game than a traditional turn based JRPG game.
While the story is mostly forgettable, its characters are not. Meis's failed attempts at flirting are hilarious, and some wacky secondary characters make habitual appearances that are both funny and odd. It is the usual Japanese Anime humor to be honest, but as a fan of Dragon Ball and GTO I could appreciate what RED tried to do here, and in the end TA is rather an amusing, if short (24 hours) ride.
The dating component while simple, offered Meis the ability to improve both his equipment as his stats (though grinding in the overworld accomplished the same thing).  With over 12 hours of voice acting, TA is as close as you could get to a B level funny Anime Series in the role playing genre.
Short, enjoyable, and amusing describe the game well. While I would not break the bank today to grab a copy of the game, if you are a fan of 32-bit era JRPGs, and have a soft spot for mostly PG-13 Japanese humor of the era, Thousand Arms might be worth looking into.
Our score for the game (2005): 7.0