Yes, it has been 27 years since Super Mario 64. Despite the fact that this article is mainly focused on that Nintendo 64 groundbreaking title, it wouldn't be fair to say that the first game to get 3-D right has been the most influential game of my gaming life…even though it could be. 
While I did play some Atari games in the late 1980s (my cousin's had a few Atari machines laying around), it would Super Mario Bros. The one game that would become my first gaming love. 
So, while Super Mario 64, at least to me, was better in everyway, and considerably much more mind blowing. There is a certain soft spot for first time memories, and the Nintendo Entertainment System certain holds a place in my heart.
Friday Evenings Were Magical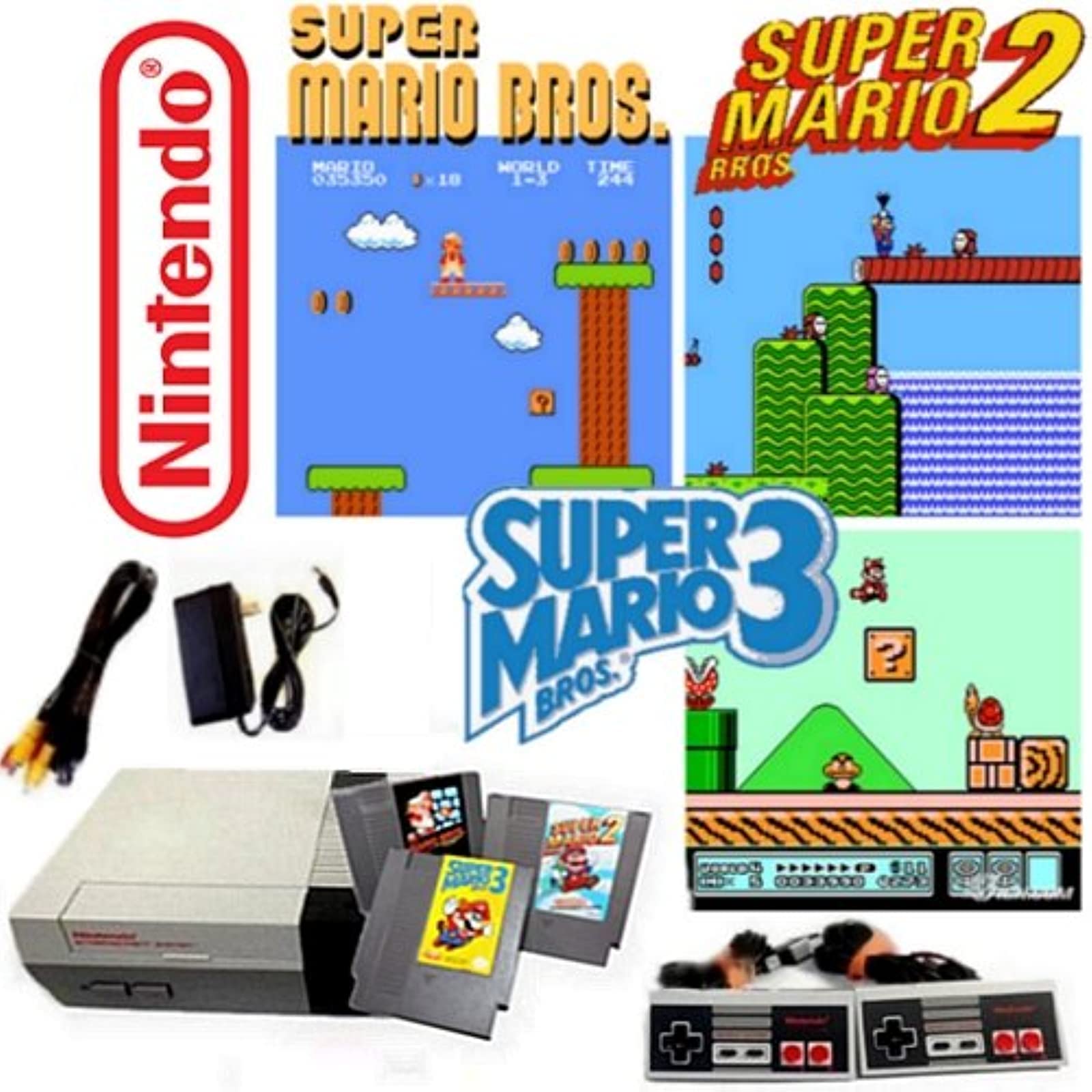 As an only son within a single parent family, owning a NES during from 1988-1991 was not a real possibility. My mom worked hard to keep me in a good school, under a roof, and well fed, but her salary wasn't enough to invest on a gaming machine. 
Still, renting movies at the local small town video shop was everyone's favorite weekend past time, and it would be during my Kindergarten days that we would go on a fateful warm Friday evening to our local video rental shop, and for the first time ever,  see a full shelf wall filled with NES and Sega Master games. 
I was immediately mesmerized. My mom saw it, and asked me, "do you want to rent one?" Of course, my answer was a resounding "Yes!" and my dear Mother obliged. 
I can't remember exactly how much it was (in terms of money paid) but my mom rented me a NES with Super Mario Bros./Duck Hunt, and a few light guns. We had it from Fridays to Sundays (we would return the system on Sundays after going to mass). This became a family tradition, every Friday – without fail – this would be our routine. It was magical, magical in a way that my son, and modern day kids will never get know.
There was no YouTube then, we had no cable television, our local station played Baywatch in the week days, and I can scarcely remember cartoons from those days. Booting up my rented NES and playing Super Mario Bros. (and sometimes Duckhunt, Zelda II, or The Teenage Mutant Ninja Turtles) was an experience like no other for little 5 year old me. I never went to Disney world, but I doubt Disney would have been better for me.  My favorite movies were Batman, Robocop, and The Teenage Mutant Ninja Turtles (and First Blood…yes I managed to watch it on the local station while my mom cooked in the kitchen!) Disney never appealed to me, but Nintendo did.
So, despite my everlasting love for Super Mario 64, it would be proper to say that Super Mario Bros. on the NES is the most influential game of my lifetime, as it was my first experience with a video game, and the game that got me into this Hobby/Therapeutic Escape/Semi-Career of mine.
Gaming has been there for me at different time periods of my life, and I am thankful for it.
Between Super Mario Bros.3 and Super Mario World…I would choose Super Mario Bros. 3 All Day Long
That heading could be controversial for some, but not for me. The days of me playing on a rented NES came to an end in 1991. My mom sold Shaklee products for a woman that I thought was "rich" during those days, as her sons had a NES system with like 20 different cartridges. She had just bought the SNES machine for them, and wanted to sell the NES – Light guns, and all cartridges included – she told my mom, and my mom saved enough money within a few weeks to get it for me.
One of the games included in the collection was Super Mario Bros. 3, and it was another seminal moment for me. The game would quickly become my favorite NES title, and it remains, my favorite 2-D Mario ever. I didn't play as much of Super Mario World on the SNES, and in turn, I actually became a bit of a Sonic fan until 1995…The year Nintendo showed us the first glimpse of Super Mario 64.
Super Mario 64, and the Nintendo 64 would turn me into a Super Mario fanatic…for the rest of my life.
Super Mario 64 is the One Game That Makes Me The Most Glad to Have Been a 1990s Kid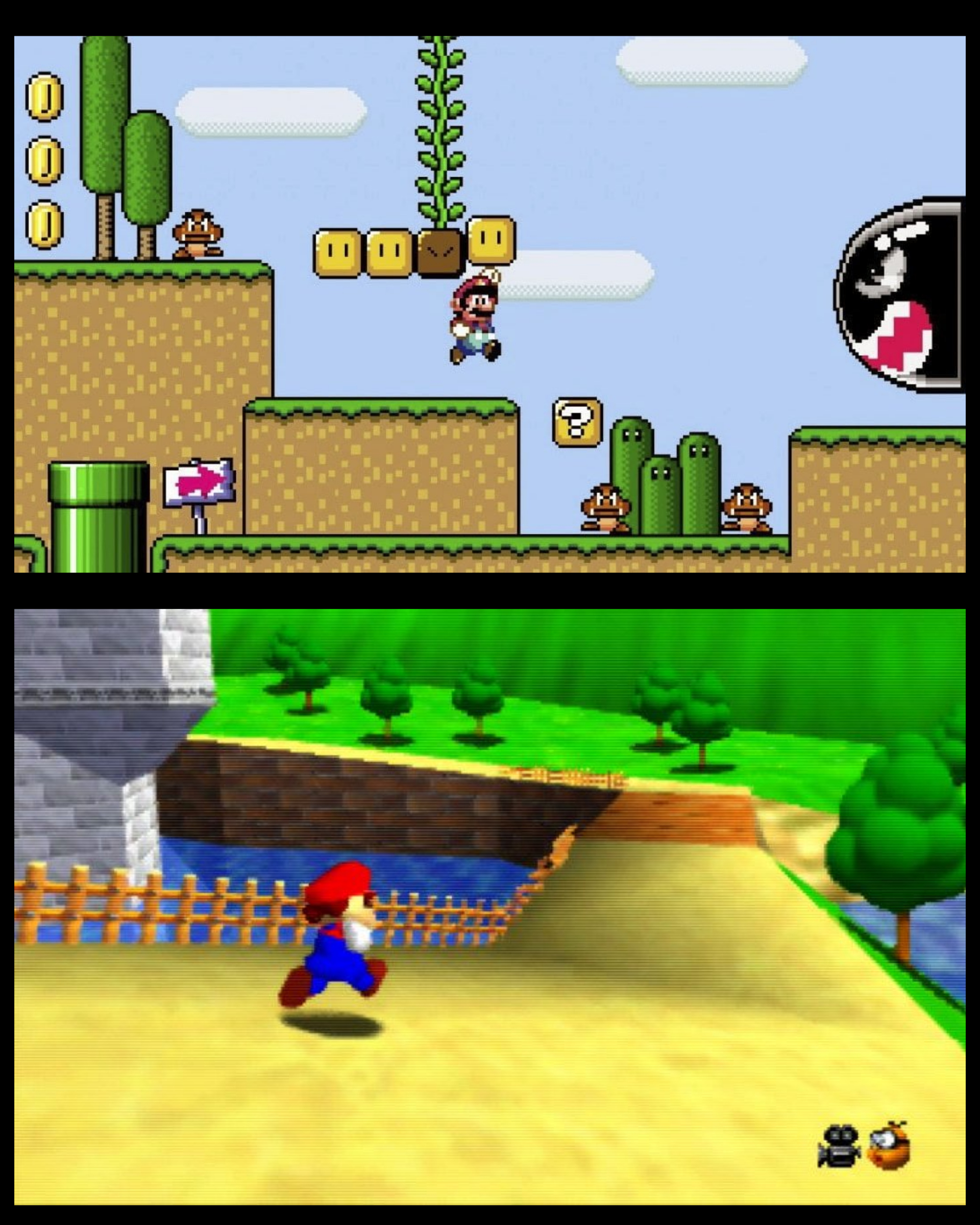 In 1995, I was 11 years old. I was old enough to have enjoyed the great 2-D platforming classics of the NES, SNES, and Genesis era, but young enough to be completely mesmerized by the first Magazine screenshots of Super Mario 64. It will be hard for younger gamers today to understand how massive, and magical the transition from 2-D gaming to 3-D gaming was. It is hard to explain in words because we haven't seen a leap as massive, and as impactful on gameplay, looks, and overall feel than the one that Super Mario 64, and the Nintendo 64 pioneered in 1996.
3-D gaming opened a door to a new dimension of gaming that some games on the SNES and Genesis hinted at being possible with their clever techniques (Star Fox anyone?). The PlayStation and the Sega Saturn had games that explored their respective 3D rendering capabilities as well, but no developer seemed to get 3-D "right". These games were usually unpolished, linear, and limited in what they allowed the gamer to do within their worlds.
I remember, before Super Mario 64, one of my earliest 3-D experiences was Descent. It was an impressive game for my 11 year old self, but you were confined to hallways, and pixelated 3-D graphics. Hence, Mario 64's early screenshots were magical for someone who had never seen anti-aliased 3-D graphics, and open 3-D worlds before.
Nothing on PlayStation, even Tomb Raider which was a monumental leap from anything done before on PC and on Sony's freshman system, compared favorably with the sandbox playground that Nintendo had crafted with Super Mario 64.
In late 1996, Super Mario 64 was the perfect video game, not just the perfect 3-D game, but pardon the repetitive nature of my statement…IT WAS the perfect video game.
Super Mario 64 transported me, mind and spirit, into a magical world where everything seemed possible, and where running around to every nook cranny of the game world always promised a reward of some sort. For the most part, said reward always awaited me. Even if it was just a glitch of some sort, or an unintended short cut to a power star.
The Nintendo 64 is my favorite home console ever. It remains the most powerful home console – at launch period – ever, and SM64 in 1996 was the best example of this. It was a game that looked, and performed, like no other video game ever had before. Some of my fondest childhood, and early teenage hood memories are tied to the N64 and Mario.
Fast Forward to 2023 and My 6-Year Old Son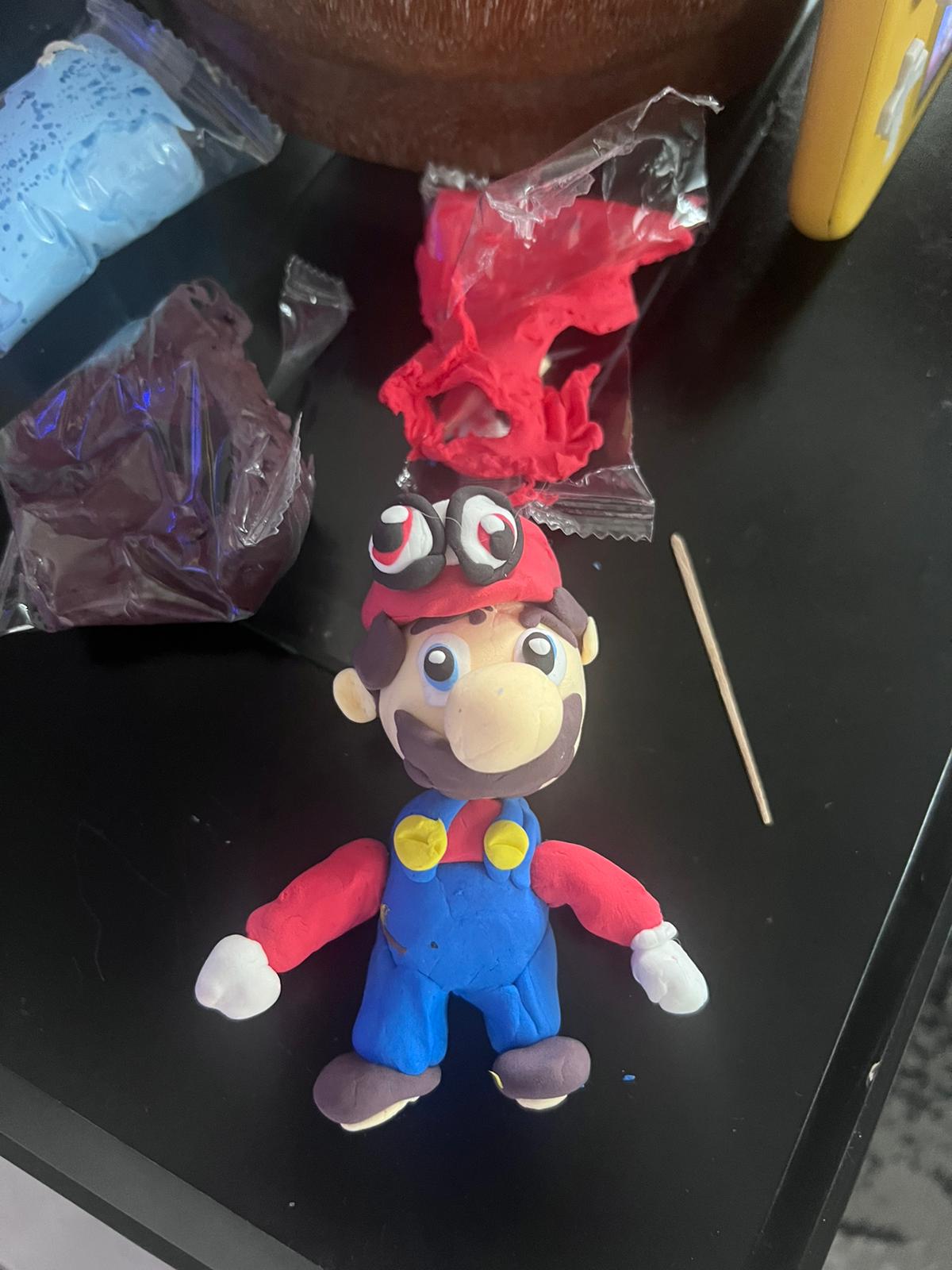 My son is exactly the kind of son that I always dreamed of having. Now, I know every parent- probably – feels this way about their son (or daughter), but I truly feel this way. He shares many of my same interests, and tastes. Let me explain, my son doesn't like modern music (which I think lately is absolute garbage as well), unless it is Rock (my favorite genre), and his favorite band remains Linkin Park (also one of my favorites). He likes 1990s music and has singed along with me some of the Backstreet Boys greatest hits!. He likes things that I liked such as Ghostbusters (including the original movie), Sonic, and Mario (we are working on Star Wars!).
Though I wish he was a little older so that I could play Gears of War with him, and other more 'mature' games. I was pleasantly surprised when he became quite the expert at playing Super Mario Odyssey. However, his love for 1996's Mario 64 would be what would surprise me the most.
We have beaten the game together, getting more than 70 stars over the past few months. You cannot image my joy, and nostalgia, at realizing that never in a million years – as a 12 year old – would I have thought that I would someday be playing Super Mario 64 with my son.   The person that did predict that this event would happen was my dear mother, who departed from this world in 2011.
I remember her – in the early 2000's – telling me to never sell my N64 (or my Mario 64 copy) so that my children could enjoy it with me someday. My mother would not live long enough to see her grandson, his wonderful works of art (he is quite the artist!), and much less her prediction of father and son playing Mario 64 together come to fruition. Still, wherever you are…you were right Mom! About everything!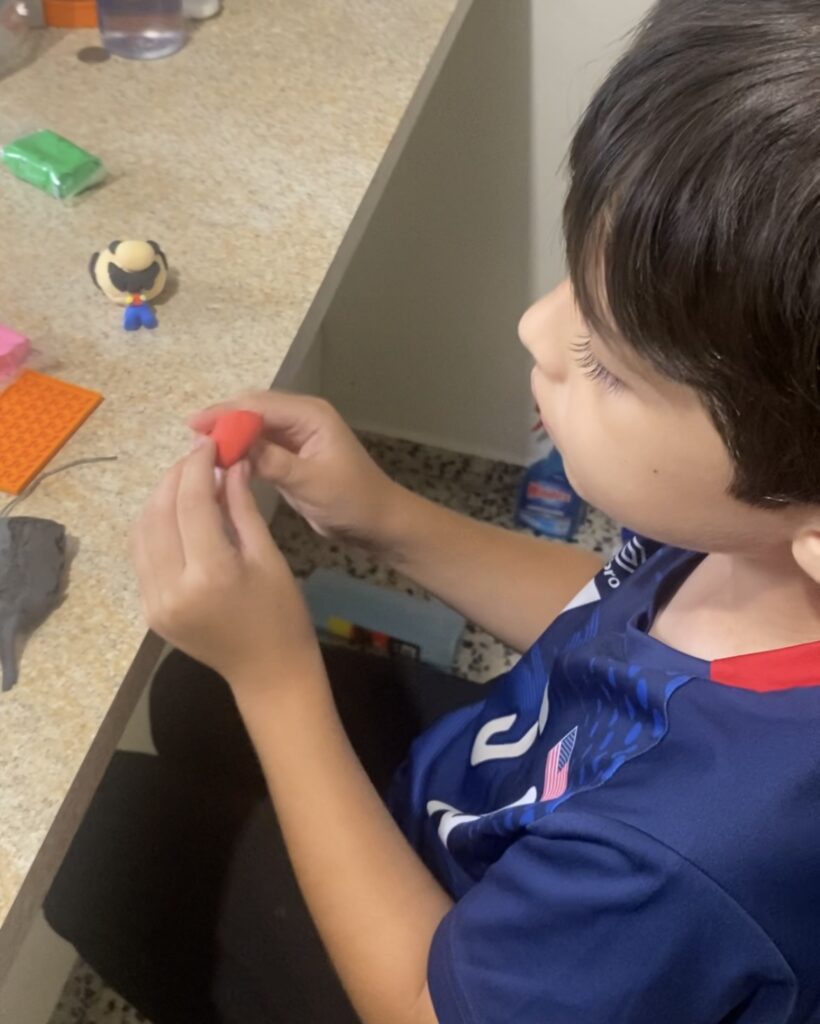 Just like my mother got me into playing Super Mario Bros. when I was my son's age, I have gotten my son in to loving Super Mario games on a different machine (the Nintendo Switch) which now hosts every Super Mario platforming game within its little screen. I hope Nintendo continues to thrive, and continues to be around the next 3 decades, so that my son gets the same chance – to pass down some Super Mario joy – to his own kids.
Who knows? Just like I think of my mother every time I see a Nintendo 64 console, or play one of its games, perhaps my son will think of me, when he plays a Super Mario game 30-40 years from now. I feel that games have that power.
Super Mario 64 Lives On…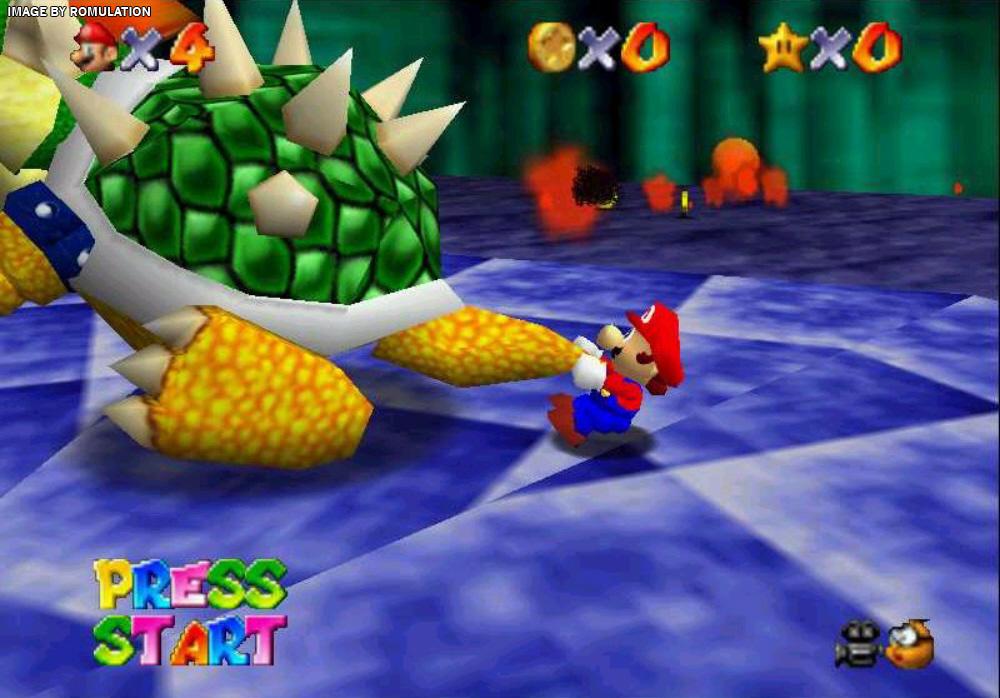 Super Mario 64 on the Nintendo Switch N64 app, doesn't control quite as well as it did on the N64 (this can be said for every other N64 game on the platform). However, it looks well in high definition, and with some hours of play, one can quickly adjust to the differences in the controls (mainly because the analog sticks are different) between the newer emulated version, and original N64 version.
Despite the camera angles being somewhat behind the times at this point, the camera is never as bad as it is on the more recent (Dreamcast) Sonic Adventure games, and it can be positioned at will by the player in order to find a 'workable' angle in nearly every situation. Despite the magnificence of the Super Mario Galaxy, and Odyssey titles, I still find Super Mario 64 to be the very best…I don't know why this is, perhaps it is the 1990s kid living within me, but I still can't get enough of Shigeru Miyamoto, and Nintendo EAD's revolutionary masterpiece!
Agree with the author? Couldn't disagree more and are frothing at the mouth to tell him? Leave a comment here, on Facebook or send an email and make sure to follow Never Ending Realm on Facebook, Twitter, and YouTube!