The Danish made Arcadia Fallen is a role-playing game, of sorts. Yes, I know I will be attacked by the 'If it doesn't have turn-based battles and statistical progression it is not a role-playing game" crew for that statement. However, my assertion holds true. Galdra Studios' Arcadia Fallen allowed me to role-play a fantasy character and shape the game's storyline through dialogue choices at nearly every turn. 
Arcadia Fallen reminded me more of my experience with online forums during the early 2000s where I could create and role-play my own written character into its larger storyline.  
If you are a fan of story driven JRPGs, I believe that you will find much to like in Arcadia Fallen. In terms of storyline, it is on par with most of the games that are out there. Arcadia Fallen is a role-playing game that focuses on story, not combat or exploration.
Aurally Competent
Not all of the novel's dialog is acted out which means that reading is a must. That said, whatever acting is present in the game is well done and on par with most modern AAA Role-Playing Games around. I found each voice actor's voice work appropriate for the character that they were casted for, and that's more than I can say for other games that I have played within the role-playing game genre.  
Music wise the game doesn't falter, but it doesn't impress either. This isn't a problem with the "game" itself, but rather a byproduct of Arcadia Fallen's visual novel template. The music is not here to provide a "cinematic" experience, but to serve as a companion to the reading experience.  
The music conveys the mood of the 'point and click' locales (scenes) that you visit and re-visit during the adventure. The compositions do a good job of not getting in the way of the reading, and dialogue pathways, while at the same time setting the proper mood for the scenes.   
Not Much to Play With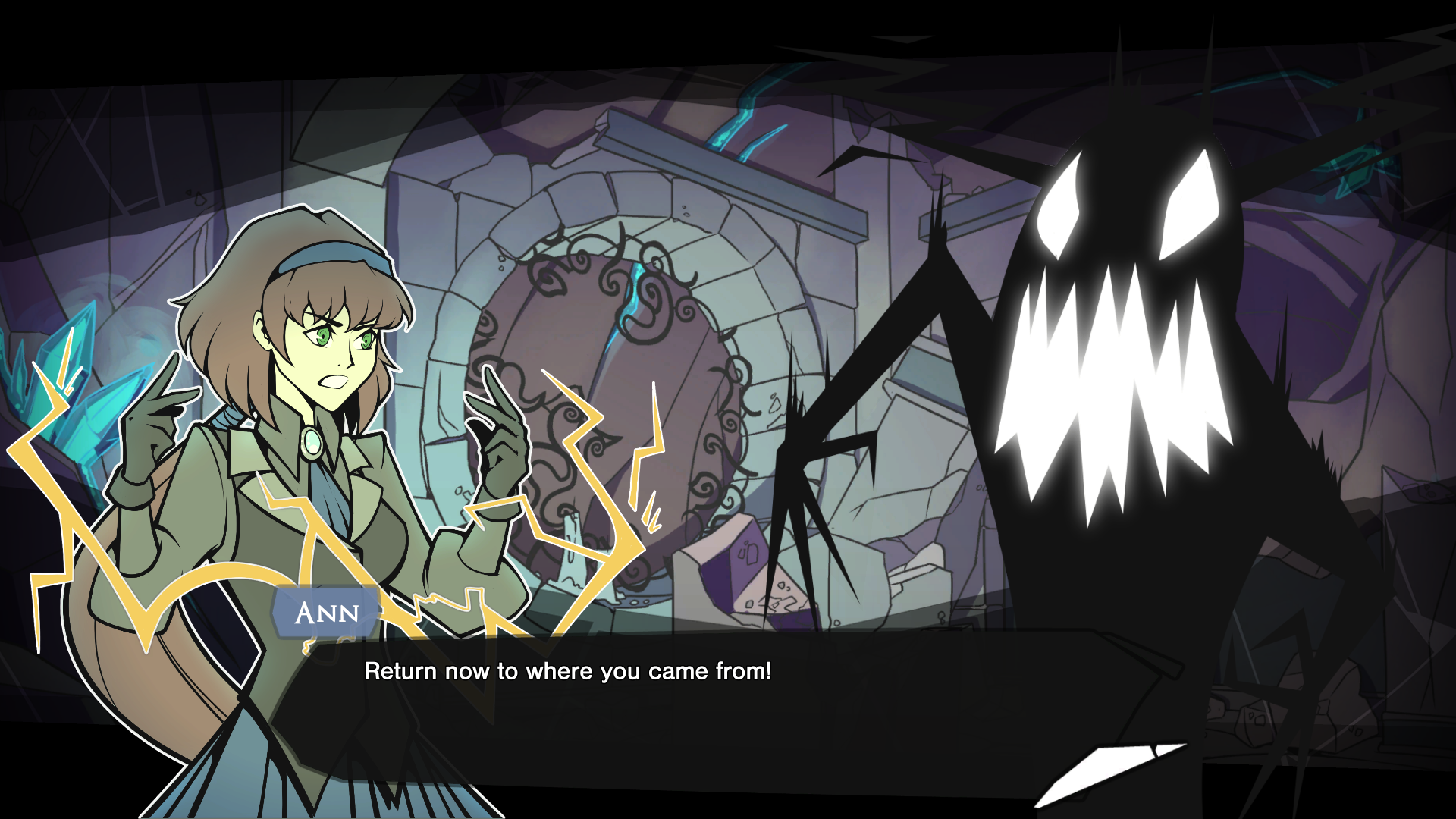 Arcadia Fallen allows players to create their own avatar. The character creation system isn't overly deep. You can choose your name, gender (he, she, they/them) etc. Hair color, physical build (male/female/androgynous) and voice (male/female) type.  
This isn't a 'playable' RPG where you tinker with every minute detail on your avatar, but Gildra (the developer) made a conscious effort to allow of inclusivity and to encourage gamers to feel comfortable with their avatar of choice.  
While you do have to follow simple instructions given to you by other characters, you are able to choose between dialogue choices in nearly every instance. Arcadia Fallen is role-playing game for the avid reader first and for the RPG gamer second.  
There is no pressure of having to master a combat system in order to progress through the game's storyline. You can make choices that change the course of the game's story, but apart from solving some clever matching puzzles (utilizing wheels and color patterns), and similar alchemy combinations, there is nothing else that will hinder your progress through the adventure. 
The matching puzzles are nice and get progressively trickier throughout the game. In truth, I kept looking forward to doing them as I made my way through the game's storyline which is the biggest attraction within this entertaining package, as opposed to its 'gameplay'.  
The alchemy equation of the puzzles involved more guesswork than I would have liked. Still, these puzzles were minor hindrances that did not affect my enjoyment of the story in a meaningful way. A total of 21 Alchemy Items can be crafted through this system, thus, for a visual novel, Arcadia Fallen's developers certainly took their time in designing the game's item crafting system.  
A Story of Magic, Relationships, and Choice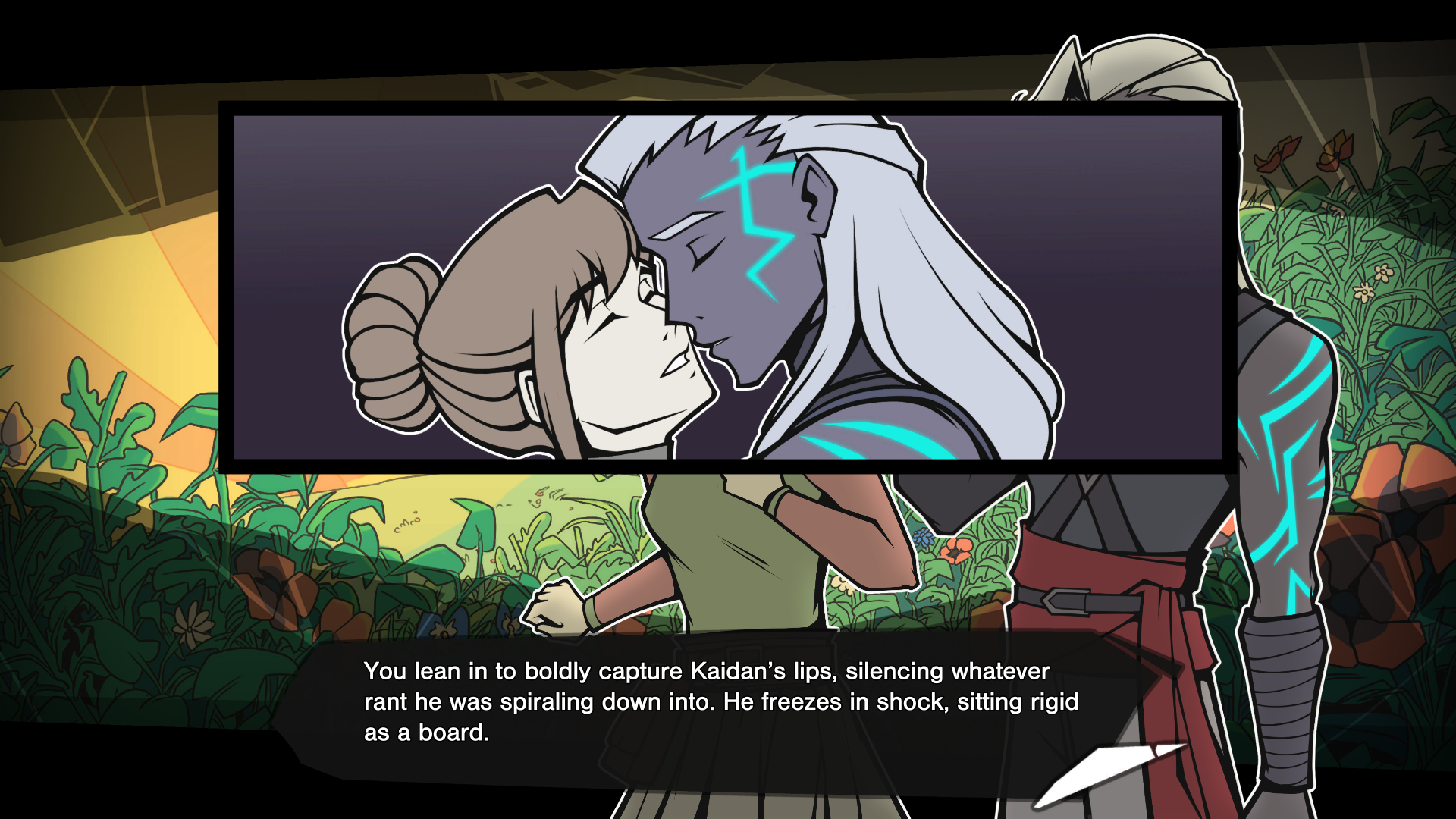 The storyline is the selling point here, as the game is a visual novel with role-playing elements. The role-playing elements include crafting your own character, choosing which path to take, and how to engage and romance the different characters within your party.  
Arcadia Fallen has you taking the role of a young alchemist apprentice, in a world where humans fear magic, magical artifacts, and people of science (and magic) such as the alchemist. These issues create an interesting atmosphere for our characters to deal with.  
While the start of the tale does not feature the most explosive of beginnings, Arcadia Fallen does a good job of slowly building its intensity with every new chapter. The story is clearly aimed at teenagers, but it carries the vibes of a Japanese role-playing game rather than a western one. The game's writers must have played plenty of JRPGs prior to making this visual novel/game, because that's the genre that Arcadia Fallen reminded me the most of in terms of its cast of characters and storytelling. 
The game used plenty of fantasy clichés like magical crystals, demons, evil spirits, dragons, knights, mages etc. Without spoiling much, the story is quite satisfying if you go into this piece of software with an open mind and modest expectations. 
Gameplay: 5.0
It is a visual novel. If you dislike reading, then I don't think Arcadia Fallen is the game/novel for you. However, if you liked old JRPG stories, are looking for a laid-back experience with a few puzzles mixed in with the dialogue choices, and reading scenes that are prevalent throughout the game, then Arcadia Fallen is a great choice.  
You do get to "point and click" where to go next in the storyline, at times, and this important in order to trigger story points. So yes, Arcadia Fallen feels like an RPG, but one that is devoid of combat and physical in game exploration.
Graphics: 8.0
It is a visual novel. The characters are well drawn and stylized. There is some anime influence in their design, but the game's artwork is distinct enough for me to say that Arcadia Fallen stands out from other titles on the E-Shop.  
The static background visuals that represent different locations in the world do a great job in setting the mood.
Again, it is a visual novel. Go in expecting "Final Fantasy" and you will be disappointed. Conversely, enter the game expecting a story book and you will find yourself immersed in its storyline and visuals. 
Music: 7.0
The music conveys the mood extremely well, and it never gets in the way of the reading or overall enjoyment of the storyline. The game's voice acting is AAA stuff for the most part, or at the very least on par with most English dubbed JRPGs.
Story: 8.0
Players accustomed to reading books and comics will have no issues diving into Arcadia Fallen's visual novel premise. Unlike the former literary mediums, Arcadia Fallen has role-playing elements. It can be classified as a game thanks to its puzzle solving instances, but the novel/game's biggest strength comes from allowing its readers to shape the game's story through constant dialogue branching paths that are well written and interesting.  
Arcadia Fallen doesn't have the strongest of storylines, but it did the job of keeping me interested in its tale for its 8–10-hour duration.  
Replay Value: 5.0
If you like the storyline, the game's plethora of choices in terms of dialogue will make it worth another "playthrough".  
Overall: 8.0
If Arcadia Fallen was a pure "game" the score would be somewhat lower, however, it is a visual novel with role-playing game components, and it does a good job at that.
I cannot say that I have ever experienced a similar game to this one. However, as I mentioned earlier, if you take any PlayStation era JRPG while eliminating combat and exploration from its experience, and add meaningful dialogue choices, you would get something very similar to what Arcadia Fallen accomplishes as a form of interactive entertainment.
For what it's worth, I had a good time with it, and I hope Galdra crafts another similar experience in the near future. 
Agree with the author? Couldn't disagree more and are frothing at the mouth to tell him? Leave a comment here, on Facebook or send an email and make sure to follow Never Ending Realm on Facebook, Twitter, and YouTube!