Editor's Note: This Cassette Beast review is based on the LoffterGame's video review.. The video review can be found here. 
Cassette Beasts Review – A Perfect Game for Any Pokemon Fan
Are you a fan of turn-based combat and monster collecting? Searching for a game that works when you install it, giving you a fully complete game? Then you are in luck because Cassette Beasts has all of that and more. If you are a Pokemon fan, then you will love this one!
Cassette Beasts is a refreshing take on the monster-collecting genre of gaming. Please don't make the mistake of seeing it as just a Pokemon clone at first glance. Yes, it may feature monster collection mechanics and a 2v2 battle system, but in almost every regard, it is better than Pokemon. Yes, I said it. Better!
So if you are looking for a drastically different experience, you have come to the right place because Cassette Beast is it! Below we will discuss everything you need to know about this game, from graphics, gameplay, and music, to how the battles all go down. 
The Graphics 
From a graphic standpoint, Cassette Beasts may seem very simple at first glance. You may assume that a pixel-style game can't have that much graphical complexity. This is only partially true. The game's art style looks excellent, and all the character portraits are unique. You can quickly tell most of the characters apart from each other based on their sprite. 
There is a surprisingly large scope of customization available for your character. You can quickly go from a big boy with a beard and glasses to a cute girl in a sundress by simply changing a few pieces of cosmetics here and there. It really takes work to wrap your head around how the game artists were able to make the sprites so individualized in just a few pixels.
As far as the monster designs are concerned, they can be hit or miss. Which admittedly is a bit disappointing.  Some monsters are incredibly creative and unique, such as cool takes on existing stereotypes like Yuki-Onna. Others are just plain weird and off-putting. Given the game's lore, all three descriptions make sense, but unfortunately, some designs are hard to get excited about. Other designs are so cool that you must have them. A big part of the game's charm is that its aesthetics can be tailored to most personalities due to its large variety of designs. A fusion mechanic also allows two monsters to combine into a single one, which we will detail later and is a critical part of the game. 
The Music
Music is such a huge part of the gaming experience, and Cassette Beast definitely does not let us down with its music. The music in this game is outstanding and reminds me of the soundtrack from the show RWBY. You get your first real taste of it at the central hub in the game, Harbourtown. There's a lovely peaceful track playing that relaxes you. However, when you walk into a building, the lyrics kick in. Any time you enter the building, the somber lyrical, laid-back music sends you into a euphoric relaxation. It helps you mentally recover before heading back out to explore more of the island. This is a taste that the full game offers.
Much like the graphics, the music alters drastically when you fuse. Every battle theme in the game has lyrics, but they only get sung by uniting with your chosen partner. This completely changed the atmosphere and intensity of any battle, including even a mundane encounter with a generic monster on the beach. The game uses the lyrics to reward you for fusing! That music ramps the fight with the game's many bosses up to eleven. After only two or three of them, you'll be belting the lyrics along with newcomer Shelby Harvey. This woman has some pipes on her! Just thinking about these songs gets me a little emotional. Cassette Beasts may be her first work, and I hope to hear more from her soon. Like Undertale or Persona 5, you will want to listen to the soundtrack long after you watch the credits roll.
The Gameplay
There are two distinct sections in the gameplay of Cassette Beast: exploration and battling. 
Exploration 
The exploration in this game is top-notch. It brings back sweet memories of Monster Sanctuary, having to capture certain monsters to gain their abilities for overworld exploration. The first is the ability to glide, which you gain automatically as part of the tutorial. As the game progresses, you can dash through rocks, climb walls, double jump, and swim, among other things. This slowly opens up more of the map as you go, and there are ways an experimental player can sequence and break several parts of the game. These are most likely intentional, as the game includes built-in speed-running options. 
Throughout the game, you will find random puzzles that open up treasures. This reminds me a lot of Genshin Impact or Breath of the Wild. The treasures range from materials needed to buy goods in town to common or rare stickers, which are this game's version of moves. Let me tell you, seeing a locked chest immediately sends the player into a frenzy, looking for a switch or trick to open it and get the goods. They usually only take 30 seconds to solve and are excellent mental refreshers from battling and exploring. Since the treasure chests are mostly randomized, it can lead to an exceptional endorphin hit when you pop one open and see different colored text indicating a rare sticker!
The second part of exploration in Cassette Beasts is the questing system. The game checks your level, and then the NPCs in town will give you a "rumor." This rumor points you to content you have the numbers to deal with. It could be a vampire hideout, a newly discovered subway tunnel, or even the next captain on your next mission to join the Rangers. 
You will always have a quest marker telling you where to go for your next big throwdown. The quest marker is vital due to the size of the map. While you won't get lost, knowing where to go next can be more challenging for some less apparent missions. An example is in locating the optional partner quests. Important to note is that these quests offer substantial monetary and experience rewards. They are always worth taking the time to do. 
Combat
Combat in Cassette Beasts can include 2v1, 2v2, 2v3, or even horde battles pitting you and your chosen partner against up to six enemies. You and your partner can equip any monster cassette tape to turn into. Each will have its own moveset or move stickers. Stickers can range from elemental attacks to buffs, shields, debuffs, passives, and others. 
An entire novel could be written on this aspect of the game. For example, a monster can have an auto-cast ability to "multi-target." This turns any attack into an area of effect attack. A partner's monster equipped with the ability to auto-cast at the beginning of a battle would guarantee the monster the ability to land its next attack. This allows the ability to shred any random encounter on turn one by unleashing a low-accuracy powerful single-target attack on the enemy team. So many combinations are possible to give yourself a combat advantage or downright break the game. This merely scratches the surface and is just a taste of what the game offers. 
Each monster in Cassette Beast can have a "bootleg" version of itself. Each has a base typing but can appear as any other type via this bootleg. Due to this, you can get an Astral Traffikrab or a water-type Bulletin. Not only does this very cool mechanic affect stickers, but it also affects fusions. Near the beginning of the game, you get a random bootleg for free via an NPC. Any time you see a glitchy avatar indicating a bootleg exists, the excitement is akin to finding a shiny in Pokemon! What makes these bootlegs even better is that they affect gameplay.
Where the game truly shines is in its developer-added AI algorithms. There are 120 monsters in base Cassette Beasts, and any two monsters in the game can fuse together. During combat, a  fusion meter with your partner fills by giving or receiving damage. Once full, you can fuse into a super-powered monster, combining the moves and stats of both. Besides combining moves and stats, any active buffs or debuffs are also integrated. Using AI, the game generates a combined form and name for the monster. This mechanic is the best way to defeat the game's bosses and other challenges. It is absolutely vital to master. 
You can time your fusions and get a head start in combat by fusing individual monsters after they buff themselves. The resulting monster will have those buffs and be able to take its turn without spending two of them buffing. This is a very smart strategy. 
The combinations and strategies are limited only by your imagination. I highly recommended experimenting with the game's combat system instead of trying to optimize your team using Google. Team building is like creating your own unique piece of art. It quickly becomes one of Cassette Beasts' shining features. 
The Downsides 
There is a downside to all this incredible AI implementation, most noticeably at end-game. There are no accuracy or damage modifiers, so type matchups don't matter for the most part. You will inevitably find a super-powerful setup and use that with more or less reckless abandon for the remainder of the game. 
Plastic versus fire is the exception. This is because hitting a fire monster with a plastic move increases the monster's evasion. It is incredibly obnoxious. In the last two hours of the game, I found myself fusing two specific monsters together and spamming one specific move repeatedly. Although this feature was noticed, the game's core charm remained. Overall, it is worth mentioning in an otherwise glowing review of Cassette Beasts. 
Overall Impression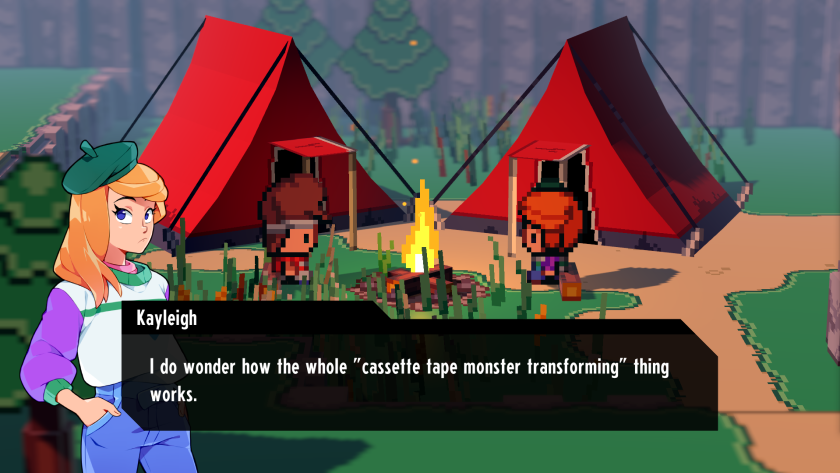 Cassette Beasts is a really stellar game for $20. As a player, you can tell how much heart they put into it. It is a game of pure passion and love, and those qualities bleed out of every rock, tree, and cliff. Each monster is meticulously designed, and every playthrough is always different due to the random, seeded nature of the game. 
Once you have finished the game, many features unlock and make the game incredibly replayable. These features include a speed-running mode and a Nuzlocke mode. In this mode, you can randomize all the creatures in the game and where they appear. There is also a permadeath setting. With an initial playthrough of 27 hours, Cassette Beasts is suitable for at least 2-5 playthroughs if you have the time.  
Overall Score: 8/10
Agree with the author? Couldn't disagree more and are frothing at the mouth to tell him? Leave a comment here, on Facebook or send an email and make sure to follow Never Ending Realm on Facebook, Twitter, and YouTube!