Deus Ex is one of the greatest first-person role-playing games I have ever experienced. The game made me love the futuristic, cyberpunk aesthetic. Its freedom of choice is legendary, and it offers a top-of-the-line story. Though the title is from the year 2000, Deus Ex is a strong competitor for the greatest FPS RPG ever created.
With that said, in my most recent playthrough I utilized the Give Me Deus Ex mod. This mod not only updates the games textures, UI, and sound design, but also expands upon the game's RPG systems. Many believe GMDX to be the best mod for Deus Ex—something I completely agree with. While I love the original, GMDX's RPG mechanics feel more refined. Furthermore, it maintains the original story and level design. Most of this review pertains to the original Deus Ex as well as GMDX; however, I will note when discussing the mod specifically.
Deus Ex's Story and Setting are Exceptional
Based in the year 2052, the world of Deus Ex is a dystopian nightmare. Besides severe economic inequality, everyday people must also be weary of the spreading "Gray Death," a plague that is ravaging the world. There is a temporary cure for the virus via "Ambrosia," but supply is limited, and the substance is only distributed to a select few. Some average citizens who have heard of it believe it to be a mere rumor.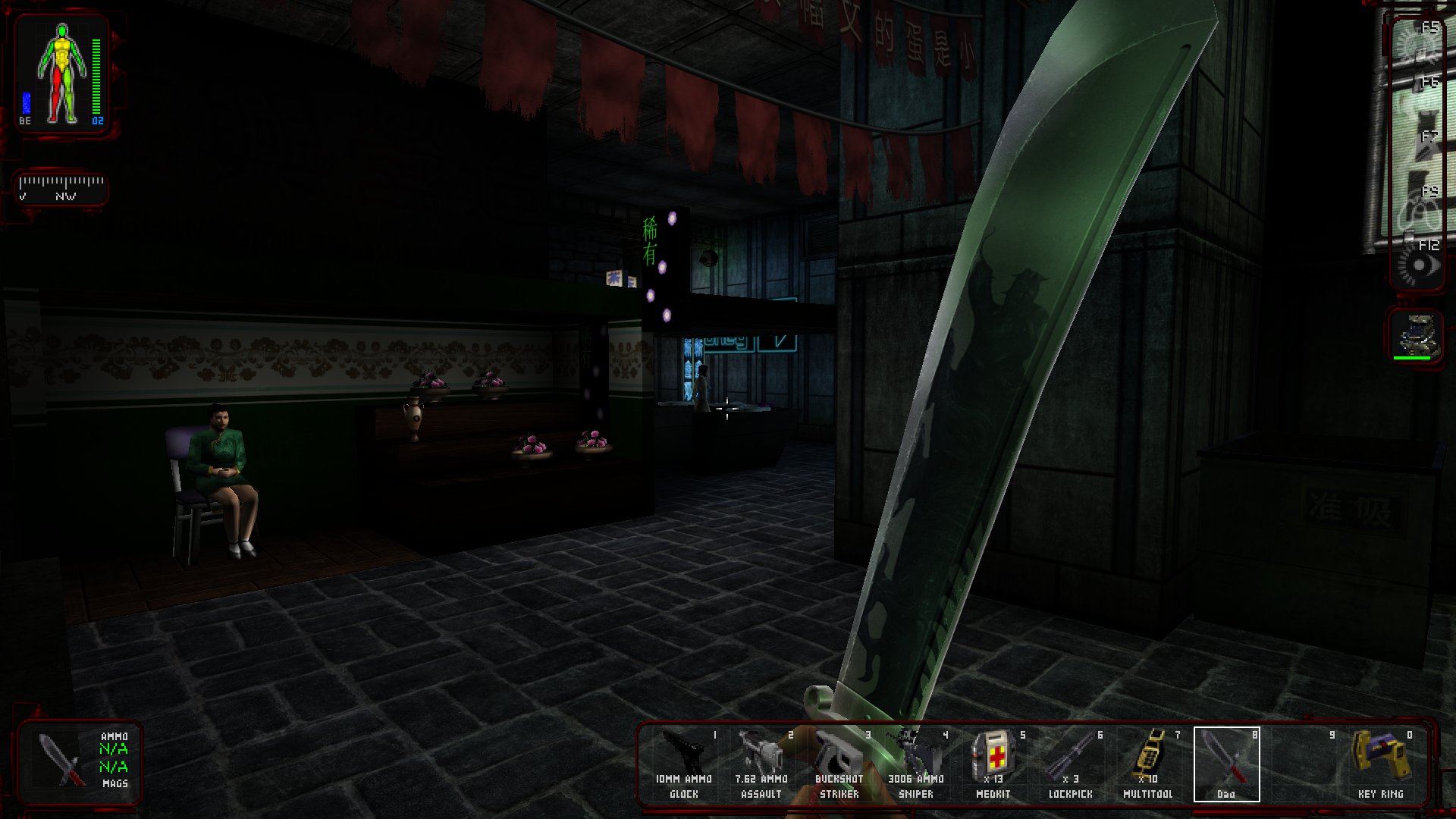 You play as JC Denton, an agent of the United Nations Anti-Terrorist Coalition (UNATCO). JC is "augmented" with some of the most advanced nanotechnology available. Your work revolves around stopping terrorist activities, but you soon realize you may be on the wrong side of the fence. Your first mission is to stop a group of terrorists who have stolen a shipment of Ambrosia and are hiding out on Liberty Island. This mission sets off a chain of events that will lead you into a world of conspiracy and shadow organizations bent on world domination.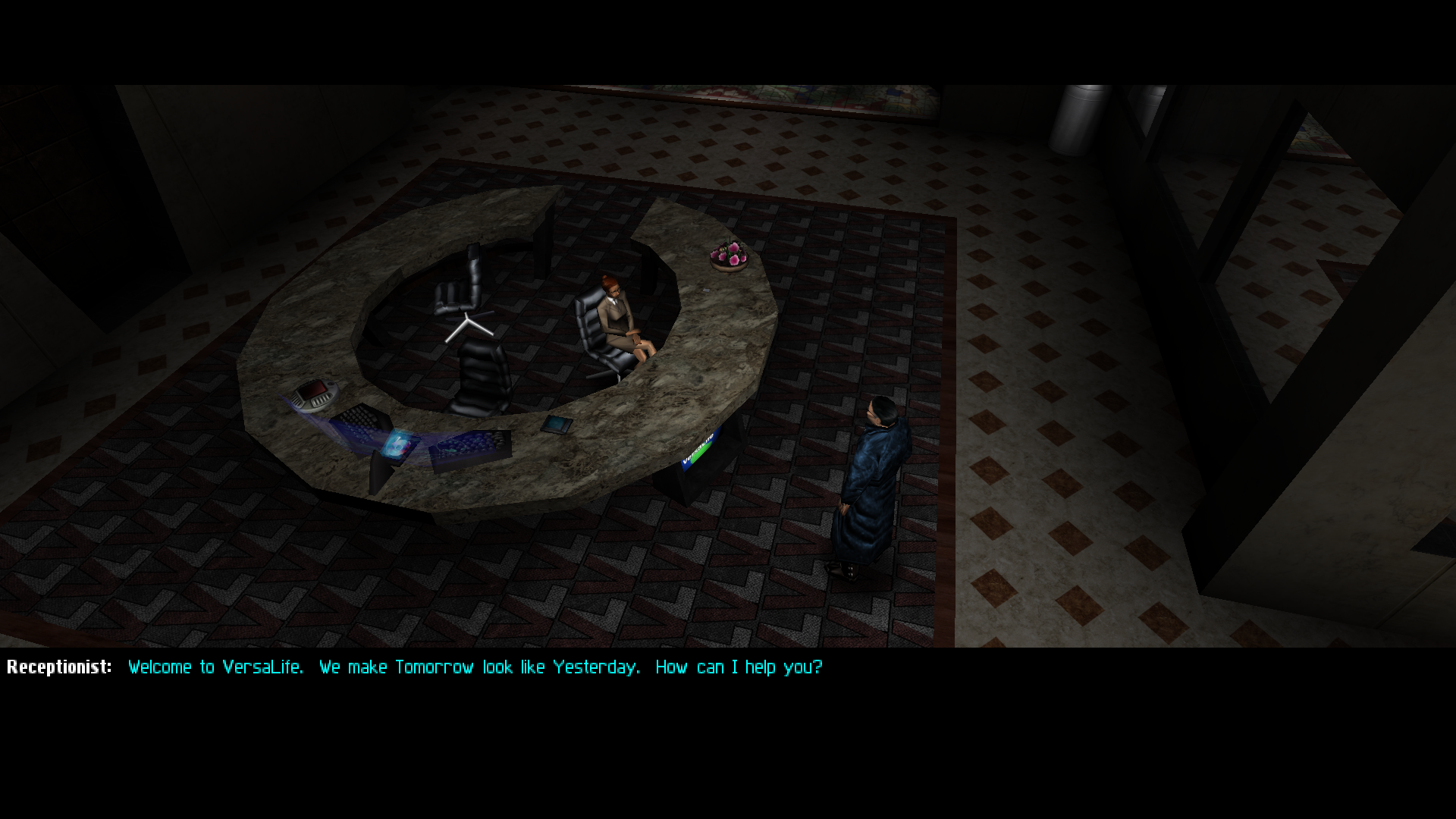 Deus Ex's story is filled with mystery and revelations that make it an incredibly engaging title. Its worldbuilding is fantastic and some of the best I have ever seen in game form, and also realistic enough to be a future that could very well occur in our own world.
Deus Ex Allows the Player Considerable Freedom
Deus Ex has significant gameplay variety. Players can utilize stealth to bypass guards, hack computers for door codes, or decimate enemies with firepower superiority. There are many ways to play, similar to an Elder Scroll title, but in a more linear style.
The main way to empower JC is to located weapon upgrades, spend experience points on skills, and install augmentations. These upgrades work together to make JC a much more powerful and capable individual.
Deus Ex boasts a variety of weapon choices. Besides standard small arms, such as shotguns and pistols, there are plasma weapons, grenades, and several of melee weapons. Furthermore, many of these weapons can be upgraded. A silencer can be added to a sniper rifle, making it a stealthy long-distance tool or by adding a laser site to a pistol, significantly improving close-range engagements. Weapon augmentations also include recoil reduction and magazine extensions among others.
There are many skills to level such as: demolition, lockpicking, medicine, various weapon proficiencies, and more. Leveling a weapon proficiency makes the corresponding weapon more accurate and damaging. Leveling a utility skill like lockpicking reduces the number of lockpicks required to open doors and containers. The GMDX mod expands upon this by modifying some of the skills and allowing the player to purchase perks with experience points. This system was originally bland; therefore, the improvements are greatly welcome.
One of the most interesting ways to strengthen JC are the augmentations. These augments provide powerful and unique abilities. Such abilities include superhuman strength, ballistic protection, and cloaking. I especially loved the speed enhancement augmentation, allowing the player to run at high speed and jump almost twice his/her own height. GMDX expands upon augmentation by adding different augment options.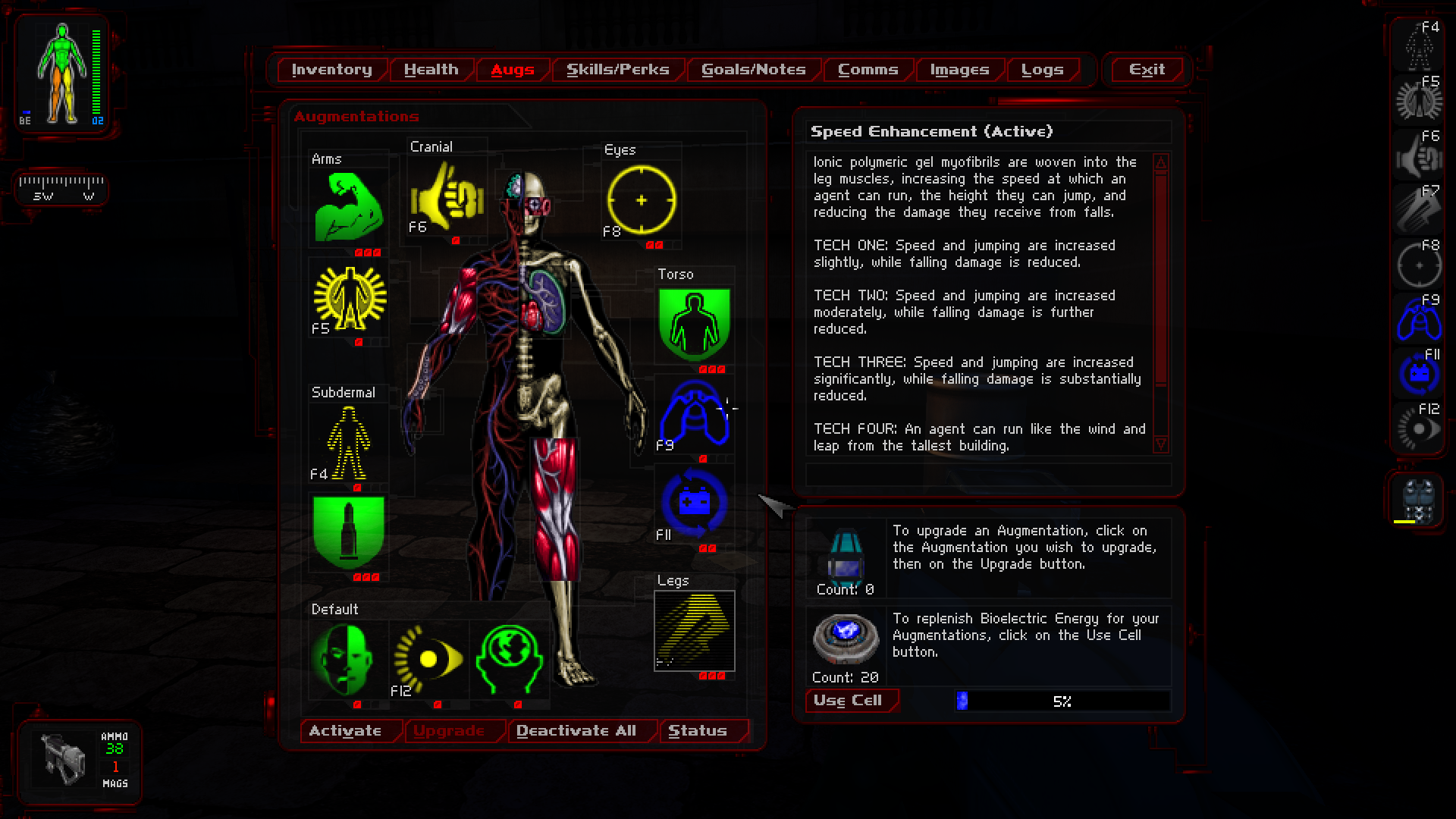 All these aspects are individually simplistic; however, when combined, allow the player to create a unique character, customizing JC to their personal playstyle.
Your Actions Matter in Deus Ex
One aspect of Deus Ex I thoroughly enjoyed was the characters' reactions to the player's choices. For example, in one mission I decided to use lethal weapons after running out of tranquilizer darts for my mini-crossbow. This resulted in most of the opposition dying. After finishing my mission and traveling back to base, I was met with praise by some of my bloodthirsty UNATCO colleagues. They not only commended my combat skill, but believed I was completely justified in my actions. On the other hand, there were members questioning if the blood I shed was necessary, considering non-lethal tactics and equipment were readily available.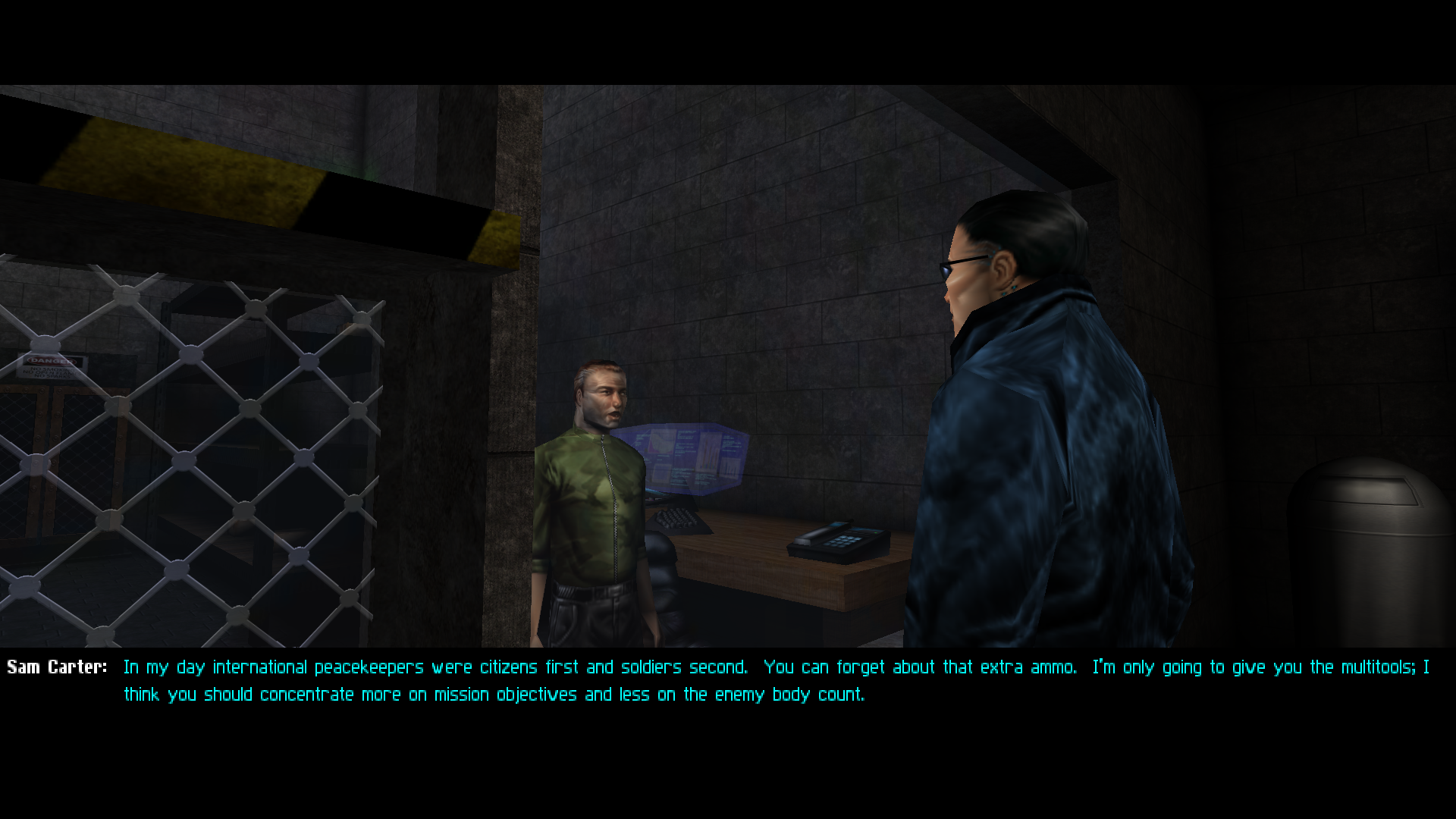 These interactions and pieces of dialogue not only add personality to those you meet, but can also make you question your own playstyle. Is acting like nanite augmented Rambo the best option when you have the power to be merciful?
Conclusion
Deus Ex is a title I love. It combines an awesome story, RPG elements, and an immersive first-person perspective. The original Deus Ex easily receives a 9/10, but the GMDX mod earns a perfect 10/10 with its improvements to the title's RPG mechanics and its visual aspects.
If you are interested in other first-person RPGs, check out this review on Oblivion.
Agree with the author? Couldn't disagree more and are frothing at the mouth to tell him? Leave a comment here, on Facebook or send an email and make sure to follow Never Ending Realm on Facebook, Twitter, and YouTube!