Editor's Note: This Octopath Traveler 2 review is a transcript of LoffterGame's video review of the game. LoffterGames is an external contributor to Never Ending Realm, and not one of our official game reviewers. His video review has been attached to this article. We recommend you take a peek at his awesome work!
Octopath Traveler II takes everything that made the first game interesting and unique, and dialed it up to 11. It is by no means a perfect game, as it takes a few too many homages from previous games in the genre, specifically retro rpgs. There are things that I praised Chained Echoes for that could have absolutely benefited the Octopath franchise by a LOT. Given the sales of OT2, it looks like they will have a chance to correct them in part 3.
Octopath Traveler is an interesting franchise because it has Final Fantasy-esque elements while still being something new. It gives the vibe that SQUARE ENIX is using two franchises to satiate us turn-based combat lovers while Final Fantasy continues to go completely off the rails into the realm of the action genre. These franchises are Bravely Default which is 3 games deep, and Octopath Traveler which is 2 games and a mobile game. For those of us who have been disappointed with the direction the FF franchise seems to be taking, it may be time to accept that it won't be returning to its roots anytime soon.
TURN BASED COMBAT
So, Let's start off by talking about what I think the game does well. First, I would like to say that the combat is phenomenal! It absolutely smacks of Shin Megami Tensei, and you know I am always down for that, but it also has this pairing of Final Fantasy X. It functions on the now staple of modern turn-based RPGs, the turn order bar. At the top of the screen, you can see who is going in what order for that turn. The turn order can be manually manipulated with abilities, and sometimes it will change based on the enemy state. For instance, if you BREAK an enemy, once they recover they are guaranteed to get their turn first. What is breaking? Glad you asked! This is where the game has a lot in common with the SMT Franchise.
Every enemy has a set of unknown weaknesses at the start of combat. Through trial and error (or scanning) you will discover their weaknesses, which remove a Shield. After removing all of an enemy's shields which varies in amount based on the opponent, they become stunned for 1-2 turns (Depending on if they had a move already during the turn you broke them). This creates a combat system that prevents you from  (or punishes you for) overly relying on auto-attack, unless you vastly overpower your enemies. The game also rewards you for combat efficiency. Every encounter becomes a unique puzzle to figure out how to succeed, given your chosen party configuration.
As far as weaknesses, there are multiple weapon and elemental weaknesses for you to exploit, as well as Target-all attacks with those weapons and sometimes even multi-hits to ensure you remove multiple shields in a single turn. Of course, that's just getting into the base-line skills for classes. Ochette can have multiple monsters she's captured to exploit both weapon and elemental weaknesses. Hikari can beat up townspeople to learn their skills and thus gain access to weapon attacks beyond what he has equipped. Some characters can recruit townspeople who, in addition to having their own weapons, can sometimes FAR outpower any of your party members. THEN, on top of all of that, everyone can equip a secondary job which gives them access to even more skills and attack types. Honestly, it's kind of nuts. OT2 is about breaking the game as much as you possibly can. Boss battles mix things up a bit by alternating weaknesses, summoning mobbs that can block their weaknesses for them, and they usually have some sort of super attack that is projected one turn in advance that will force you to guard at worst, or break them asap at best.
In addition, every character has a "Latent Power" that fills up over the course of combat and gives access to super attacks of one form or another. The final major mechanic is the BP system which may remind you of Bravely Default, but rather than allowing for multiple actions, every skill in the game can be powered up in some way by expending BP. Expending BP (up to 3) can increase the damage of attacks, the duration of buffs/debuffs, or increase the effects of healing. There's also mixing items as an apothecary, buying off enemies or hiring mercenaries as the merchant, and just a billion other things you can do in combat.
Once you have access to all 8 travelers the combinations areendless. Especially since using a combination of gear and abilities you can customize a traveler to do specific things, as each piece of gear usually has a strength and a weakness. One axe might have a crapton of damage but -50 accuracy, while another one has a good mix of physical attack and elemental damage, and another one still has ok attack power but gives you +20 speed. Again, endless combinations.
STORYLINES THAT ARE WORTH PLAYING
When you first pick your character, you have to follow a set path for their quests. This is how it is for all chapter 1s in the game, should you choose to do them. However, as soon as you leave your starting area you realize that "oh gods, this is an open world!" At that point, the game can immediately be daunting. Luckily, any time you approach a screen transition the game shows you the name of the area and the "Danger level" (Basically, what level the baddies are). This keeps you from wandering into some insanely high leveled beast that will slaughter your entire party. While you are an adult and can do whatever you want with your life, I highly recommend getting all 8 characters and playing their stories as holy CRAP they are all AWESOME.
Part of the problem with OT1 was that it felt so disconnected. No one appeared in each other's cut scenes, and none of the story lines were especially gripping. That is NOT the case in this game. Only the merchant story MIGHT be considered "Boring", and even then he's so goddamn charming with his southern accent and complete and total wholesomeness that you'll love it just for him.
Tedious Side Questing System
And now we arrive at my first big critisism of the game. Storylines progress one level at a time and they always tell you EXACTLY where to go and what level the quest is. It's cozy and delightful but the side quests are not so kind.
When you get to a town you will see a bunch of orange stars on your map which indicate someone will give you a side quest. Obtaining them and completing them gives some honestly tangible and fantastic rewards (unlike games like Xenoblade Chronicles and that ilk). The problem is they are SO OBTUSE. A fantastic example is the sick girl you encounter. Her quest line basically involves you checking off her bucket list to give her a reason to live. You get the list, but that's all the game tells you. She wants a crepe, she wants to read a book, and she wants to meet a famous florist. Where do you get the crepe? Who has the book? Where is this florist? GOOD FREAKING LUCK FINDING THEM. You have to talk to every NPC to find out who they are or what they do.
There are no quest markers. There are no indicators. If you want to complete these quests, you are going to have to earn it the old fashioned way. Or use a guide. Xenoblade Chronicals 3 at leasts gives you quest markers to go on, but Octopath Travelers says "Screw you, I'm about to be a 100 hour game." As a streamer who shamelessly plugs his own channels during his review of the game, I found it to be a daunting venture to do the side quests on stream.
I don't mind talking to important looking NPCs in RPGs for info and lore, but every single goddamn character in this game has SOMETHING. Something to steal. Interesting information, Maybe you pay them 5 thousand dollars and they reveal a hidden item. It is honestly insane how important and alive this game is. It is both a strength and a weakness. Even the children have stuff to steal. The random NPC at the back of the tavern might be an 8 star difficulty battle that Hikari can learn an amazing skill from. Half the game is spent robbing, mugging, beating up, bribing, and talking to NPCs. When someone says the game is a hundred hours long understand that, without a guide, 35+ hours of that is literally talking to NPCs. Unless you have infinite time.. Use a guide.
The last thing I want to mention is the character interactions. There's not much of them, but there are more than the first game. The thing you have to understand is that this is Octopath Traveler, not Octopath Friendsies. When Hikari's story starts upon entering a town, he's going off and doing his own thing. Mechanically, yes, your party is there to make the game more fun and interesting, but as far as the plot is concerned he's off doing his own thing. Everyone is just traveling together, that's it. There are new storylines called "Crossed Paths" that involve 2 Travelers teaming up for quests, but even then it is easy to forget that it's JUST those two characters together for the sake of the story, despite all 4 of them being in combat.  It can be really, really jarring if you don't set this knowledge into your mind and keep it there, but this game does set a hard line between game mechanics and story. As I mentioned previously, every storyline is a banger; from detective priest to dancy-mc-gimmeyourstuff.
In Summary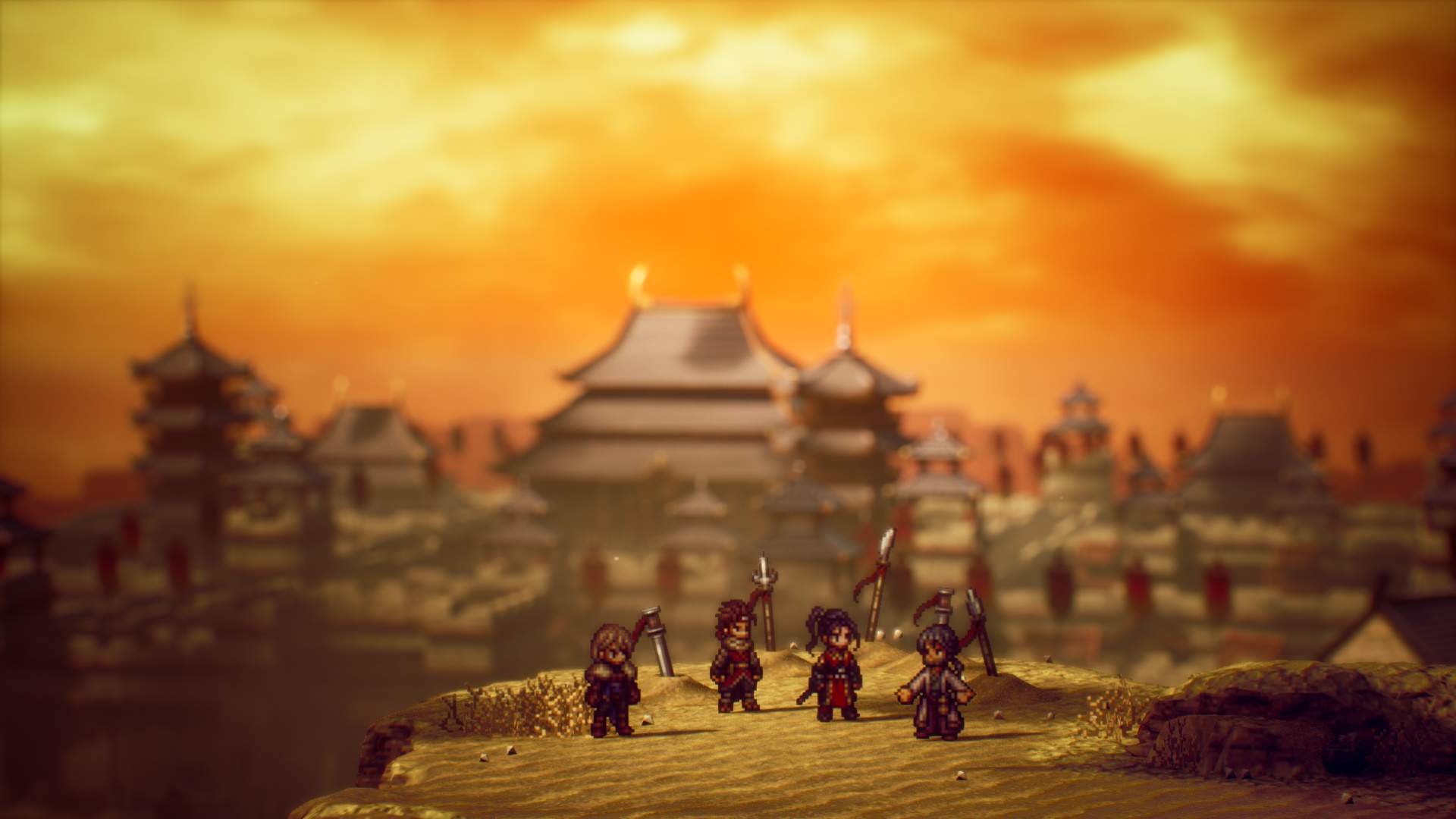 Those are my most noteworthy thoughts on this game. Other, less noteworthy things would be
The music. It's good, but none of it stands out so much I feel the need to name specific songs.
The voice acting. You can actively tell when Agnea is getting upset because her southern accent comes out and as a born and raised Southerner who hates his own accent, that shits RELATABLE.
The exploration isn't super intense, a couple of 'off-the-beatin' path trails that are generally obvious and lead to treasures. You'll also come across areas that have huge level requirements that you will want to make note of for future plundering. It's a great game with some tolerable flaws.
The sprite work is honestly next level, the amount of emotion and detail they can convey using this pixel artstyle is pretty astounding.
My final thoughts are that I highly recommend it, even if you did not like the first game. But seriously, use a guide.
Final Score: 8.5/10
Agree with the author? Couldn't disagree more and are frothing at the mouth to tell him? Leave a comment here, on Facebook or send an email and make sure to follow Never Ending Realm on Facebook, Twitter, and YouTube!