Playing Tenchu: Stealth Assassin's a few weeks ago reminded me of an exceptional ninja game originally released on the Sega Genesis, Shinobi III: Return of the Ninja Master.  Though I had not played it in a while, I recalled Shinobi III having some excellent sprite work and entertaining side-scroller gameplay.
After recently replaying Shinobi III, I discovered there were far more reasons why I loved this hack and slash, platforming classic. Along with a reason to hate it. Note, this game has been rereleased in a multitude of game collections for various consoles and is even on Steam for only 99 cents—you do not have to play on a Genesis to experience both the highs and lows of this game.
Shinobi III has Wonderful Side-Scroller Combat
Shinobi III's side-scrolling combat is fun and deeper than meets the eye. The player has a variety of weapons and abilities at their disposal to defeat foes. He or she can throw kunai which kill most basic enemies in a single hit or can get in close for a powerful sword slash. Most of the time, the player will be utilizing the kunai because it is safer; however, kunai are a limited resource and must be replenished from pickups scattered throughout each level.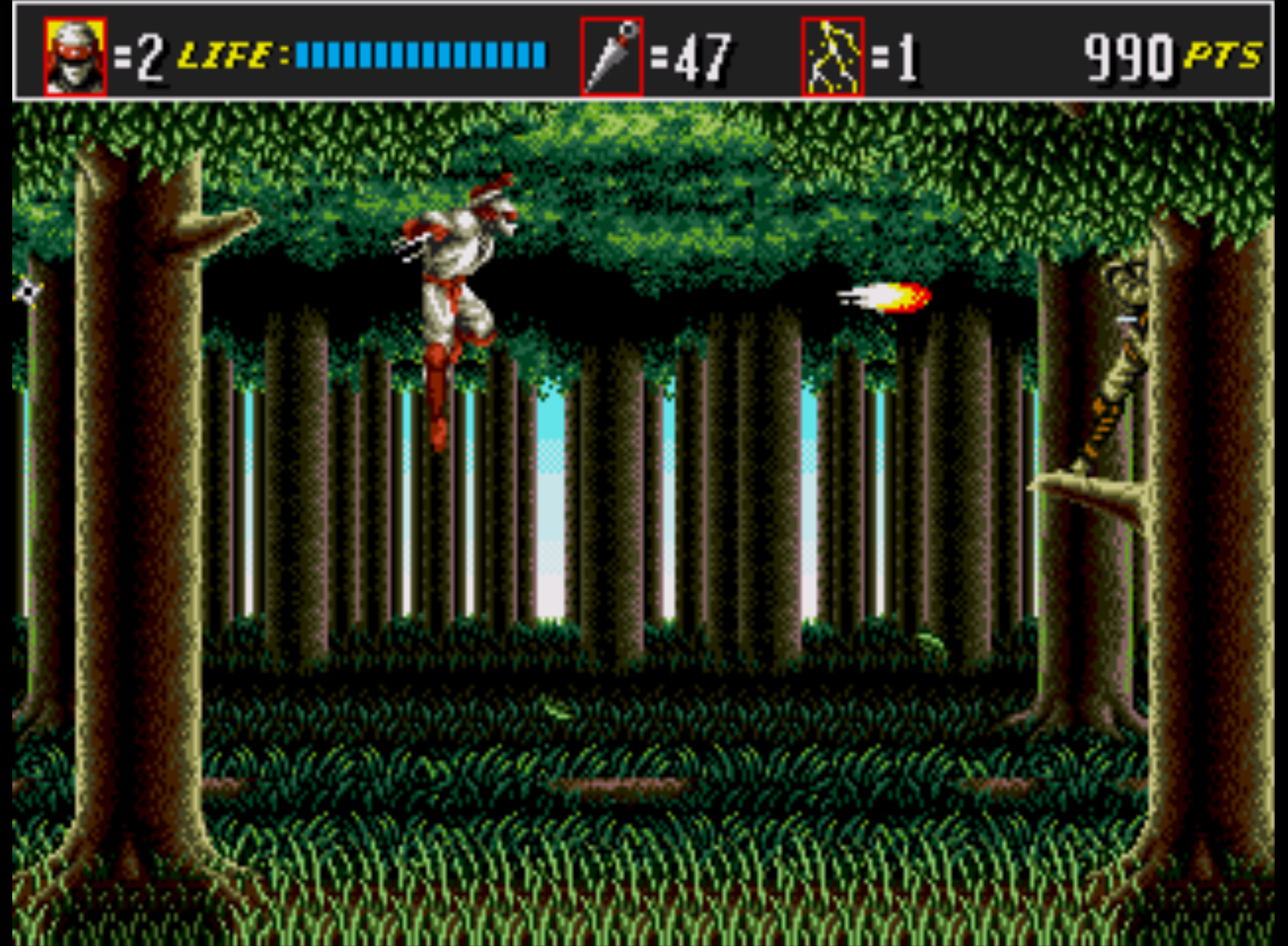 The player is also provided a sprint and a sprinting sword swipe. The sprint attack is considerably useful against enemies who shield themselves from throwables and is a nice way to conserve kunai for boss fights.
Initially, I thought the game's dive kick was slightly useless and believed attacking with kunai at range was the best possible strategy—I was quite wrong. Later levels add more verticality with enemies underneath the player. The dive kick deals with these enemies swiftly and with moderate safety, making it a valuable technique in one's arsenal. I also found it invaluable in some of the game's boss fights.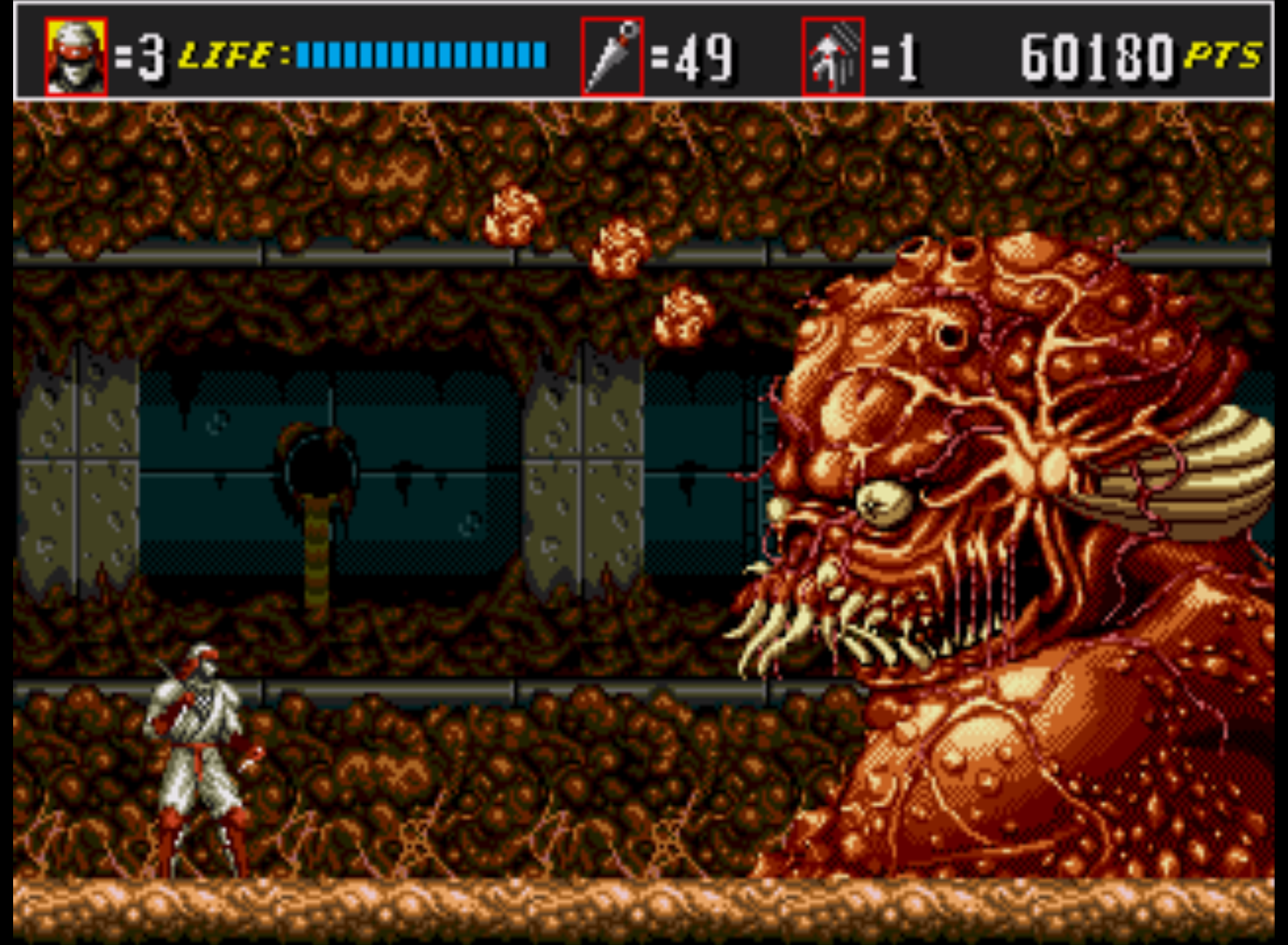 Possibly the most important abilities in the ninja's kit are the ninjitsu. Ninjitsu are special abilities with limited uses. They can help significantly in boss fights and when traversing dangerous level areas. There are four in total: Ikazuchi, Kariu, Fushin, and Mijin.
Ikazuchi creates an electrical barrier around the player that protects them from several ranged and melee attacks. It is the best ninjitsu in my opinion. Fushin creates after images of the player when they move. From what I can tell, this only increases jump height; however, it was vital in keeping me alive in one of the many boss fights. Kariu creates a torrent of flames across the screen that damages enemies. The final ninjitsu, Mijin, is an interesting ability. It deals damage to enemies on screen, but instead of taking ninjitsu, it consumes the players' lives.
Overall, combat is very enjoyable and one of the games strongest features. I felt as though most boss fights were fair and not too difficult. I only really struggled on two of them, one being the final boss and the other a Mechagodzilla clone.
Platforming in Shinobi III is Abysmal
The most difficult and worst executed part of this game is its platforming. The first half of Shinobi III has little platforming. Most of these early levels have obvious and easily avoidable pitfalls and traps. The main use of double jumping, wall jumping, and ceiling climbing is to find hidden pickups such as extra lives and health as well as dodge telegraphed boss attacks.
Platforming becomes far more common in later levels with some levels almost completely comprised of it. Most gaps and traps in these levels require the player to double jump many times in a row to avoid falling to their death.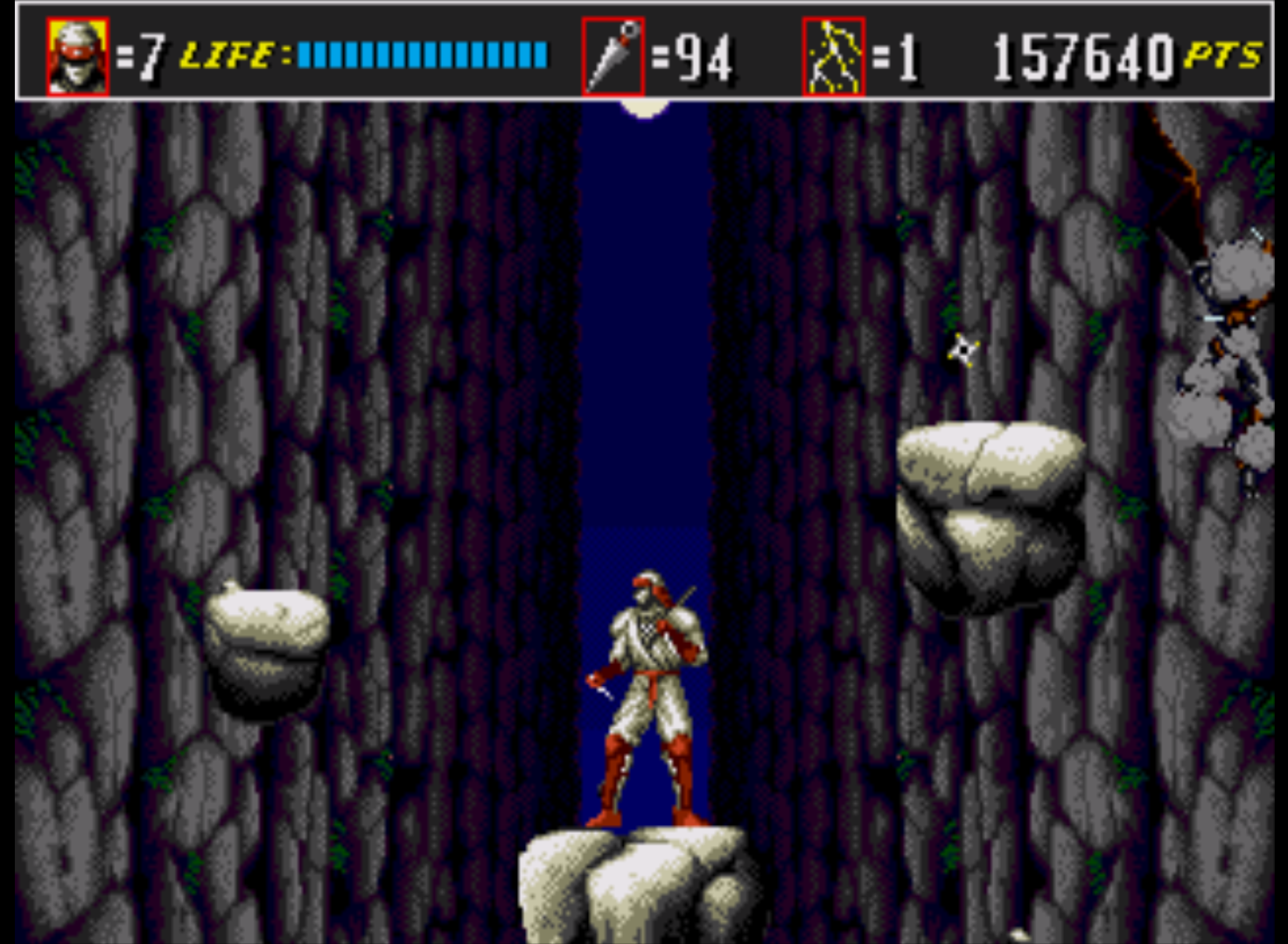 For me, double jumping was incredibly finicky. Instead of simply pressing the jump button twice, it requires the player to be at the apex of their jump after holding the jump button for its full effect. Even then, it seemed as though the second jump activated inconsistently. I found myself blowing through continues on my pitfall jumping failures.
If the large sections of instant-death pits and traps would have been exchanged for more enemies and more difficult fights, I would have found this game to be near perfect.
Enemies and Artwork
The enemies and locales in Shinobi III are top tier. At one point you will be fighting hostile ninjas and at another fighting a horde of leaping rabbit-like mutant brain creatures. The enemies are highly detailed and appropriately placed. The locations in the game are also quite diverse, ranging from dimly lit biotech labs to misty ninja-filled lairs.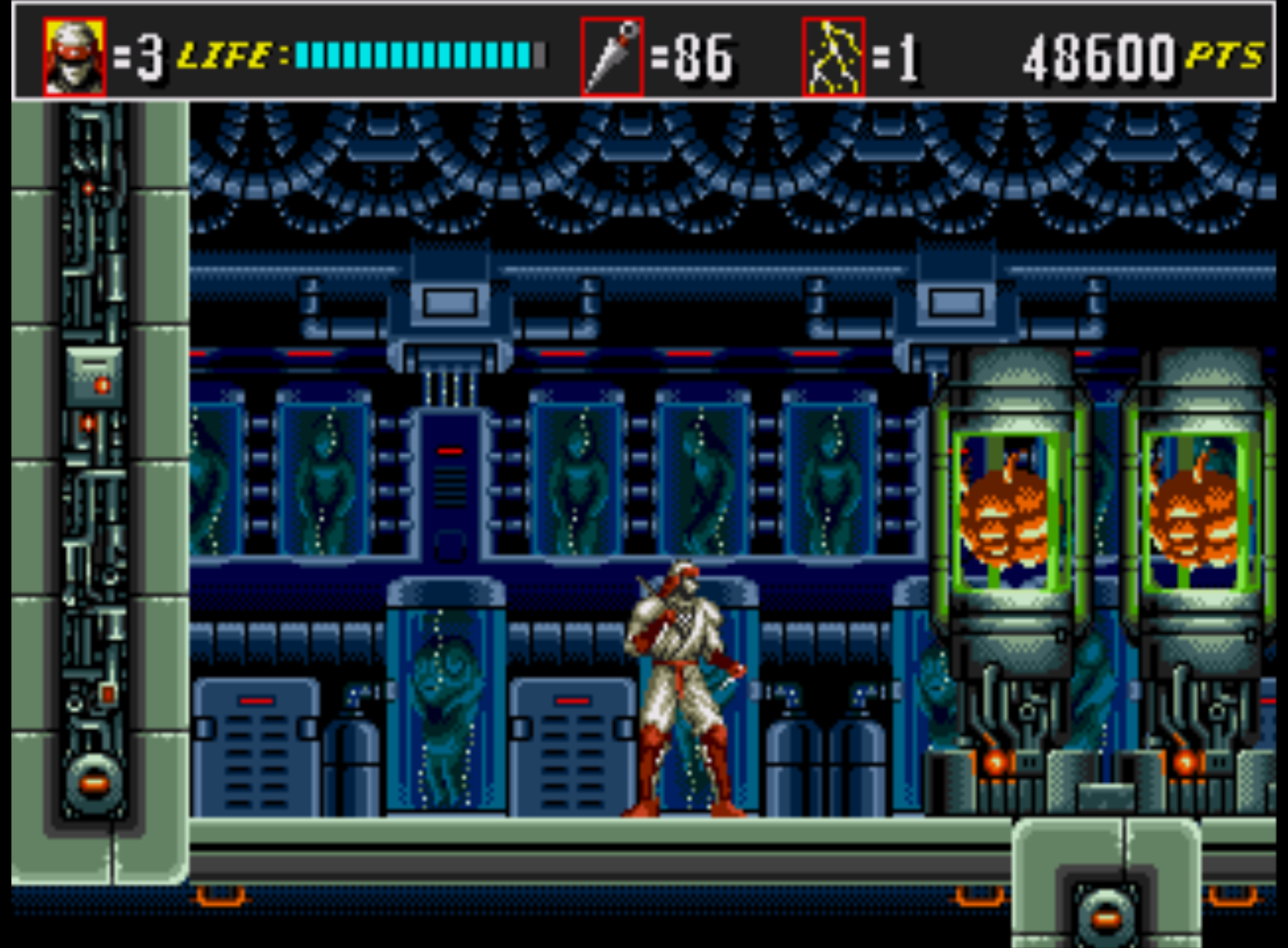 I was slightly surprised, but enticed, by how many science fiction enemies and locations there are in Shinobi III. They added considerable variety to the game. Some of these monstrosities and destinations could easily fit into the world of a Metroid title, a big plus in my opinion.
Shinobi III's first half is excellent. It is some of the most fun I have had in a hack and slash side-scroller. If the game's second half adhered to the same style and forwent the painful platforming and pitfalls, I would have easily given it a near perfect score. Sadly, the poor platforming and cheap deaths reduce it to a 7/10.
Agree with the author? Couldn't disagree more and are frothing at the mouth to tell him? Leave a comment here, on Facebook or send an email and make sure to follow Never Ending Realm on Facebook, Twitter, and YouTube!