When I think of fast-paced arcade shooters, the Contra series comes to my mind as games within this genre that I played during my younger days. Furyion Games' new trailer for their upcoming (2022) fast paced arcade shooter, Death Carnival, reminded of the legendary series, only that it looks faster, more hectic, and modernly pleasing, in terms of visuals.
Death Carnival Will Be Available on a Wide Array of Platforms
While no specific date has been given for the game's release, Furyion Games is targeting a 2022 release, and it seems that all home consoles, as well as PC, Stadia, and Mobile platforms will receive a version of the game. It is unclear whether the Nintendo Switch will receive a version, but I have to assume that it will, as this seems to be the type of genre that would translate fantastically to Nintendo's little hybrid portable/home console.
That said, the possibility of such a fast shooter on current generation hardware (XSX, PS5) is a tantalizing prospect, indeed.
A Multiplayer Fest, but A Solid Premise Will Make Death Carnival a Satisfying Solo Experience
While the game is meant to be played as a co-op, and PvP adventure, Death Carnival will feature a single player mode to keep gamers interested in competing with themselves, and exploring the game's interesting post apocalyptic setting.
The game is set in the future, with in a world broken by war where the last bastions of humanity are found in a few over populated cities. Given the state of the world, bloodsports are the all of the rage (in terms of entertainment) and Death Carnival is the biggest spectacle of them all, as it pits men against hordes of enemies and machines "for fame and fortune on live TV".
Death Carnival was developed with both, hardcore and casual players in mind. Hardcore gamers will find a deep, complex beast to master in the game's fast pace gameplay, but beginners will find an accessible game that they will enjoy while honing their own skills with increased play time:
We wanted to create something that had the depth of first-person shooters, ramped up freedom of movement, and translated to a style of gameplay that was extremely easy to pick up and play. Whether you're a casual player, or a top competitive gamer, the easy controls and game mechanics will feel intuitive. – Herbert Yung, Director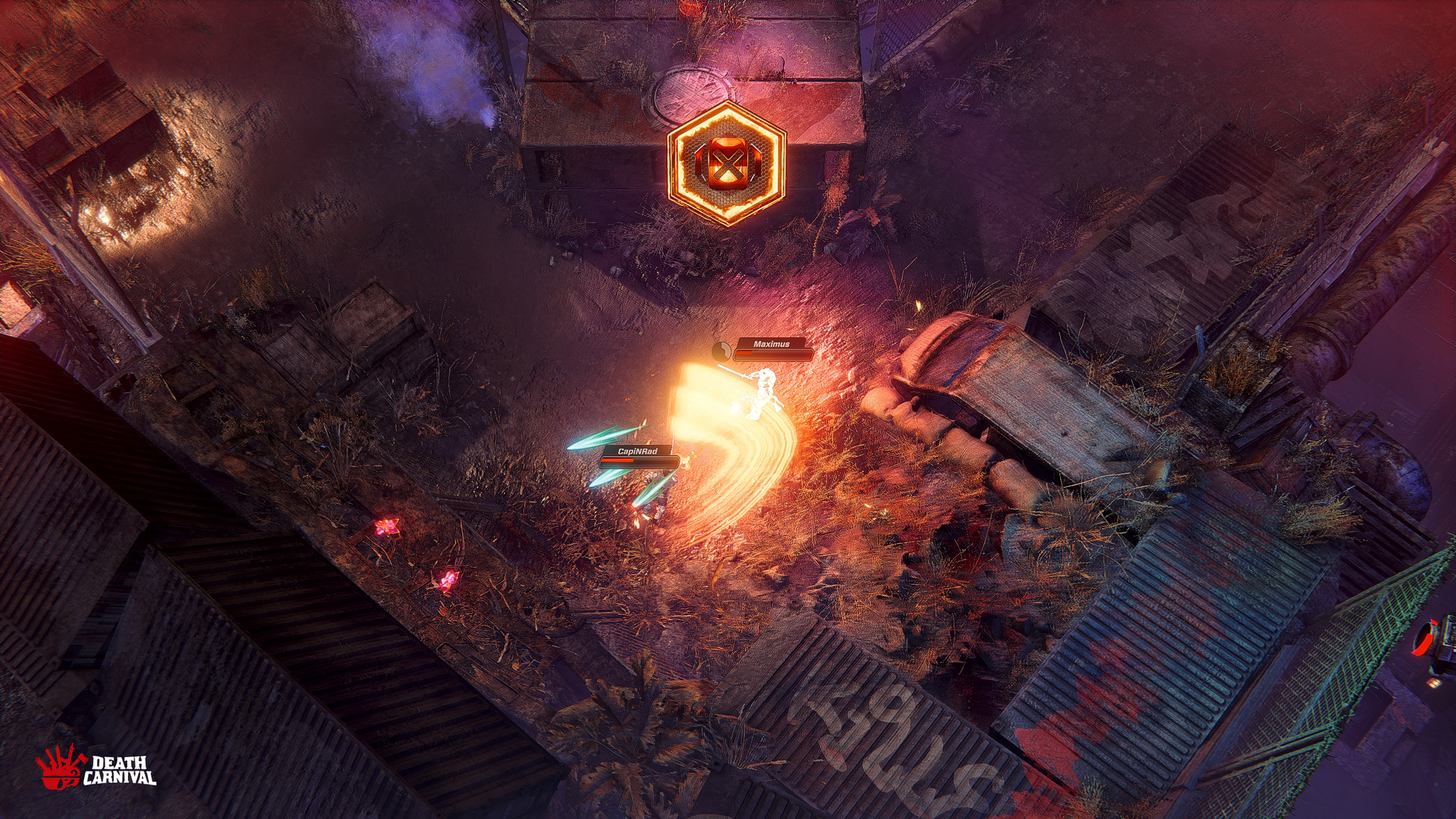 Death Carnival promises to deliver the following the features:
Multiple exciting PvP game modes

Easy arcade-style controls with fast-paced combat

10+ characters and classes to choose from

Weapon Socket System to customize weapons with collected loot

Story campaign solo or 4 players couch/online co-op

Spanning multiple worlds and arenas

Giant boss fights and plenty of endgame replay

Cross-platform, cross-progression, will be available on most platforms
Death Carnival Arrives Next Year
If you like Arcade shooters, Death Carnival is seems like a passionate, and innovative product by an indie developer that loves and has experience with the genre. Shooters like this one can turn into an addictive hobby, and with online co-0p, and cross-platform features Furyion Games is hoping that Death Carnival becomes one of the "go to" games for gamers looking for a fast paced arcade shooter.
As mentioned before, no specific release date has been given save for a "2022" target release year. We will keep our readers up to date as more information arrives.
Agree with the author? Couldn't disagree more and are frothing at the mouth to tell him? Leave a comment here, on Facebook or send an email and make sure to follow Never Ending Realm on Facebook, Twitter, and YouTube!