Yes, really. KFC, the fast-food restaurant chain, has made a new gaming console not only capable of playing video games but also able to keep your chicken warm. It's a combined, genuine effort between KFC Gaming, Cooler Master, Intel, Asus, and Seagate. There is no word yet on where you can buy it or how much it will cost, but it is going to exist, presumably in 2021.
The Specs and Capabilities of the KFConsole
Bethania Palma and Alex Kasprak on Snopes even confirmed this is true You can check out the KFConsole on the official Cooler Master Technology page. Built by Cooler Master with a team led by Swedish craftsman "Timpelay", the KFConsole is built out of a custom Cooler Master NC100 chassis with an Intel Nuc 9 Extreme Compute Element. The storage is covered by two Seagate® BarraCuda® 1TB SSD drives. There are even a swappable GPU slot and Asus-powered graphics. The system has VR capabilities and ray tracing. Video games can be experienced on the KFConsole on 4k with 240Hz output at 240fps.
The natural heat and airflow system allows the console to keep your chicken warm as well, so you can keep your food at the ready while gaming. KFC is quoted as saying: "The Bargain Bucket-shaped machine features the world's first built in chicken chamber, which is kitted out to keep its contents hot, ready for consumption during intense gaming sessions."
In an official press release, Mark Cheevers, PR & Social Media Lead at KFC UK & Ireland, added: "Moving forward from our initial teaser campaign earlier this year, we're so pleased to finally give the fans exactly what they wanted; making the KFConsole a reality… We all know the console war is vicious, but we're very confident in the KFConsole as our flagship entry. This machine is capable of running games at top-level specs, all on top of keeping your meal warm for you to enjoy during your gaming experience… what's not to like? If Sony or Microsoft want any tips on how to engineer a chicken chamber for their efforts next time, they'd be welcome to get in touch." Tough words from a fast-food company making video games taking on the new Xbox and PlayStation consoles… I love it.
KFC's Awesome Marketing Strategies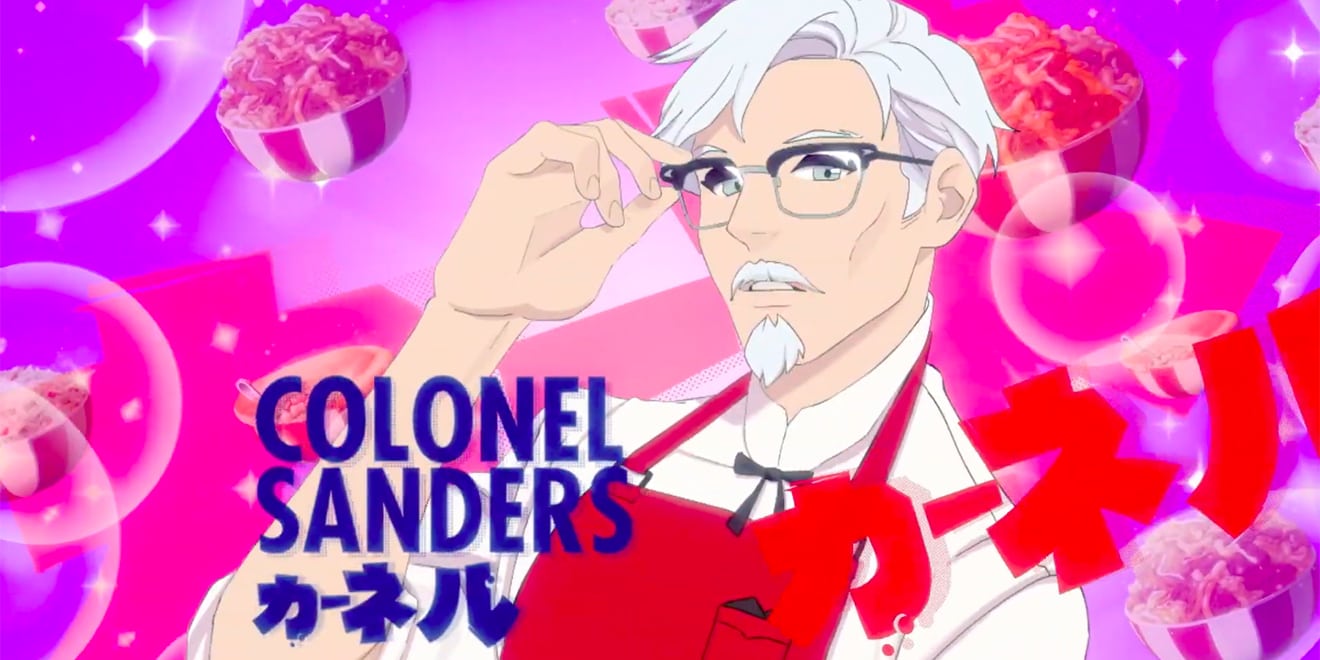 I remember the days when I used to think no fast-food chain could beat Wendy's brilliant marketing tactic of a sassy Twitter. KFC has far surpassed them over the past couple of years. Between the new KFConsole, there was also the original mini-movie released on Lifetime, A Recipe for Seduction, starring Mario Lopez as Colonel Sanders himself with a recipe that will change the world.
This isn't even KFC's first time delving into the realm of video games. Back in September 2019, the company released the Windows and OS X only game, I Love You, Colonel Sanders! A Finger Lickin' Good Dating Simulator.
In this free game, the player attends the University of Cooking School. An anime-inspired version of KFC's founder Colonel Sanders is the top student. The gamer is tasked with wooing the Colonel while going up against your rivals Aeshleigh and Van Van the Man Man.
This dating sim is still available for free on Steam and has very positive reviews from players despite a more mixed response from critics. In Gita Jackson's review on Kotaku for the game, she called it "a supposedly comedic dating game without any good jokes and, worse, without any characters you can really feel."
I think this is a hysterical, lovely way to go into 2021. I'm hoping we see more hair-brained schemes from KFC.
Agree with the author? Couldn't disagree more and are frothing at the mouth to tell her? Leave a comment here, on Facebook or send an email and make sure to follow Never Ending Realm on Facebook, Twitter, and YouTube!