I know what you are thinking: "The N64 Castlevanias were crap, no way that either copy of its two entries are going for more than $50." If that's what you thought when you first read the heading of this article; then I regret to inform you that you are (mostly) completely wrong my friend.
First, the games didn't "suck". Well, maybe today they do, but back in 1999-2000, they were highly atmospheric, and (for the most part) very impressive displays of the Nintendo 64's horsepower. Second, Legacy of Darkness, which would be Castlevania 64 "complete edition", as it had all four storylines in a single cartridge, will sell today for above $100 in used condition, and over $500 new.  
Now this isn't quite 'kidney money' in the same tier that Panzer Dragoon Saga is, or other Japanese RPGs have been. But it is still a very high price tag for a game on a system where most cartridges can be found for less that $50 on eBay these days. 
I mean, a seller on eBay is asking for $874.99 for a used version (that includes the box, game cartridge, and all of its instructions), and another one is asking for a whooping  $4,061 for a sealed graded version of the game. If that isn't kidney money, then I don't know what is.
Why is Castlevania Legacy of Darkness Pricier than the Older Castlevania 64?

The answer is quite simple, really! Castlevania: Legacy of Darkness is the complete version of Castlevania (64). If you are old enough to remember, you will know that Castlevania (64) was rushed to the market in order to meet certain deadlines, and it only featured two storylines: Reinhardt's and Carrie's. 
The game was meant to have four storylines with Cornell's and Henry's quests serving as a prequel to the events of the aforementioned two characters featured in Castlevania 64. 
Legacy of Darkness, then, is a remaster of the first game's quests, and adds two prequel storylines to boot; plus some extra content. If you want the full Nintendo 64 Castlevania experience you need Legacy of Darkness in your collection.
Apart from the fact that Legacy of Darkness is larger, and prettier (hi-res graphics is an option now, but at the cost of precious frame-rate) than the previous N64 iteration of the game; it is also 'rarer'.
You see, Castlevania: Legacy of Darkness only sold 130,000 copies. This makes it a rare game. By contrast, Castlevania (64) sold over 600,000 copies.
Castlevania 64 (January 1999) arrived to critical praise, and fanfare. It sold well, but by the time that Legacy of Darkness came around in November 1999, critics had grown tired of the game's clunky controls, and with the Dreamcast's arrival a few months earlier, Legacy of Darkness just wasn't as good looking any more when compared to other contemporary releases. 
Despite the fact that Legacy of Darkness is everything that Castlevania (64) is, and much more, the game holds a lower Metacritic score than its incomplete predecessor. Castlevania (64) holds a 78 rating, while Castlevania: Legacy of Darkness holds a 64 rating on GameRankings (Metacritic didn't even bother to track the game's reviews). 
Gamers, by the end of 1999, were no longer impressed by Castlevania's venture into the 3rd dimension, and largely ignored the title. 
Is Castlevania: Legacy of Darkness Worth the Exuberant Price Tag?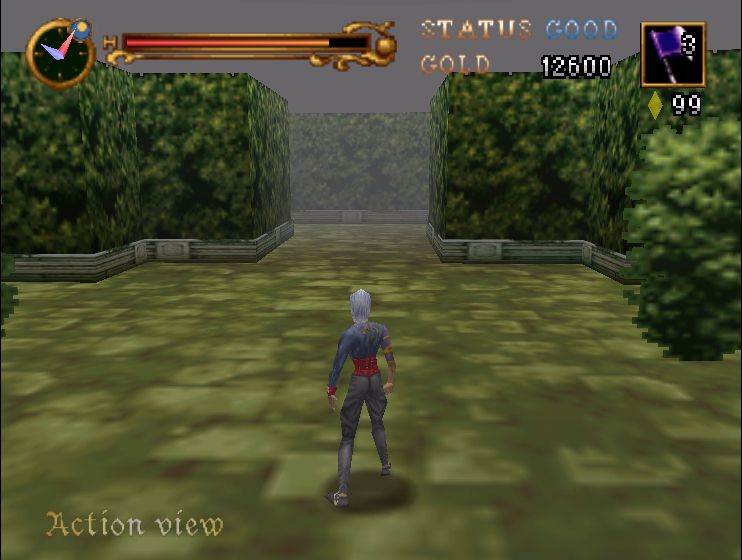 Are you a collector? If the answer to that question is an emphatic "Yes!", then, perhaps, this game is worth the asking price. Other than that, despite the fact that Legacy of Darkness is one of my favorite all time games (especially since I played it in 1999), it is also a game that I would rather not play again…ever.
The game didn't visually age as gracefully as some of Nintendo's classics like The Legend of Zelda: Ocarina of Time. It was great looking game in 1999, but today, it is definitely dated. The dark atmospheric presence that it once had, has long been surpassed by newer games such as Bloodborne, and the Dark Souls saga. 
For the pure value of a gaming experience, the game just won't provide enough thrills for most modern gamers. However, gaming historians looking to experience that fabled early 3-D era gameplay might disagree with me. The game is a fine of example of a developing team coming to grips with the 3rd dimension for the first time, and thus, the game is a bland example of early 3-D design, and consequently, of super clunky; and imprecise controls. 
The previous description might sound harsh, and I would (personally) find enjoyment in Legacy of Darkness today, if I were to put my nostalgia glasses on. However, the price tag is a bit absurd, and I doubt most gamers enamored by something like Bloodborne would find joy in Legacy of Darkness at this juncture. 
This is the type of title that if I found for $20 in a yard sale I would quickly pick up. That said, I wouldn't pay over $100 for it, and perhaps, neither should you.
Agree with the author? Couldn't disagree more and are frothing at the mouth to tell him? Leave a comment here, on Facebook or send an email and make sure to follow Never Ending Realm on Facebook, Twitter, and YouTube!