Namco's Tales series is popular these days thanks to the recent (successful) release of Tales of Arise. However, JRPG fans have been around this series for a quarter century. Despite the long running nature of the series, the PlayStation pair of "Destiny" titles both remain the most legendary and hard to find, making them "kidney" worthy investments.  
1999's Tales of Destiny 2 is actually Tales of Eternia. The North American version of Eternia was named "Destiny 2" in order to cash in on the brand recognition brought forth by the first PS1 Tales game, Tales of Destiny. 
Was Tales of Destiny 2 a Good Game?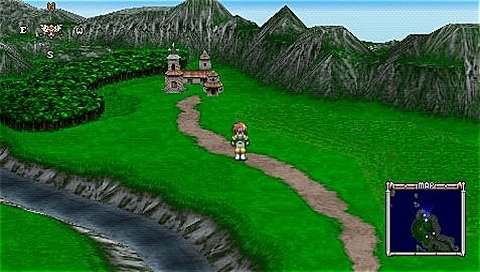 While the shift in name from Eternia to "Destiny 2" might be confusing to some, we have to remember that the first Tales game, 1995's Tales of Phantasia, was a SNES Japan only release. It wouldn't be until 2006 that the game would arrive on American shores by courtesy of a GBA port
Tales of Destiny was the start of the series for American gamers, and in that context, Namco's decision to rename Tales of Eternia as "Tales of Destiny 2" made sense. The most popular JRPG series at the time was Final Fantasy, a series whose entries were all numbered. Namco tried the same here.  
The release of "Tales of Destiny 2" for PlayStation 2 in 2002 created confusion for gamers who didn't know the whole story behind the rebranding of Tales of Eternia. Tales of Destiny 2 for the PS2 was Tales of Destiny's true direct sequel (set in the same fictional world).  
This is not pertinent to Tales of Destiny 2's quality, but it is important to understand that the PlayStation 1 version of Destiny 2 (Eternia) is a standalone game.  
Tales of Destiny 2's bread and butter was its combat and differentiated the game from its contemporaries. It was party based, but in real-time action as opposed to turn-based combat. The 1990s were the golden days of turn-based combat JRPGs. Thus, having an action system made Tales of Destiny 2 stand out from other titles of the era. 
The other defining trait of the game was its 2-D SNES era graphics….in a 1999 PS1 game. Tales of Destiny 2 had a much lower development budget than other JRPGs of the time. A big criticism by western reviewers of the game was that it could have theoretically been possible to have made a version of the game for the SNES. Destiny 2, or Eternia, was a game developed for the hardcore JRPG crowd, it is not a game to that would have appealed to the mainstream masses. That said, Destiny 2/Eternia did look quite more advanced than just a simple '16-bit' RPG. I am not sure if the SNES could have handled some of its visual effects and extra large sprites. 
Tales of Destiny 2 holds a 78 Metacritic score with the larger publications of the time. Electronic Gaming Monthly, Game Informer, and GameSpot gave the game scores in the range of 7 out of 10. Tales of Destiny 2 was a slightly above average JRPG in the grand scheme of things, but Tales and anime fans might have found the game to be much better than the average video game reviewer.  
Why is Tales of Destiny 2 so Expensive?
Unlike other games that we have featured on this weekly series, Tales of Destiny 2 is not an all-time great game. It is not even an exceptionally good game when judged against its contemporary rivals.  
Perhaps, Destiny 2 (Eternia) has gotten 'better with age'. In 1999, the game arrived in the middle of the era of "3-D is new and cool" which meant that every 3-D game sold millions of units, and 2-D gaming was outdated. That seemed to be the general train of thought from big publishers at the time, and in truth, gaming did eventually make a full move into a 3-D direction for AAA titles.  
Games like Tales of Destiny 2 were not impressive during their time. However, it could be argued that its 2-D visuals aged better than many of its 3-D competitors of the day. This fact would increase the game's value over time. The game is pleasing to the eye today, and even though it is not the best looking game, it is certainly more visually appealing than 1998's The Granstream Saga which was billed as the first 3-D Action RPG for the PlayStation 1. 
The main reason for Destiny 2 (Eternia) to be such a pricey find now is mainly because of its rarity. The game did not sell well in North America, so copies are hard to find. The game sold over 800,000 copies worldwide by 2008, but more than 500,000 of those copies were sold in Japan (under the Eternia name). It is possible that less than 200,000 copies were sold in America. 
If we add to that the fact that JRPGs usually age like wine in terms of commercial value, it is easy to see why Tales of Destiny 2 is retailing for over $300 dollars in most places.  
Is Tales of Destiny 2 (Eternia) Worth the Price of Admission?
Yes, but only if you are a collector. I don't think Tales of Destiny 2 is a particularly unique JRPG that is worth the kind of money it is selling for, especially if you are a casual fan of the genre. Don't get me wrong, if you can play Grandia or Lunar today and feel entertained by these titles, then Tales of Destiny 2 is right up your alley in terms of storytelling and over all epic quest. I just can't justify paying an exorbitant amount of money for a copy, as there are better games in the Tales series that are much cheaper to acquire. 
Agree with the author? Couldn't disagree more and are frothing at the mouth to tell him? Leave a comment here, on Facebook or send an email and make sure to follow Never Ending Realm on Facebook, Twitter, and YouTube!