Lost Odyssey = The true Final Fantasy XI?
Much can be said about the Final Fantasy series in its post Sakaguchi era. The series has gone through a rollercoaster of directors, and the main single player entries have ranged from great but different (Final Fantasy XII), to on rails and non-sensical (Final Fantasy XIII), to finally, a good effort, but still "not quite a Final Fantasy game" in the last entry (Final Fantasy XV). Some would argue that the true "Final Fantasy XI" is none other than Sakaguchi's high budget Xbox 360 effort, Lost Odyssey.
After my original playthrough of Lost Odyssey,  I had to agree than in spirit, look, and feel, Sakaguchi's Xbox 360 title was much more in line with Final Fantasy than any of  Square's post Sakaguchi efforts with the series. This statement remains true even if we include the Final Fantasy VII Remake.
Lost Odyssey had issues, if it were a Final Fantasy game, it is possible that it would be Sakaguchi's worst entry in the post Final Fantasy VI era. That statement isn't an indictment on the game, as the run from FFVI to FFX is rightfully remembered as the golden age of the series. If anything, Sakaguchi's worst 'Final Fantasy like' effort is better than anything Square has done with the series since he left.
Sakaguchi, since leaving Square, hasn't exactly been an infallible creator. Blue Dragon was quite pedestrian, and Lost Odyssey while very ambitious, had a few visual miscues due to the somewhat poor use of the Unreal 3 engine. I remember the game crashing in the middle of battles too. So it was a tad disappointing to experience such hiccups in a game crafted under such an experienced creator's watch.
The only thing that Final Fantasy XIII got right was the fact that it pushed the visual standards within the genre, which was customary of the Final Fantasy series, as it had always been known as a franchise that pushed visual tech forwards which each new entry. In that sense, Lost Odyssey missed the mark, as Mass Effect looked better utilizing the very same engine.
Gameplay wise however, Lost Odyssey truly played like a Final Fantasy game at heart, in fact, it played just like Final Fantasy X did, complete with the linear approach and turn based combat. This was either good, or bad depending on where you stood in regards to Final Fantasy X in contrast to the previous nine titles.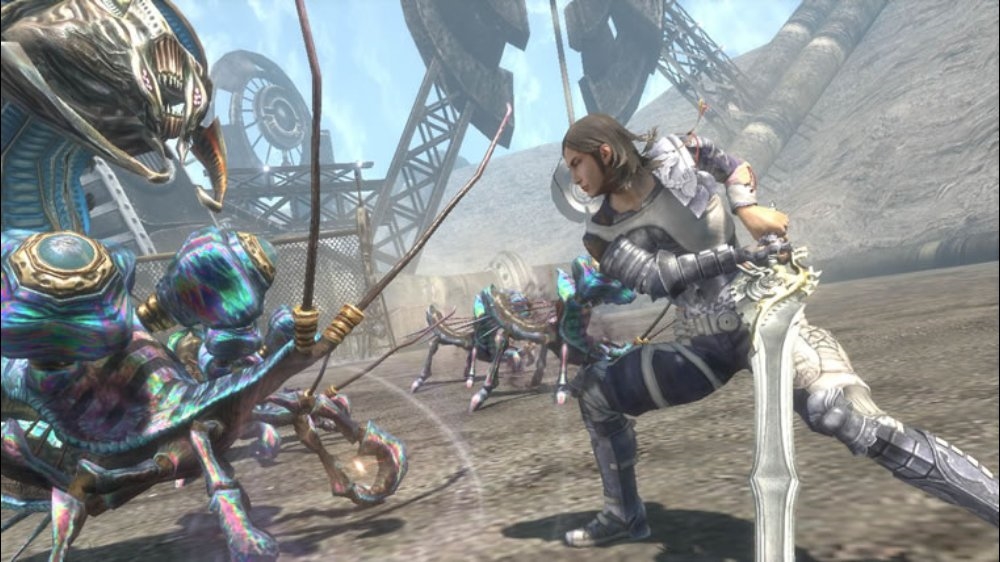 To round up the Final Fantasy 'feel', Nobuo Uematsu served as the game's composer here, and it definitely helped to elevate the game's overall quality and presentation.
So, in terms of look, art and sound, Lost Odyssey is definitely the closest to a Final Fantasy entry that you can find post Final Fantasy X.
An Unforgettable Story but not for conventional JRPG reasons
The one area where newer Final Fantasies have disappointed me the most has been in the storytelling department.  For almost two decades, forgettable characters, nonsensical plot lines, and poor character development have plagued this series to no end.
The situation is so bad, that even when SquareEnix has allowed itself to work with a time proven established storyline and universe in FFVIIR, they have managed to screw it up all the same. Final Fantasy VII has been somewhat damaged by introducing some head scratching alternate reality/timeline element to a story that at one point was brilliant in its straightforward, but deep and complex narrative.
Thankfully, Lost Odyssey stood away from those shenanigans and instead delivered a powerful message about how immortality can turn into a curse. The way the theme of 'death' is presented in the game is rather unique. That said, the main story, and the way that characters interact with one another is nothing to write home about.
I dare say, that for the most part, Lost Odyssey while having some great themes in its plot, is mostly 'by the book' JRPG fare in terms of its overall plot. The story is ridden with the usual villain that wants to turn into a god, and magic-industrial war tropes.
However, in spite of the cliches, there is one aspect in its storytelling that turned the title into a 'must experience' type of game: Lost Odyssey's short written memoirs.
These 'memories' were written in a short story format by Kiyoshi Shigematsu, who is an award winning writer in Japan. The memoirs are written retellings of Kain's experiences during his long immortal life, and they are powerful. Reading some of them brought me to tears at times, and it is in them where Sakaguchi's vision for the game comes to life.
It is not a stretch to say that Lost Odyssey is worth playing for these memoirs alone. Sakaguchi never quite nailed the storytelling process in Lost Odyssey within the standard way of telling stories in RPG games (dialog), but Shigematsu did. The Japanese novelist single handedly saved the game from being just another average JRPG, lost in a sea of average JRPGs.
Still, even within the flaws of Lost Odyssey, Sakaguchi's vision for a game that goes into – and explores – deep themes (such as death in this case)takes the forefront, and it is something that has been missing (for the most part) in the modern Final Fantasy entries.
Lost Odyssey is not the Final Fantasy X sequel that we all wanted, but it is the closest thing that we are going to get. If you are a Final Fantasy fan, and haven't given LO a try, perhaps it is about time that you did.