While the Nintendo 64 is my favorite console of all time, I would be doing myself and our readers a disservice if I told them that Paper Mario was my favorite N64 game. Heck, it wasn't even my favorite RPG on the system. 
While critics raved about Paper Mario 22 years ago, I never found myself in love with the game. In fact, I sold the copy back to Gamestop fairly quickly after a few hours of play. A Mario themed RPG wasn't my thing then. 
Paper Mario has Aged Incredibly Well
Paper Mario arrived fairly late into the Nintendo 64's life cycle, and I was underwhelmed by its visuals at the time (2000-2001). The irony here is that The Legend of Zelda: Ocarina of Time and even 1996's Super Mario 64 are vastly superior showcases of the Nintendo 64's hardware power and just plain more impressive software achievements than Paper Mario is. Yet, a case could be made that Paper Mario has aged better than most, if not all, Nintendo 64 games.  
Paper Mario's sprite work has aged wonderfully, and the game's watercolor textures have stood the test of time better than most N64 titles. Playing the game on the Switch Online service, I never found myself feeling that Paper Mario felt out of place on the modern handheld console.  
Visually speaking, while not as impressive on a technical level as the aforementioned Nintendo 64 titles in terms of art direction, Paper Mario has ended up being the more 'future proof' title.  
Nintendo Could Write with the Best of Them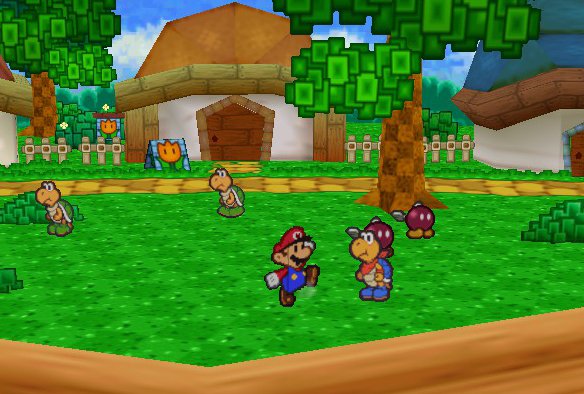 Paper Mario doesn't have the epic storyline that JRPGs on the PlayStation 1 commonly featured, but it has them all beat in one area: Translation. I had forgotten how further ahead of everyone else Nintendo used to be in terms of the writing in their games and their translations.  
Paper Mario is a childish game at times, after all, the overall premise of the tale has Bowser kidnapping Princess Peach and Mario venturing through different levels in order to save her. It is the same story that we have been sold since we (well those of us in our 30s now) were toddlers back in the mid 1980s. But Nintendo gives the tale a fresh feel here. 
Mario makes friends and party members with former enemy types such as Goombas and Koopas. The entire thing is funny, and at times nostalgic.  
Perhaps, it was best for me to rediscover this game as an adult. I appreciate the way Nintendo and the developer Intelligent Systems staged the typical Mario storyline but made it interesting enough for me to keep playing. I did not find myself playing to know what the plot had in store for me 'next', but rather, for what the writing and quirky characters had to say to Mario during his princess saving quest.  
As an adult, the game is funny in a way, as I am far removed from my Super Mario 64 days. I can appreciate the nostalgic value of its tale, and Nintendo's effort to capture the essence of Super Mario within a turned based role-playing game.  
Paper Mario is a game that constantly made me smile while making me temporarily forget that I am an adult now, with worries, responsibilities, and duties. Nintendo has a way of bringing out the kid that resides deep within me that no other game developer can match.  
I felt like a kid, at times, during my Mario Odyssey playthrough and my Breath of the Wild 120-hour marathon, but I am not sure that those games made me genuinely as happy as Paper Mario did.  
Paper Mario Might be the Most Fun that I Have Had in a Turned Based Combat System in Years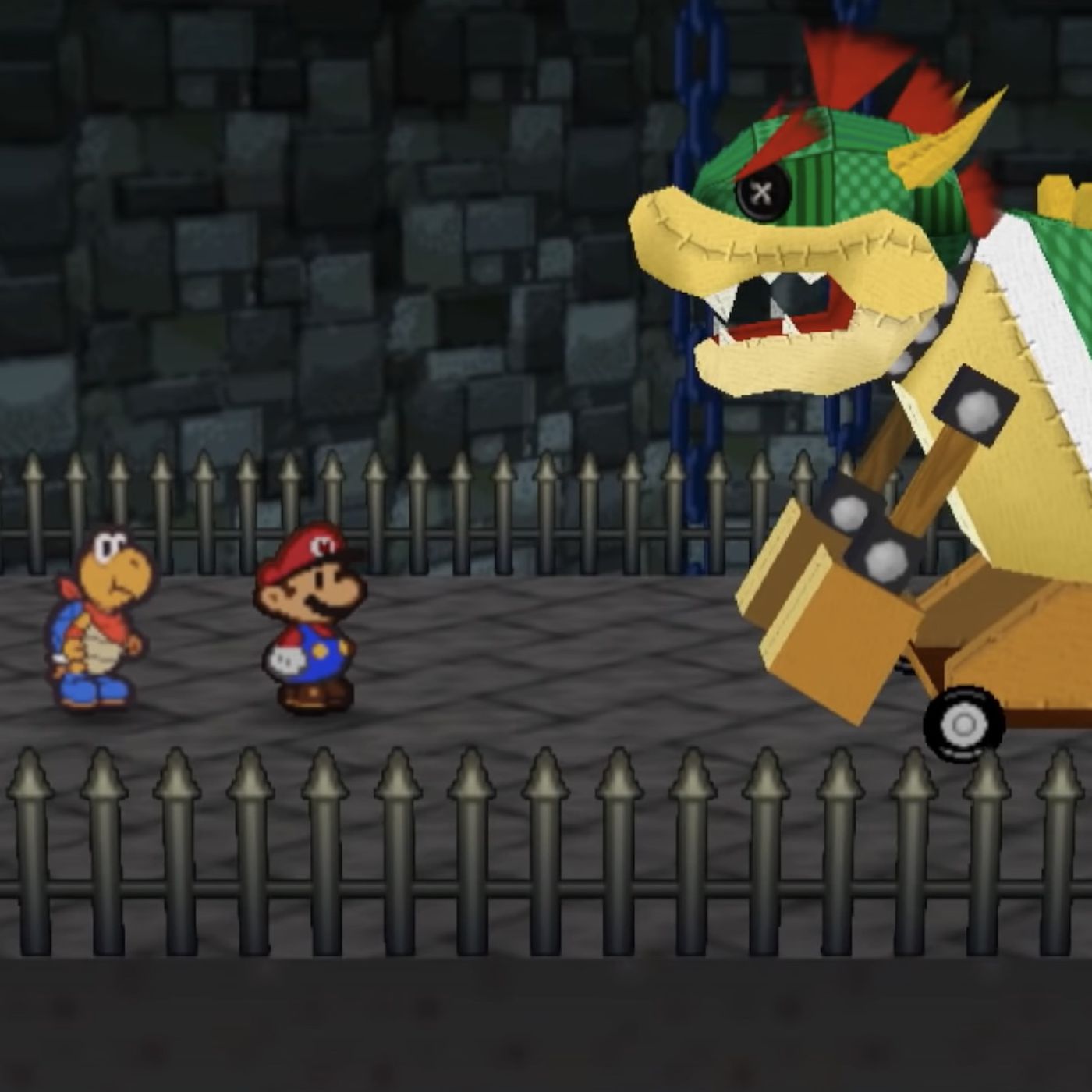 The reason that I am currently in love with Paper Mario, apart from its humorous story and ageless presentation, is its cleverly designed gameplay system. It is a role-playing game, and you do take turns in battle, but you never feel shackled or restrained.  
Most JRPGs of that era had you going from point A to B to C, while fighting and grinding in between countless turn-based random battles. Paper Mario is linear as well and does allow you to grind if you wish to do so, but it also throws in platforming, puzzles, and other amenities into the fray. 
The game never gets monotonous, there are always new party members to recruit and new skills to learn. It is Zelda like in some ways, Super Mario rooted in many others, and has some Final Fantasy sprinkled in for good measure.  
Paper Mario is certainly challenging, you can easily die and reach the game over screen fairly early into the game if you are not cautious with your items and combat strategies. Even in the midst of turn-based battles, timed button presses and proper use of attack points for equipped skills are a must. The game's deeper than I expect combat system is easy to learn and challenging to master, as there are tactical advantages to be had when properly choosing your attacks. 
The Best Reason to Sign Up for the Nintendo Switch Online Service?
I think it is. Paper Mario is easily the best aging game in the Nintendo 64 Switch collection so far. The game's 93% Metacritic score was well earned. Paper Mario is as good as any Final Fantasy game that I have played, mainly because it doesn't take itself too seriously in its storytelling but goes the extra mile in terms of gameplay and game design.  
The game was produced by Shigeru Miyamoto, and those who have read about his meticulous ways as a producer in games that he doesn't direct, as is the case with Paper Mario, will understand that the game's absolute polished feel is no accident.  
On a funny note, Nintendo approached Squaresoft after their work with Super Mario RPG (SNES), but Squaresoft's development on Final Fantasy VII and the unceremonious split between the companies forced Nintendo to hand over the reins of Paper Mario to Intelligent Systems (Fire Emblem). It was the right choice; I cannot conceive how Squaresoft could have crafted a better Paper Mario game.
By now, if all my rambling praising the title hasn't convinced you, I will say it again: Paper Mario is the best reason to upgrade your Nintendo Switch Online account in order to receive the N64 package. The game plays and looks just as good today as it did 22 years ago.  
Also, the Switch controls fit the game perfectly, as the lack of complexity in the control scheme lends itself well to the emulation effort. The buttons on the in-game tutorial are mapped for the N64 controller, but I didn't find myself fumbling around the Switch button configuration as much as I did on The Legend of Zelda: Ocarina of Time.  
I wholeheartedly recommend a Paper Mario play-through to Super Mario and JRPG fans alike. The game is an absolute classic. 
Agree with the author? Couldn't disagree more and are frothing at the mouth to tell him? Leave a comment here, on Facebook or send an email and make sure to follow Never Ending Realm on Facebook, Twitter, and YouTube!