1997's Grandia, touted to be the Sega Saturn's answer to Final Fantasy VII, is a legitimately great Japanese Role-Playing game in its own right. The Saturn version holds an 87% GameRankings meta score. As a spiritual sequel to GameArts' own Lunar Series, Grandia had some big boots to fill.
Not Quite the "Final Fantasy VII Killer", but an Influential Game Nonetheless
Grandia was marketed as a "Final Fantasy killer" in part thanks to the western press. GameSpot gave an imported copy of the game a 93/100 score (they had scored  FFVII as a 95/100 game), while writing that "(Grandia) beats out FFVII in all of the ways that matter."
In truth, the console wars that took place during the 90's often pitted first party games of each system against one another. Super Mario World vs. Sonic the Hedgehog 2, Phantasy Star vs. Final Fantasy, The Legend of Zelda: A Link to the Past vs. The Landstalker, etc. Are all examples of how Nintendo fought its sales war versus Sega.
Final Fantasy VII was a  monumental reason for Sony PlayStation's mid generation success, and the rise of the Japanese Role Playing game as a bankable mainstream gaming genre. It was, for a time, the PlayStation's killer app. Naturally, the press, and gamers alike turned towards the Saturn in search for Sega's answer.
Due to the Sega Saturn's commercial failure Grandia was simply destined to fail in that "Final Fantasy VII killer" crusade. Grandia would go on to sale 250,000 units with its 1999 PlayStation port to add to its 400,000 units on Saturn, but that was a far cry from some pedestrian RPGs of the era that went on to sale over a million units.
Still, Grandia's combination of beautifully crafted polygonal cities, with highly detailed character sprites were far more advanced than any other game – that followed the same visual style – at the time. Topping its excellent presentation, the game featured a revolutionary turned based battle system which felt quicker, and was much more engaging than Final Fantasy's brand of turn based combat.
A Living World
Grandia's director, Takeshi Miyaji, explained in a 1997 interview what made Grandia a distinct visual experience from other games on the market:
There's a lot of RPGs out now that use polygons for the towns and overworld. All of them are enjoyable to look at, but they aren't fun to interact with. Take, for example, a barrel in a town. If you've played RPGs, your first instinct is to search that barrel. But lately, there's been a lot of RPGs that create all these suspicious places, but the players can't interact with any of them! In Grandia, even if that barrel had nothing in it, you're able to roll it around, or get some kind of message as feedback to the player. "A living, breathing world" is our slogan at Game Arts – Takeshi Miyaji
Grandia's director couldn't have explained it better. Final Fantasy VII was a ground-breaking visual experience, but aside from its wonderful world map, every other environment out side of battles was composed of pre-rendered imagery. Final Fantasy VII wasn't a full 3-D experience, instead, it was a wonderful illusion of it.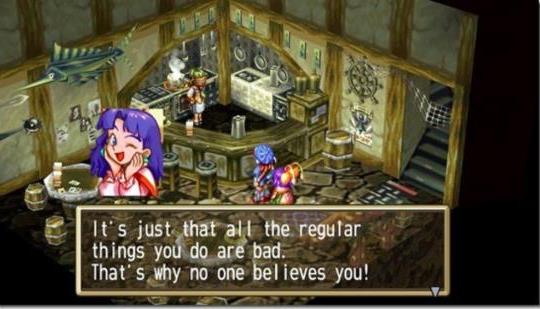 Grandia's environments were fully polygonal. Not on a scale of The Legend of Zelda: Ocarina of Time's game world, but it was as good a world depiction as the J-RPG genre had seen up to that point.
Visually, Grandia didn't feel as "high budget" as Square's magnum opus, but it was a wonderful visual spectacle itself. Its voice acted Anime sequences were amazing themselves, and in many ways, at times the game could be more enthralling game than any RPG on either the Saturn or PlayStation at the time.
Grandia, as its name implies, was a grand adventure in every sense of the word. It took me 70 hours during my first play through to see the ending, conversely, Final Fantasy VII only took me 52. Grandia was the longer game with what seemed to be the greater amount of dialog, and character development, but it didn't necessarily had the longer replay value.
If Grandia had a strength, it was in its direct approach to story telling and character development. This is something that the game inherited from its Lunar forbearers. The straight forward approach towards story telling is also the game's main weakness  – aside from the absurdly high levels of grinding needed to thread the needle forwards – as it meant that once you finished the story there was little to no incentive to keep playing.
In this regard, Grandia felt way short of Final Fantasy VII, a game in which I spent over 90 hours breeding chocobos, and searching for ways to defeat the Planet's Weapons.
A Grand Grind
Part of the reason why Grandia is such a long quest lies in the difficulty of its battles. Try to speed your way through the game, and bosses will kick your rear end back to a save point. Thus, the random rate of encounters is quite high, and a lot of time will be spent battling in order to level up just so that you can defeat the next boss, and this process is one that lasts all the way through to the game's conclusion.
The game also had some issues with its dungeon design. Some of its later dungeons have a labyrinth like design that can make traversal confusing. I remember findning myself running in circles during one of the later dungeons because I couldn't find my way through.
Other than those issues, Grandia is a flawless experience in terms of J-RPG story telling, sense of wonder, and combat.
An Aspiring Adventurer Named Justin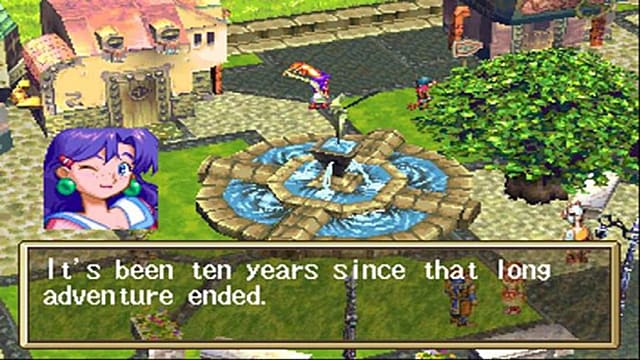 Justin – the game's protagonist – was not a battle hardened stoic warrior, he was a kid with big dreams, and big aspirations – to follow in his dad's footsteps – see the world, and to become its greatest adventurer.
His quest quickly turns into a world saving affair with mysteries that go deep beyond anything that his magnificent imagination could have conceived, but the story's lighthearted approach never wavers even in the game's darkest moments.
Truly, Grandia is worth a play through even today. A good story, with endearing characters never ages, and Grandia has both of these elements in spades. The PlayStation version is easier to find than the Saturn one. The game has been available on every platform, but the recent Grandia HD collection (Switch/PC) is the best way to play the game today.
Agree with the author? Couldn't disagree more and are frothing at the mouth to tell him? Leave a comment here, on Facebook or send an email and make sure to follow Never Ending Realm on Facebook, Twitter, and YouTube!