The newest Final Fantasy spin-off, Stranger of Paradise Final Fantasy Origin is definitely looking to be action heavy. It is being developed by Team Ninja, the same team behind Ninja Gaiden and Nioh. Let's look at all the news revolving around this new title.
What Is Stranger of Paradise Final Fantasy Origin?
Stranger of Paradise Final Fantasy Origin is the newly announced upcoming spin-off title for the Final Fantasy franchise. Developer Team Ninja is making this game for Square Enix. Naturally, some Final Fantasy veterans are part of the project, as well. Tetsuya Nomura and Kazushige Nojima have been working closely with Team Ninja on this title. Team Ninja's relationship with Square Enix is still a solid one thanks to their work on Dissidia Final Fantasy NT.
Gameplay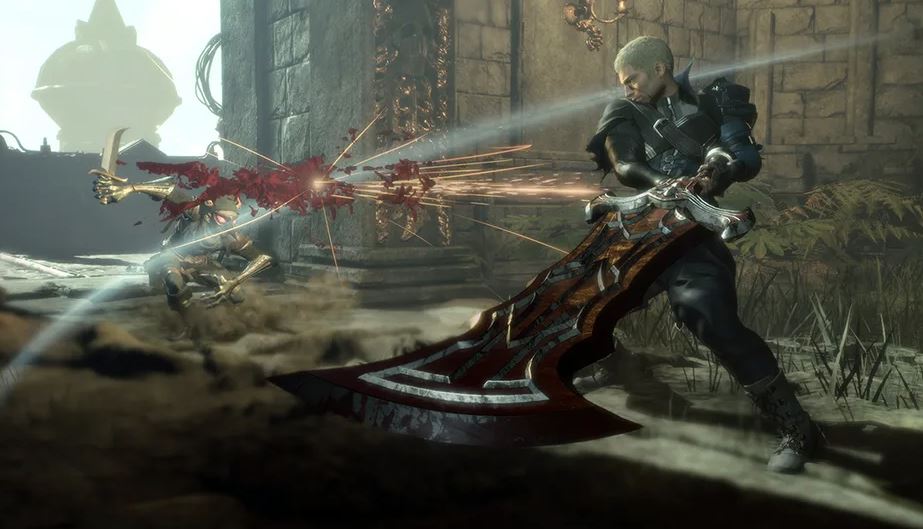 As far as gameplay goes, Stranger of Paradise looks very heavy on the action. During the E3 reveal trailer we see three friends and Warriors of Light battle many enemies, and eventually battle the evil knight Garland. Final Fantasy fans will recognize Garland from the original Final Fantasy. The game looks to play a like Nioh or Dark Souls, being more action driven rather than RPG.
Square Enix released an official description of the game as well. That description reads: "Jack and his allies, Ash and Jed, burn with resolve to defeat Chaos as they throw open the gates to the Chaos Shrine. Yet doubts remain—are they truly the Warriors of Light the prophecy foretold?"
Along with the description, Square Enix also provided more details on what abilities Jack will have access to. These two unique abilities are called "Light Bringer" and "Soul Burst." If the player manages to 'break' enemies, they can access the "Soul Burst" skill and turn their enemies into crystals. The "Light Bringer" skill temporarily powers up Jack at the cost of using MP. Along with those special abilities it also looks like players will have access to more of the standard Final Fantasy magic as well.
Story
As of right now, it is a bit unclear how this game will tie into the overall lore of the Final Fantasy franchise, but Garland's appearance could hint at the events taking place during the original Final Fantasy game. In a statement about the title, Nomura said that "While it is Final Fantasy, it feels different — but there's no doubt that the blood of Final Fantasy runs through its veins. We've undertaken the challenge of finding this difficult middle ground for this mature and stylish title. We need a little time until we're able to complete it, and while the battle system is a bloody one, it does link to the story, so I hope you'll use this opportunity to give it a try."
In that same article mentioned above, Nojima states that he believes the story of this game will be memorable. While we don't know too much about it, we do know that the main character Jack and his allies are looking to defeat Chaos. Given that Garland is also in Stranger of Paradise Final Fantasy Origin, one can assume that this is Chaos from the original Final Fantasy.
When Can We Expect The Game?
As of right now, we just know that they are aiming for a 2022 release date. It is also worth noting that unlike Final Fantasy VII Remake and Final Fantasy XVI, Stranger of Paradise Final Fantasy Origin will be available on Xbox, PlayStation, and PC. That includes previous generation consoles, as well. For those of you who might be eager to try the game out, there is a PS5 demo available until June 24th.
Agree with the author? Couldn't disagree more and are frothing at the mouth to tell him? Leave a comment here, on Facebook or send an email and make sure to follow Never Ending Realm on Facebook, Twitter, and YouTube!