My 6 year old son's obsession with Sonic is what drove me to purchase, and play Sonic's newest entry with him. Truth be told, while I have played nearly all of the entries within the Sonic series; I haven't been excited about a Sonic game since 1998, and Sonic Adventure's Dreamcast reveal. 
Sonic (Despite its Popularity) Never Quite Managed Mario's Platforming Brilliance…even at its Sega Genesis Peak
In order to understand the importance of Sonic Frontiers at this juncture, we have to go back to Sonic's early days, and its largely futile transition into the 3rd dimension. 
Nintendo had, for all intents and purposes, a monopoly of the home video game market from the mid to late 1980s. Nintendo, at its peak, held 90 percent of the console market. 
Success for Nintendo came, in great part, by the fact that the company had single handedly "revived" the video game industry from the 1983 crash, and had some of the most creative, and revolutionary games in existence thanks to one, Shigeru Miyamoto. Of these games, the Super Mario Bros. games were the most renowned and popular. Mario quickly became the face (and mascot) of Nintendo. 
Sega had lagged behind Nintendo all throughout the late 1980s, and even at the beginning of the 1990s decade, despite having the more (than the original NES) powerful Sega Genesis (Mega-Drive) on the market.
In the early days of video gaming, where these machines were solely aimed at young children and teenagers; mascots were key, and Nintendo had an early winner in Mario. Sega quickly caught on to this, and tasked artist, Naoto Ohshima, with the mission of crafting a blue speedy character with an "attitude" in order to steal some of the lighting of Nintendo's famous Italian plumber. 
Sonic's design, coupled with Yuji Naka's programming and designing skills, helped Sonic the Hedgehog to take advantage of the Genesis' fast processor (it was faster than the SNES), and created a fast platforming action title that instantly became a hit with the masses. 
Sonic, along with Sega's aggressive marketing campaign, managed to help the Genesis capture 55% of the home console market by 1993. Sega was winning, and Sonic (and its fictional universe) had unseated Mario from its perch. 
Sega of Japan (with some help from the American branch) would go eventually crash and burn its own brand, but that's a topic for another article. 
The important thing to remember here, is that Sonic the Hedgehog, during its 16-bit run, was perceived to be an equal to Mario in terms of popularity and even (in some editorial circles) quality, though one has to admit, that the older Mario games have aged better than Sonic's, as Miyamoto was always a much better designer than Naka, and the abysmal gap in talent between the two would be exposed when both franchises made their respective transitions into the 3rd dimension. 
Super Mario 64 Wrote the Book on how to Properly Develop 3-D Games While Sonic Went AWOL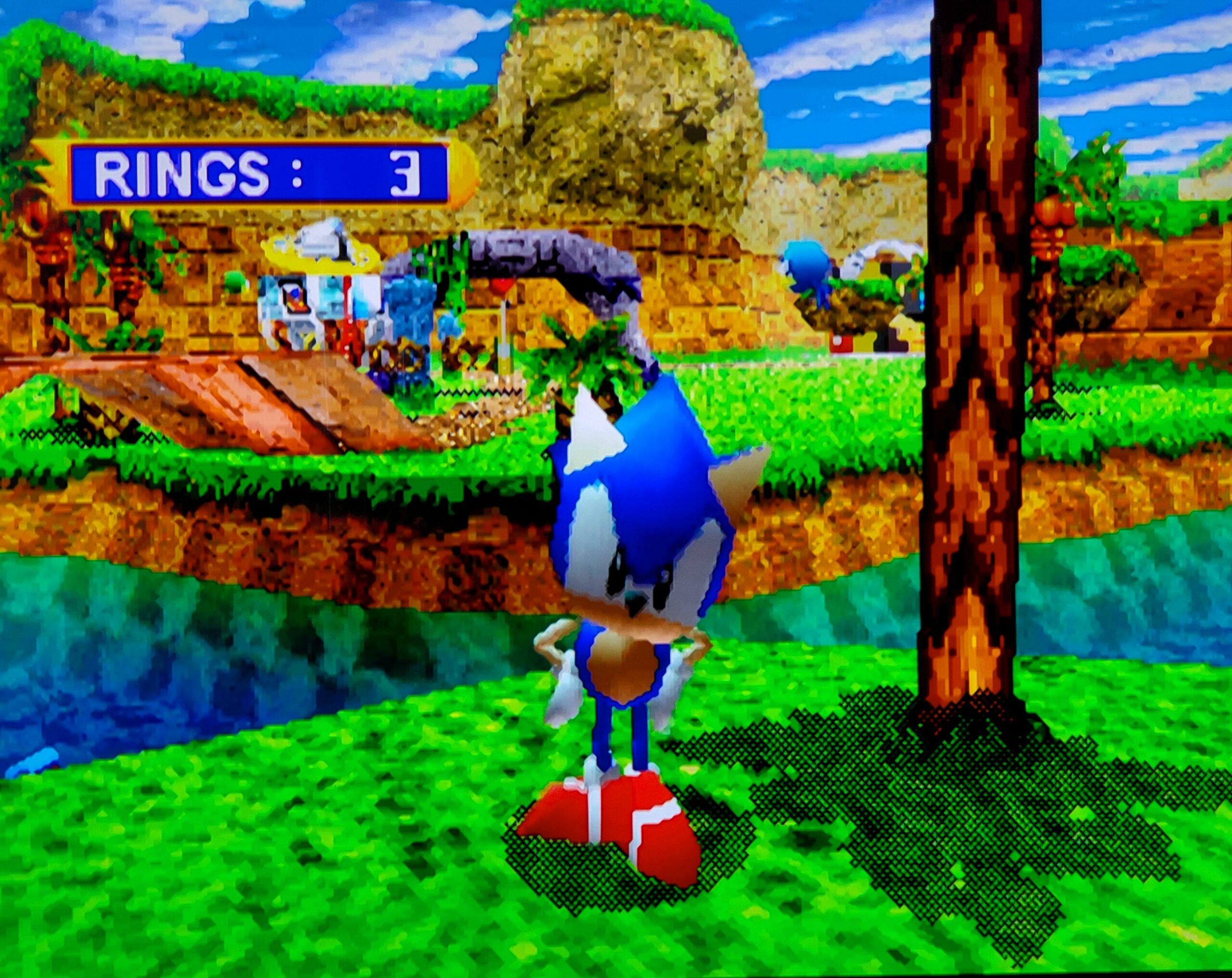 Sega made a lot of bad decision between the Sega Genesis, and 1995's (American) Saturn launch, but perhaps the worst of these decisions, was to design a machine whose 3-D capabilities were behind the competition, and this ensuring that the company's mascot, Sonic, wouldn't get a proper release on the system.
To be fair, Nintendo's Super Mario 64 act, was a hard, if not impossible, feat to follow. Sega and Naka, were never able to replicate Miyamoto's triumph with their own mascot.
Sonic, due to his speed, might have been a tougher platforming formula to properly translate into 3-D, and the Saturn wasn't the best machine in terms of horsepower and ease of development to accomplish the feat, though Sonic R, and Sonic Jam showcased, how the Hedgehog could have looked on the system's hardware.
Yuji Naka and Sega's issues with this franchise went beyond the mere raw horse power of the Sega Saturn. It is quite possible, that Naka just couldn't figure out how to properly translate the franchise into the 3rd dimension, which made Minamoto's 1996 feat all the more impressive. 
Super Mario 64 didn't just translate the platforming formula of Mario into 3-D, it also created the sandbox, collect-a-ton (within a relatively open world) genre at the same time. Miyamoto delivered a 3-D playground with its plumber, Sega wouldn't quite get this sandbox formula right for decades (until now). 
Pretty graphics, and impressive tech, can help mask a ho-hum game, and make it seem like a very good one on the surface. This was never more true than in the early days of the 3-D era, where each new console seemed like massive leap in visual fidelity from the hardware that was already selling on store shelves. 
The Nintendo 64 was a huge leap in tech from the PlayStation and Saturn (despite only being a year older), and the Sega Dreamcast was a similar leap in fidelity when compared to the N64, despite only being two years older than Nintendo's first 3-D home console. 
Thus, 1998's Sonic Adventure, was an exciting game, and a selling point on the Sega Dreamcast, for me at least, in 1999. The texture work, speed, and polygonal renderings of the game were far beyond what was possible on the Nintendo 64, and the eye candy, made Sonic Adventure feel like a better game than it was, at the time.
Still, it was never as good as Mario 64, in both a historical context, and even if matched head to head as a game at the time of its release, despite being on more powerful hardware. Sega had failed in properly transitioning Sonic into a new dimension. 
Sonic Has a Long Line of Commercially Viable, But Critically Unsuccessful Sonic 3-D Games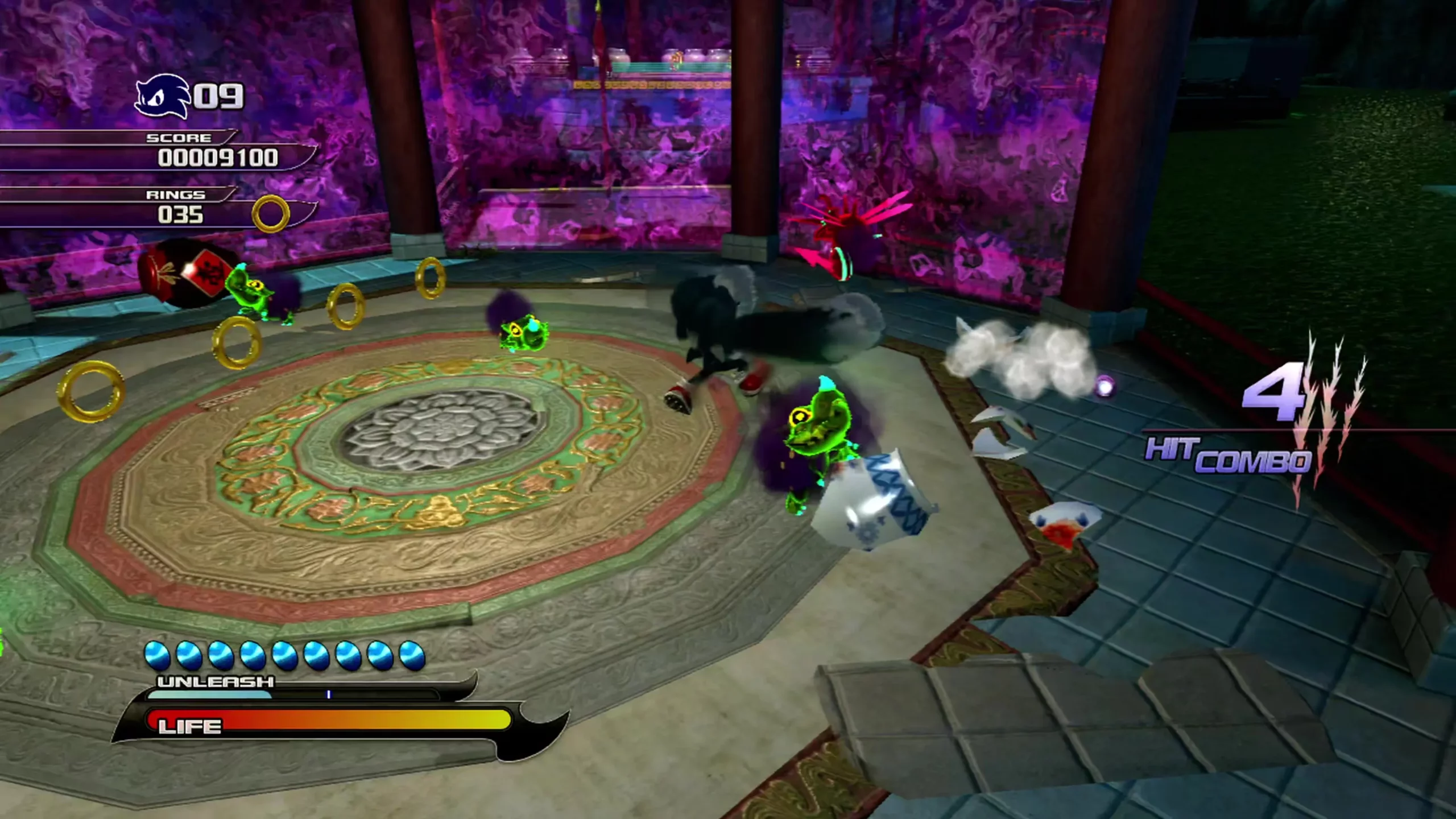 This is the cold hard truth: There has been no great, or even very good, Sonic 3-D games in nearly a quarter century. 1998's Sonic Adventure was just good, and after that the franchise has been more of a miss than hit type of series. 
In my opinion, Sonic Generations might have been the best 3-D Sonic attempt post Sonic Adventure, and that's not saying much given some of the awful titles in this series (Sonic Unleashed anyone?). Thus Sonic, unlike Mario, has had to rely purely on its commercial appeal with kids (again, my 6 year old has been loving Sonic since he was 2) in order to remain a viable commodity. 
Sonic Heroes (2004) sold 5 million units. Sonic Generations (2011) sold 2 million. Five year old kids, do not care if the game is of dubious quality, as long as they get to play as the blue hedgehog. However, Mario like commercial success has eluded the Sonic franchise in part due to the aforementioned poor quality of gaming. 
Super Mario Galaxy (2007) sold 12 million units alone. Even the less favored, Super Mario Sunshine, moved 6.5 million units while confined to only one system.  
Sonic, at least by my estimation as a kid's dad, has done as good, if not much better than Mario, when it comes to toy, and merchandise sales. Sonic's two featured movies have been quite good, and commercially successful as well. Sonic has multiple original TV shows.
That type of extracurricular activity is something that Mario has failed to pursue since the 1990s (though an animated film is coming out in less than a month on theaters everywhere), in part because Nintendo's mascot doesn't need to pursue additional publicity to succeed as a video game property.
Sonic Always Had The Deeper Universe
Sonic, being conceived years after Nintendo's plumber, had a cooler design, and a more catchy attitude. The franchise is also populated by a cool supporting characters like Knuckles, Shadow, and Doctor Eggman. The franchise's source material makes for an easier transition into other realms of entertainment media. 
The game's have taken advantage of this somewhat, and most have actually solely relied on Sonic's universe to counter their deficiencies in actual game design, and gameplay. 
While I wouldn't say that Sonic games have "must read/experience" storylines, they do have a larger, and deeper pool of lore to fall back on than say …Super Mario does. 
However, the series has always leaned towards the 'kiddie' side of things, which is not bad, and it explains why my six year old has loved Sonic for years now. Still, I always felt that Sonic's potentially fantastic universe had never been properly utilized.
Sonic Frontiers Aims to Fix and Evolve Sonic's 3-D Formula in Every Way Imaginable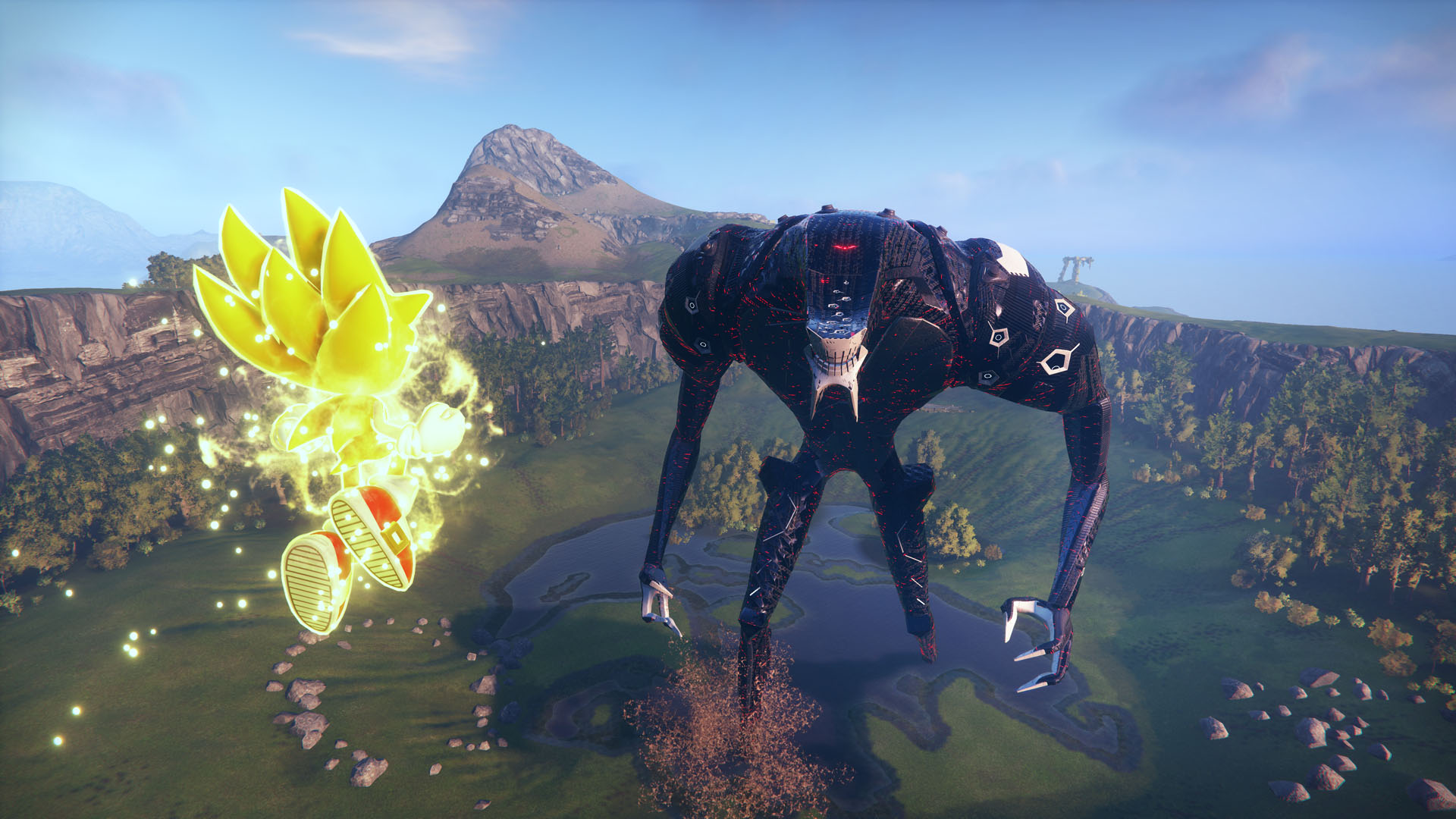 I hope you enjoyed my lengthy Sonic memoir, because I feel that it is necessary to understand Sonic's past in order to appreciate and properly critique the latest Sonic game in the series in Sonic Frontiers.
Sonic Frontiers is Sega's most thought out, and perhaps, most ambitious effort in the Sonic saga of 3-D games. Sega has to be praised for the effort, as despite Sonic's seemly infallible commercial appeal, the company dared to take a significant leap in order to finally make a 'great' Sonic game.
Sonic Frontiers isn't great, but it is quite good, and that's a win for this franchise. 
The game takes cues from other popular and critically successful titles such as Breath of The Wild, and even Dark Souls. Sonic Frontiers is, for all intents and purposes, an Action-RPG, as much as it is a platformer, and an adventure game. 
Sonic, for the first time in the series, has a few massive overworlds in which to run, skate rails, and flip around while collecting keys, gears, hearts, power/defense seeds, and other items. Sonic also has plenty of enemies to fight now, including some boss fights which are a mixture of Zelda meets Shadow of the Colossus coupled with Sonic's cinematic speedy attacks. 
If you don't take your time to level Sonic up (with these seeds), the game's fights can be quite difficult. Fortunately, finding these seeds is easy, as enemies yield them, and many can be purchased at Big's fishing spots (yes, there is a fishing mini game here as well). The game can be finished in 25-3o hours in your first play-through.
Finally, in portals scattered through out the game's worlds, Sonic can enter classic sonic (linear) 3-D levels in which finding red medals, collecting a certain amount of rings, and clearing the stages with an "S" time score, can yield multiple keys. These keys are used to unlock Chaos Emeralds in each world, as Sonic needs to transform into Super Sonic to take down the Titan bosses.
Despite Sonic Frontiers' unique take on the open world/action RPG formula, the game remains a linear affair, this holds true even though there are some of the optional quests, and puzzles (some which are pretty tough).
Sonic's Legend of Souls of the Colossus?
Sega took inspiration from some of the most iconic, commercially, and critically successful games of the last 20 years when crafting Sonic Frontiers. Sonic Frontiers, some how, does feature some of the best platforming segments on the series. A lot of the success continues to remain in timed presses, as the game does "steer" you in large part during the rails sections, but proper platform jumping is key in some areas in this game.
For the most part, even though Sonic is as fast as he has always been, there are no major camera issues. Going back to Sonic Adventure was a revelation on this regard. Because Sonic Adventure looked so mind-blowing in 1999, I was able put up with its horrendous camera work. People complain about Mario 64, but Mario 64's camera work was stellar (and at least you could control it somewhat) by comparison.
Sonic Frontiers is the most polished Sonic when it comes to classic 3-D Sonic stages, but it is also a fine game when exploring the open world. Sonic doesn't move initially at an extraordinary speed in the open world sections, but his speed, and ring capacity (which is helpful when fighting bosses as Super Sonic) can be upgraded as you play along.
Sonic Frontiers is a true Japanese Action-Role Playing game in the purest sense. Zelda's puzzle solving is here, as well as its method for collecting items. Fast action combat, in which you have to time enemy patterns, is a common occurrence during overworld traversal. In that sense, both Zelda's (it was the originator), and Dark Souls' influence permeates through this title. Sonic Frontiers is generally an easy and forgiving game, but there are caveats.
The massive titan boss battles, which are reminiscent of Shadow of the Colossus, can be unforgiving if you don't know what to do, and when to time your attacks. Leveling up your attack, and defensive power helps immensely, but not as much as knowing the bosses attack patters, and holding down the block/counter button at the right time. Your rings are constantly running out, and once you are out, Sonic automatically goes from Super Sonic to normal Sonic, and the boss automatically kills you.
Dying at a boss forces you to collect rings all over again, which is an annoyance. There is even one instance, in which resetting the game is necessary since it is nearly impossible to beat the boss with a low ring count, and there is no opportunity to collect rings if you do not go back to the title screen, and boot up the last save file. It is in instances like this when one can see that Sonic isn't as polished, in terms of design, as Mario 3-D entries, or The Legend of Zelda. Sega still can't quite match Nintendo's brilliance, and it is likely, unfortunately, that the company never will.
There is also a glitch that I ran into multiple times during my play through. Sonic would remain in combat mode (despite there not being enemies around) which hindered my progress when I had to trigger a story cutscene; since the option wouldn't appear, as the game's programing ran thinking Sonic was in combat mode. This particular glitch was annoying because it forced me to kill Sonic, in order to reset him back to his "exploration" state.
It was a weird glitch, and it is surprising that Sega had not patch this issue two months after the game's launch. It was very strange.
My biggest take here is that Sonic Frontiers is more fun to play than any 3-D Sonic entry before it, but it lacks the polish, and general brilliance of the games that it takes inspiration from. Even the fishing game (which consists of timed presses) is lacking, and lazy. A quarter century later, no open world game, or Action-RPG can still hold a candle to Ocarina of Time's fishing game.
The same can be said about its puzzles. Now, Sonic Frontiers introduces puzzle solving as a major component of its gameplay. Some puzzles are actually quite tough, and challenging, but most are simplistic. I think there is potential here for something more elaborate in that regard, but it was never fully realized.
The other issue I have with the fishing mini game, is that it can, literally, break the game depending on the amount of fishing tokens you have collected during your world traversal experience. The fishing game is generous on the prizes offered, and it will provide you with enough resources to just buy Kocos, and Seeds, which can help you turn Sonic into a nearly invincible force, in a short amount of time.
Despite my complaints about some issues in the game's design, and gameplay. Sonic Frontiers is certainly a step in the right direction, and I hope that Sega continues to build upon this formula in future entries. Sonic Frontier's gameplay allows you to explore Sandbox styled worlds in any way that you want, as the famous blue hedgehog, which is something that many of us have wanted to do since we were children.
Sonic Explores its Lore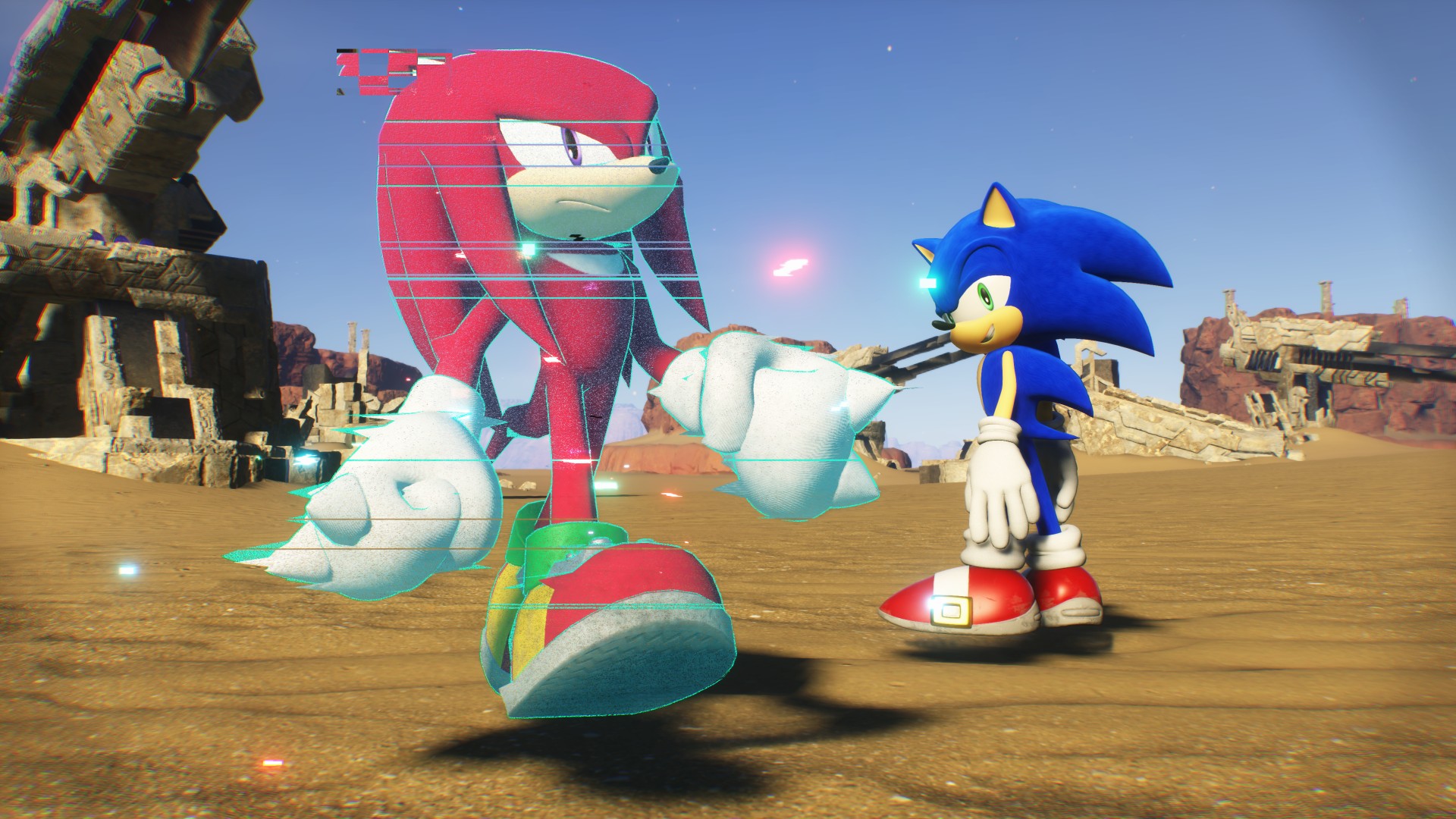 Sonic Frontiers is not a literary masterpiece, but it does better than most Platformers (not named Jak and Daxter) in delivering a cohesive storyline filled with mystery, and sense of wonder. The origin of the Ancients is explained on this entry, the game's story is more serious in tone than one would expect from a series that continues to be marketed towards a young audience. Depth is given to every character present in the story. Sonic, Tales, Knuckles, and Amy are here, and we see sides of them that have been seldom explored within previous entries.
The same can be said for the iconic Doctor Eggman/Robotnik. A new, and extremely important character to the narrative is introduced in Sage; and it is thanks to her that the series finally explores a more humane side of Doctor Eggman. The origin of the emeralds and the ancients is also told in an efficient manner. In someways, Sonic Frontiers feels like a reboot of the Sonic Saga, as characters like Shadow, Metal Sonic, Silver, etc. have yet to be introduced.
The lack of NPCs (apart from the Kocos), and towns, etc. Does not help in terms of world building, and storytelling. But given the "silent" nature of the game's world (which is also part of the story) it makes sense why Sega would handle the game's story in the way that it did. I would love to see the next Sonic game to explore an actual living and breathing world with lively NPCs, because I think that's a direction that would benefit this series.
All in all, this is (despite the fact that we have less characters here than in previous games) Sonic's best realized storyline yet.
Visually Competent, but Far Below Current Open World Standards
This is a trend with many current Japanese games. Japan's engines are not scaling well between generations of hardware, and even on new consoles, the games seem stuck on last generation visual quality. Sonic Frontiers suffers from massive pop-up in all iterations. Things literally pop right in front of you, as you are traversing the land.
Given Sonic's fast moving speed, the pop up is even more noticeable than it would normally be. I understand why this would be an issue on last generation hardware, but it is not an excuse that a game that looks like an average last generation game continues to suffer from the issue on current generation hardware.
Sega botched the Xbox One version's of the game in terms of reflections. There should be no reason for the base PlayStation 4 to feature a full scope of reflections of some surfaces, while the much more powerful Xbox One X has these features missing on it.
Clearly, Sega spent more time on the PlayStation 4 hardware (given its massive base of installed users), and neglected the Xbox versions. It could also be a reflection of the Xbox One S's shortcomings, as the Xbox One X is probably just running a higher resolution version of that game, as opposed to a version specifically optimized to take advantage of the more powerful Xbox hardware.
The reflections on the Xbox One X are duller than those on the PS4 version, despite the game having plenty of shiny surfaces, and the developers making an effort to make this a defining trait of the look of the game.
If we compare Sonic Frontiers to its competitors, then the we have an average looking game on all platforms. For example, compare this to Horizon Forbidden West, or even Assassin's Creed: Valhalla, and the difference in visual quality is generational.
Some of the Best Commercial Music in Video Games
So, while I love Rock, my tastes have been mainly confined to Linkin Park, The Goo Goo Dolls, Green Day, and other popular bands that originated in the 1990s (or late 1980s). However, my kid loves 'Undefeatable' by Kellin Quinn. I listen to it on the car daily, because it is a request of his. Truthfully, Sonic Frontiers features some of the best non-mainstream rock tracks that I have heard, and the over world music is as subtle as Breath of the Wild's.
Sonic games have always featured some awesome Rock infused soundtracks, so the fact that the game has some really good voiced tracks is not surprising, but it remains appreciated all the same.
Sonic Frontiers Marks The Start of an Exciting New Direction For This Series
Sonic Frontiers, in terms of quality, and perhaps even commercial appeal, doesn't close the gap in quality with his main arch nemesis in Mario, but it is a resounding triumph for those of us who wanted Sega to give this series the proper attention that it deserved. Frontiers is an ambitious, and well planned attempt at taking Sonic 3-D games from their "average" shovelware reputation, into a new era of quality.
Greatness remains elusive for this series, but Sonic Frontiers is a good (and sometimes a very good) game, and that's more than can be said about most of the rest of the 3-D games on this series. Sonic Frontiers is a must buy for Sonic fans, and perhaps, a "you should give it try" for former Sonic fans who were disenchanted by two decades of pedestrian Sonic games.
Gameplay: 8.0
Sonic's fast 2-D platform gameplay was always tricky to get right, I think Sonic Frontiers does a good job in its platforming sections to getting it 'right'. Even going back to the 2-D titles of yore, Sonic's Platforming wasn't an exercise in precision, and impeccable design like its mustachioed Nintendo counterpart was. Perhaps, Mario (behind Minamoto's genius) was always meant to make the transition (while writing the book on 3-D gaming) better than Sonic would.
Sonic, as a pure platformer, remains a much inferior option to Mario, but this is why Sonic Frontiers is more than just a platformer. It is an action-RPG this time around. Combat, puzzle solving, and exploration are an integral part of this title. The controls are tight for what they are, and only the lack of diversity in some areas, weird design choices (no new game plus mode?), and minor grievances hold it back from scoring better here.
Graphics: 7.0
That 7/10 score feels a tad generous. The game can looks disastrous (Switch), and underwhelming (PS5/Series X). The reflections are impressive at times on new consoles, but this isn't a shocker given that the game struggles in draw distance rendering, and there isn't a lot of impressive stuff going on at any given time on the screen. Save for the, at times, spectacular boss battles, there isn't much eye candy here.
On a technical level, this is on par with Elden Ring, minus the incredible artwork of FromSoftware's title.
Music: 9.5
The Acting does the job, and the music is quite fantastic. A few tracks here have made it to my Spotify playlist.
Story: 7.5
Sonic's universe has always been much more interesting than Mario's. Sonic Frontiers takes advantage of said lore and tells an origin story of sorts. The game also gives depth to some of the most iconic Sonic characters, and established a good "reboot" point for the series. I look forward to future Sonic stories following this format.
Replayability: 6.0
Long Sonic game, but no new game plus mode, makes it a bit of hassle to go back and replay some of the boss battles. I feel Sega could have designed this game around a new game plus mode, which would have added replay value to the game.
Overall: 7.0
This is, by far, the greatest Sonic 3-D game ever made, which might not be saying much. On that note, I feel bad about not giving the title at least an 8/10 score. However, when compared to other open world titles, like Days Gone (which I found more fun and engaging to play) a 7.0 seems to be the fair score here.
Sonic Frontiers is entertaining, and at times challenging, even for old men like myself. However, if you are not a Sonic fan, I don't think this game will turn you into one. Even as a 1990s Sonic fan, my interest for this game was low, if it wasn't for my son's love of the property, I wouldn't have tried it. Even though I enjoyed the game, I still feel the same way today about it. There are better open world experiences out there.
I will say this though; if, and when a sequel is released, I will be interested in checking it out, as I feel this formula has potential, and that Sega will improve upon it in future Sonic entries.
Agree with the author? Couldn't disagree more and are frothing at the mouth to tell him? Leave a comment here, on Facebook or send an email and make sure to follow Never Ending Realm on Facebook, Twitter, and YouTube!