Bernie Stolar passed away this week (at age 75). He is best remembered within the world of video games for his exploits as Sony Computer Entertainment of America's Vice President during the PlayStation's early days and as Sega's President of the American branch during the late Saturn early Dreamcast era. He successfully laid the groundwork for the PlayStation's historic success, and gave the ill-fated  Sega Dreamcast its best chance at pulling through the overwhelming odds against it.
Stolar Was a Man of Strong Opinions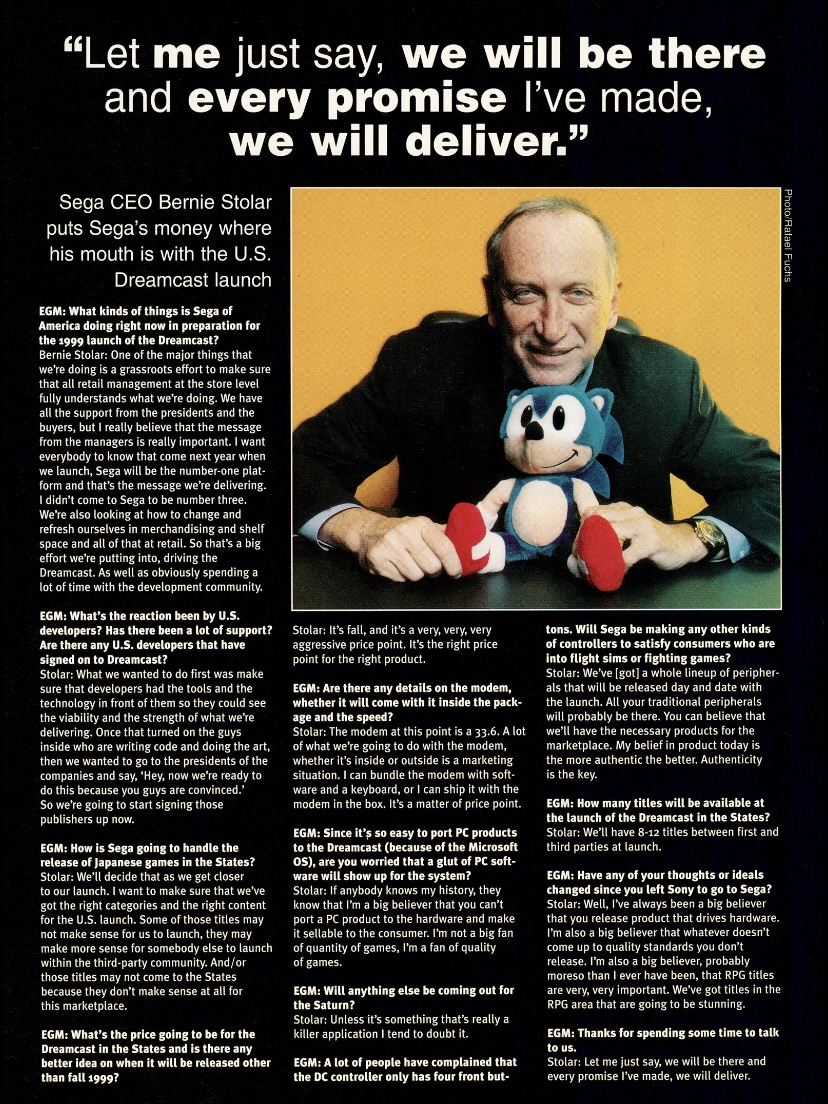 While Stolar was a passionate businessman who helped launch the PlayStation into success (by acquiring studios which eventually became key to Sony's PlayStation brand like Naughty Dog), he would leave the company when offered a key position as president of Sega of America.
He would eventually be ousted from Sega before the system (the Dreamcast ) that he helped develop launched in America territories in 1999.
Rumors that him sending Sega merchandise, and a Sonic mascot, to a Sony sponsored Golf Tournament in 1997 was the root issue that caused his firing spread like wildfire.
Stolar shot down that notion in an interview with Bitmob in 2009,
That had nothing to do with my ouster at Sega. That event took place in 1997, I believe. I was ousted in 1999.

But it is true that Sony was holding its first golf tournament — I believe in Napa [California]…I forget which golf course. I had someone go to the golf pro, paid him money to take out all the Sony golf balls and put in Sega golf balls instead.

And I had somebody dressed up as Sonic driving around the course, and skywriters writing 'Dreamcast is coming' up in the air. That part is true, yes.

Sony Computer Entertainment President, Kaz Hirai and [current SCE Europe President and CEO] Andrew House both called me and said, 'You're a great friend and a great competitor — and that was pretty damn funny.'

But that had nothing to do with my ouster. – Bernie Stolar
Bernie did leave Sega after he had disagreements with the Japanese branch. His disagreements with the branch were about the modem, pricing, and launch date of Sega Dreamcast system. Eventually, Sega did include a modem with the machine, as Stolar wanted, and the system retailed for $199.99 which is the price point the executive had suggested for its launch.
Stolar acquired Visual Concepts for $10 million which was a huge key to the Dreamcast early success. Visual Concepts would eventually turn into 2K Games. But Sega of Japan wanted to turn the company into a software maker even though Stolar always felt that the Dreamcast could have succeed with more money and commitment from the company.
"More money could have been spent on product. I said this from the beginning. There were three things that I wanted in Dreamcast: an online network (for multi-player and digital downloads), DVD support, and internal storage. I had to argue for everything. At one point, I had to ensure the modem didn't get dropped from the US version. Online was most important to me, so I chose that over DVD and internal storage because my plan was to add those later."
Stolar would continue to talk candidly, and perhaps nostalgically, about his time during the Dreamcast development and planning stages for decades after he left Sega.
It would seem that despite helping Sony to launch the PlayStation console in western territories, his biggest love was the Sega Dreamcast, and he regretted some of Sega of Japan's decisions regarding the system which eventually led to its early death.
Stolar … a Friend to JRPGs?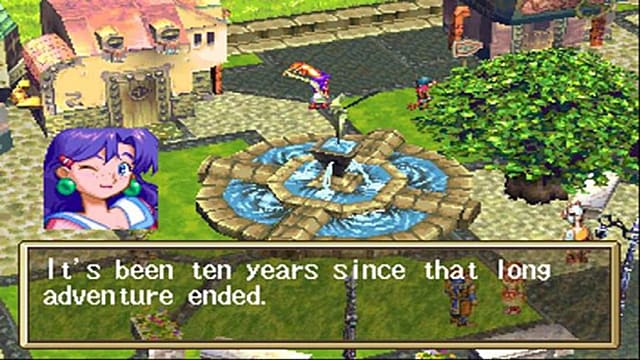 According to Working Design's Victor Ireland, Bernie didn't quite believe that RPGs would break out of their niche role and burst into the mainstream. Stolar was the reason why Working Designs was forced to work on Saturn projects and wasn't able to bring Arc the Lad overseas during the early PlayStation days.
Victor would go on quite a lengthy rant (on a LunarNET interview ) detailing the reasons why he felt that Bernie Stolar had been huge hurdle to overcome for Working Designs and JRPGs in general during when he was working for Sony. Ireland went into a frenzy when told that Stolar had boasted about the importance of JRPGs ahead of the Sega Dreamcast's launch:
"He (Bernie Stolar) is not a leader, he is a follower. Sony legitimized that segment, and he has seen the money. Because when he was at Sony he was the one who said RPGs were not significant. He told us, one person removed from him, his representative said- Bernie said RPGs are not a significant portion of the market, we do not want to support them in the US. Thats why Arc the Lad didn't come out, we were pushing for Arc the Lad. We were going to release that game, and they wouldn't let us license it from Sony of Japan, and they wouldn't let us release it here. Because they said they(RPGs) weren't significant. The only reason he changed that tune is because he's seen Final Fantasy 7 sales." – Victor Ireland, Working Designs President
Ireland's feud with Stolar could cloud, one way or another, Bernie's perceived stand on JRPGs. It is true that Stolar was the reason Working Designs was not able to be right at the start of  the "boom" of the JRPG genre on the PlayStation. These events definitely shaped the eventual ill fortunes of the JRPG publisher, which why Ireland had such a strong feud with a late executive. Given the nature of their feud, it is easy to see that the "Stolar hated JRPGs" narrative that has spread online (with many citing this feud as legitimate proof of it) is a tad biased.
So, was Bernie an enemy to JRPGs? Yes, and no.
If we go back to 1994-1996, Stolar had no reason to think that JRPGs would eventually explode in popularity in 1997. At that point, the genre was a niche one.
Even Hironobu Sakaguchi has expressed in modern interviews surprise at Final Fantasy VI's popularity given that the 1994 SNES release did not sell well outside of Japan.
Stolar was a visionary, but more than that he was a businessman. RPGs played second fiddle to action games and platformers at the time. It is likely that he felt that Arc the Lad (which wasn't very good) wasn't going to do well in North America, even though it might have done better than most expected.
He did not believe in JRPGs then, but that did not mean that he was biased against the genre. He was just looking for games that would sell.
Still, he was known for his "no RPG" policy in the early PS1 days during his tenure as SCEA president. Stolar felt that most JRPGs were 2-D works that would not sell well while failing to demonstrate the PS1's 3-D capabilities.
Hey, everyone makes mistakes. Stolar's was failing to predict the genre's late 1990s boom. To be fair, he wasn't alone in that, as Nintendo executives ended up committing the same mistake.
Was Bernie Stolar an Enemy of the Sega Saturn?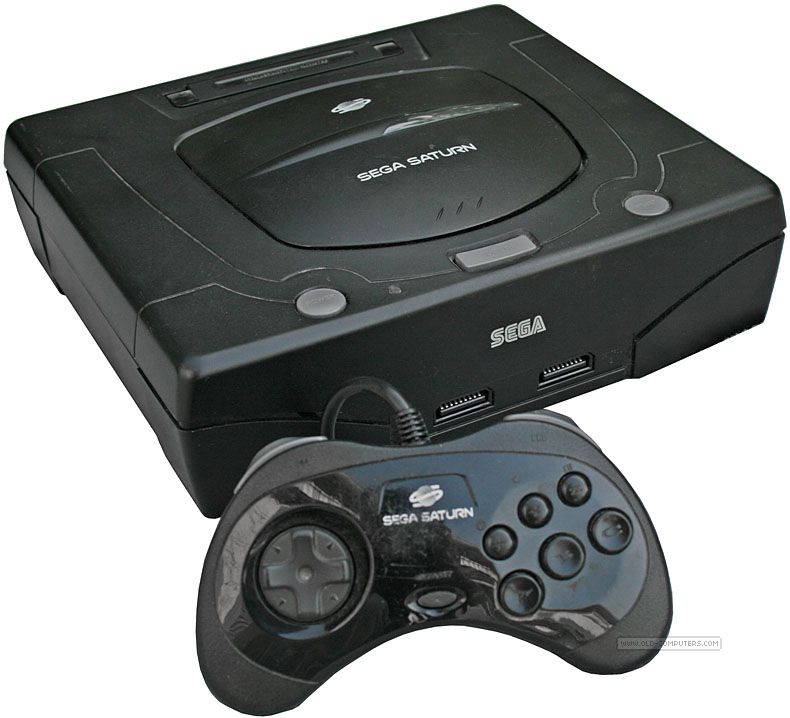 Again, Stolar was quite open in his statements, having a "tell it like it is" demeanor. After arriving at Sega in mid 1996, one of his most famous "quotes" was born when he declared that "Saturn is not our future." The quote came from an E3 1997 interview with Electronic Gaming Monthly magazine, and it is a legendary one in Sega Saturn game forums everywhere.
Stolar came off as arrogant and confident. He had left the Sony PlayStation in a good place and was tasked with doing the same for Sega with their up coming system. The Saturn was dead in the water by 1997, and Stolar made it known publicly to the world.
To this day, many Saturn owners remember the man bitterly because they felt that he sent the system into an early grave. But did he?
Sega was losing money at the time he came to preside over Sega of America. The Saturn was a non-factor in the American market, and Stolar's belief, as told by Sega of Japan, was that Sega was still pushing for an eventual lead within the hardware space.
He had insider knowledge (as he had suggested the idea himself) of an upcoming Sega machine, and he understood that Saturn wasn't the future.
"When I went to SEGA, they needed a new hardware system because the systems that they had were not selling – all eight of them. Saturn was not being supported by SEGA the way it should have been. When I showed up, it was my idea to develop a new hardware system that had the ability to play online. Before signing with SEGA, I racked my brain on a way to salvage Saturn, but it was just too far gone and too expensive and difficult to develop for. SEGA was nearly bankrupt, they needed a new console and they needed it quick. The only options were to go big or go home." -Bernie Stolar, The Dreamcastjunkyard (2018 interview)
Yes, the Saturn had more success in Japan, and many JRPGs never saw an American or European release. However, we can't solely blame Stolar for that. He arrived at Sega in mid 1996, a full year after the console's American launch. By that point, one would think that Sega of Japan and Sega of America would have done a better job in brining over all of the "RPGs", but they hadn't before Stolar got there.
It is true that Stolar did not necessarily believe in JRPGs, especially if they were 2-D, but he wasn't far off from the market realities of the day. The best selling games of the era were 3-D games, and he felt that 3-D games would be the key in digging Sega out of its hole.
He erred in his early approach to RPGs given Final Fantasy VII's astronomic success, but Squaresoft's ultimate hit was also a 3-D game.
I have a hard time believing that Grandia's absence on American Saturns (which is a big point of contention within his detractors) was all on Stolar's shoulders.
Sega of Japan called shots as well. If they had wanted a U.S. Grandia release, Stolar would have had to go along with it.
Still, Stolar is often blamed for the Grandia mishap and the Sega Saturn's anemic American death.
Perhaps, there is some half truth to the former statement. The Saturn was dead in the US, and Stolar was tasked with keeping the company afloat and to the prepare for the arrival of the eventual Dreamcast. Given Sega's precarious financial situation, cutting losses and walking away from the Saturn was the wise course of action, despite the console's fan base backlash.
Stolar vs Sega of Japan and his Undying Love for the Sega Dreamcast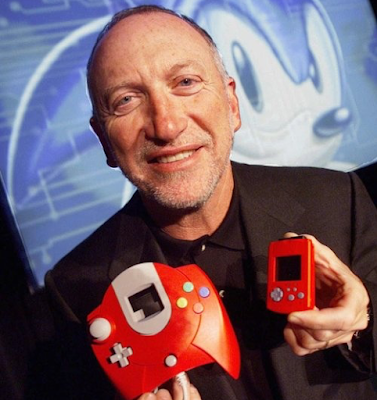 Stolar was a complex man, and much can be (and will be) written about him over the next years. Two things I have never questioned are the man's 'know how' into what made the video game business tick in the 1990s and undying passion towards the Sega Dreamcast.
Another popular anti-Stolar sentiment online is that he was partially responsible for the Dreamcast's death because he "forced" Sega to price the system at $199 as opposed to SoJ's preferred $249 price tag.
That sentiment could not have been more misguided. True, Sega would have made a bigger profit at $249 per system than at $199, but the profit gains would have been dependent on Sega's ability to swiftly sell large numbers of the consoles before the almighty PS2 arrived a year later.
Stolar understood that in order to secure a sizable market share with a considerable installed base of users, the system had to be priced right. $199 was the Sega Dreamcast's best shot at obtaining that goal.
Sega of Japan did not like this (and it was likely one of the causes for Stolar's dismissal), but the company's nefarious position at the time had been a result of Sega of Japan's blunders. Consequently, Stolar didn't have much to work with.
Stolar was let go of Sega before the US launch of the system, and yet, Sega stuck to the $199 price tag. They also packed in a modem, which was another point Stolar tirelessly argued for. Bernie also acquired Visual Concepts, a monumental win for the system. This acquisition would help  launch the 2K sports games into mainstream success.
Stolar also stressed the importance of JRPGs for the Dreamcast before its launch, which showcased that he never had a "grudge" against these titles (though Vic Ireland might have felt differently).
At the end of the day, apart from setting up a successful launch and start for the PlayStation, I will always remember Bernie for his passion towards the Dreamcast. His love was so strong for that machine and its games that he kept on giving interviews about it for two decades after its release.
Bernie Stolar was really proud of what he accomplished with the Sega Dreamcast, and I want to thank him and honor his memory by stating that I loved the system nearly as much as he did. His decisions influenced a huge part of my gaming childhood for the better.
May he Rest In Peace.
Agree with the author? Couldn't disagree more and are frothing at the mouth to tell him? Leave a comment here, on Facebook or send an email and make sure to follow Never Ending Realm on Facebook, Twitter, and YouTube!