With the arrival of the year 1995, 32-bit consoles made their entry into western markets. The Sega Saturn was in full force, and Sony's PlayStation made its debut. The year was a transitional time for gamers not only in terms of upgrading from 16-bit to 32-bit games, but in changing from 2-D experiences to 3-D ones.  
That said, the SNES on its last legs delivered two of the greatest games of all time, and some stellar classics. As always, every game rated here is solely ranked by its GameRankings average meta score.  
10. Ristar (GEN) – 89.33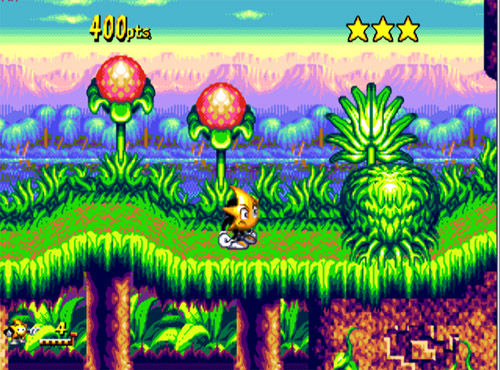 Despite the fact that the Sega Saturn was punching with full force in 1995, and Sega had high hopes for its soon to be ill-fated system, the Genesis had a large installed user base. Developers continued to take advantage of this.
Ristar was a Sega platforming game that was billed at one point as a successor to Sonic the Hedgehog. Instead, Ristar crashed and burned commercially because the newly arrived Sega Saturn had overshadowed most of the Genesis' lineup. It was difficult to create likable mascots like Sonic and Mario on a consistent basis
That said, Ristar was a high quality title that gave Genesis owners a unique platformer with slower, but more strategic gameplay than Sonic. The game could at least mitigate some of the suffering of knowing that the SNES had more great first party platforming games than the Genesis did. 
Ristar was praised by critics for its visuals and carefully crafted gameplay, but some felt that the game brought little originality to the table, preferring Sonic to it.  
9. Donkey Kong Country 2: Diddy's Kong Quest (SNES) – 89.81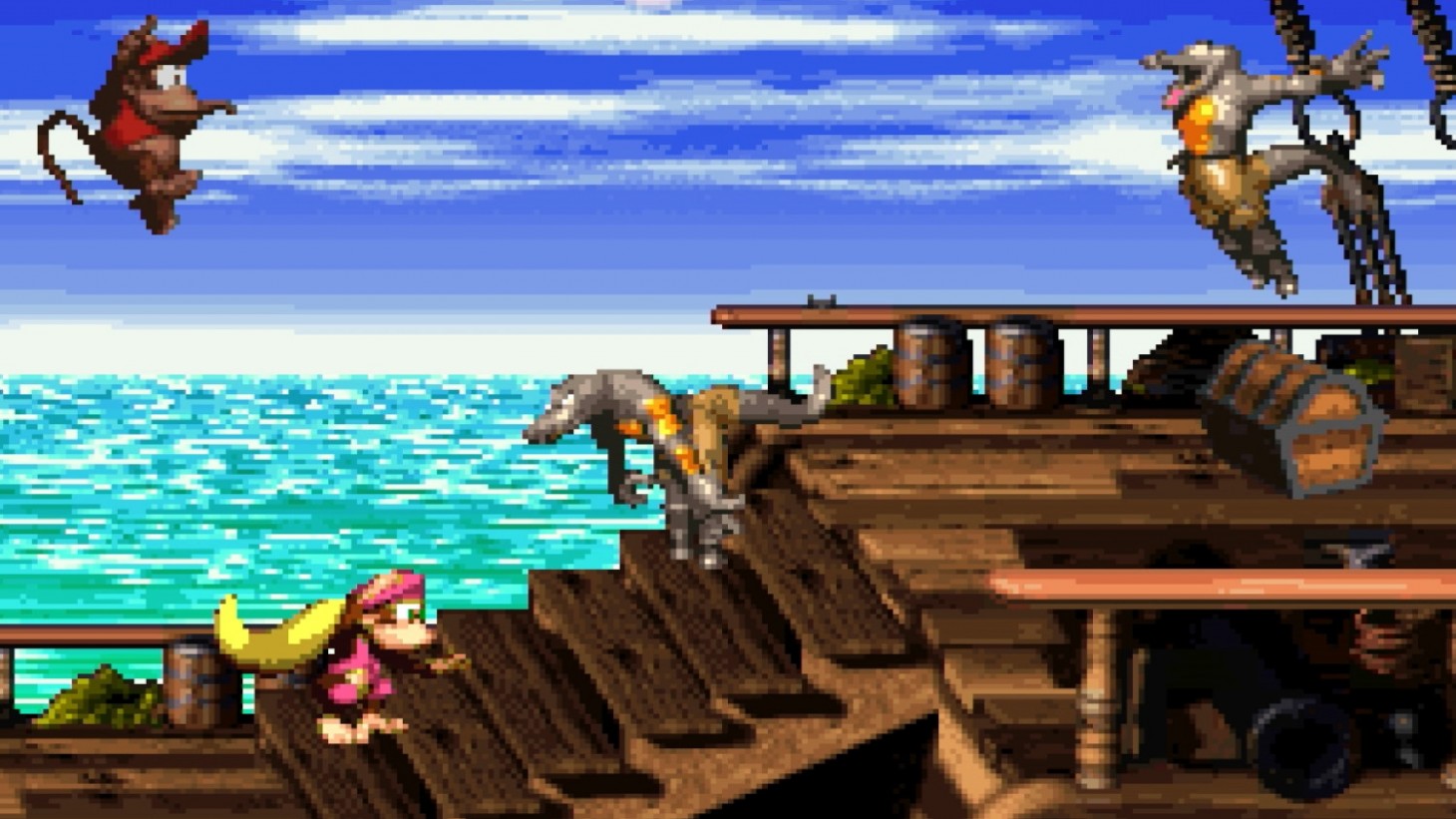 The Rareware of the 1990s (under Nintendo) was a very different machine than the Rareware of today (under Microsoft). Rare used to be composed of talented and ambitious workaholics who often worked themselves beyond crunch time limits. The company's quality and quantity of titles at the tail end of the SNES era and during the N64's lifetime was proof of this. 
A year after Rare's groundbreaking commercial and critical success with Donkey Kong Country, the company churned out a propel sequel to the title in Diddy Kong's Quest. Bigger, slightly prettier, and more challenging, DKC 2 showcased that the SNES still had some life left in it.  
Many critics consider DKC2 to be a more complete and highly polished experience than the first title. Rare improved upon every aspect of the original game's formula. The only downside to DK2 was that the shock value of the CG pre-rendered graphics was not nearly as huge as it had been on the previous title. DKC2 went on to sell 4.37 million copies, which is an ultra-impressive number given its late release on the system.  
8. Sega Rally Championship (Saturn) – 90.00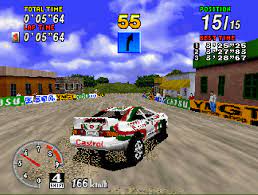 Internally, Sega was already in bad shape here (1995). The early days of the Saturn were plagued by its unexpected launch and its aftermath. Perhaps more importantly, the system was badly engineered, and developers had problems programming 3-D games for the hardware.  
The Sega Saturn was the latest in a long line of bad hardware choices for Sega. However, Sega still had a few aces up its sleeve, and Sega AM3 (Sega Rally's developer) was one of them.
Sega had successful arcade hits such as Virtua Fighter and Sega Rally Championship. The Sega Saturn would be the only home platform to get conversions of these titles during an era where Arcade conversions were all the rage.  
Sega Rally Championship was an early hit for Sega's overpriced and difficult to develop for machine. The game showcased impressive 3-D visuals that out shone everything else that had come before it on home consoles. It was truly a "must-own" title for the machine.  
Due to hardware limitations the game ran at 30fps (as opposed to 60fps on its arcade counterpart), that did not matter with critics which continued to shower the game with praise for the following years. Sega Rally Championship sold 1.2 million copies as it moved consoles off the shelves, proving that, at least early on, the Sega Saturn had some legs.  
7. The Beast Within: A Gabriel Knight Mystery (PC) – 90.50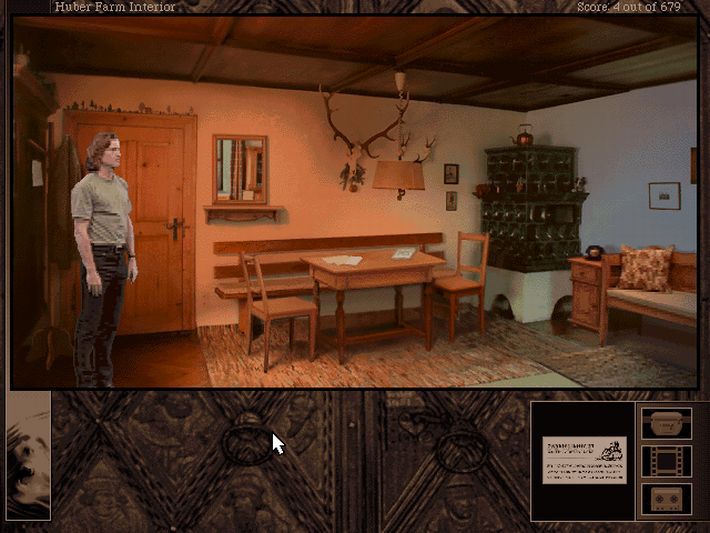 Ah! 1995! The dawn of the 3-D era, and yet, the tried and true 'point and click' adventure refused to die on the PC arena.
The point and click adventure continued to offer the best narratives and atmospheric settings in gaming, and The Beast Within was a perfect example of it.  
Unlike most video games which are placed in fictional worlds, this PC game took place on Munich, Germany. Unlike other point and click adventures, TBW exclusively used full motion video scenes, which greatly added to the game's presentation and overall horrific experience. 
The story revolved around solving mystery of a murderous werewolf. It was a linear experience, though the objectives within the chapters of the story could be finished in non-linear fashion.  
Like its predecessor, The Sins of the Fathers, The Beast Within had modest if disappointing commercial results. Combined, both titles only sold 300,000 copies, a far cry from many console games, and even other PC titles of the time.  
However, when it came to critical reception, the game was a winner with critics praising its deep storyline and characters.  
6. Panzer Dragoon (Saturn) – 90.92
As I mentioned before, the Sega Saturn was not the ideal machine for 3-D games, requiring near wizard like programing skills to get anything good running on it. Somehow, Sega found a way to get its teams to produce top tier 3-D games.  
Now, the 3-D games available at this (1995) point in time on the system were far away from what Super Mario 64 would go on to achieve a year later, but to be fair the PlayStation didn't have any 3-D killer app either. In fact, the Sega Saturn has more entries on this list than the PlayStation does.  
Panzer Dragoon was Saturn's answer to Star Fox, and one of the best technical showcases for Sega's ill-fated 32-bit machine. Panzer Dragoon was a 3-D on rails shooter. Team Andromeda created an original fictional world that was both beautiful and surreal.  
As a launch title, Panzer Dragoon served its purpose in showcasing a game that was not possible on previous generation hardware. The game was praised for its storyline, visuals, and gameplay. Panzer Dragoon's tough difficulty made it an engrossing quest for hardcore gamers, though its complexity might have affected the game's penetration within the mainstream market. 
Panzer Dragoon often ranks high in "greatest of all time" gaming lists, and its music continues to receive recognition nearly three decades after its debut.  
5. NHL 96 (GEN) – 92.50
As I have talked about before, sports games were huge in the 1990s. Part of the reason for the Sega Genesis' world wide success was it broad catalogue of sport games.
The DOS version of NHL 96 would be the first game in the NHL series to go 3-D, but it is the Sega Genesis game that ranked the highest within the critical world.
Professional hockey is not as popular today it used to be in the 1990s. For many, it will be difficulty to conceive how a hockey game could rank this high on the list, but trust me, most gamers in the 1990s owned at least one or two hockey games. The reason is because these games were both technical showcases for whatever system they were running on and quite fun to play solo or with friends.  
While the SNES version had crisper visuals and more animation work than the Sega Genesis version, it was the Sega Genesis version that featured the superior A.I. and more polished gameplay mechanics. It was enough for critics to score it higher than its SNES counterpart.  
So, how popular were hockey games in the 1990s? NHL 96 was one of the most rented games at Blockbuster Video during its debut month.  
4. X-COM: UFO Defense (PlayStation) – 92.90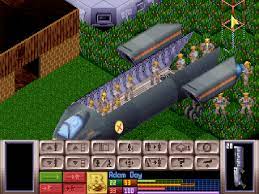 It never ceases to amaze me how successful Sony has been with its PlayStation consoles in nearly every console generation since its inception. The reason for my amazement is that Sony has single handedly dispelled the old adage that a console needs a stellar lineup of launch games and a killer app in order to find success. 
I can't recall the last time that a PlayStation console had a good launch lineup. The original PlayStation's launch lineup was certainly pedestrian when compared to the Saturn's library of available titles on shelves. X-COM, originally a PC game, is a testament to this. The wonderful PC strategy game would be the only PlayStation game to make this 1995 list, and for good reason. It was the PlayStation's only true stellar title.  
As we talked about in last week's 1994 list, X-COM was the ultimate turn-based strategy game. The game allowed players to micromanage every aspect of Earth's defense against an alien invasion, and the PlayStation port did a good job in capturing all of what made the PC version great. Keep in mind, that in 1995 the PlayStation was a formidable gaming machine even when stacked against PCs of its era.   
The CD based system was very capable of delivering some stellar PC ports at this stage even though the arrival of 3-D accelerated cards a few years later would eventually outshine Sony's hardware.  
3. Warcraft II: Tides of Darkness (PC) – 94.75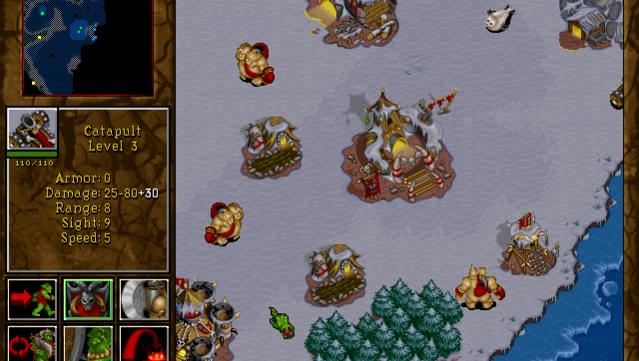 Warcraft II was a real-time strategy game in which collecting and managing resources to construct buildings and fighting units is essential in order to achieve success. The game's tale took place in a fantasy setting, and it was a huge commercial hit on PC as it went on to sell over 3 million units. 
Critics were wowed by the game's improvement on its predecessor, Orcs & Humans, and praised the game's allowance of multiple strategies in order to conquer its quests. At the time, critics felt that the game had set the standard for all strategy games to follow.  
Apart from being a superb solo game, the game offered players the opportunity to create scenarios that could be played by multiple gamers (up to eight) over a modem internet connection. Warcraft II would receive inferior ports without online play on the PlayStation and Sega Saturn nearly two years later in 1997.  
2. Chrono Trigger (SNES) – 95.64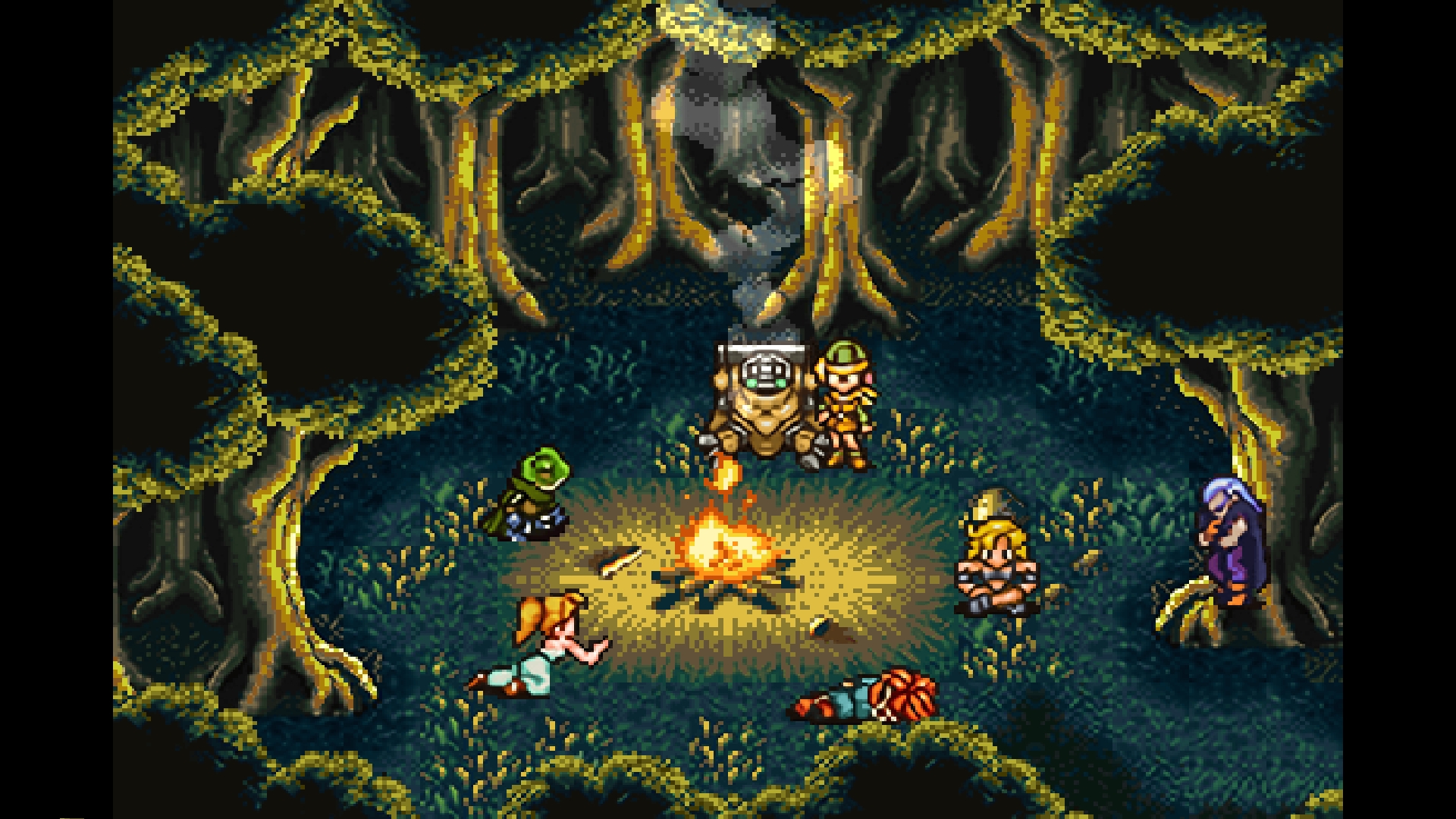 Chrono Trigger was the perfect send off for the SNES. Nintendo's 16-bit machine continues to be renowned for its notable library of Japanese role-playing games. Games like Final Fantasy IV, VI, Lufia, and Star Ocean were available on the machine, but none of these titles was quite as good as Chrono Trigger. 
Squaresoft's time traveling epic was the result of a collaboration between JRPG's brightest minds. A role-playing game that pushed the hardware capabilities of the SNES, and one that also seemed to push forward the envelope in storytelling by featuring a multitude of endings and pathways to pursue.  
Before Chrono Trigger, most JRPGs were linear rides that for most mainstream gamers meant an enjoyable first play-through with low replay-ability thereafter. Trigger was different, it introduced multiple endings, and thus increased the game's replay value beyond what other JRPGs had done prior to it.  
Chrono Trigger was an instant success in Japan, selling two million copies within two months. Though the title would only go on to sell 300,000 copies on the United States, western critics were quick to praise the games as one of the greatest role-playing games of all time. 
Electronic Gaming Monthly would award the game its "RPG of the year" award for 1995, and it would also win the best music (within a cartridge game) award. 
Chrono Trigger continues to rank high in all-time great game lists to this day, often trading spots with more popular JRPGs such as Final Fantasy VI and Final Fantasy VII. While many gamers were transitioning into newer consoles in 1995, SNES owners still had the best machine for playing JRPGs on Nintendo's 16-bit console.
 1. Super Mario World 2: Yoshi's Island (SNES) – 96.00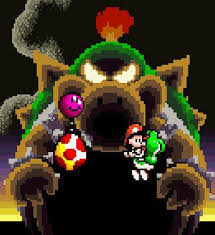 Nintendo EAD has always been known for making great games. I don't know of another developer that has had as many 'all-time' great games under its belt. After four years of development, and under Shigeru Miyamoto's watchful eye, Super Mario World 2: Yoshi's Island ended up being one of the most critically acclaimed games of all time. 
Yoshi's Island plays like a proper Mario game. While the artwork differs from Super Mario World, the change in art direction did not feel out of place and was more than welcomed.
Yoshi's Island hand-drawn visual style was made to be more pronounced by Nintendo's artists after Donkey Kong Country's pre-rendered graphics revolutionized SNES's visuals and SMW2: YI was found to be too far along in its development to introduce pre-rendered elements. Nintendo's best bet was to make the game's look as different and as unique as possible in order to stand out amongst the crowd of late generation SNES titles.  
Thanks to Nintendo's artists and the FX2 chipset, Yoshi's Island turned out to be one of the best looking 16-bit titles of all time, and critics rightfully agreed. Many quickly proclaimed the game to be the greatest platformer of all time. While global praise of the game seemed to be fueled by the game's visual prowess, many were also impressed by the game's size, playability, and perfect platforming design.  
Yoshi's Island has done extremely well in retrospective listings and critical reviews. Electronic Gaming Monthly ranked it as the 7th best game of all time in its 1997 (best 100 games) listing. Yoshi's Island sold over 4 million copies, eventually receiving a disappointing sequel on the Nintendo 64 titled Yoshi's Story. 
The Best Games of The 1990s Decade According to GameRankings
The Best Games of 1990 According to GameRankings
The Best Games of 1991 According to GameRankings
The Best Games of 1992 According to GameRankings
The Best Games of 1993 According to GameRankings
The Best Games of 1994 According to GameRankings 
Agree with the author? Couldn't disagree more and are frothing at the mouth to tell him? Leave a comment here, on Facebook or send an email and make sure to follow Never Ending Realm on Facebook, Twitter, and YouTube!