By 2001, The PlayStation 2 had begun to receive its sophomore software and its catalogue began to fill up with great games. These games included Final Fantasy X and the cultural phenomenon Grand Theft Auto III.  
This was also the year where the Dreamcast was, for all intents and purposes, declared 'dead'. Microsoft and Nintendo introduced "next-gen" consoles in November, and a new console war went underway. One in which Sony had achieved an insurmountable lead by the time the other two players arrived.  
In 2001 alternative rock seemed to have found its way to the top of the music chart lists with Lifehouse's Hanging By A Moment. Yes, 2001 was good to us, and here is our tribute to it.
Editor's Note: It is important to keep in mind that this is not a 'Never Ending Realm' best games of 2001 listing. We would have certainly included Final Fantasy X on the list. This list is solely based on GameRankings average scores which were compiled from numerous critical reviews during the listed year.
Context matters, and sports games, as well as extreme sports games, were huge in the late 1990s and early 2000s. Some of those games did not age as well as games that did not make the list, but these scores are based on what actually took place in 2001.
Any complaint that you (as the reader) might have over the games listed here are valid, but keep in mind that we are just the messenger here. Most editors on the site, however, likely agree with the #1 ranked game on the list.
10. Madden NFL 2002 (PlayStation 2) – 92.32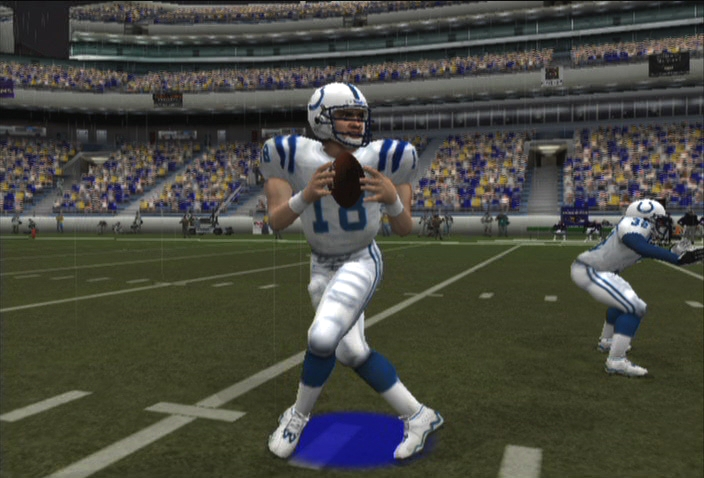 Football games continued to sell droves and showcase new hardware in 2001. For two years, Madden had to play at a disadvantage to Visual Concept's brilliant NFL 2K series, but Madden NFL 2002 evened up the scores.  
The game was met with universal acclaim. While the Xbox version is considered the superior port, it is the PlayStation 2 version that scored the highest amongst critics polled by GameRankings. What Madden NFL 2002 did better than Visual Concept's entry in this year was in crafting impressive visuals that showcased "next generation" hardware perfectly.  
At this point, Dreamcast games were starting to look a bit dated which is understandable given that the machine had the weakest hardware out of all competing systems. Madden wowed critics with its customizable options and online support.  
9. Advance Wars (Game Boy Advance) – 92.38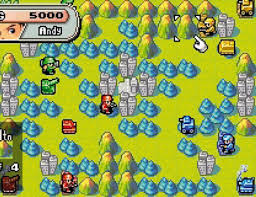 2001 also brought forth "next-generation" portable hardware in the form of the Game Boy Advance. The Game Boy Advance was a portable 32-bit system. The system was a monumental leap over the previous Game Boy machine (which was an underpowered 8 bit system) and could, at times, do a poor's man impersonation of home 32-bit hardware.
It did not matter that it was still far behind home console hardware; the machine was remarkably successful (over 80 million units sold) and so were its games. Advance Wars was its best game for the year 2001, at least according to critics. Up until now, turn-based strategy games on these lists have been primarily PC only games. 
Brought to gamers by Intelligent Systems (the same people behind Paper Mario), Advance Wars showcased that complex strategy games were possible on portable platforms and that there was a market for them in that space. Critics praised the game's combination of easy to pick up gameplay and deep complexity for more experienced gamers.  
To this day, Advance Wars rates well on all time gaming lists with critics everywhere.  
8. SSX Tricky (PlayStation 2) – 92.49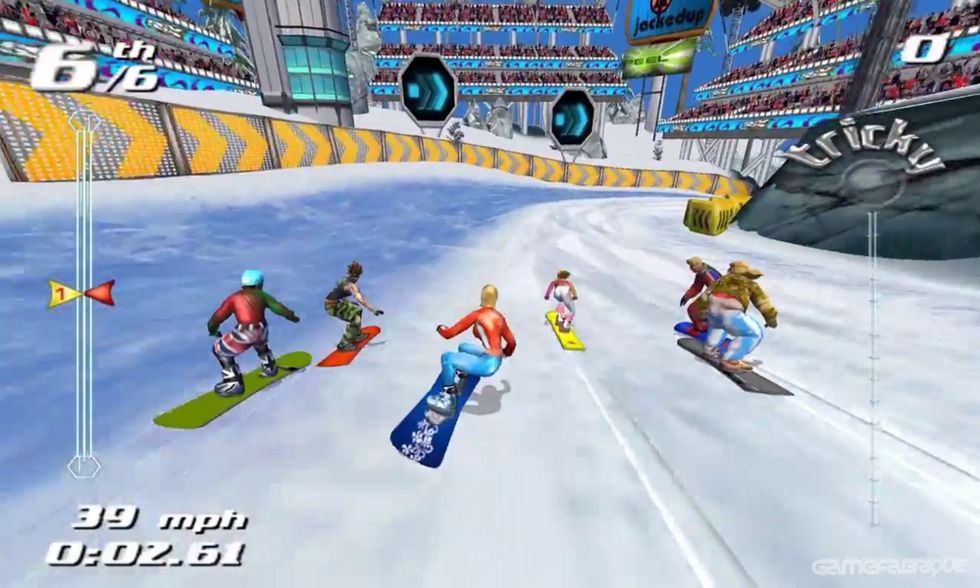 SSX quickly turned into a popular franchise for EA after its 2000 PlayStation 2 debut. Its sequel, SSX Tricky continued its predecessor's tradition of being one of the very best PlayStation 2 games, even beating out Final Fantasy X for a spot on this list.  
Tricky offered two new tracks and remastered old ones. The addition of "Uber" moves made what was an already over the top experience, a more unbelievable depiction of the snowboarding sport. Critics praised the game as it was an improved version of SSX with extra content, but largely criticized that fact that Tricky was indeed just an expanded version of SSX.  
While the PlayStation 2 version is the one that scored the highest, most critics recommended the Xbox version as the superior way to play because it had better sound and graphics.
7. Devil May Cry (PlayStation 2) – 92.60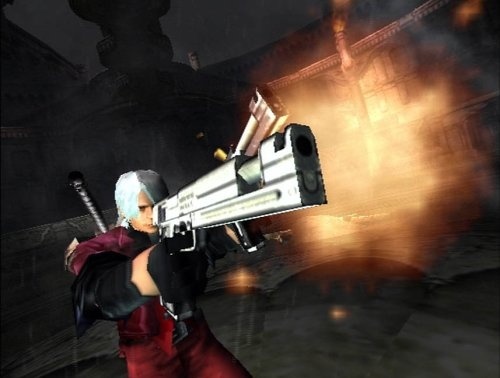 Devil May Cry was a huge game in 2001. Capcom's action-adventure was quite different from its Resident Evil games. Devil May Cry took place in 3-D environments (as opposed to pre-rendered ones) and was quite fast-paced. 
Critics praised the game's challenging missions, mixture of puzzles and platforming elements, and the game's hectic combat. Apart from its tight gameplay, reviewers also praised the game's art direction, visuals, and overall gothic feel.  
Devil May Cry is one of the most influential games in the action-adventure genre, and it sold over 3 million copies worldwide. Given its popularity, it is not a surprise to find the title being mentioned in numerous 'all-time great lists' and that modern titles such as Bayonetta took inspiration from its massive impact on gaming.  
6. NBA 2K2 (Dreamcast) – 92.82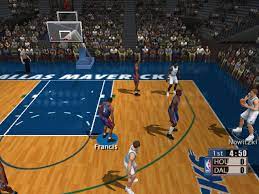 By 2001, the Dreamcast might have been dead commercially, but it still had one final haymaker with the critics. The NBA 2K series is modern times basketball's gaming king, and the reason for this was its early excellence on Sega's ill-fated system which began to dent EA NBA Live's reputation. 
As with other sports titles of the generation, NBA 2K2 looks and sounds best on the original Xbox. It was initially released on the Dreamcast which explains why that version holds the highest critical score.  
The game received critical acclaim thanks to its amazing visuals, realistic basketball gameplay, and fun online mode.  
5. Tony Hawk's Pro Skater 3 (PlayStation 2) – 93.43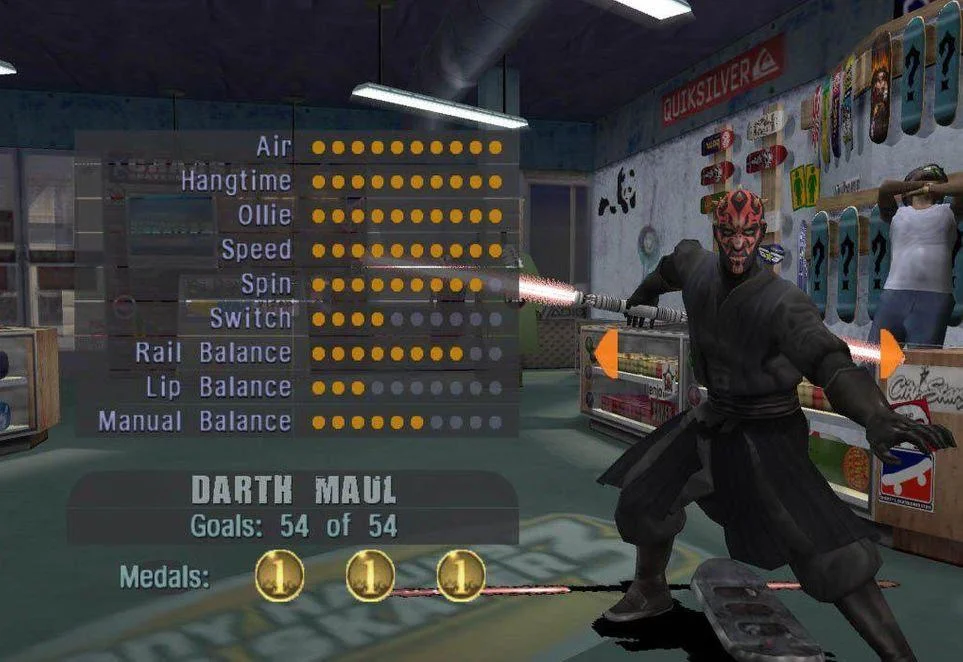 Another list with another Tony Hawk game on it. Activision's wonder hit continued to find unprecedented critical and commercial success on Sony's new machine. THPS3 remains the highest rated PS2 game on Metacritic, but it fared just as well with GameRankings' own pool of critical reviews.  
THPS3 brought the series into the competitive online multiplayer space and even featured a few cool licensing deals that brought Darth Maul into the game as a playable skater.  
Critics would immediately fall in love with the game with some claiming that it was the best PlayStation 2 game 'to date' at the time. GameSpot awarded the game a 10/10 in its review of the game, making it one of only 20 games to have ever achieved this prestigious score.  
THPS3 would go on to win many 'sports game of the year' awards and is still regarded as one of the greatest games ever made.  
4. Gran Turismo 3: A- Spec (PlayStation 2) – 94.54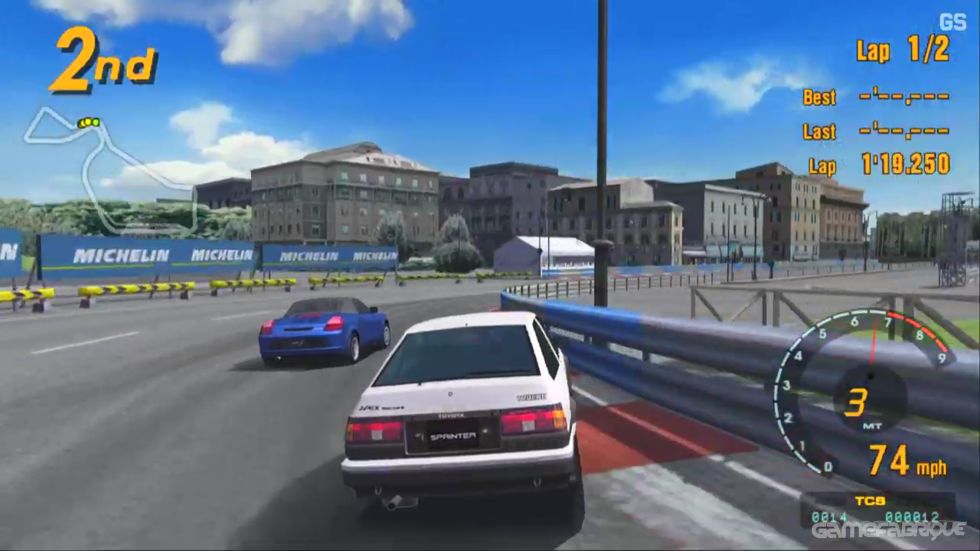 Early in the PS2's run, much of the console's sales were from its massive hype. The Dreamcast had, by far, the better library of games. Many bought the system thanks to the amazing Gran Turismo 3 screenshots that had populated game magazine pages for months. 
In truth, Gran Turismo 3 was truly the first defining moment for me on the PlayStation 2. GT3 was a game that was not possible on the Dreamcast. In early 2001, the game appeared as real as any game could.  
Critics did not fail to notice the game's awesomeness. Reviewers of the day praised GT3's visuals, soundtrack, and driving simulation experience. With 14.89 million units sold (an impressive number for the era) GT3 established an unmatched legacy within the series as its greatest selling title, and perhaps, the most impressive racing game of all time when it was released.  
3. Metal Gear Solid 2: Sons of Liberty (PlayStation 2) – 95.09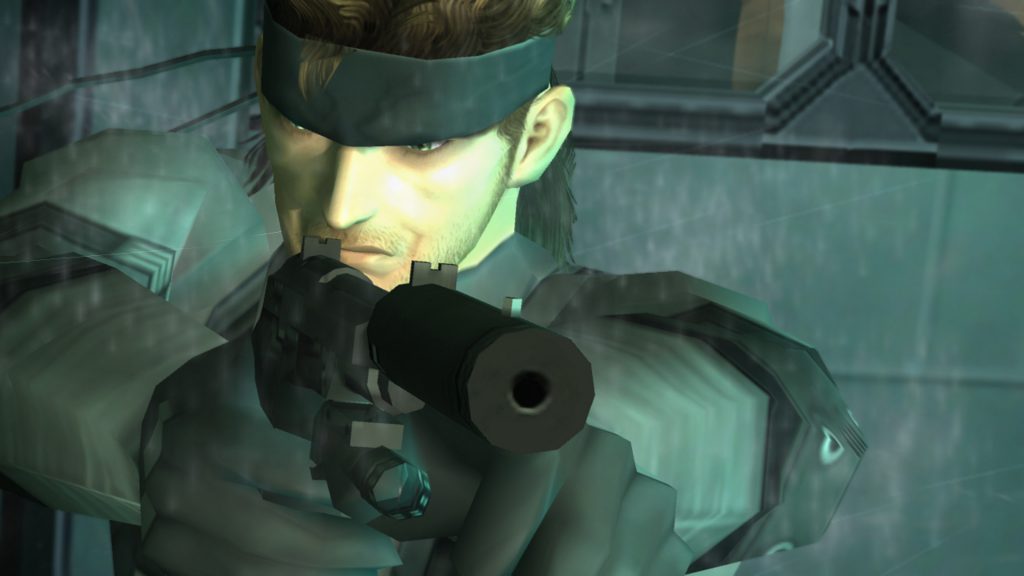 Gran Turismo 3 was the most impressive showcase of the PlayStation 2 hardware…until Metal Gear Solid 2 arrived. Metal Gear Solid 2 was the game that fooled many (including me) into thinking that Sony's hardware was close in power to Microsoft's upcoming titan of a machine, the Xbox.  
I mean, how could games manage to look better that MGS2 did? Kojima's attention to detail within the game's environments was staggering. In truth, most of the game took place within clean, metallic areas which are not as difficult to render as more complex nature filled scenery, but that didn't matter in 2001. 
Critics were blown away by the game's visuals, gameplay, A.I., and voice acting. Game Informer handed the game a 10/10 rating, and the only thing that anyone could complain about the game was its use of Raiden as a protagonist as opposed to Solid Snake. 
Other than that, with over 7 million units sold, MGS2 is the most successful game in the series and the most impressive one when judged by the era in which each game was released.
2. Grand Theft Auto III – 95.19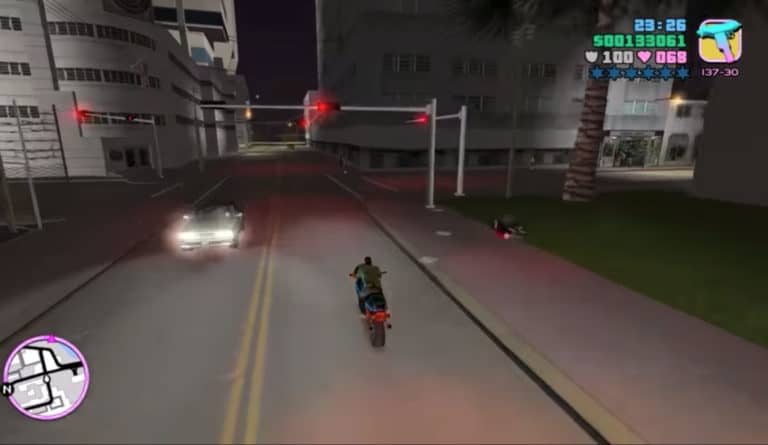 I must be a weird one, I was never into Grand Theft Auto III. I thought it looked like huge but slightly better-looking Nintendo 64 game, and its gameplay was as clunky as could be. Yet, I was alone in my take, and GTAIII might have singled handedly pushed the PlayStation 2 (in terms of sales) to a place where neither the Xbox nor the GameCube could hope to catch it.  
GTAIII was not just the most important game of 2001, but perhaps, the most important game of the decade. It was the game that built Rockstar into the powerhouse it is today. 
Grand Theft Auto III gave gamers unparalleled freedom to live out their criminal fantasies within a virtual space. Apart from that, the game featured a brilliant voice acting cast and great writing. Critics praised its aforementioned features along with the game's brilliant sound design.  
Grand Theft Auto III was that weird title that, apart from its writing, did not do a lot of things "great" but the sum of its parts made it a highly repayable time waster. With 14.5 million units sold, GTAIII is a historic game for any era, and one of the most influential titles in the industry.  
1. Halo: Combat Evolved (Xbox) – 95.54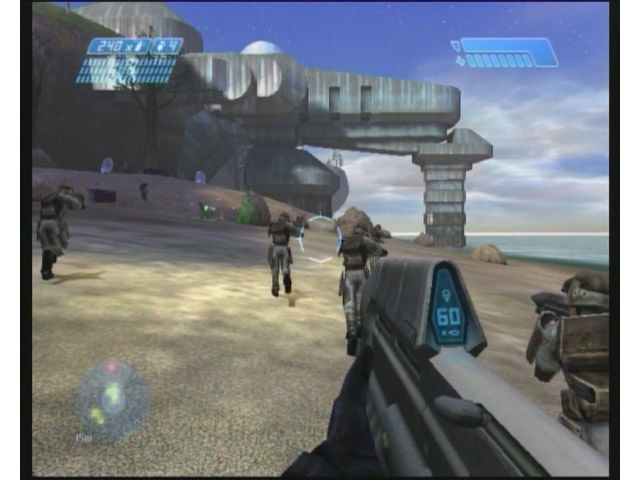 The critics got it right in 2001. Halo: Combat Evolved is far and away the best game of the year, and only those who only owed a PlayStation 2 (or hate shooters) will disagree. In a year where we saw the release of Final Fantasy X, Gran Turismo 3, and Metal Gear Solid 2, the former statement is a powerful one. 
Before Halo, Golden Eye (and Perfect Dark) marked the highest standard by which all console shooters were to be judged. However, Halo shattered every single one of those measuring sticks.
From its amazing single-player campaign to its multiplayer greatness, you would have been hard pressed to find a game that could compete with Bungie's epic. 
The powerful Xbox hardware made Halo possible. From the moment that players stepped onto the iconic Halo ring world, it was clear that no other machine at the time (save for PC) could have been able to run such a fantastic game.  
Critics praised Halo's otherworldly visuals and tight balanced gunplay. Many felt that the game was the greatest shooting game of all time, with all agreeing that its multiplayer modes had rendered Golden Eye's own modes an antiquated thing of the past.  
Halo would win most game of the year awards, including Electronic Gaming Monthly's, Edge's, and IGN's version of the award. The game would go on to win the official Academy of Interactive Arts & Sciences award as well.  
Single handedly, Halo: Combat Evolved introduced the Xbox and Microsoft as major players in the home console wars. The game could have been the single most powerful reason for the newcomer to have surpassed Nintendo during that generation, relegating the Nintendo GameCube to third place in overall console sales.  
Agree with the author? Couldn't disagree more and are frothing at the mouth to tell him? Leave a comment here, on Facebook or send an email and make sure to follow Never Ending Realm on Facebook, Twitter, and YouTube!
The Best Games of The 1990s Decade According to GameRankings
The Best Games of 1990 According to GameRankings
The Best Games of 1991 According to GameRankings
The Best Games of 1992 According to GameRankings
The Best Games of 1993 According to GameRankings
The Best Games of 1994 According to GameRankings 
The Best Games of 1995 According to Game Rankings
The Best Games of 1996 According to Game Rankings
The Best Games of 1997 According to Games Rankings
The Best Games of 1998 According to GameRankings
The Best Games of 1999 According to GameRankings
The Best Games of 2000 According to GameRankings